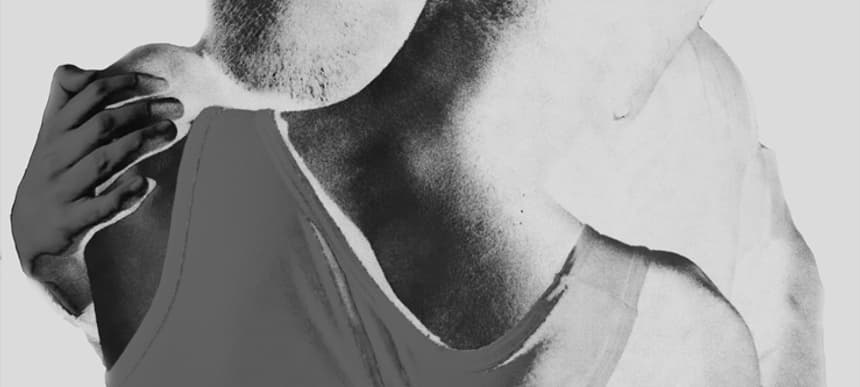 04.02.2014, Words by dummymag
Album of the Week: Young Fathers - 'DEAD'
Dummy is teaming up with Bleep.com throughout February to give away our Album of the Week on vinyl to one reader each week. For a chance to win, head over to Dummy's Facebook page.
Young Fathers aren't all that young any more. It's been five years since the sprightly B-lines of Straight Back On It showed their initial promise, but the road's been rocky for the Edinburgh trio since. Early on, they came off as a group who suffered from looking, to an industry eye, a little too tempting on paper, before honing in on what they were about. A subsequent shelved debut and label fallout in 2011 would have assured anyone savvy to the ridiculous tale of Silibil N' Brains that Scottish rap just wasn't going to be a thing, ever.
Young Fathers got back on track via LA label Anticon, who latched on to 'Tape One' – a free mixtape shared as they departed label Black Sugar – and granted it a re-release last January. All scruffy raps, earnest hooks and genre bending par excellence, fresh material soon followed, and 'Tape Two' was even better. Young Fathers now had some substance to back up the hype.
The satisfying thing about 'DEAD', their first full-length album, is that it furthers this trajectory they've been on for the right reasons. Much is written of the web's role in nurturing eclecticism, but I pictured the 'Tape' release's shifts through reggae, their African roots and Scotland's indie heritage as more akin to trailing the dials of a transistor radio. Granted, opener NO WAY confidently commences with an accordion riff, and the snaking JUST ANOTHER BULLET conjures images of a bustling Marrakesh bazaar, but genre hopping isn't as overtly signposted as it was on 'Tape One' cuts like Romance and Sister. Rather than overthink the exoticism of the sounds, the songs come first. The result is the fully-realised LOW, the temperance of its verses giving way to the big, chest-beating chorus, its jubilance puncturing sturdy walls of sound. Lyrics also allow space for excursions: 'DEAD' navigates the global village with Bangledeshis in Bombay, drinking in Copacabana, and joining "a gang of losers down in Andalucia".
Much of this is clearly down to a refinement in their writing: confident not to have to cram a multitude of ideas into each piece. What 'DEAD' retains alongside this are whiffs of calamitousness: AM I NOT YOUR BOY's maternal pleas are sweetly soulful, but the clattering din around it could give the junkyard backing of many a Tom Waits cut a run for its money. There's desperation in the need to express, and while the full meaning of DIP might not be decipherable, its redemptive waves come straight from the gut. On occasion, conviction could trump instinct: WAR should be the best track on here, but winds down just as its ready to pounce.
What's marked Young Fathers' progression is that they've gradually felt less like a rap group, and more like a group of musicians putting rap and slick wordplay at the forefront of a broader, multiculti sound. This makes sourcing contemporaries tough: DELS or Ghostpoet feel close, but both carry a more subconscious communication with grime. A shared tendency toward darkness brings in Flatbush Zombies, but Young Fathers feel like old heads compared to those smoked-out Brooklynites. Maybe there's been some compromise in their development; Big Dada feels like a natural home, but beyond club/pub poetry circuits it's weird how invisible "alternative rap" can feel on UK shores. On 'DEAD', however, you'd be hard pushed to hear a band doing anything other than letting their identity flourish. It's taken time, but Young Fathers have delivered on their long-standing promise with an anarchic debut, as impulsive as it is intelligent.
8/10
Big Dada released 'DEAD' in the UK on February 3rd 2014.