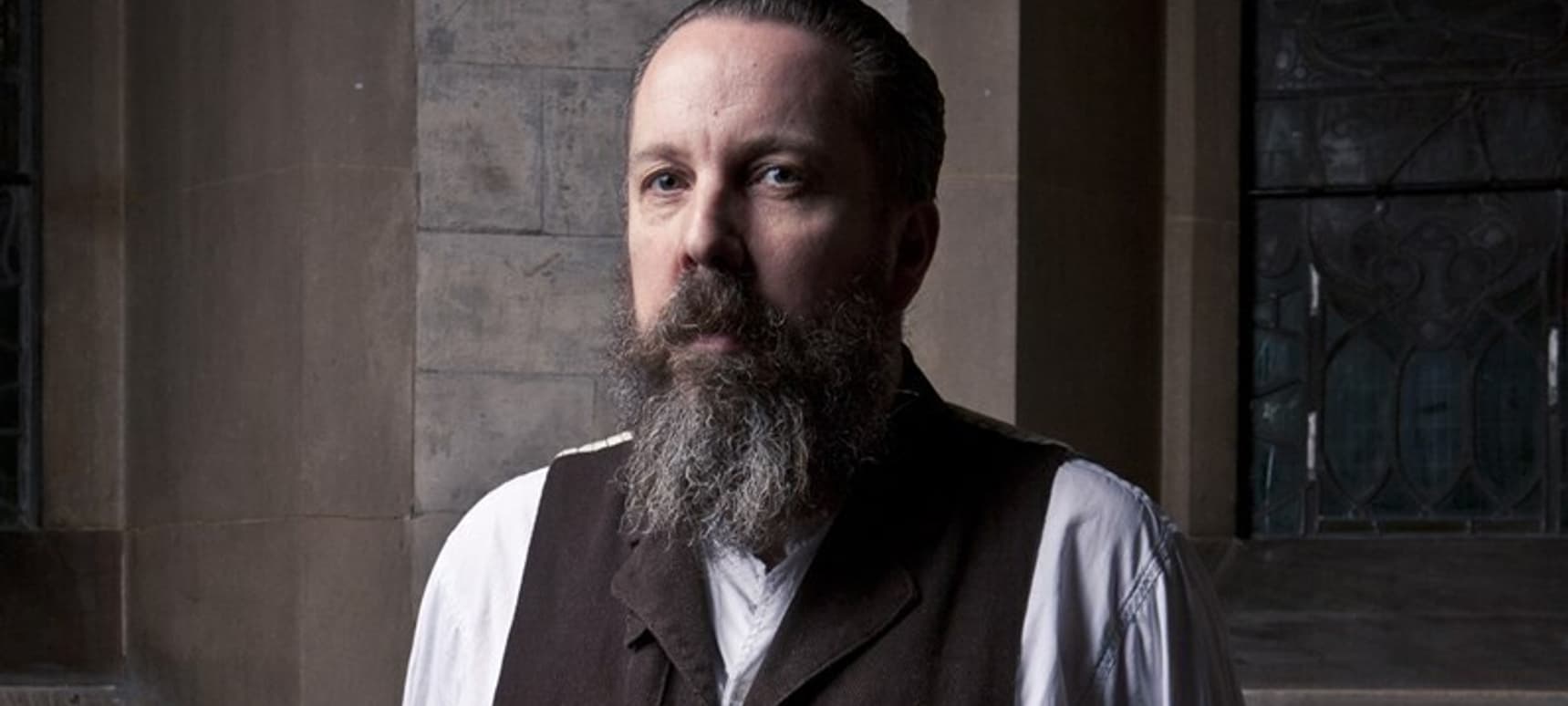 14.01.2010, Words by Johnno Burgess
Andrew Weatherall interview: "It's bollocks, it's discos, tell me tales of the sea."
In 2010, Andrew Weatherall has found himself in the midst of a creative purple patch. After being part of the band Sabres of Paradise and duo Two Lone Swordsmen – and reknowned for twiddling the knobs on Primal Scream's Screamadelica nearly 20 years ago – he has finally released a solo album under his own name. It's called A Pox On The Pioneers and it's very good indeed, running the gamut of styles you might expect from a man well versed in everything from techno, Balearic beat, rockabilly and The Clash. He has also found time to produce the excellent second Fuck Buttons album and another volume of electronic dance in Andrew Weatherall vs The Boardroom.
He is still in demand as a techno DJ of repute and, as an engaging raconteur with a huge record collection, has naturally found a slot on BBC6 every month. Today, he raves of a Hank Williams song about a pig farmer he cannot wait to play to the nation. Though far from being a luddite, the 46 year old still cannot bring himself to Twitter and is a fierce advocate of record shopping over downloading, "You never know what you might find in the racks when you flick through," he argues. Sartorially he is currently leaning towards the Edwardian period, and today opts for flat cap and braces. He twiddles with his moustache while he stubs his fag out on a nearby table surface in his studio which is a jumble sale pile up of sonic detritus and his hand-printed posters.
What made you think that now, after 20 years in this game, you thought it was time for your first solo album?
Because I've always been pressured by management and people selling my product to put it out under my own name. I always thought it was obvious that people who saw Sabres of Paradise or Two Lone Swordsman knew it was me. As I found out 20 years too late the vast majority of people don't make that connection. So it's partly commercial pressure but also because I'm writing the bare bones of the songs, initial melody lines and rhythmic ideas. I asked all concerned (his co-producers and engineers) if they had any qualms about calling this a solo record and they said, It is your record, we may have contributed and helped out with the odd middle eight but it is your record. There's a trail of disgruntled recording engineers who feel hard done by over the last 20 years by DJ's taking the glory and I never wanted to be like that. It's also comprised of personal songs and lacks celebrity guests – apart from Mr Robert Gillespie who sings backing on one track.
There's a song called 'Fail we may, sail we must'. Is that something you've lived by?
I suppose so. That was handily capsulated by a fisherman I met in County Cork. This young lad picked me up for the gig and he was 21 and was a trawlerman. He wanted to know about the glamourous world of DJing, to which I said, It's bollocks, it's disco's, tell me about tales of the sea. He told me about being 18 in a force nine gale, his father, the captain, broke his leg so he had to captain the ship. I was thinking, I couldn't even look after myself at that age let alone a trawler boat in a force 9 gale. I asked him, Are there times when you get up in the morning and you can't be arsed? And he said, fail we may, sail we must. Which led to me spending hundreds of pounds and a lot of pain having it tattooed up the sides of my arms. I've got a pretty good work ethic and sometimes you have a heavy night and want to phone in poorly but if this guy can captain a ship in a force 9 gale I'm sure I can get up and spend two hours in a disco.
Did you seek out more tales like that for the album?
I've always had a fascination with historical stories. Before meeting him I was reading about tales of failed explorers. The crux of the song Fail We May, Sail We Must I had written but I didn't have a chorus. So it sealed it. I had been reading of failed polar expeditions. Tales of heroic failure in general. I had read all the tales of heroic rock and roll failures and rock and roll deaths so I started reading a lot of tales of failed adventures, some that ended in death and I got the same feelings. But fuck these people died, it's like they died for my sins, the more they suffered the more powerful the rock and roll voodoo is. These people were probably thinking, I wish I hadn't travelled this path. I'm thinking, I'm glad they travelled that path as it's giving me real strength and inspiration. The true cost of heroic failure is what the album's about. While I was getting the album together I had the immense pleasure of spending the weekend with Mr Billy Childish, a very good raconteur who summed his ethos up about gentlemen mountaineers, If you climb up Everest without oxygen it's cheating. I'm climbing a mountain with no equipment, I know I'm going to fail but there's something more heroic about it. It's foolhardy but very admirable.
Are the tracks autobiographical?
Some are thinly veiled descriptions of me.
When did you last do the walk of shame which gives one of the tracks its title?
I did the drive of shame. I was in Japan. I vowed to keep my head together but there's nothing like standing in front of 6000 people as I did at one of the gigs to make you want to take drugs and drink alcohol. I played about three records and this guy asked me if I needed anything and I said, No, no, yes. Get me a bottle of vodka. I downed it in two hours. I had about two hours kip and had to get up. There's something about Japan that makes you want to be ultra polite and throwing up in a plastic bag or on the street would be frowned upon. There was this terrible drive from the hotel to the spotlessly clean bullet train. I didn't want to be the guy in the corner throwing up. I managed to keep it together with copious amounts of water.
How about the track Miss Rule?
I was doing one of my rock and roll nights. One of these lads came and said hello and they had a very pretty, dolly bird with them. Very glam. The guys went to the bar and I got talking to this girl. She said she loved my music and that her brother had played her all my music when she was 14. I apologized saying, That's big brothers for you. You probably wanted to listen to the Spice Girls. She said, Oh no. I loved it. I think it's what made me go bad. I asked what she did and she said she was a glamour model. She was part of the Nuts, Zoo, galaxy. She was very clued up and aware of what she was doing and that's what that song's about.
I read you have got the second album nearly done already?
We've got 11 tracks already. Two of the tracks were written for Pox but didn't make the cut for dynamic reasons, they stuck our sonicially. I may put one of those tracks out on seven inch, that suggestion went down well with the office. They are loss leaders now. They are better than a file, you can hold it in your hand. They're a classic bridge between the old world and the new.
Was the Fuck Buttons album recorded here?
It was indeed on that very table there (indicates to what looks like a Black & Decker work bench). It was recorded in three days. I asked them to play the tracks live three times. First time you are warming up, second time you've nailed it, third time you want to be a bit more twiddly and usually what we did was take the second and third take and found the best bits from each one. Then after that it was just sonic manipulation. It was their second album so no point in a radical move in a new direction, which they didn't want anyway. I think I got the gig because when I was asked what I would do I said Not a great deal. We brought out the harmonics their equipment couldn't explore. We added a bit rhythmically too. Most of the reviews have been very astute. Rough charm but smoothed out and a bit bigger.
You have both gone on record as saying the experience was very intense?
Imagine listening to that every day for 12 hours for a month. I get people who have played it once and think it's intense. When I was a younger man I used to work on building sites and I'd be tired, drained but satisfied after doing a hard days graft and it was a similar feeling working on that. I felt like I'd been hod carrying. I think they felt the same, not that they've ever had a proper job the loveable rascals!
How has your attitude to DJ-ing changed over the years?
I'm a lot more professional. I treat it like a job, for many years it wasn't as I thought it wouldn't last. Even when (Primal Scream) Loaded was out I was going for job interviews. 25 years ago economically it was different, you could take a couple of months off doing something different and then sail into a job. It was the summer of '88, so I just thought I would DJ that summer, earn some money then after the winter do something else. But it just kept going on. I always had the attitude that I might pack it in, Five years ago I realized I wasn't going to do anything else. I had qualms about saying It's a job because that sounds like you don't love doing it. It just means turning up on time, not pricing yourself out of the market, not being so out of it you can't do the job properly. There's a Mark E Smith quote about how people don't want to call rock'n'roll a job but if you're doing it properly it's the hardest job in the world. I think because I love it so much I have to treat it like a job as I don't want to fuck it up. Besides I can't do anything else, I wouldn't survive a day on a building site now.
Did you play at the recent Boys Own reunion?
I did, I was the not that much of a mystery guest. It was strange, the walk from the front door to the DJ booth was like how a drowning man must feel as his whole life flashes before him. It was very dark and faces from 20 years ago loomed out of the darkness to say hello. It wasn't a nostalgia fest. Obviously one of the rooms was like that but I said to Terry (Farley) I don't want to do a Stars on 45 balearic mega mix and he said Play what you want to play, that's what you've always done. I had to leave after my set because I was having five conversations at once, everyone was very uplifted and jubilant shall we say and I thought I'd end up appearing rude to people. So I had a great time, had a double brandy and then I left.
Tell me about the art exhibition of your hand made prints you want to do?
I've been speaking with my agent and there's a night in Newcastle where they are mixing artwork with music and they want me to show some of my work. I used to do some for Wrong Meeting (his club night with Ivan Smagghe) which was a great idea until people realized I'd done them and they were hand printed so they wouldn't last two minutes. I did this girl on a motorcycle print, a sixties thing and we got a call to the office and this girl said her boyfriend was going passed the T Bar on his way to work on his motorbike and he loved the poster so much he didn't take any notice of the traffic that had stopped in front of him, went up the back of a car and ended up in intensive care. She said, He's alright now but I'd like to get him the poster. I thought, Fuck, imagine that, you come out of a coma and someone shows you a copy of the thing that landed you in intensive care.
Am I right in thinking you don't Twitter?
What do you reckon? I've not got the time in the day, there's too many books I haven't read or art exhibitions I haven't seen to tell people how many times I've been to the toilet that day. I know I shouldn't judge people, as there are people I really like and when I find out they twitter I question their existence. Stephen Fry springs to mind. I'm suspicious of anyone over the age of 14 who twitters. It strikes me as really juvenile. I'm from a generation that if you are up to something you kept it within a tight circle, you didn't tell everyone you wouldn't be in your house at 7.30pm. You're giving people the opportunity to either rob you or take the piss out of you. Now you write your most personal thoughts down and share with the world. Culturally we're more about confession. I guess the British have always been a bit buttoned up but come on, Let's unbutton one button not rip open our entire shirt.
Who takes longest to get ready in the morning, you or your wife?
It's a close run thing. It's neck and neck but because she puts on make up…mind you there is an amount of moustache twiddling and waxing but she takes longer.