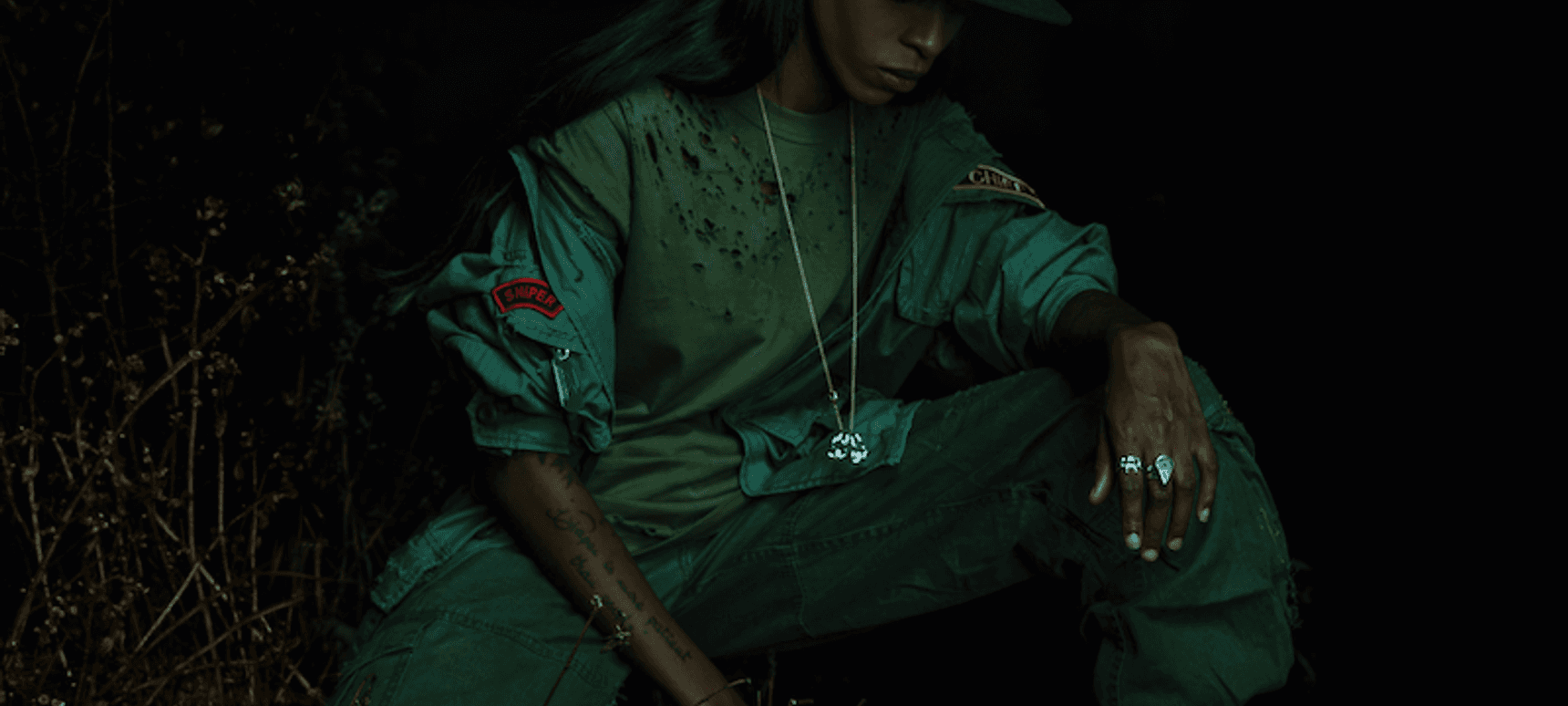 17.09.2015, Words by Natalie /
Angel Haze: "I've sung karaoke with Leona Lewis…she sang her own song."
There is a song on Angel Haze's last album called A Tribe Called Red, which begins with a speech addressing the foolish journalists they have encountered in the past; "Everything that you need to know about me is in my music". So as I glanced down at my various notes and questions, I desperately hoped they had never written a lyric disclosing their favourite Spice Girl or go to karaoke song (it's Bleeding Love by Leona Lewis) "I've sung karaoke with Leona Lewis… she sang her own song," said Angel, as I noted down yet another reason to dislike Leona Lewis.
At this point we were sat in the dressing room-come-corridor of Birthdays in Dalston where Angel was about to play a sold out show. Back from a two-year hiatus they are in the UK to promote Back To the Woods, a new mixtape realised this week that confronts personal grief, triumphs and their widely discussed troubled past. Moments before we met, Angel had just won a dramatic play fight with their friend. Beaming from the victory, Angel was now explaining their deadly allergy to citrus and how they were once nearly poisoned in a dressing room by a banana. "They're not really allergic," their friend laughed. Angel giggled whilst rummaging through a box of grapes. The fierce young rapper dressed in all black was lot less serious than their hard-hitting lyrics suggest, with a positive energy that was contagious. Angel offered me a grape and the interview started.
Best performance?
Angel Haze: ""I think my first one because it felt like it had something to conquer. It was at a Dom Kennedy show at SOBs in New York, I met my manager for the first time at that show when I was 20 and he was like 'Hey get on stage and rap!' So for 15 minutes I did the most awkward rap you could think of. Imagine me in a pencil skirt and the tightest shirt and 5 inch heels on stage rapping. That just doesn't even seem really right?"
Best sport?
Angel Haze: "Basketball." (Angel's manager comes into the room and shakes his head in disagreement to which Angel replies…) "Please stop I'll wet you up on the court for 3 hours, get the fuck out!" (The manager left.)
Smallest crowd?
Angel Haze: "I did this little kids birthday party. Ha ha no, I'm just kidding. With smaller crowds I get a lot more nervous, with the big crowds I perform at like Wireless or Glasto there are so many people no matter what you do you do it perfectly. With small crowds they are right there, they can say 'Ah I saw you fuck up!' and then write it on their Tumblr."
Website most visited?
Angel Haze: "Stumble Upon. I look at lots of gay porn… and artifacts. And then I'm really obsessed with ballerinas. But yeah I do like gay porn so it just pops up."
Worst haircut?
Angel Haze: "It wasn't a haircut but when I was in seventh grade me and my brother got scalp eating bugs on our head. I had mad spots that were bald on my head and I had to try and cover them up with the left over strands of hair."
Most important book?
Angel Haze: "The book that's taught me the most in the recent years is The Five People You Meet in Heaven by Mitch Albom. It taught me to realise the significance of every person you come into contact with and how they change your life little by little."
Favourite recording studio?
Angel Haze: "Electric Lady, Jimmy Hendrix's studio in New York and the A room is his room where he recorded. I recorded two or three songs there, the energy is dope! I was there for a week and I go sometimes still. I was working on something with Cat Power and my label was trying to do something with Lana Del Rey and me, but it didn't come through."
Worst habit?
Angel Haze: "I'm impulsive."
Perfect day in New York?
Angel Haze: "No day in New York. It's just crazy yo. You gotta deal with mad heat and mad people. I like New York cause its accessible and everybody is somebody, trying to do something. In theory that's great but in reality its like get the fuck out of my way I got shit to do."
Actor who would play you a movie of your life?
"Kerry Washington, she's hot."
Favourite cartoon?
Angel Haze: "The Amazing World of Gumball cause the little blue one is totally me." (A 12-year-old blue cat that despite his rambunctious behavior and occasional lapses in judgment, he is ultimately a loyal and kindhearted person at heart).
Latest crush?
Angel Haze: "The manager of the Nando's in Hammersmith, I met him there a couple days ago – he was hot."
Most under-rated artist?
Angel Haze: "ME!"
Angel Haze's new mixtape 'Back To The Woods' is available now (download).