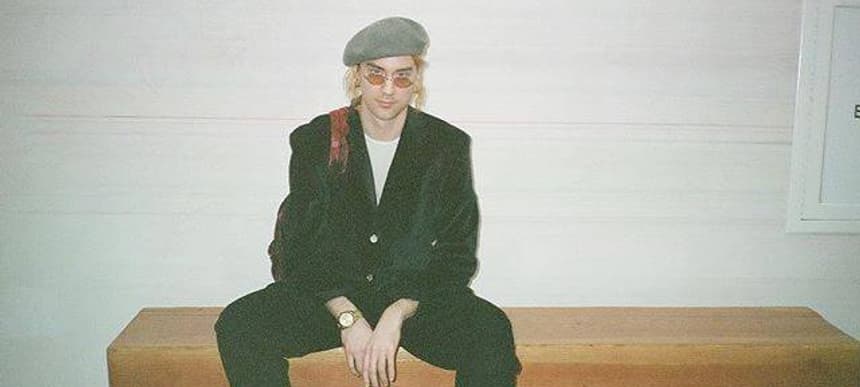 09.02.2018, Words by dummymag
Ashtar Lavanda emerges from the shadows of Detroit electro's golden era
Rarely do we think about the music we have yet to hear or will never hear. No doubt, musicians dead and alive have cuts and snippets kept in the dark, deep confines of their catalogue, with no desire to release them, which will always leave fans wondering as to the quality of the unseen and unheard. Obviously, reasons for withholding products of bygone eras are myriad, and rarely do they see the light of day. But, in the case of Ashtar Lavanda, the light of day is now shining brightly.
His story is one of music's most recent cases of unsolved mysteries reaching a natural conclusion: A disciple of Detroit's energetic electro scene in the 1990s, Lavanda was making music among greats such as AUX88, Ectomorph, Dopplereffekt, and Drexciya but, in the midst of such an exciting period, Lavanda disappeared, his soundscapes were cast out onto the recycle bin. Or, so he thought. Fast forwarding to 2014 and an unlikely encounter by Ultrammajic label head, Jimmy Edgar.
Receiving information about an East Detroit storage unit auction containing vintage recording equipment and historical items of Detroit Techno descent, Edgar jumped at the chance of retrieving the lost files. Ultramajic later came into the possession of over 100 DAT and ¼' reel tapes, with one box containing meticulously dated tapes from 1995 -1998 with the sharpie inscription 'ASHTAR LAVANDA'.
It would take another two years for Edgar to track down and connect with Lavanda, and the tapes, renamed Unsolved Mysteries, is out today on Ultramajic. After such a triumphant episode of retrieval, we sat down with both Lavanda and Edgar to break the story down further, Lavanda's background, and if the term 'pioneer' applies to him.
How did you feel when Jimmy Edgar notified you about the recovered tapes? What was that initial conversation like?
Ashtar Lavanda: Man, I was surprised. I figured those tapes were thrown away a long time ago. Come to think about it, I would have sworn I had a few of them. Some of it I forgot about, so I wanted copies of that. Jim wanted me to have them, but I don't even have that kind of tape player, so we worked out a deal.
Tell me a bit about how you made the music and the point you were in your life at the time?
I went to a few local studios and sometimes rented equipment. My boy used to engineer but I still had to pay to get in. I was getting my music to New Dance Show and the radio, but I never made a release. I had some personal events that had me away from music for years.
Who were some of your musical inspirations at the time?
Mojo. I came up listening to Loose Ends and One Way, my folks love to dance. Record shopping in Detroit used to be real good. My record collection is mostly electronic sounds.
How do you feel about Detroit techno?
Its straight. Detroit is proud of it. Anything that brings white people and black people together is good.
Do you consider yourself a pioneer?
I don't like that term, it feels like a George Washington type label and I ain't about that. Nobody knows me, and I didn't do nothing revolutionary. Jim seems to think it's worth releasing. Don't get me wrong, I love making people dance, but it's not a contest.
Why did you stop making music? Was it a case of falling out of love with it?
I never stopped, I just didn't need a music industry, I let it come to me and now is the time. I always made music; even when I was away from synths, I was making up songs
Do you ever think about making music again or are you content with your current life?
More music will come in the future.
What was the thinking behind wanting the tapes to be released to the public?
The simple fact that somebody besides myself wanted them out there and thought it was worth releasing. It would have been better as a record in the 90s but I always say 'better late rather than never'.
I saw you recently had a set on NTS – how was that?
It was straight. Ultramajic did the mix and the video, I just picked out the tracks and order. I'm still learning how to make a mix on my own, I'm old school I still record on tapes and wax.
Do you pay much attention to music these days?
Yeah of course, online. I still buy records. Music lovers never grow out of it.
At the end of it all, what do you think you get out of releasing the tapes?
Time will tell but I'm not expecting much. It's just bad as hell to be able to hold one of my wax.
Give me a picture of the day you discovered the tapes?
Jimmy Edgar: My friend told me about a storage unit in Detroit that he personally moved equipment in and out of. So, he knew there was some records and some vintage equipment in there, probably broken. This was happening around 2014 when I was recording in Detroit. The generation older than me always told me stories about finding 808's and 303's in the pawn shops in the 90s when the digital revolution came around, so I thought maybe I could pick up a cheap tape deck or at the very least some rare records.
The unit was dirty and unorganized, but we get to peek in for a minute before deciding to bid or not. I decided to bid after seeing there were some rare electro records and some vintage recording equipment, especially given there was no one else interested there. Honestly, it wasn't exciting; it was seeming to be a lot more work cleaning it out. Turns out there was a Korg KPR77 drum machine brand new in a box, that was funny to find.
What was Ashtar Lavanda's immediate reaction when you finally got in touch with him and said you plan to release the tapes?
It was actually very funny, he couldn't believe it. At first, I figured Ashtar Lavanda was a pseudonym of one of the already established electro artists from Detroit, but I checked with every connection I knew, and no one seemed to have heard of him. The sound was undeniably Detroit, which made sense for local music in the mid-90s. I asked around if anyone had heard of him, to Shake & BMG etc. Nobody ever heard the name. I even googled the name and tried to see if anyone else was searching the name, nothing.
Over the months, I had to call a bunch of guys that worked with the particular studio to see if they remembered anything and that's when we found a lead. We ended up connecting with him and he was very surprised and happy. He immediately wanted to see proof and hear the recordings. We told him we'd been listening for months and it needs to come out.
Musically, how would you describe the release?
For me, it's the heavy boogie-inspired end of Detroit electro. The influence of funk on Detroit electronic music is probably the most unique quality about it. I say this because a lot of the parametrises of electronic music directly go against funk music, that being the looseness in rhythm. But here we can listen to the tightness of electronically produced rhythms with the dissonance of funk/boogie music and melodies. Finding this release was perfect for me because I love these sounds.
What do you think Ashtar achieved with these recordings?
I think he really just wanted people to dance to his music. Every time he gets excited about something, it seems to be related to people dancing and having fun. I love that, he's like a kid.
Are they a reflection of the times in which they were recorded?
Yeah and this was obvious when we put the music to the backdrop of New Dance Show, it looked as if it belonged there.
What, if anything, do you want this release to achieve?
I want people to feel that same feeling I got when I was hearing Detroit electro in the 90s as a child. There's an energy that is unique, only a few producers were able to get this sound and imitators/admirers just can't seem to perfect it, which I love because it makes it special. When I was 14, I found a few of the best electro tracks on some GeoCities website with real audio links. Probably took an hour to download a loop. These downloads I got were like a golden treasure because I didn't know who made them and yet they sounded so good. It took years to find the identification of the tracks.
Ashtar Lavanda's Unsolved Mysteries is out now via Ultramajic.
Listen to Dummy's curated playlists on Spotify.