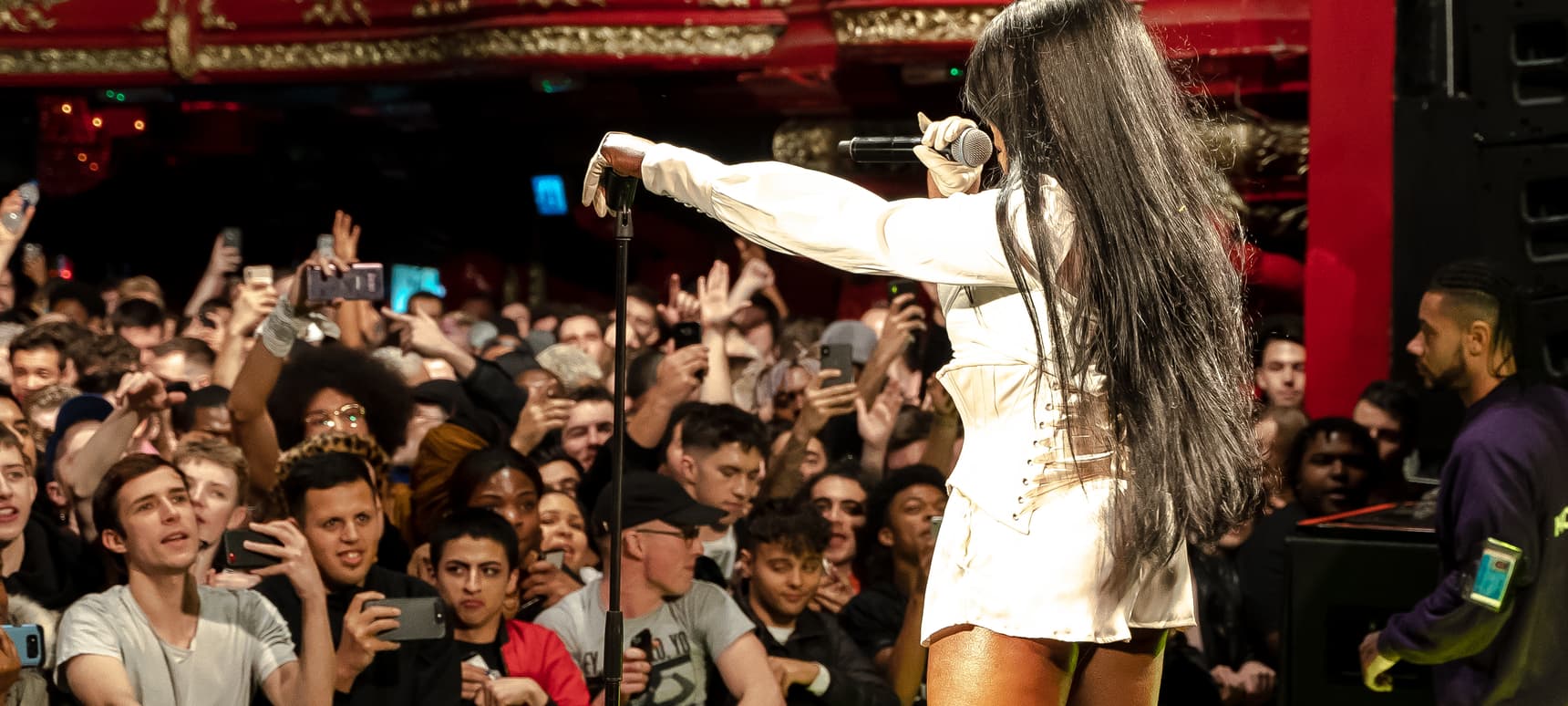 29.01.2019, Words by Felicity Martin
Azealia Banks cut through the Twitter noise at her London headline shows
The Harlem rapper's online spats and enduring controversies were left at home for a blistering show...
While being known for making undeniable bops, Azealia Banks is most widely known for her tabloid news-making spats. Recently, news emerged of Banks being subpoenaed in Elon Musk's securities fraud trial, before she leaked a string of text messages with Grimes that called her a "brittle-boned meth head" who smelled "like a roll of nickels".
More recently, the New York rapper's feud with Irish airline Aer Lingus saw her use the phrase "inbred leprechauns" and call Irish women "ugly", accusing staff of treating her like an "animal". Of course, Azealia has courted controversy for some time now, having as of late beefed with Lana del Rey and Cardi B on Twitter (despite being previously banned from the social media platform).
Leaving these aforementioned feuds, controversies and politically-incensed rants behind on the world wide web, the New Yorker cut an entirely different character IRL; letting the music do the talking on the final leg of her UK tour.
The Sunday night setting didn't stop the 27-year-old's dedicated fans from turning out in force, like they did at a sold-out KOKO in Camden just two nights before, to fill the 1,700-capacity Electric Brixton. Within seconds she silenced any critics in the building with a soulful, a cappella rendition of 'Luxury' to open the show; moments later demonstrating her 100-miles-an-hour flow on 'Chasing Time'.
The Harlem native launched Azealia Banks T-shirts and her own brand of soap into the screaming crowd (a move which on the surface sounds more threatening than it does generous), while an official Azealia Banks plush doll was available to buy at the merch stand for £25.
Switching between musical styles, what followed was a career-spanning hour of her biggest hits: drawing on tracks from 2012 mixtape 'Fantasea', her one and only album 'Broke With Expensive Taste' and debut EP '1991' right up to the jazzy 'Icy Colors Change' three-tracker (that found her rapping over Lone's 'Airglow Fires'), dropped in the run up to Christmas last year.
Whether it was the pumping house of 'Anna Wintour' and 'Van Vogue', the anthemic stadium-sized chorus of 'Treasure Island', or the breakneck flow she exhibited on 'BBD' and 'Fuck Up The Fun', Azealia barely broke a sweat during the high-energy, charismatic show that was full of throwbacks.
Her impeccably choreographed dancers – twerking and vogueing across the stage, never falling out of time – deserve a mention, too; Azealia even stepped aside at one point to allow them the spotlight.
Expectedly, it's Banks' earliest hits, 'Liquorice' and '212', which received the biggest reaction – the entire audience bounced as one and recited the unforgettable chorus in unison. Then, within a flash, it's finished.
"No, it's not over!" we heard one woman shout as we leave the venue, summing up the atmosphere inside. The controversies will no doubt continue, but Azealia's much-delayed second album can't come soon enough.