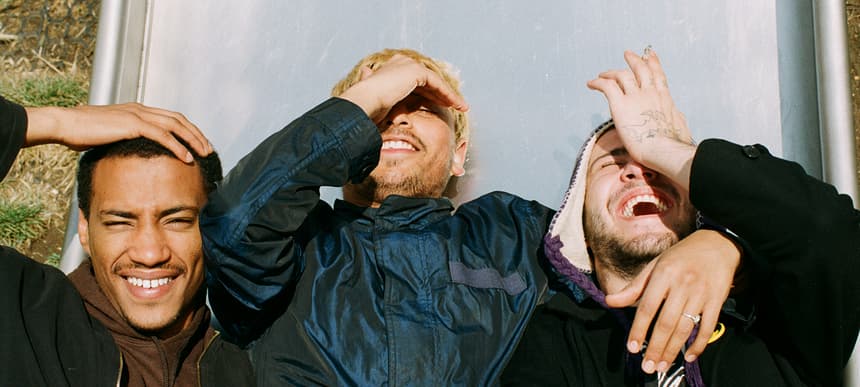 23.07.2019, Words by Billy Ward, Photos by Matilda Hill-Jenkins
Badgirl$ are the trio looking to reignite the British pop landscape
From being homeless to getting signed to Black Butter off the back of a Soundcloud demo, the group talk their ambitious musical vision...
The world in which exciting and progressive new bands would rise to the surface, re-defining and influencing pop culture as they shaped what was 'cool' for huge scenes of young people, is one that has – for better or worse – been left in the past.
Manchester trio Badgirl$ have emerged from the nocturnal city fog into a new age. At a time where it's possible to access any music at any one time, genre boundaries have become fluid near the point of dissolution, tastes are more varied than ever, and the classical 'band' formula has lost its footing.
Having been brought up listening to music from previous generations before discovering fresh sounds and styles with age, the motley crew consisting of Billi, Bubz and Cooks, typify the listening habits of many music fans in their early twenties. "We grew up on, like, post-punk, rock, and then Soundcloud trap happened, so we switched to that as kids, you know what I mean?" says Billi.
The group's music presents itself as a melting pot for influences past and present. Mixed with smart pop sensibilities and a charisma that's hard to pin down, Badgirl$ are a breath of fresh air in the high-speed slew of generic acts.
The release of the band's debut EP 'Bethnal' earlier this year took a nosedive into the murky depths of their former reality, prompting a moody, corrosive sound. "Yeah, 'Bethnal' was super post-punk grunge, like fucking on the dark side," Billi says, lighting up a cigarette. "[It] completely encapsulated the mood of what we were in at the time, it captured the whole mood of what was going on," says Bubz, slouching into the sofa of their Stepney Green flat.
The EP was forged by the boys in trying circumstances. After getting kicked out of university halls for dropping out of his course, Billi moved into the cheapest alternative possible: a tiny single-bed room in Bethnal Green. "It was like half of this room," he says, gesturing a split in their open-plan living area which was already pressed for space, even in absence of Cooks who was away doing some modelling work. "And we would go there every single day," Bubz explains.
The group spent so much time in the flat that they all decided to move in. A lack of space and ongoing experimentation with various substances, though, meant their living conditions were far from ideal. Yet it was the location of the room that gave the music hopefuls access to the basic skills they needed to create the EP. "We didn't know how to make music properly and there was a Serbian guy who was a dubstep producer living in the next room and he used to let us use his studio and taught us basic stuff like production and shit."
"We'd make the songs on this Macbook with Macbook speakers and a Macbook mic, so all the mixes and stuff are so terrible on that album… it's really amateur," he continues. The unpolished rustiness of the EP stayed authentic to what the band were experiencing at the time, with tracks such as 'New Boots' utilising grungy guitar sludges and distorted vocals, contributing to the caustic feel of the record. "We wanted to see if a major could release an album without like any fucking mix which is quite a west idea," he says.
"It was a bit crazy for us because we were homeless at the time just drifting and staying at a hostel in Brixton and then suddenly we just had all this fucking money."
Shortly after moving into Billi's single room, Badgirl$ got signed to Black Butter. "We were like, 'Fuck it – let the universe do its thing,' and then four months in we get signed off a Soundcloud demo."
"It was a bit crazy for us because we were homeless at the time just drifting and staying at a hostel in Brixton and then suddenly we just had all this fucking money," Billi continues. With his student visa running out, the band went to Istanbul together, with Turkey being the only place Billi could stay while he waited for the label to sort out a new visa.
Having just signed a major record deal and been handed a large sum of money as an advance, the three of them decided to do what any group of friends would in that situation: celebrate. A lot. In the short time they were out there, they burned through the majority of what they had been given. "We just spent it like crazy, bunch of 20-year-old twats, know what I mean?"
"So now what we do, we sell our arses on the side?" Bubz jokes, a wry smirk across his face.
The single dropping next month, 'Stella', is an upbeat pop number which Billi tells me is a homage to an artist the group look towards fondly in terms of sound and style of music: "It's like pop-punk meets Jamie T… meets trap."
However, the new single is more than just another release for the band, it represents a new chapter and a change in direction for what they collectively want to produce. "'Stella' is going into changing times like we cant really make dark music anymore," says Bubz as he takes a mouthful of pasta.
If 'Bethnal' was the soundtrack to living in, as they put it, a crack den with no money, then their new music should be more representative of where they individually are at the moment, which seems a much better place. They want the change in sound to be a distinct one. "Its a completely different launch, like on Spotify you can see 'Bethnal' is 2019 and then 'Click' and 'Stella' and all these new singles are also going to be 2019," Billi says, sparking another cigarette.
"So people are gonna be like, 'How are they making this music?' I kinda want it to be known that's a clear transition, like 'Bethnal' should have been released a year ago, this is where it's going now," he continues. "We just had to get that project out the way so we could start moving forward," adds Bubz.
The band's enthusiasm and belief in the future is an invigorating prospect. Not wanting to be nailed down to their dark 'Bethnal' sound, they are inspired to release new music, introduce people to their sound and grow into an entity known for producing great pop records. Despite their lack of interest in labels and genre tags, they explain how they want their music to be recognised as good, universal pop done well, likening the musical accomplishments of The Beatles as the standard for what they hope to one day achieve.
The confidence the group possess in their own ability quickly becomes clear. After single 'Click' was released to great reception despite minimal promotion, it motivated them more than ever to press forward and try and make something come out of their music. "In a month it got to like two hundred, three hundred thousand listeners on Spotify which is mad and now I'm expecting that, so that made us take what we do more seriously. We treat it as a job," Billi says.
Despite the somewhat unexpected success of 'Click', the boys assure me they'd believed in their work from the very beginning, trying not to worry what the external world was saying about them. "We were so deluded," Bubz says, fiddling with a lighter from the selection of smoking paraphernalia on a small wooden table in front of us.
The move away from the sound of their first record is one that makes sense, yet Bubz took a moment to think back to the process of making 'Bethnal' and the initial realisation that they could make great tracks. "The first EP, even though the new songs are technically so much better and shit there were times making those first songs where we were like, 'Oh shit, yo, this is actually good'."
"Now we actually look back and we kinda hate 'Only 1'," Billi says. "That single, we fucking hate it," he continues, referring to the track whose name he has inked under his left eye.
Wide and acclaimed success is something the boys have their eyes firmly set on, with the belief that if they carry on releasing music true to themselves, it will snowball off the recognition they've already earned. "Hopefully we'll get there, if we project it, we just want it to be its own thing but we wanna reach a big audience," Billi says, continuing: "We want people to actually listen to the words we're saying and shit but at the same time not being too cool or too fucking avant-garde or whatever." His bleach-haired counterpart adds, simply: "We're not trying to be arty-farty or anything".
Despite wanting to be recognised as a musical force adding to the reams of highly-prestigious Manchester bands already representing the city, the boys assure me that they had thought of all the scenarios their music could go. The possibility of their work being discovered 40 or 50 years in the future wouldn't bother them too much, with just the existence of their music serving to immortalise themselves in one way or another.
"But we would like to be able to live off it while we're alive because when you're dead you're dead and it's the end of the world isn't it," Billi says.
May marked the band's first time touring, supporting the increasingly popular Bakar across his UK shows. The opportunity proved to be a worthy experience, allowing the group to play a selection of unheard songs to healthy crowds of music fans while honing and growing their stage presence. "It was a little funny 'cos of the name though," Bubz explains, referring to their name's similarity to Bakar's band which were similarly titled 'the Badkids'.
Badgirl$ recently supported the reigning queen of Latin pop, Rosalía, at Somerset House, an opportunity for the trio who explain that the Catalan popstar had – to their surprise – specifically requested them to do the show. "Yeah we thought it was her agency or some shit but it was personally her," nods Billi. "Yeah Rosalía's lit, we got the same earlobes as well," Bubz says.
Though they're grateful for the bookings they've been getting, in typical style the group are looking forward to their headline sets. "I think once it's our own tour its gonna be different its gonna be so lit, obviously playing support tours is lit but it's not your crowd just yet and you've still gotta prove something to them," says Bubz.
Although they had previously taken part in sweaty underground rap shows, their new approach involves a more technical vision, something that can only improve with time and experience. Speaking of the challenges that come with converting a record into a live performance, Billi tells me: "I have to play guitar and shit live which is quite difficult but we're going to make it work".
"Cooks plays the beat pad as well, he kills it," Bubz adds.
Despite still only being in the early days of their journey as a group, Badgirl$ possess all the characteristics of an exciting new prospect on the scene. Forging their own path with a unique sound and style, the chemistry and aesthetic of the trio offers a refreshing new spin on the ageing 'boy band' formula.
Stream Badgirl$'s 'Click' here.