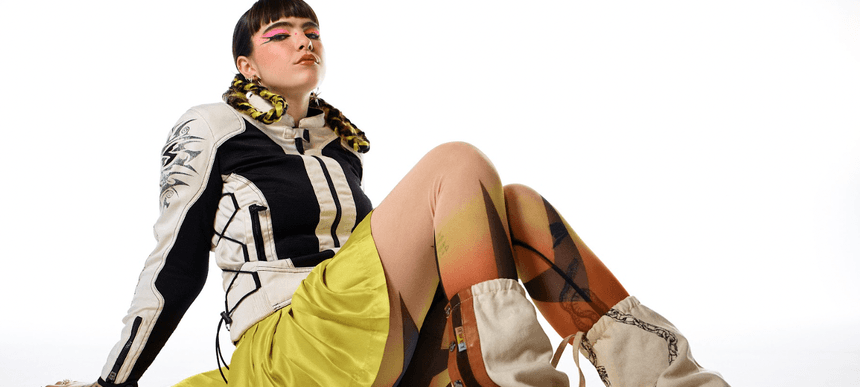 14.02.2023, Words by Payton Dunn
BENEE's chaotic 'Green Honda' music video almost didn't happen
The artist chats with DMY about the process behind the new song and her upcoming live performances
When BENEE exploded onto the scene in 2019 with her breakout hit 'Supalonely', few music critics could've ever predicted what she'd become.
She'd been a part of the early wave of artists that bypassed traditional marketing and broke on TikTok, which was still viewed as a novelty by society at large at the time. For how big 'Supalonely' was, it's still somehow managed to become just a sidenote in her career. She defied all the expectations that the music industry had for so-called "TikTok artists", now boasting an unprecedented amount of legitimacy and having truly made herself a staple of the indie pop scene.
She expanded her musical portfolio rapidly last year, adding on collaborations with artists like Jeremy Zucker and Sub Urban. She also released her third EP, Lychee. Songs on the EP like 'Beach Boy' and 'Hurt You, Gus' saw the artist shedding the layers of synthesizers and drum machines that defined her early sound, instead embracing a dreamy and stripped back sound that harkened back to the early days of indie rock.
That EP marked a complete 180-degree turn in her sound, but she's now spun all the way back around again. She's dusted off the synthesizers and drum machines once again and has taken on a sound that's even more chaotic than ever. We sat down with BENEE to talk about that change in style and the accompanying music video, which almost never made its way out of the concept stage.
Tell us about the process behind "Green Honda"!
"I wrote it in April of last year. I wrote it in LA and I worked with two producers called ELVIRA and Luka, who work out of Max Martin's studio. Marilyn Monroe used to live there! And Frank Sinatra! There's a lot of history behind it.
"It was my first time working with them and the first session I've ever done with two women! That definitely changed the vibe of it. I felt a lot more confident. Normally, you're in a session with an old guy, which is awesome because they're all super talented, but it was nice to be able to relate to them more.
"I instantly started singing the hook. I was like, "I pull up in my green Honda!" I did that along to the synth bass that they had already put down. We kind of laughed about it and then we all looked at each other like, "Oh! This could work! This could be a really fun song!"
"We just went really aggressive with it. We just wanted it to be really loud and banging and crazy. It's kind of chaotic, but I think that it's in a good way."
It really is chaotic! I feel like your music's always had that electronic flair, but this feels metallic and synthetic. Were you involved in that production choice at all?
"Yeah, definitely! Sometimes in sessions, I'll play songs that have a certain energy. We might have even played slowthai [in the session for 'Green Honda']. Obviously, it doesn't sound anything like slowthai. Throughout the session, I'd be like, 'We need something grungy! Put in a grungy guitar!'"
How involved were you with the visual direction? It has such a glamorous, over-the-top look to it.
"Yes! I was also involved in that. I knew that I wanted to make it just really chaotic like the song. A lot of the references I had on Pinterest were actually from rap videos. There's quite a raw grunginess that I feel like a lot of those capture. I feel like so many videos now are so glossy. I've made a lot of videos that I don't really love.
"I just wanted it to be aesthetically pleasing, so we found this junkyard. My boyfriend actually co-directed it with Eliot. Adam came up with most of the ideas of where we were going to shoot and what the shots would look like. We also worked with this guy named Tanner, who was the [director of photography]. He works a lot with Adam on Dreamer Boy videos, which I love! We actually worked together on a song that I feature on called 'ARE YOU LETTING GO?', which we filmed the year before. I knew I loved their work, and we got Imogen, who was the creative director for the whole release, to also help. That was really nice — to cover every area. She was making sure that the nails matched the vibe and that everything worked! Visually, it was everything that I wanted it to be, so I was really stoked!"
That's such an interesting location to shoot at too. What was the energy like on the day of the shoot?
"Oh my goodness! The whole process — the song, the video, everything that led up to it — was chaotic. The producer dropped out of it like two days before the shoot. We were almost not going to do the video, and the day before, I posted on my Instagram story and was basically calling out for whoever wanted to be in the music video. We need some baddies, basically! I knew that was the vibe.
"I got a bunch of people. Quite a few of them were my friends and a few of them I hadn't met before. Having more people on the video, which I knew I wanted for this video, really helped create the vibe. When we actually went location scouting and we rocked up to this junkyard, it was so much smaller than it looked in the photos! There really wasn't a lot of room.
"We did have a little bit of a panic because we were like, "How the fuck are we going to make this look dramatic?" A lot of what I was envisioning was a huge car yard that had lots of space that we could work with. That was also another challenge, but it managed to work itself out! I didn't expect it to happen like this, but it did!"
You're playing Coachella this coming April. How are you preparing for that?
"I am in the process of figuring out what I'm going to wear. That's really important to me! I feel like an outfit elevates a performance, and if you're in the wrong outfit, sometimes you don't feel like dancing the same! All of these things add up.
"I'm thinking about a couple of new songs that I'm going to add to the set, which will be interesting. We've been playing 'Green Honda' for about half a year, but adding more new ones is always kind of weird because no one's heard it before. How are they going to react? It's going to be the first show that we do in a while where we play new songs, so I'm excited for that!
"I think we're going to reach out to a creative director about stage design because there are a lot of things that I want to do visually with props that I feel could also elevate the live performance. It's Coachella, so you have to go in with a bang!"
Speaking of your shows, you just went on tour this past year! What was that like?
"That was really great! The shows that we did around California were awesome! [I went] to all of these places in California that I didn't even know existed and [played] to these rooms full of people. It was awesome!"

The EP that you just released, Lychee — how was the process for that different from FIRE ON MARZZ and STELLA & STEVE?
"I've got so many songs that I just sit on for so long, and I think with Lychee, I just wanted it to be quite a chill release. Just feeding the people some stuff that I'd been working on! I feel like creatively, it wasn't too different from how I worked on my two other EPs, but I did work with a few different producers who I hadn't work with before. On FIRE ON MARZZ, I pretty much only worked with Josh Fountain.
"I'm working on an album right now. I think that the album's going to be a bigger shock for me. Maybe for other people as well. Lychee, I always wanted to be a chill release, but the album, I want it to be solid!"
You also run your own record label, Olive Records. What motivated you to start that?
"Yes, I do! I remember I used to joke about starting a label with my old manager when I first started. I always thought the idea of being an A&R was really cool and I thought that if I wasn't an artist, I'd love to do that.
"From the start, I wanted to make it run by women. I feel like that's something that you don't see a lot of in this industry. It's male-dominated. That's very important to me — to have that different approach and see how it works for the artists.
"I feel like it's nice for me and the artists to have this kind of friendship relationship. It is a business and it is a business relationship, but I'm not profiting off of them or anything like that. I just get to work with artists that I love and believe in!
"It's been really good so far. I've signed Muroki and a band called There's A Tuesday, who I've been a fan of for a while. They're both just making really cool stuff."
You mentioned the album earlier. What else is coming in 2023 and beyond?
"New music is the biggest thing, obviously! I think that this music video for 'Green Honda' has really opened up a visual world that I want to explore more. I think I'm just going to push myself more this year. I'm moving to LA at the end of March. It'll just be so different because I've been in New Zealand and it's miles away. Being in the music hub will influence my work and what I'm up to. I think it's going to be a big year full of music!"