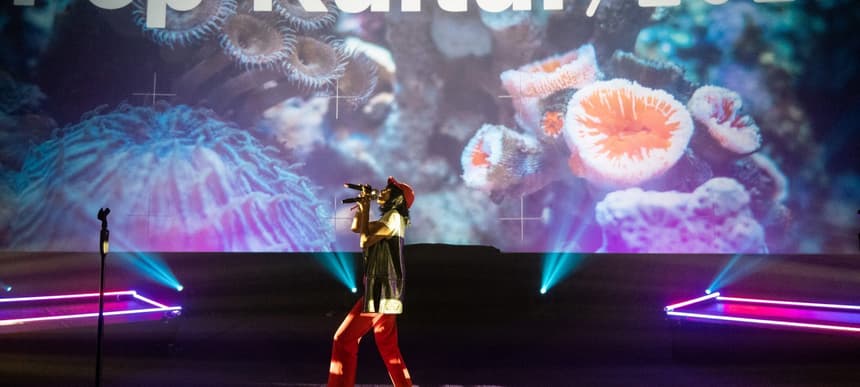 31.08.2022, Words by Luke Ballance
Berlin's Pop-Kultur 2022 was a diverse celebration of the ever-shifting boundaries of popular music
The German festival saw an unlikely congregation of artists on the margins of the mainstream...
Was ist pop? This is the question at the heart of Pop-Kultur, an eclectic annual festival in central Berlin that casts an admirably wide net in its search for groundbreaking talent. Celebrating the ways in which we've reconstituted the lines of popular culture through a series of concerts, panels, and art installations, this year's edition saw a diverse programme of international acts including Norwich-born hyperpop princess Hannah Diamond, D.C. rap titan Goldlink and Grammy-winning Pakistani jazz composer Arooj Aftab among its headliners, who collectively proved that pop, today, means whatever you want it to.
Taking place over the course of three weekday evenings across various nightclubs, cinemas, and conference rooms in the Kulturbrauerei arts complex, the festival also included a number of free open-air concerts and karaoke sessions on the site's idyllic cobbled courtyard, ensuring that young families and those strapped for cash could join in on the fun. It wasn't just little-known acts on this outdoor stage, either; acclaimed NYC alt-pop artist Tama Gucci and razor-sharp German rapper Wa22ermann were among those found on this wooden platform on day one, exercising their vocal dexterity as the sun beamed down on their audience.
A stone's throw away, the historic former brewery FRANNZ hosted one of the evening's most entertaining acts in Taffee, a local "queer punk" quartet whose wry quips onstage were just as much of an asset as their bite-sized, angst-ridden DIY offerings. Meanwhile, across the piazza, the Robert Smith-approved gothic rock outfit Kælen Mikla pulled out all the stops for an attentive Maschinenhaus: setting the tone with dim, flickering lights and tear-like streaks of makeup coursing down their faces, they summoned an hour's worth of haunting, Icelandic-language numbers reminiscent of The Cure's dark trilogy, including highlights from their latest album like the chilling slow-burner 'Sólstöður' and the new wave-inspired 'Stormurinn'.
Downstairs in the considerably larger Kesselhaus, American rapper Goldlink ensured that the breadth of his discography was fully encompassed, ranging from the everlasting bops 'Crew' and 'U SAY' through to his recent collaborations with PinkPantheress and an unreleased remix of Doja Cat's 'Woman'. Toeing the line between straight-up rap and shuffling hip-house, and even breaking into a 'Smells Like Teen Spirit' interlude at one point, it was a fitting demonstration of a versatile artist in his prime, even if last year's excellent HARAM! LP was a little under-represented. Over in the Palais, Munich rapper Ebow was just as well-received, peppering her slick performance with crowd interaction, improvised dance moves, and a number of familiar English-language covers, including a medley paying homage to pioneering women in hip-hop like Lauryn Hill, Lil Kim and Salt-N-Pepa.
Thursday night's programming presented some valuable opportunities to witness hotly tipped artists from a front-row seat. London's Nuha Ruby Ra, for instance, brought her signature cocktail of apocalyptic art-rock melodies and deadpan sprechgesang to a movie theatre. "I'm used to performing in small, sweaty punk venues, but I always have cinema in mind," she laughed. Employing two microphones in tandem – one with delay and another without – she worked her way up to stuporous ambiances, accompanied by industrial electronics. The same room would later see a rare appearance from PC Music affiliate and voice of 'Hey QT', Hyd, who treated fans to a gamut of new material including forthcoming gems 'Chlorophyll' and 'Fallen Angel', pacing the aisles to get up close and personal. Closing with the Nick Cave cover 'Into My Arms', they earned a standing ovation and, after exiting stage left, teasingly poked their head out of the door to wave one last goodbye.
The festival's round-table discussions were one of its greatest strengths, allowing aspiring creatives to hear accomplished performers open up about the ups and downs of their experiences in the industry. One such talk, provocatively titled 'A Record Label, What Is It Good For?,' saw Kill Rock Stars' press officer Sydney Christensen and Russian songwriter Mary Ocher debating the importance of a label in 2022, dissecting issues like publishing splits, posthumous copyright, vinyl manufacturing delays and financial risk with refreshing honesty.
On Friday, MySpace sensation Uffie, who had headlined the previous night with a wonderfully intimate showcase of her new album 'Sunshine Factory', sat down with Missy Magazine's Sonja Eismann to candidly reflect on her early experiences as a teenage girl in a male-dominated scene. The discussion also touched upon her hiatus spent raising two kids in the Joshua Tree desert, and the expectations around fashion and body image that are disproportionately felt by women in music, making for one of the week's most profound and insightful conversations.
With a slightly more relaxed musical schedule, the final day saw many of the venues nearing full capacity. Ghanaian rhymer M.anifest attracted one of the best crowds of the week with his expert fusion of rap and afrobeats, while COLORS favourite May the Muse offered up an enchanting selection of faultless, acoustic R&B tracks, accompanied by a sole guitarist. In the Maschinenhaus, Aisha Vibes confidently flitted between rap and melody, reminding listeners of her international appeal via both her official remix of Nigerian singer Pheelz' summer hit 'Finesse' and her Fire in the Booth freestyle. With a seamless flow and a natural stage presence, she was a clear standout among the many German rappers present over the three days.
The responsibility for closing the festival was left in the capable hands of PC Music's Hannah Diamond, whose cult following was immediately evident from the moment she stepped onstage. Donning a glitzy tutu and beaming from ear to ear, she navigated through a series of maximalist synthpop, trance and techno tracks, showcasing a large proportion of her 2019 debut 'Reflections' as well as the brand-new song 'Picture Perfect'. Going out on a high, she dramatically upped the tempo with her remix of 100 gecs' happy hardcore anthem 'xXXi_wud_nvrstøp_ÜXXx', inducing a universal sing-along and a sheer state of euphoria that left fans pleading for more.
Does pop describe a particular sound, irrespective of the artist's material success? Or is it the opposite; a shifting catch-all term encompassing the full canon of popular music? By bringing together an unlikely congregation of artists on the margins of the mainstream whose styles have penetrated the charts – be it rap, afrobeats, UK garage or post-punk – and artists who willingly subvert or subscribe to the clichés of bubblegum pop with a wink and a nudge, Pop-Kultur has set out to explore this question on a yearly basis since 2015. With their first in-person event since the pandemic hit, they've once again arrived at a simple conclusion: both definitions can be true, and we're all the better for it.
Read next: Four Tet All-Dayer: The DJ's London homecoming was one for the history books