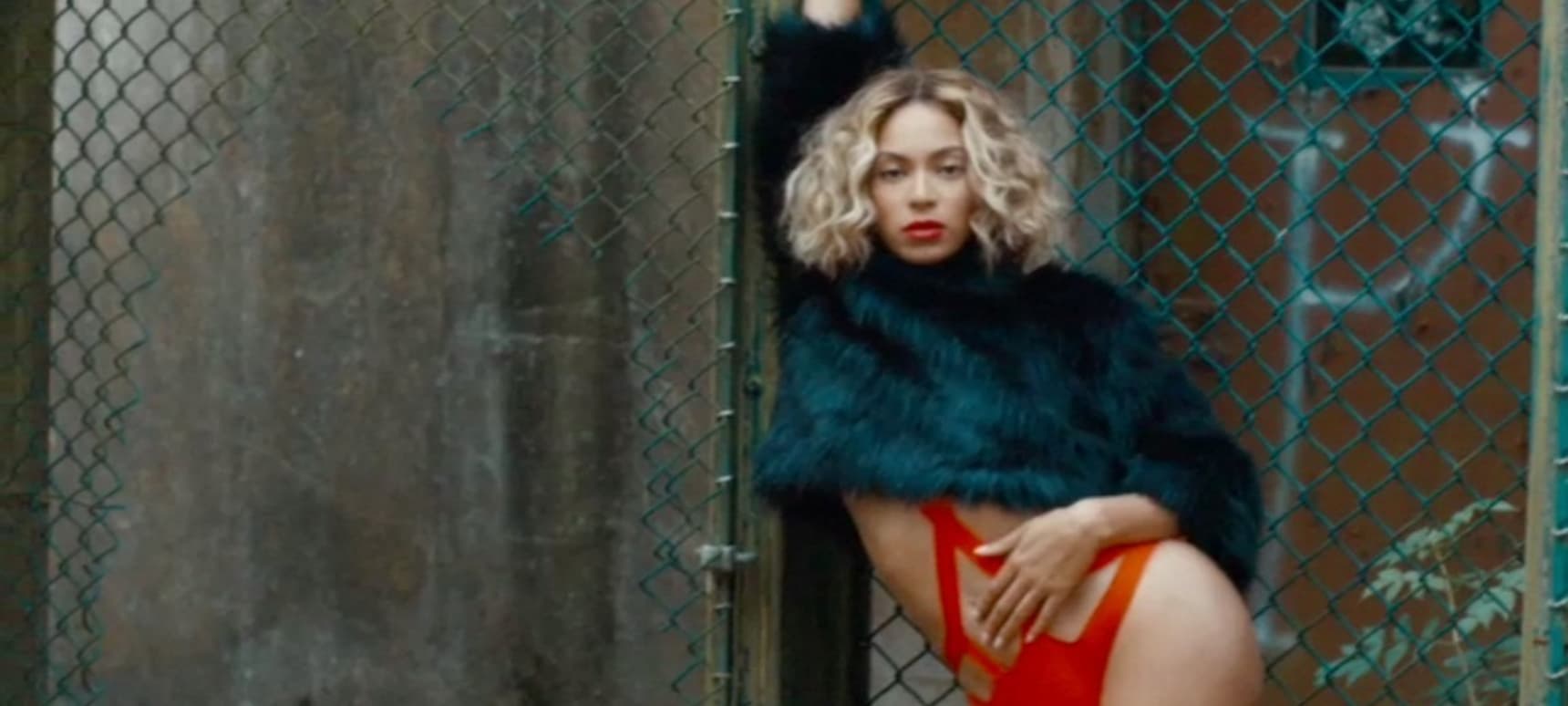 17.12.2013, Words by Aimee Cliff
'BEYONCÉ': A Visual Review
"I see music," said the press release accompanying Beyoncé's surprise album 'BEYONCÉ' last week. "It's more than just what I hear. When I'm connected to something, I immediately see a a visual or a series of images that are tied to a feeling or an emotion…and they're all connected to the music." In one of the most deftly orchestrated pop events of the year, probably even the last few years, the superstar's latest release was unveiled on Friday in an instant-gratification-overload of 14 songs and 17 videos, intended to be not only listened to but watched in full. It makes sense, then, to review not only the music but the entire package at once.
'BEYONCÉ' is a very smart release – the stunning feat of its secrecy aside, its audiovisual element plays into the record's overpowering themes of iconography, fame and ego. It's inextricable from the figure of the epoynmous singer herself, and asks the question of how and why a star is made, and how a person can exist on both a personal and public level. That thread snakes through the whole project; in the videos for Haunted and Superpower she's monitored by surveillance cameras, and in Jealous we see her run out into the street during a moment of lonely despair while waiting for her husband to come home, only to be photographed by a bunch of kids on their mobiles while she's clearly feeling low. On Drunk In Love she's singing that she feels"like an animal with these cameras all in my grill", and later in the video to the Terry Richardson-directed XO you're reminded of this as she sits on the other side of a fence blowing kisses to fans who are photographing her, literally looking like a caged animal. You're constantly being confronted with the idea that what you're watching is one representation among so many of this woman, an icon made up of an unfathomably large patchwork of imagery.
Jealous
Yet what we get here, in some of these videos, is the "real Beyoncé". She's hanging out with her friends (XO), playing with her baby (Blue), dancing provocatively for Jay Z (Partition) – all of these things are both part of her brand and part of her life (who can tell where one ends and the other begins?). It's telling in particular that Jay shows up in the video for Partition, a song he doesn't feature on, because he's clearly the man the lyrics are directed towards. When Beyoncé sings about having sex with her man in the back of a chauffeur-driven car, she refers to herself by name ("Driver roll up the partition please,/I don't want you seeing 'Yonce on her knees") and she gets her actual man in the video. Just like Kanye West, 'Yoncé is building her own myth by entwining her private life with her work. This music, and these videos, are abut no one but her.
Blue
Jay's other appearance (apart from a shot of his feet in Blue) is for the Drunk In Love video, which starts out with Beyoncé dragging a trophy around the beach on her own; this is a hangover from the opening video Pretty Hurts, where she's a tragic pageant queen singing in a room full of trophies about how difficult it is to live up to expectations of perfection. The question of what fame does to a person hangs heavy over the whole album – trophies aren't necessarily symbols of success but of unrealistically perfect little women set in gold – and it's a sweet touch that once Jay turns up Bey is unconcerned with her trophy and instead just wants to dance around drunkenly with her man. On this track she sounds the loosest and freshest she's ever sounded, riding an addictive beat with a playful flow, and in the video she matches this by dancing in an un-choreographed, jokey way with Jay (who looks like he's cracking up a few times too as he raps about "fucking up his Warhol").
Drunk In Love
Love and sex are a focal point on 'BEYONCE', leading the album's subject matter from the lusty cherry-popping lyrics of Blow to the complicated long-term relationship politics of Jealous. But Mine, featuring a classic Aubrey Graham chorus about "good girls" from Drake, is the place where this theme gets all tangled up with the concurrent idea of fame. In the song, Beyoncé insists "Fuck what you heard, you're mine, you're mine/All I'm really asking for is you", portraying a relationship that's got to battle against rumours and conflicting stories to assert its strength. In the video, dancers with their faces covered by fabric branded with "YOURS" and "MINE" snog (uncomfortably).
The face-covering motif pops up quite a lot throughout the suite of videos (see the balaclavas in the protest-themed Superpower), and like the cameras, has you thinking about how the image of Beyoncé's face is used in the media, and how it might feel for your face to be a symbol of something other than just yourself. It's sweet then that here Beyoncé is taking possession of her husband's body and image and telling him he can do the same for hers, creating the impression that when they're together they're not superstars but lovers.
Mine
Conversations about love and sex are inherently bodily, and that's not shied away from on this album. "We teach girls that they cannot be sexual beings in the way that boys are," says Nigerian writer Chimamanda Ngozi Adichie on ***Flawless, and the album roars in response. B's powerful body is the focal point of all these videos, as earth mother, as lover, as stripper, as dancer, as rollerskater, as beauty queen. Right from the start, with the very literal opener Pretty Hurts, in which B plays a beauty pageant contestant struggling with eating disorders and confidence issues, to the end – the final shot shows her walking away with baby Blue – it's inseperable from the whole project.
Pretty Hurts
This album is about the union of Beyoncé's body and legacy – private Bey and public Bey – and nowhere is this clearer than the boastful anthem ***Flawless. It's a direct response to the criticism that Beyonce received for Bow Down, which she released online earlier this year, when she was accused of subordinating other women by telling them to respect her success and calling them "bitches". In the updated version of the track, Bey blends problematic assertion directly into Adichie's speech on the true meaning of feminism, before ending on an empowermantra reminiscent of "If you like it then you should have put a ring on it" or "girls who run the world" in the form of "I woke up like this, I woke up like this…I look so good tonight."
This video is one of the places where the bond between music and visual is tightest, with Beyoncé dressing in the same plaid, denim and boots that the skinheaded men around her are sporting, women moshing together with men in a furious clip full of some of the scariest faces B has ever pulled. Crucially, the whole thing is framed by clips from her appearance as a child on a TV talent show, losing out to an all-white-male rock group called Skeleton Groove who are announced as the winners with four stars to Girls Tyme's (Beyoncé's childhood group's) three. Those three stars sit sarcastically in the track's title, ***Flawless – because Beyoncé is an icon now, and who the hell are Skeleton Groove? It's self-aggrandising and feminist – it's acknowledging the fact that the system is patriarchal and racist and forcibly asserting her own personal success as a reaction against it.
***Flawless
What's a little unnerving about this album is the fact that it's a mind-blowing exercise in myth-making, as an icon is crafted right before your eyes. Beyoncé is commanding not one but two of your senses; she's named the album after herself, put her entire family on it and even sings about herself in the third person as if she too worships at the altar of 'Yoncé, putting herself on both sides of the lens. But as a response to an industry who have tried to mould her into a product of their own making, it's a masterstroke of celebrity; as well as being the most musically adventurous and radical thing the star has ever released, this entire album is inseparable from the body and name that holds it all together.
9/10
Blow