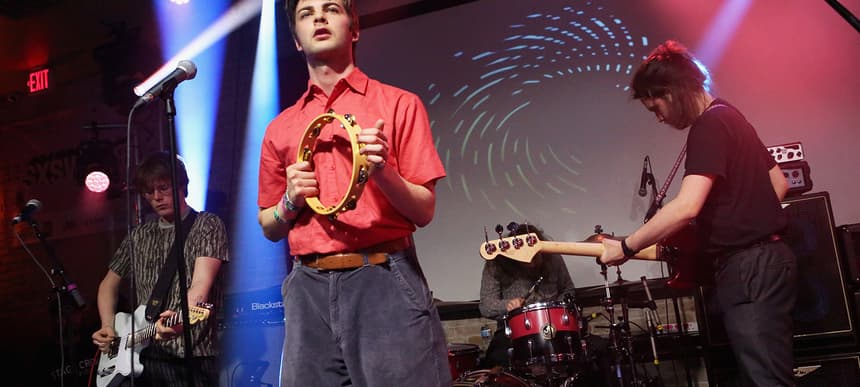 21.03.2019, Words by Sean Harper
Black Midi's terrifying noise and Tierra Whack's lost shoes: SXSW 2019 highlights
We navigated Austin's chaotic streets to find the best music the city had to offer...
Every year, legions of hipsters, movie buffs and tech heads from across the world descend upon Austin in an excitable swarm for the South by Southwest festival. At the event's 2019 edition, Austin's universities were still in session, upping the footfall from busy to overwhelming. At least it felt that way, though I've since read that a continuing trend for smaller headliners made for less chaotic streets this year.
SXSW was impossibly intense all the same, and opened a rift in pleasure between delighted visitors and long-time locals for whom the festival is by now an abstract yearly nuisance. One night, a mate and I find ourselves chatting to a bartender wearing a T-shirt which proudly states: 'Welcome to Austin. Don't worry, I live here.' "Last year I got a picture with a guy who had this shirt that said 'Austin. Don't worry, I'm not moving here. We got this photo together," she says.
I'm here to talk about music, though, because beyond the massive robot arms in the Convention Centre that sidestep the whole reason MIDI was invented by playing The Final Countdown on four keyboards (one per arm) and the sorts trying to rotate the paradigm with their largely unusable motion-graphics-for-dogs-type-schtick, I don't really know what else to talk about.
Monday, 11.03
On Mohawk's outdoor stage at 5pm, Black Midi's technical noise bewilders and terrifies. That the most riveting guitar music on the planet is currently being made by four unassuming, 20-year-old Brits seems to confound some nearby locals. Recent recognition from KEXP and The Needle Drop brings a swarm of trendies with it, and it's hard as a Londoner not to feel an unearned sense of pride. I feel like my local team have just been promoted. Black Midi will go on to be one of the buzziest bands of the week, cemented by their decision to "front-end" during the festival's less busy first half.
Dublin's Fontaines D.C. follow, playing debut album 'Dogrel' in full. They have the air of future stars, and tunes that sound like classics of the past. Displaced in the wrong decade they are not, however, as opener 'Big' and recent single 'Roy's Tune' speak to an all-too contemporary desperation.
Tuesday, 12.03
On Tuesday night, we catch wind of a student-run party across town at the notorious Pearl Street co-op, and we're all for it. For Brits unaware, a housing co-op is a student-run hall of residence unspecific to any one university. Tonight, the foreboding Pearl Street warehouse is a gloriously shabby monument to SXSW's DIY foundations. The common room hosts a modest stage, and punters spill from its confines into the huge garden and pool without a concern for capacity. As someone who's dreamed of attending SXSW for years, I note that the Pearl Street party is identical to what I expected.
Brighton quintet Squid don't waste time instilling a frenetic and manic vivacity into a room lulled into a haze by Kate Teague's bedroom pop in the set prior. There's sweat on the walls of Pearl Street co-op, its homemade lighting rig bathes a legion of overheating hipsters in a tacky, primary blue. Puma Blue then escorts us from Bikini Bottom to the bow of the Titanic, his lovelorn funk adopting a surprisingly gnarly energy through Pearl Street's cheap rig. It's surprising, but Squid's nervous electricity is only continued by Jacob Allen's usually sultry project.
Wednesday, 13.03
Before you die, I highly recommend you watch hundreds of influencers shed their self-preserving media skins and scream "Fuck off! Go away!" and "All dogs go to heaven" in sweaty unison. It's extremely funny. A Tierra Whack show's probably your best bet – she's only been on for a minute and she's only had to ask once. She's got crowd work chops to rival a seasoned stand-up, and the electric rendition of 'Fuck Off!' is a highlight.
The irony of preaching realness in front of a 30-foot Dr. Marten's logo isn't lost on Whack, whose complementary pair are in the crowd within moments. When she gestures at DJ and Hypeman Zach Whack to cut the track so she can ask for them back as they're her only pair, she captures the hearts of the minority who had yet to fall in love.
BEA1991 is fascinating, peddling a striking form of pop as indebted to the experimental club sounds of collaborator Sega Bodega as the luxurious pop of Blood Orange, who she recently supported on a tour through Europe. The straight lines and sharp edges of Pour Me's upstairs bar take on the characteristics of a cockpit in some celestial craft to the sound of BEA1991's robot-precise production, unusual melodies and cosmic range, and she dances as if in private. In space, no one can see you move.
Across town, the garden of Swan Dive lays the scene for a DIY Magazine showcase. Westerman and his small band set up their equipment, some audience members notice a definite crackling, presumed to just be a guitar plugged in prematurely. The source of the ugly sound becomes a mystery, and praise is heaped upon the elusive 'Dave', the sound guy – and, presumably, a sound guy – as he diligently works to isolate the racket. Unfortunately, what turns out to be a loose connection on the stage-right speaker stack causes some thunderous cracking sounds, far too loud and frequent to be simply made do with. After a spellbinding acapella opener, Westerman and band fight a losing battle against the technical anomaly through Edison and the opening bars of 'Albatross', before deciding the only way to salvage a set is solo.
Westerman is charming and a little coy when this exposed. But the volume of standalone singles he's released allows his set to comprise only the familiar, and he's bolstered by the large crowd through every lyric, every flourish. His bandmates, now in the front row, instigate a drunk and joyous singalong during 'Confirmation', which serves as a deeply affecting closer. As luck would have it, a one-man rendition renews focus on quite how well-crafted this song is, and Westerman exits the stage beaming, serendipity on his side.
Wrexham's Polly Mackey has been writing and performing for a long time, though it's as Art School Girlfriend that she seems most content to devote her all to building a career. Her experience is obvious in how quickly she and her band are able to stun the large crowd by Swan Dive's indoor stage into a breathless silence. Just as her brand of gothic, shoegaze-inspired trip-hop is reaching its summit, the anxious groove of 'Moon' completes it; a masterclass in building and releasing tension.
Thursday 14.03
Recent Bella Union signings Penelope Isles use their evening slot at Latitude 30 to prove that the shoegaze revival didn't fizzle for lack of quality. Emerging in the mid-2010s from the DIY framework established by labels like Art Is Hard, inking a deal in 2019 (deliberately or not) is a canny move. Their melodies glisten through a dirge of fuzz, and their astonishing harmonies distance them from a diminishing pack. Their sound isn't the sound of SXSW 2019, and that's precisely why they're such a joy.
Testament to the labyrinth of genre on offer at the festival, Novelist takes to the same stage at midnight. Nov has taken to a unique piece of software called Kotodama, which generates mad projections of his lyrics in real time, as he delivers them. It's as overwhelmingly lively as his music. I rush to punch the phrase "karaoke 2.0" into my notes. As hyperbolic as it sounds, the room is in a state of legitimate frenzy just lines into opener Afro Pick, and he masterfully bends its energy to his will throughout. A refreshingly wholesome speaker between songs, he welcomes his brother to the stage for a triumphant final track, who by this point is credited with being a significant reason Novelist was able to provide us with such a great show. It's up there with the finest performances of the festival.
Friday 15.03
Back at Container Bar, Japanese Breakfast are taking to the stage. The performance of Michelle Zauner's project is rapturous, now well into the swing of things on their penultimate show of the festival. Japanese Breakfast has evolved from home experiment to credible DIY project to bonafide pop star, and it's hard to imagine how one can seem more grateful to be riding that trajectory than Zauner, whose ice-cool bandleader persona is constantly replaced by a [giggling kid], thoroughly stoked to be living off her favourite thing.
She and her band swagger through the languid, shimmering funk of 'Road Head' to huge cheers, huger still when she shares that earlier in the week, she saw in the crowd the face of someone who rejected her in college, and how good it felt to be literally staring at them from a stage. When, during 'Boyish', she sings "We're just two losers", her charisma dictates that she's singing to each audience member privately, welcoming them from the bustling crowd into her gang of loveable antiheroes.
It's Friday night now and I've spent most of the week victim to a strange complex, that was ordering me to see Oh Sees, otherwise I wouldn't have 'done SXSW properly', or something. I think it's the John Dwyer mural that taunts me from the roadside wall of Hotel Vegas every time I pass by. We're queueing and a guy behind us is spouting some tirade about the superiority of 'Bush-era Tetris'. Come 1am in its garden, we're bruised, exhausted and caked in dirt after the ferocious double-header of Surfbort and Amyl & The Sniffers. But it's time for Dwyer and the latest iteration of his Oh Sees to take to the stage. Current drummer to guitarist ratio: 2:1.
For Dwyer, it's clear that performance of this nature is a relatively spiritual thing. Against the exquisite pairing of Dan Rincon and Paul Quattrone on drums, his eyes remain shut, his mouth a permanent pout, and his upper body flailing like a broken wind turbine. They scour the depths of their 21-release catalogue and augment everything with extended improvisations, dilating time by offsetting the speed of their squall against a feverish rabble of post-exhausted drunk kids, all blistered feet and stinging eyes at the end of a hell of a week. They could have played for an hour, they could have played for six. It's a blur. All I know is the drummer to guitarist ratio by the end: 3½:1.