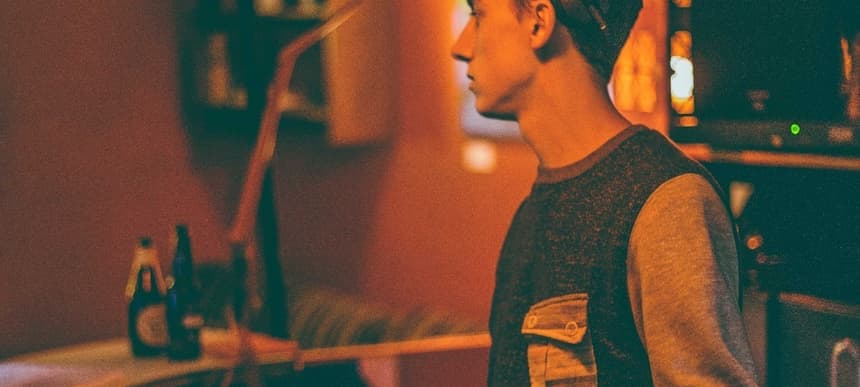 12.03.2014, Words by dummymag
Blackdown introduces Wen
Martin "Blackdown" Clark has been a key figure in dubstep and grime over the years as head of the Keysound Recordings record label and as a music journalist, writing Pitchfork's dubstep/grime column up until 2011. Here, he introduces young grime producer Wen, who is gearing up to release his debut album, 'Signals', through Keysound Recordings.
Blackdown: "I'd like to introduce you to Wen: if you've not met his music before, he's found his own bass-heavy sound built on a pulsing rhythmic backbone, a sense of environmental texture and coded vocal samples that interject like pulses. You don't have to take my word for it seeing as I run the label he's releasing music, but given how releasing vinyl is an expensive, thankless task these days, the way I see it is one man's 'conflict of interest' is another's 'putting your money where your mouth is.' You don't really believe in an artist unless you're willing to lose real money on 'em.
"That aside, there's a reason why I want to introduce you to Wen. Because to sample one of his own samples, he's just 'any guy.'
"Wen's probably quite like you: he's 22, he really loves music, listened to pirate radio sets and tape pack rips on YouTube when growing up, and caught a vibe. He found Fruity Loops, but only got somewhere when a mate showed him the ropes. He probably daydreamed, 'wouldn't it be amazing if I was a sick producer', then – to sample another one of his samples – thought 'don't be silly.' Regular, normal: any guy.
"Last year Wen remixed Plastician; this month he collab'd with Riko and remixed P Money. He's playing Fabric, New York and Outlook this year – and those are just the gigs I know of. What the!!?
"So here's the thing: I'll spare you the step by step, the 120Hz filter cutoff settings and SoundCloud uploads, the RTs and cross fader fails. The day-to-day details of how he got here matters, but ultimately isn't very interesting. All you really need to know is one thing.
"The difference between Wen and 'any guy' is that he went for it. Instead of talking about doing things, he did them. When chances came, he took them. When they didn't, he made them – at his own pace and in his own way, but he did. Sure, there probably were chances he couldn't take or make – but he did enough of them and they made the difference.
"In 2003 I went and met a young MC called Dylan Mills in Belly of the Beast Studios in Bermondsey, after his white label had blown my head off. Sitting in a blue Logic project, next to a window looking south over London railway tracks, was a 4 bar loop named Big Beat. In the weeks and months from then he took his chances and now no one can say ish to him. Eleven years later, Wen's Dizzee Rascal remix dropped on white label too. In the drop, Dylan-formerly-the-villain, spits: 'Life has been ugly so far/but these are fine times/ stay out of the paper chase/follow the guidelines…'.
"Now in 2014 the slate has been wiped clean. These are fine times, there is very little paper to chase but liberatingly few guidelines to follow. So I'm not sure much more needs to be said: what are you waiting for?"
Keysound Recordings release 'Signals' on March 17th 2014.