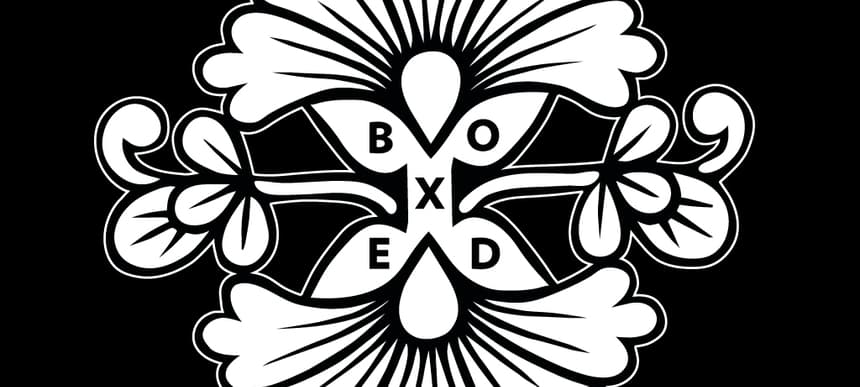 05.03.2015, Words by dummymag
Boxed at two: the instrumental grime night's residents pick their favourite sets
Boxed – the monthly London grime night that has galvanised a community of instrumental grime producers, given a physical space for their music to develop and evolve, and helped launch the careers of new producers and MCs like Novelist – is turning two this month. In celebration, they're throwing their biggest party yet at Bloc's Autumn Street Studios on Friday March 20th, inviting friends of the family Spooky, Finn, and Grandmixxer to play alongside residents Oil Gang, Slackk, Logos, and Mr. Mitch.
Although Boxed has found itself at the centre of many Is grime making a comeback? articles, one thing that often gets forgotten about is the music itself. The night has its own anthems – tracks by Mssingno, Dark0, and Strict Face, Finn's Keep Calling were all effectively launched there – and they've also brought in guest DJs like Mumdance, DJ Milktray, and Sudanim to present their own club styles to Boxed's open-minded and engaged dancefloors.
Before their birthday party, the residents have reminisced on some of their favourite sets and memories from the night over the past two years, essentially plotting a loose history of Boxed's bangers in the process.
Slackk: "My favourite Boxed at [Dalston venue] Birthdays was our first birthday one with Inkke and [DJ] Milktray. I remember being in the booth for Inkke's set, stood behind him, and that's the moment where I was like, 'Right, we've really got something going here'. We'd not had a proper busy night until that one, but this was just rammed; people were standing on the stairs, pushing for room, fist-pumping, the lot. That was the first time when I realised that this could be something more than we'd [initially] thought it could be. We'd had press before that – press that maybe felt like it happened before it should've happened – but it was still kinda minor until then, wasn't it? That was the first one where it felt like we had a real tangible thing."
Logos: "It wasn't a case of the names, either. People weren't even really paying attention to who was playing – it was just about being at Boxed. That night was my favourite. I got so hammered I completely stacked it at one point."
Slackk: "Yeah, you fell off Producer Corner! Producer Corner, by the way, was a little spot at Birthdays where you'd have all the producers and affiliates hanging out. That was also the Boxed where Tom Lea [head of Local Action Records] got banned from the DJ booth. I played Shriekin, Bananas – I think it was Finn's refix of it, actually – and Tom wanted me to pull it up, but I wouldn't, so he swilled me with a pint. He threw it all over my back. I remember going outside after that and I was so fucking cold."
"Talking about pints, we need to mention Greg from BNTL. It was the New Year's Day one, which was kind of half-empty – it was probably the wrong idea, after doing New Year's Eve at the Troxy the night before. But I was playing with Tom and Murlo, and when someone played the JL Sanders' remix of [Hi5Ghost's] Kung Fu Kick, Greg's booted this plastic pint glass across the dancefloor. We need to big up Greg and Tomas Fraser [head of Coyote Records], actually, I think they've been to more Boxeds than anyone besides the residents. I think they've been to more than me."
Mr. Mitch: "Murlo's Rhythm & Gash refix was probably the most memorable Boxed moment for me. I was standing at the back, talking to Boylan and his missus, and when that dropped I just threw my drink and ran straight to the front."
Logos: "Also, that wasn't just a bunch of producers pulling a tune up – the crowd demanded that. They thought that they knew what was coming, and it just killed it. We should talk about the people who never turned up for the first Boxed, you know…"
Slackk: "Claves! They've got that one tune that I still play now, Untitled. Novelist was asking me about that tune just the other day. We should give them a shout out."
Logos: "Oil Gang's all-vinyl set at Rye Wax was great, I really enjoyed that one. Another of my favourites was Tom Lea's set at the first Boxed. There was no one there really, but he was playing a lot of tunes by that guy Sublo, from the States, Highbury Skyline by Strict Face, that sort of thing, and they sounded great."
Slackk: "That was also the first time that Bloom remix of Toyc got played, which became a real Boxed anthem."
Oil Gang: "I think I've got four favourite Boxed sets. Spooky at Fabric – he's so talented, and so natural. To have the balls to take out the music, just leave an acapella running, then look for another CD, load that and drop it right on time? Something else. Levels beyond levels."
Slackk: "We should really talk about Spooky playing Boxed pre-USBs too. He played it twice before he switched to USBs, and at times he'd have a CD in each deck, a third in his hand and a fourth in his mouth. Spooky's been one of the main guys who, although he's not directly affiliated with us, is always there to rep – if he's not playing Boxed, he's usually in the crowd. He lives for this stuff."
Oil Gang: "Grandmixxer's set at Birthdays was incredible. I think he blew a lot of people's minds that night. I was round his house the other day, you should see what he's got lined up for the birthday. Another one was Mumdance's last summer. That was just someone so talented, on top of their game, and he destroyed the place. And then fourth, Murlo – whenever he plays, it just makes me really happy."
Mr. Mitch: "Three DJs that have really inspired me, through Boxed, are Grandmixxer for his chops. Oil Gang for his blends. And Mumdance for the way he structures his set. I always used to wonder how I'd fit a lot of the tunes I make into my set, but when he played Boxed it showed me how."
Oil Gang: "I've definitely changed the way I've DJed since doing Boxed. It's more about blends than just banging out 8-bar, and I've got a lot more confident in terms of dropping weird devil tunes or whatever."
Slackk: "I think we've all matured since starting Boxed, and I think a part of that is that before there wasn't really the platform to play that fully experimental grime sort of set before. I mean, I have done it pre-Boxed, and it hasn't worked, but now we've got a receptive audience it's helped our sets massively."
Logos: "We need to mention the Boxed Boiler Room, as well. Jack [Mumdance] doing his trick of pulling up the Novelist Take Time then playing the Riko one; Spooky debuting his remix of [Slackk's] Shogun Assassin; Oil Gang starting with Secret Garden; that Hijack remix, that was full of moments."
Mr. Mitch: "Plus Finn going to the bathroom and missing My My and the Keep Calling singalong."
Boxed's second birthday party takes place at Bloc (Autumn Street), London on March 20th 2015 (buy tickets).