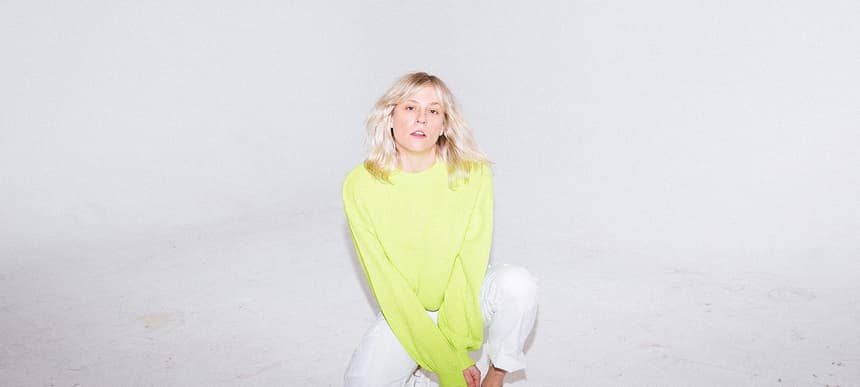 04.12.2020, Words by dummymag
BRAND NEW: GOLDEN
We meet the LA-raised, Brooklyn-based indie-pop artist to find out more about her unique musical stylings
BRAND NEW is a series where we meet some of the artists on our playlist of the same name: a weekly-curated selection of all the best up-and-coming acts. Following the likes of XATIVA, Scarlet Pines, and Lunch Money Life, today we chat to GOLDEN, the project of Brooklyn's Bailey Cooke. Originating from LA, she makes indie-pop informed by an impressive collection of analogue gear. Following 'Running', a track for which she also produced an EP of previously-unheard takes, she releases 'Eye' today via our DMY Artists. It's a track inspired by a desire of hers to bring back the era of The Supremes, Martin Denny, and the tropical lounge tones of The Beach Boys. We sent a few questions over to GOLDEN to find out more about her background, influences and that load of gear she's amassed.
Hi GOLDEN, how are you today?
I'm pretty chill – waking up to some Lee Hazelwood and about to make a bacon egg and cheese. I probably should be doing my laundry right now but oh well.
Can you talk us through your sound and production approach?
At this point I do pretty much everything except the mixing (Kenneth Gilmore) and mastering (Idania Valencia). I usually write on my Wurlitzer, and usually you'll find my Moog Rogue, and Teenage Engineering OP-1 on most of the songs. It's funny cuz never in a million years would I have thought I'd be recording and producing my stuff on my own. I couldn't even open a Pro Tools file a couple years ago, so it's been a wild ride.
My first regular studio collaborators were really Phil Joly and Joe Visciano and what really grew into most of the homies at Electric Lady Studios. Phil was the chief engineer at the time and he really brought me into the fold – we recorded there a lot which was amazing- and that's how I ended up meeting Joe, who really was the first person who made me realise I could even open Pro Tools in the first place, and eventually Caleb Laven, Brandon Bost, Steve Vealey, Vira Byramji and Davey Levitan/Space People who whether it's tracking vocals, teaching me a shortcut, producing, mixing, engineering, or timing a beat on GOLDEN – they really developed me and taught me everything I know so far.
What advice would you give to any upcoming artists out there?
To get involved. Ask your mixer what reverb plugin they're using. Ask them to show you a shortcut – write it down – take a screenshot, 'cos if you want to be in the game for the long haul, this is your life now, and the more you know how you should compress your vocal, or what reverb and EQ you like, the easier all of it becomes. And also more fun!
Do you have a first or very early memory of music?
Yeah, and honestly I think it is my very first memory of anything at all. And that's showing up to my first piano lesson when I was four. I had this Snow White dress on that had Bashful in the bottom right corner of the dress. He was my fave obviously. But yeah, my folks made me take classical piano lessons every week and practice every day 'til I graduated high school.
You have a great selection of vintage gear – can you talk us through some of it?
I guess I started buying up shit that was cheap and nobody wanted at the time, you know like I have some homies I know that found their [Roland] Space Echo literally in the trash – I've never had that lit of a payoff, but I ended up with a bunch of old drum machines and Casios and Yamahas, and because I was a musician and couldn't even open a DAW at this point, I'd put all the analog drum machines through a mixer and would cross fade them with like a big '70s Ampeg bass amp and a tiny 70s champ and EQ the fuck outta them and put them thru my Echoplex (shoutout to Pete ) and just track live in my voice memo app. I actually blew my vox pacemaker once with my Moog Rogue, but yeah – I'll do weird shit like put a bass synth through a guitar amp. But since then I've been learning Pro Tools and have graduated to sans amp and shoutout to my homies at Soundtoys who hook it up, love y'all.
Send us a photo from your phone.
Lol making a lil bit of a mess right now.
What's been keeping you going through lockdown?
Well I think I got through the first month in March doing like ten puzzles while listening to Brian Lehr on NPR every morning for hours. And you know, in was in NYC – the epicentre of the epidemic. But also – 'cos you know, NYC is small – honestly, all the people I collaborate with or studios are all within a ten-minute walk, so I think early on there was a small crew that formed so we could incubate together and still be able to make music. One of my regular bandmates, Quinn, owns a studio in an old ice cream factory down the street and since people weren't booking the studio, I'd get to go in under the radar and scream for a few hours without pissing off my neighbours at home.
Do you have any non-musical inspirations?
I read probably more than anyone else I know. I tend to be one more person who gets a little too heady or TMI for people so I hang out with dead philosophers and esoteric buddhist monks in books a lot. I've been reading a lot of phenomenologists this year 'cos I think they're the kings of putting the image in your mind with words. Gaston Bachelard is one of my favourites. I've also been reading a lot of Paul Claudel and always Sartre.
What's next for GOLDEN?
I just put out my first song this past year, and all these songs are part of my first debut album called 'LA-ZARUS' which is coming out in April! I'm almost done editing a crazy music video I shot in the freezing snow in Canada for my song 'Sunburn'. It's gonna be a beautiful video, though – a fun fact is the director Ben Steiger Levine who directed the video also made the Drake robot – haha, and mostly have to finish the next single coming out in Feb!
Listen to GOLDEN's 'Eye' below, and check out this 'Chamber Pop' playlist she's made for the track too.
She's also made a live studio video version of 'Eye', which you can peep below.