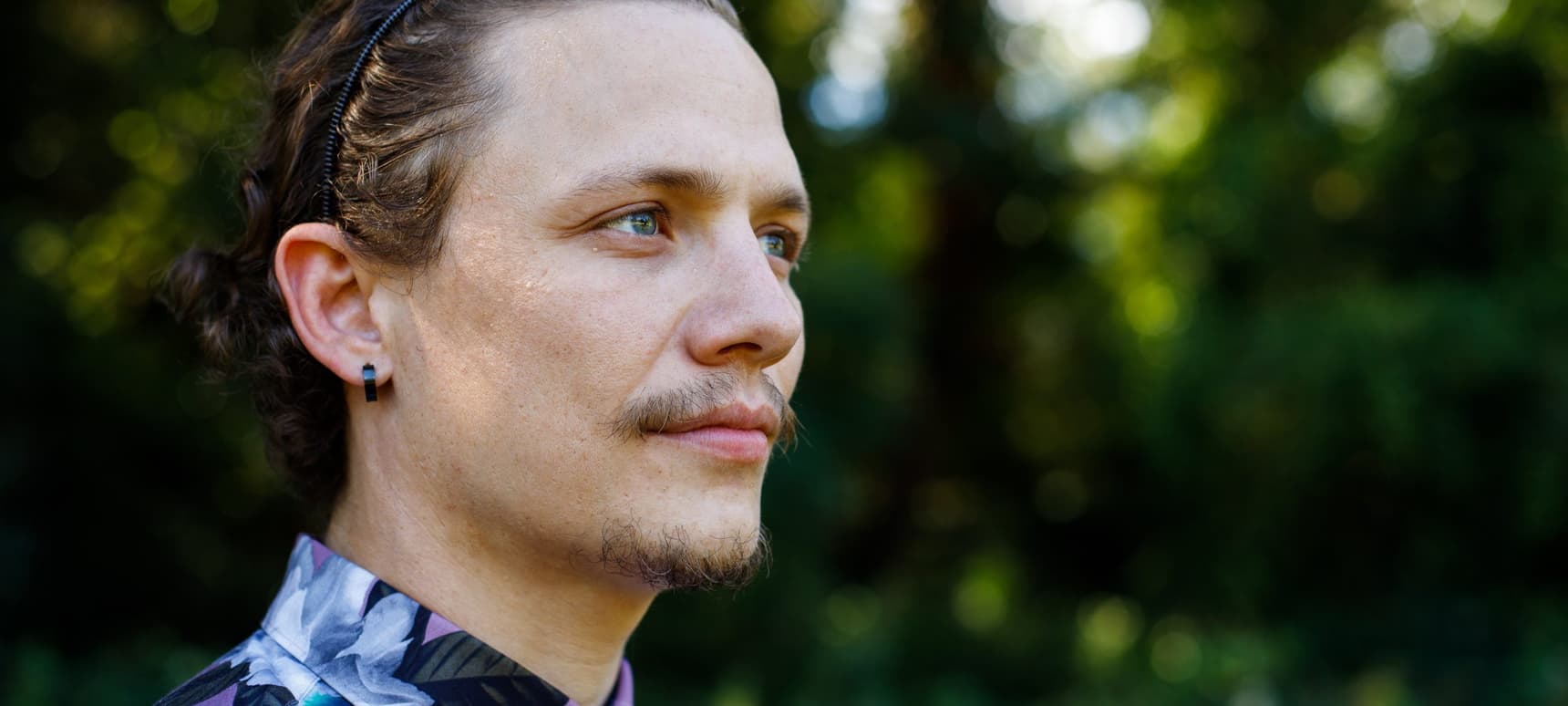 11.11.2020, Words by Felicity Martin
BRAND NEW: Scarlet Pines
We meet the improvised London jazz newcomer weaving together different musical threads...
BRAND NEW is a series where we meet some of the artists on our playlist of the same name: a weekly-curated selection of all the best up-and-coming acts. Following the likes of HAWA and Lunch Money Life, today we chat to Scarlet Pines, a newcomer in the world of modern UK jazz, psychedelic rock, instrumental hip-hop and soul.
Fronted by Canada-born, London-based Pete Range, who has a background in electronic and hip-hop production, the band consists of Idris Rahman on tenor sax, guitarist Joe Perkins, Flo Moore on bass and Joel Barford on drums, while writing and other instrumentation is done by Range. They've just released their 'A Life In Flow' EP, a collection of shape-shifting tracks that take influence from the blossoming London jazz scene but pull in other sounds and styles in improvisatory fashion – all cascading chords, soaring sax lines and warm pop hooks. Like most modern jazz, it's most thrilling when it unexpectedly weaves in a dub bassline or a '00s-esque drum 'n' bass drumroll. With the EP out now, we fired a few questions over to Range to find out more about his musical background, influences and process.
Your 'A Life In Flow' EP is out now – what are some of the styles and musical ideas that you've explored on the record?
I know it's a horrible cliché but I really did try and write outside of any genre, just practising improvising piano or guitar around new vamps or loops and keeping what sounded right, discarding what didn't. But I have been hugely influenced by the vibrant jazz scene here in the UK. I wanted to keep my song structure a bit more "pop" though, shorter songs and solos to keep things moving, and catchy hooks that grab onto you, a bit more emphasis on repetition and song structure.
You work from a home studio in Deptford – what's the setup like?
The centrepiece of the studio is definitely my Nord Stage 88 keyboard, it's where I spend the majority of my time writing these days. I record anything I like on voice notes on my phone before even thinking of getting into a DAW. I find inspiration more easily this way and it prevents me from feeling overly invested in bad ideas.
When I am ready to go into a computer, I have a trusty RME Babyface interface that I've used for about seven years and has never let me down. I run a Windows setup and either Ableton or Pro Tools. I have a couple of big computer monitors, I wish I had more – plug me into the Matrix!
I have a seafoam green stratocaster with a gold paisley pickguard, is it beautiful or an eye-sore? I'll let you decide…
My setup doesn't cost that much and it's 90% second hand gear. That would be my top tip to anyone; buy quality stuff second hand. It will last longer than cheaper new gear and will hold its resale value.
Growing up in Canada, what were some of your first musical memories?
I remember getting our first stereo, a three-disc changer thing. We only had three CDs for it for a while and they lived in there on constant repeat. I remember sitting in front of that and cranking it, the first time I'd ever heard music proper loud.
The three CDs were: Cat Stevens, 'Tea for the Tillerman', what a banging record that has stood the test of time, he has such a fantastical mind. Then there was The Who, 'Who's Next', 'Baba O'Riley' was my favourite on that CD, one of the GOAT air drumming songs. I think the final CD was Rod Stewart, 'Every Picture Tells a Story'. 'Reason to Believe' remains great karaoke material.
Talk us through some of your later influences…
Over the past few months I've been on a bit of a blues tip. I've been playing a lot of Taj Mahal, such raw and powerful music. Also been revisiting a lot of Keith Jarrett, he's played through such a kaleidoscope of styles which I find inspiring. Oh, and I've been bingeing Ill Considered a lot (one of saxophonist Idris' other musical projects) as they just dropped a bunch of previously unreleased live material on Spotify
How have you been staying sane during lockdown and in lieu of live music? Do you miss being able to play with your bandmates?
No live music has really been one of the toughest parts of the past year, I should be thankful that I'm fortunate enough to be saying that. But every cloud has a silver lining. When was the last time I could practice my scales for four hours every night? I've just invested everything into becoming better at my instrument, honing my craft. In some ways it has been a great year for creativity, I can be a hermit and not feel like I'm missing out socially.
What's next for Scarlet Pines?
Now that the EP has launched, I'm currently working on material for our debut album due next year. I'm super excited about the opportunity that a full length release presents and will give me the space to explore even more sounds and ideas. Hopefully we will be doing some live shows over the next 12 months, we will have to see what the future brings!
Watch the video for 'Sunrise', shot by Abi Hurcomb and edited by Nick Streatfield, below.