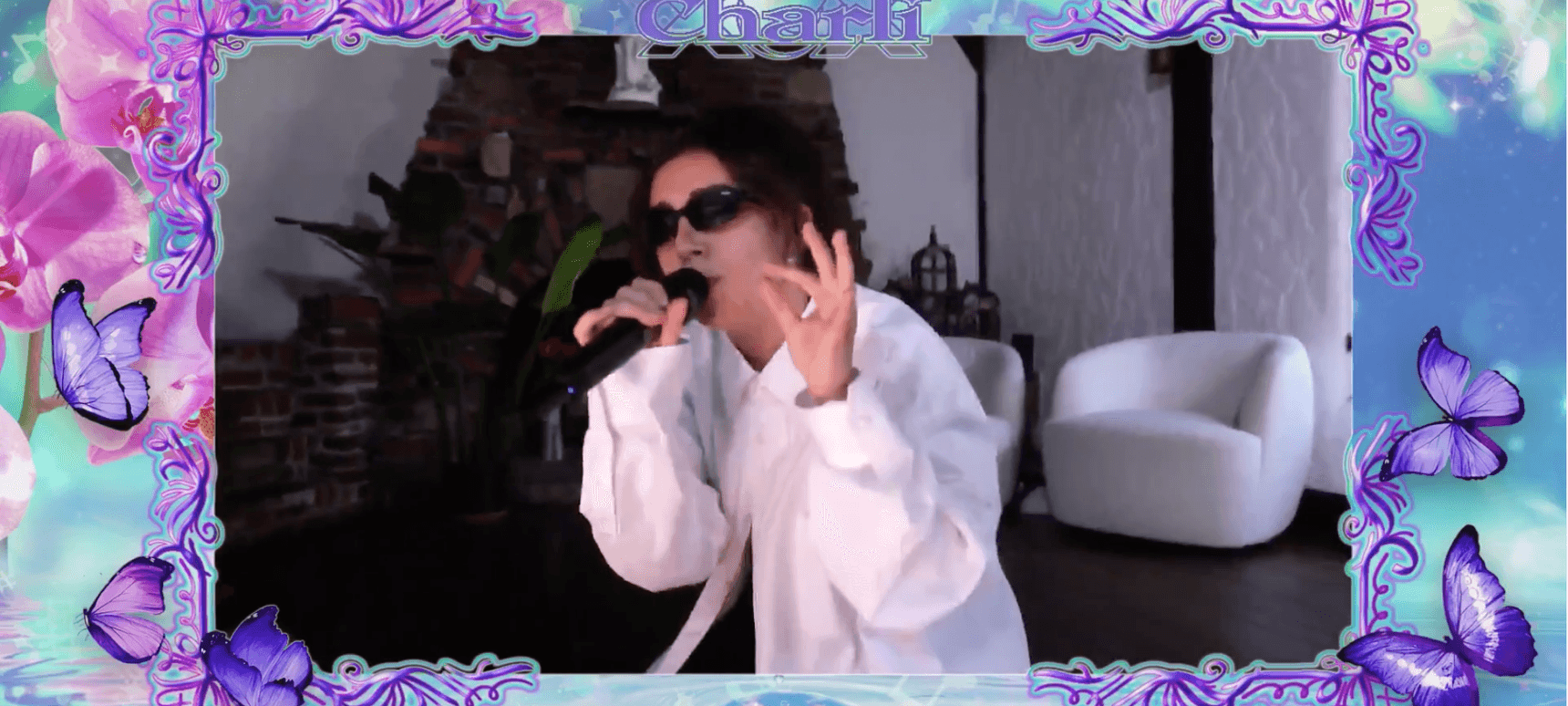 14.08.2020, Words by Ben Jolley
Charli XCX's virtual live show unleashed months of pent-up lockdown energy
In front of the camera, the pop powerhouse effortlessly captured the rave energy from her notorious live shows
With no gigs, festivals or clubs to go to (not as we know them, at least) for the best part of half a year, it's safe to say we're pretty fed up. But, if there's one artist who really utilised their downtime during lockdown, it's Charli XCX; having made an entire album from scratch in just six weeks and shared each stage of the communal creative process with her fans. However, almost immediately after unveiling 'how I'm feeling now', having put countless long hours into the project, a restless Charli found herself feeling lost and without a sense of purpose. And so, the next logical step – for an artist whose music is made with the live setting in mind – was, naturally, to bring the tracks to life in some way.
Making the best of a bad situation, last night (August 13) Charli invited ticket-buyers to a virtual house party: a bargain at just $5, especially considering it was being held in aid of homeless charity LA Alliance. Thrown in partnership with Boiler Room, the event was billed as a "one-off live exclusive: no archive, no repeats". It's "here today, gone forever" tagline immediately lending what was to come a sense of being unmissable; a real moment in time.
With her worldwide Angels spamming the group chat – "Angels, we ready to mosh or?", "YO WHERE MY QUEEN AT?" and "SOEXCITEDSOEXCITED" among the comments from hyperventilating stans – a sense of unity and connection was immediately built up, reflecting the IRL anticipation of being in the middle of a sweaty crowd with mates and strangers eagerly waiting eagerly for your fave artist to arrive onstage. Instead, thousands of Charli fans had dived headfirst into the "party portal".
Suddenly, it was showtime; after introductory video-diary peeks at the fun, stress and conflicting emotions Charli felt while making the album – including clips of her everyday life for that wild month, from the late nights to the DIY green-screened home videos, we were transported to her house in LA. Sporting black sunglasses and an oversized white shirt, we found Charli bouncing around her home studio – the very room where the record was made – like some sort of mad scientist.
Finally able to unleash the hedonistic energy she's had bottled up for months, Charli did her very best to recreate the atmosphere of her notoriously rave-y live shows; and the shaky handheld camera that followed her every move, zooming in and out, practically bouncing along to the beat, really helped to capture the chaotic energy she was clearly aiming for.
"Hello everybody in the world, it's Charli baby. This is the first time I've ever performed songs from this album. Wish me luck," she admitted, equal parts nervous and excited, before launching into a vocally-raw rendition of 'claws'. This being a live stream, there were – forgivably – a few technical glitches dotted throughout; of course, this led the group chat to blow up with stan reactions varying between "I hope this doesn't happen during 'visions' or I'll ask for a refund" to "it's okay Charli we love you", while one person summed up everybody's feelings: "autotune glitching the system"…
"Alright, are you ready, help me!" she asked an empty room ahead of clattering industrial banger 'c2.0', which would no doubt go off inside a dingy venue, sweat pouring off the walls. During 'visions', we got a momentary glimpse outside; it was only mid-afternoon and the sun was beaming down, but inside her room – and judging by this warehouse-style performance, it could easily have been 3am – not 3pm. The whirlwind emotional rollercoaster of 'forever' felt even more poignant, especially as months after it was written we still don't know when we'll be able to party freely again.
A second later and it was all over, Charli taking a breather on a sofa and wiping away the sweat "because I haven't done a show in so long". Giving off the look of a chat show host, she opened up and gives her first-show-back thoughts: "doing that just makes me miss shows so much and partying with you guys and performing and feeling the energy of the crowd and how palpable it is. Obviously, I know it's extremely important that everybody stays safe, but I definitely miss shows," she conceded, knowing that these types of events are as close as she'll get to properly performing live for quite some time.
Not content with having performed the entirety of 'how I'm feeling now', she then introduced US drag acts FKA TWINK and Miss Toto – asking about their "quarantine vibe" and how they have managed to transfer the energy of "slaying onstage" into a home performance – who would later pop up during Charli's "completely live" DJ set, which is worth an essay in itself. Moving into another room of her house MTV Cribs-style, Charli quickly set herself up behind the decks. Making it clear that her headphones were definitely not plugged in, she could be seen swinging the cable round, clearly not giving one fuck.
What followed was a set of nostalgic throwback bangers (Darude's 'Sandstorm' and DJ Sammy's 'Heaven' among the highlights) mixed into PC Music hits and edits of her own tracks – as well as a whole lot of random shoutouts – "Tiestoooo", AG, SOPHIE, Calvin Harris, Dua Lipa, Cara Delevigne, Grimes, Arca, Flume and Tove Lo all got a mention – and even a mimed saxophone solo. "Hands up, let me hear you screaaaaam," she shouted before the crushing reality hit: "I can't fucking hear you!" she replied, brilliantly taking the piss out of DJ culture. Like the live show beforehand, it was all incredibly fun, nonsensical and totally ridiculous – and that was the exact goal. At one point, Charli even did the 'Macarena' to 'i finally understand'.
It's all one big LOL and she knows it: "sick transition, best DJ in the world, which DJ do you know that can DJ with no hands?" she said as T2's UKG banger 'Heartbroken' melted into Hannah Diamond and Danny L Harle's 'Concrete Angel' (an unexpectedly fitting mash-up) while glittering pink diamonds (of course) shone on screen as blinding flashing black and white strobes transported the audience to Berghain. "This is how you do Boiler Room, bitches," she confirmed – and nobody could argue with her.
Hearing N-Trance's 'Set You Free' mixed into her own 'detonate' only heightened the feeling of missing the club and the need to party. "We're in Beefa babyyyy," she teased optimistically, as Deadmau5's 'I Remember' played; hopefully, some day soon, that will be a realistic possibly once again. For now, though, by doing everything in her power to keep her fans spirits lifted – and raise awareness and money for an important cause – Charli offered a much-needed – if fleeting – escape from reality.
And, although the whole spectacle lasted for just over an hour, it felt like we'd gone straight from her gig to the after-party and rolled out the door in the early hours in search of what was next. "Thanks for all the love for 'how I'm feeling now'. I couldn't have made this album without you," she signed off sincerely. "Seriously. I love you."
For one night only, Charli XCX created a whole new world, welcoming her Angels to take temporary refuge – and unleash months of pent-up energy – away from the never-ending shitshow that is 2020.