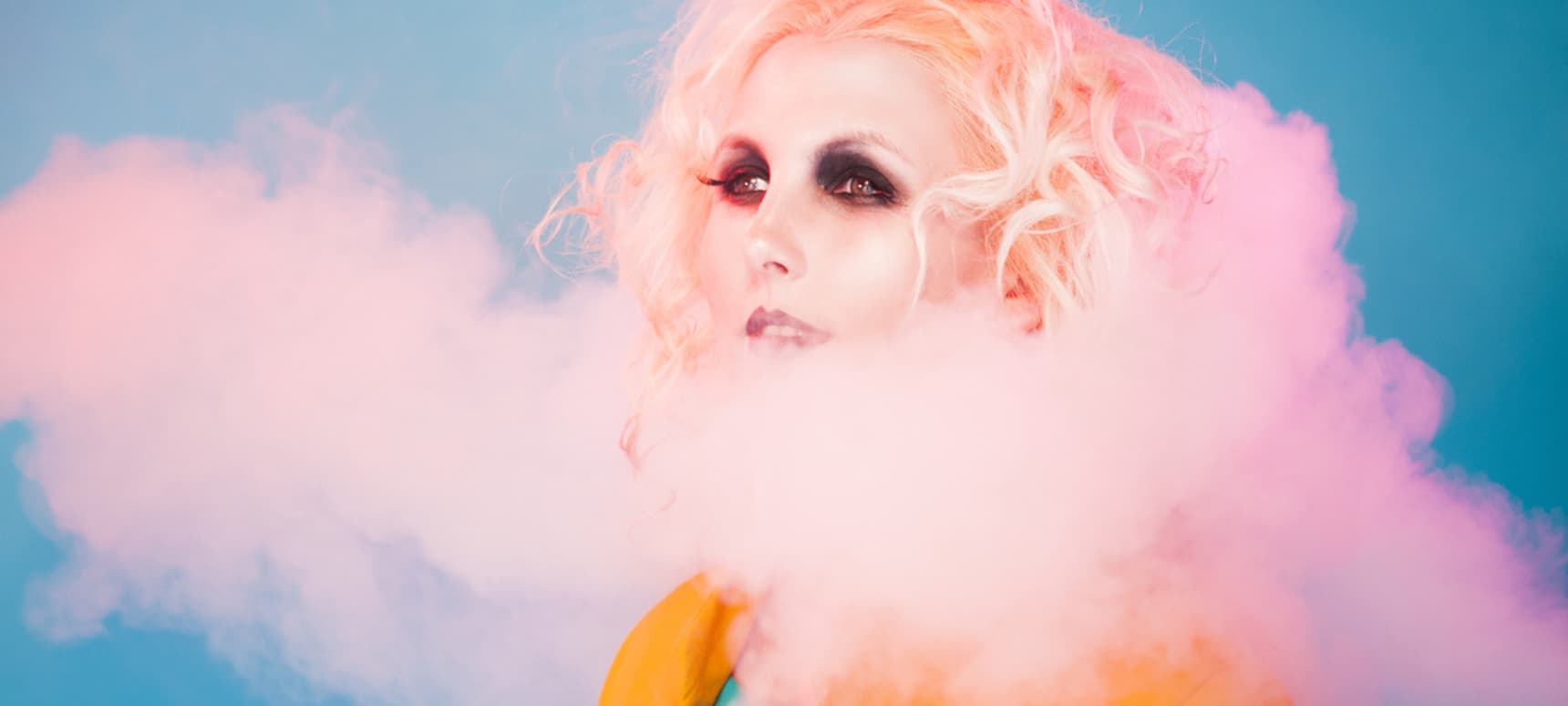 03.02.2016, Words by dummymag
Cherushii in conversation with Brett's Mike Coogan
Between LA and San Francisco, BRETT and Cherushii create a world of their own. Having never met or listened to each other's music before, the two sat down as artists do: completely understanding of the other yet, openly humbled by their unique musical perspective.
Cherushii, an artist on the label 100% Silk, hails from San Francisco. Creating futuristic house that glides artist Chelsea Faith into a world of her own, Cherushii's music is dance-rave centric, with an enigmatic and energetic twist. Brett sits on an all together different spectrum, making shimmering pop music that captures all that it touches. Expected this spring, their latest LP 'Mode' on Cascine is sure to grab the attention of pop and electronic fans alike.
Both coming from the beautiful world of music creation, Faith and Brett's lead singer, Mick Coogan recently sat down to conduct an intimate interview in anticipation of the Dummy Presents showcase with Cascine on February 5th at the Ace Hotel, Downtown Los Angeles. Left to their own devices, the two artists slowly began to unravel what it is they do and why. As it goes with any modern communication, they did it all from the comforts of their laptop screens.
Read the interview below and if you're lucky enough to be in Los Angeles on February 5th, join us at Ace Hotel DTLA for our Cascine showcase.
Cherushii: "Hi Mick!"
Mick Coogan (lead singer of Brett): "Hey Chelsea! What type of parties do you do in San Francisco?"
Cherushii: "I mostly perform in dance clubs here in San Fran, but when I travel I often find myself playing 'shows' where I'm on a stage. It's because the audience of 100% Silk is pretty new school and a lot of them came from indie band culture. It feels a little awkward to play house music on a stage for me. Dance music culture, traditionally, isn't really about watching a performer. But things are changing a lot right now."
Mick: "I've been confronted with a similar issue. We are putting out a new LP in the next month and we booked a few dates on the East Coast, but it's too much to fly the whole band (my ideal vision for live performance) so we will be doing two men shows. I've done it before and it feels a little weird but we will be dialling in an interesting stage visual, so I think it'll work out. I write the songs to be performed live, but it's so expensive to tour like that. Luckily for you, you can just show up and rock it. I'm feeling Wild Abandon by the way."
Brett in their four man formation
Cherushii: "Oh thanks! Yes I feel very lucky to be a solo act. As a soloist you can actually afford to tour. I can't imagine doing that with five people."
Mick: "What are some records that have inspired you recently?"
Cherushii: "I think the records that have inspired me lately are the same ones I've been listening to for 15 years."
Mick: "What's your go-to song that always seems to set it off?"
Cherushii: "Oh gosh, there are so many! There are also some parties that never get set off…I love Motor City Drum Ensemble. Any of the 'Raw Cuts' series are so good, and incredibly useful. They're so good that I feel like I'm cheating when I'm playing them, like playing Michael Jackson or something. Of course everyone is going to love it. What's your day-to-day listening like?"
Mick: "I love Twitter so I get a lot of music from there. This week has been one of the all-time music weeks on Twitter for pop with Kanye, Rih, Drake, and even the Zayn Malik record. There's just a lot of high level songwriting happening and it's inspiring, like big ass stakes and they are nailing it."
"There's a lot of high level songwriting happening right now and it's inspiring, like big ass stakes and they are nailing it." – Mick Coogan of Brett
Cherushii: "Ah yeah you are pop, which is not a bad thing of course. I love pop music."
Mick: "Yes for sure. I am interested in melody very much and get super inspired by so many different genres. One of my favourite melodies ever is a simple Miles Davis piano lick or some old Pavement song, or maybe something from Public Enemy. It's all the same. How do you create? What inspires the first thoughts of you sitting down to a new song? How did you start Wild Abandon? I love the Crystal Waters vibe."
Cherushii: "It can vary. It's very luxurious to be able to sit down and just create whatever comes out or whatever you're feeling at that moment. When I was working on my recent cassette album 'Memory of Water', I tried to completely forget about the functionality of music and just focus on sounds that I am attracted to. I spent a lot of time just playing with the different synths in my studio, which is not something I do all the time. As unromantic as it sounds, as a working musician, I am often thinking about what purpose the music I'm making will serve. I have been playing in clubs, and before that, raves, for 11 or 12 years now, so making music for dancing is usually my first priority. It's pretty hard to make a living off of records alone as you know, so performance is really important, and I have always been a dance music performer. I'm not complaining – I love dance music. iI's my bread and butter and I live for it, but when I get to stretch out and make music based on my whims that day, it's like getting to take a vacation. Wild Abandon started with that keyboard riff. I'm a raver at heart, and love classic early '90s rave music, especially UK breakbeat rave jams, so that track is me being very blatant about my love of rave tropes."
"I'm a raver at heart, and love classic early '90s rave music- especially UK breakbeat rave jams. Wild Abandon is me being very blatant about my love of rave tropes." – Cherushii
Mick: "I love your dance records, but I really enjoy this type of record because it's such an ambitious concept. Like you said earlier, you can't always release the super ambitious stuff because you are trying to survive, but it's so important to have and outlets for exploration."
Cherushii: "You had to get it out of your system."
Mick: "Yes, I was inspired by some of this hard ass minimal music, but I was stuck in a very pop zone. I figured out how to express some of the emptiness (at least to my satisfaction), so hopefully one day I get some art together and put it out, but I'm in love with melody right now."
Cherushii: "Having outlets for your different styles makes all your art better. I found it to be this way when I was working in a pop band and also doing house/techno simultaneously. I got to really get all my Italo and pop obsessions out and in the open with my band, and then when I sat back down to make dance floor techno, I felt satisfied and ready to express that. How does your band write music? Do you write collaboratively?
Mick: "I am the catalyst, I'll get melody lyric and basic arrangement down then send it out and we workshop the song until it feels good. We've gotten pretty good at it so we've become pretty prolific."
"I am the catalyst, I'll get melody lyric and basic arrangement down then send it out and we workshop the song until it feels good." Mick Coogan of Brett
Cherushii: "That's great. Do you write with a particular instrument?"
Mick: "I use Logic."
Cherushii: "I think most musicians have an instrument or tool that serves as their sketchpad."
Mick: " Do you use Ableton?"
Cherushii: "I do use Ableton for recording and arranging, but I write music using hardware sequencers and synths. I'm a bit of a dolt when it comes to using soft synths."
Mick: "What you got coming up in 2016?"
Cherushii: "My boyfriend and I are currently working together to score a room in a large-scale permanent art installation in Santa Fe called The House Of Eternal Return. It's the most insane art installation I have ever seen. It's in a HUGE building which was formerly a bowling alley. There are countless rooms and areas, designed and built by many, many different artists. David Last, my sweetie, is doing a ton of sound design work and scoring for the project, and we decided to collab on one of the rooms he was assigned to. It's a black light arcade, filled with refurbished 80s arcade machines. '80s electro is a point of reference for both of us, a place where our musical tastes and inspirations meet, so it seemed natural for us to create an '80s-inspired soundtrack for the arcade room. It's kind of a dream project for me."
Cherushii with 100% Silk label-mate Maria Minerva
Mick: "Rad, an installation sounds super ambitious. Scoring an immersive experience is always something I'd like to do. I scored an independent film once and it was really inspiring. The synesthesia of composing to frames was really tight."
Cherushii: "What have you got coming up this year music wise?"
Mick: "We have an LP dropping on Cascine in March and we're all really excited. I'm gonna go on a little tour to support it and meet people and share our art. I'm really pumped to put our vinyl in people's hands. That's a big part of this for me – just making something, then sharing and connecting."
Mick's band Brett play alongside Cherushii at Dummy Presents: Cascine on February 5th, Ace Hotel Downtown Los Angeles (free with RSVP).