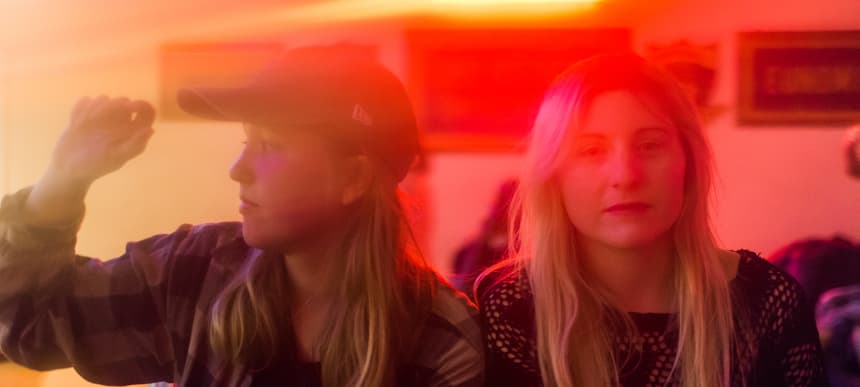 04.03.2019, Words by Felicity Martin, Photos by Briana Davis
Children of the night: Dummy meets Wyldest
We hit the lanes with the shoegaze band in their native North London to find out more about the dream chaos behind their debut LP...
A North London bowling alley on a weeknight might be an unconventional location for an interview to take place, yet it's at Rowan's in Finsbury Park that we find ourselves discussing the nuances of Patti Smith and Robert Mapplethorpe's relationship with Zoe Mead and Mawriin Kallikorm of burgeoning shoegaze band Wyldest.
The nostalgic setting of the ten-pin alley seems apt when unpacking the themes of Wyldest's debut album, 'Dream Chaos'. Standout track 'Alive' "sits in the middle of the album and serves as the turning point of the album from where you were looking back on the past and then you start to look towards the future," explains Mead.
"It's about being frustrated by society and feeling repressed and like you're not living your life the way you want to, but then using the experiences of the past to look to the future. While the song itself is about a lost love, it could be about lost friendship, or even being young. That's why we used the Patti Smith reference."
The reference they mean is from Just Kids, Smith's memoir, in which she refers to herself and partner Robert Mapplethorpe as "children of the night," which Wyldest use as a refrain in 'Alive'. For them, the poetic nature of this motif and the images that it conjured up were too powerful to ignore.
"It was about the nostalgia of their relationship," continues Mead. "She was reflecting on them being children of the night, listening to records until the early hours of the morning and surviving on no money and being really hard up but still being their happiest. They didn't care for that moment and just wanted to be wrapped up in something. They weren't thinking about material things and there's almost a childlike innocence there. It really shows that you can also have the innocence as an adult as well, but it takes the right kind of environment."
Given the emotional weight of Smith's words and the impact they've had on their songwriting, our conversation moves onto autonomy and the female voice. Though it's a topic being broached more than ever in music, for Wyldest it can't be talked about enough. Bringing up the common trope of the male indie genius, Mead wholeheartedly agrees: "I think we definitely see that all the time. With women being able to speak out for themselves now more than ever, things are changing and it's great that people are being able to talk about it. And it's coming to light that these things are an issue rather than before when it was pushed to the back of everyone's minds or made to be okay. Even women go along with these things because we're made to feel like being mistreated is okay and just a social norm."
Autonomy is the very essence of Wyldest, and despite their desire to have more women speak out on their experiences, their self sufficiency wasn't inspired by the sometimes unfortunate experiences that come with being a female in the music industry. "We're lucky enough to have our own studio," Mead says. "I feel like a lot of artists out there don't have the funds or space to completely produce their own stuff, but I think having your own space is important, particularly in this day and age. It serves as a good little safe space. It's about an hour commute from where we live but when we go there, we spend the whole day. It's like an escape, there's no Internet either so you can completely lock yourself away."
Listening to the album, it's clear that escapism is important thematically and, at first glance, this seems to be the case for the album artwork, which seems to have an '80s aesthetic, looking something like a sun-soaked poolside. "Funnily enough, it's not actually a swimming pool," they reveal. "We went to SXSW last year and while we were really freaking hungry and were waiting for some food and noticed a mesh window in a kebab shop that reflected on this blue marble worktop and we took a picture that just turned out to be this amazing motif."
Though somewhat accidental, this image serves as a metaphor for the album as whole. "I guess that was a dream chaos if you think about it. We were so jet lagged and we'd never played outside of the UK and we were in the middle of Texas which was boiling hot and we had no idea what we were doing."
Despite several gutter balls and an unfortunate amount of 7-10 splits, there's no dampening Wyldest's spirits, gleeful at the thought of their debut album release and impending UK tour. "Dream chaos" certainly sums up how they feel, understandably speaking of how this point of their lives has taken a surreal turn. "It's just so magical and we're obviously so grateful especially because we've never had a physical release before so it's a massive check off the bucket list," Kallikorm says. "It's pretty intense and amazing, and has certainly enriched our lives". For Wyldest, nostalgia isn't a dirty word. It means progression and finding your voice – something that has served as the making of them.
Wyldest's 'Dream Chaos' is out now – stream it here: