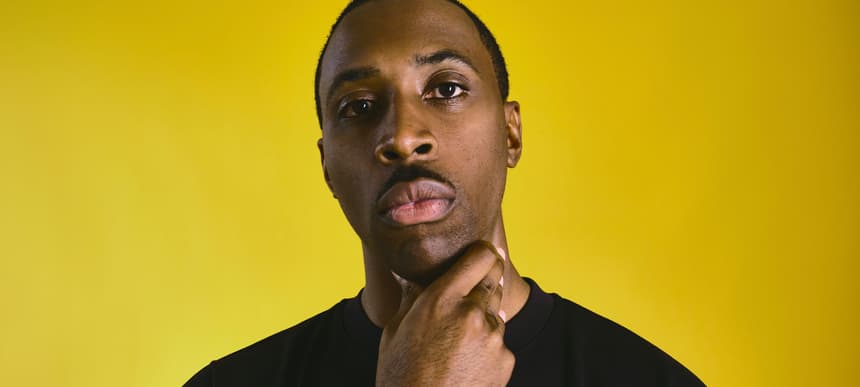 05.09.2023, Words by Billy Ward, Photos by Ejatu Shaw
"Close The App, Make The Ting": Elijah's Yellow Squares are making a difference by cutting through the noise
The East London grime pioneer breaks down the social media movement taking the music industry by storm
"I feel bad for the people organising festivals when it's like this," says Elijah, gesturing outside the window of Peckham's Sunset Studios. While large parts of Europe sizzle with record high temperatures and extreme weather warnings, the UK has experienced one of its wettest summers in years - and on the day of our photoshoot with the East London grime trailblazer, the dark clouds looming over South London provide the most torrential downpours the city has seen in months. "You spend all year long planning an event - and then it just rains all day," he adds sympathetically, knowing the lengths it takes to triumph through adversity when throwing music events in the UK capital.
His legendary Butterz nights in the early 2010's were a big factor in helping to establish the second wave of grime music. While deflecting unwanted attention from the Metropolitan Police, who were unfairly targeting and shutting down grime shows with the controversial and now-scrapped risk-assessment form 696, the raves - which began the week after the London riots - helped to carve out a space where superstars like Skepta, Stormzy and more could flower into the artists they are today. But despite his cult status in the UK's underground rap and rave circles, it's something else entirely that has brought Elijah back into the limelight over a decade after starting out in the game.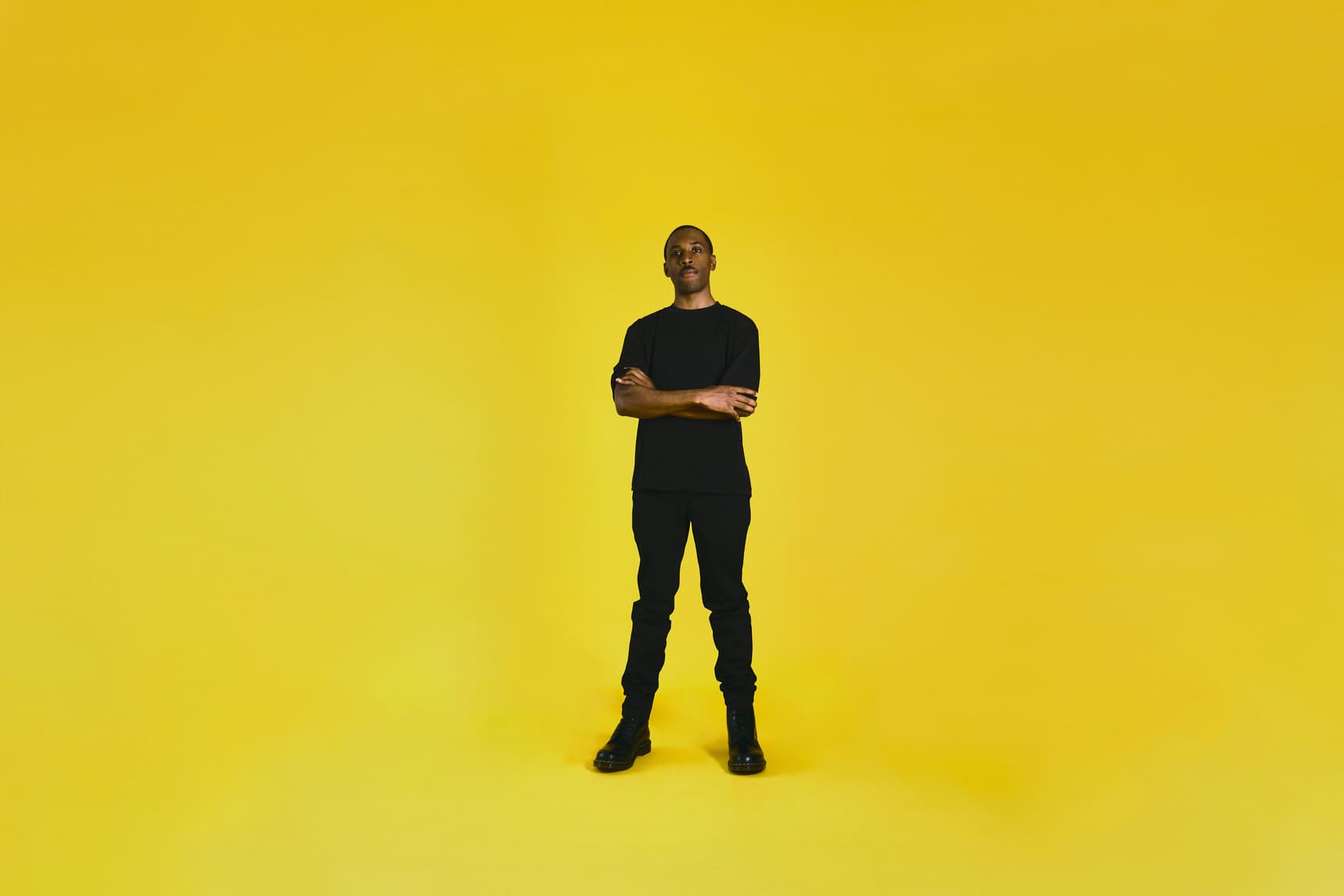 Since the beginning of the pandemic, the Hackney-born, Walthamstow Forest-raised figure has been on a mission to challenge the ways we think about working in the music industry, sharing valuable knowledge from his career to upcoming creators in the community. A London-based DJ, artist manager, and co-founder of the iconic record label, Butterz, the prolific figure writes daily on sustainable artistic creation, electronic music, grime and rap, web3, community, social media, and his other curiosities in short notes, known as the 'Yellow Squares' on Instagram and Twitter. The format is simple but effective: For step one, he uses his iPad and Apple Pen to write out his industry-related thoughts on a yellow background. For step two, he uploads them onto the internet. The simplicity of these short form statements has quickly resulted in a wave of highly-shareable, conversation-sparking content, achieving viral recognition across social media over the last year.
We meet Elijah on the top floor of Peckham's Bussey Building to carry out a 'Yellow Squares' themed photoshoot. He arrives on time and after stripping off his rain coat to reveal the all black outfit he's often seen repping in public, his insights into the state of social media as a whole reveal a lot about what he's trying to achieve with his current project.
"It's the kind of thing I want to see on Instagram or Twitter," explains Elijah, swiping through a file on his iPad full of his new yellow tiles and draft ideas. "Most of Instagram is just adverts - go here, buy this, link in bio, holiday picture, random photo dump. There's not a lot that you even remember," he adds. "If I ask someone, what did you look at on Instagram yesterday, they'll probably not know. But having 6 or 7 words land with you at a time when you might need those, and then the regularity of it, you might be like ok, there's a thing happening here."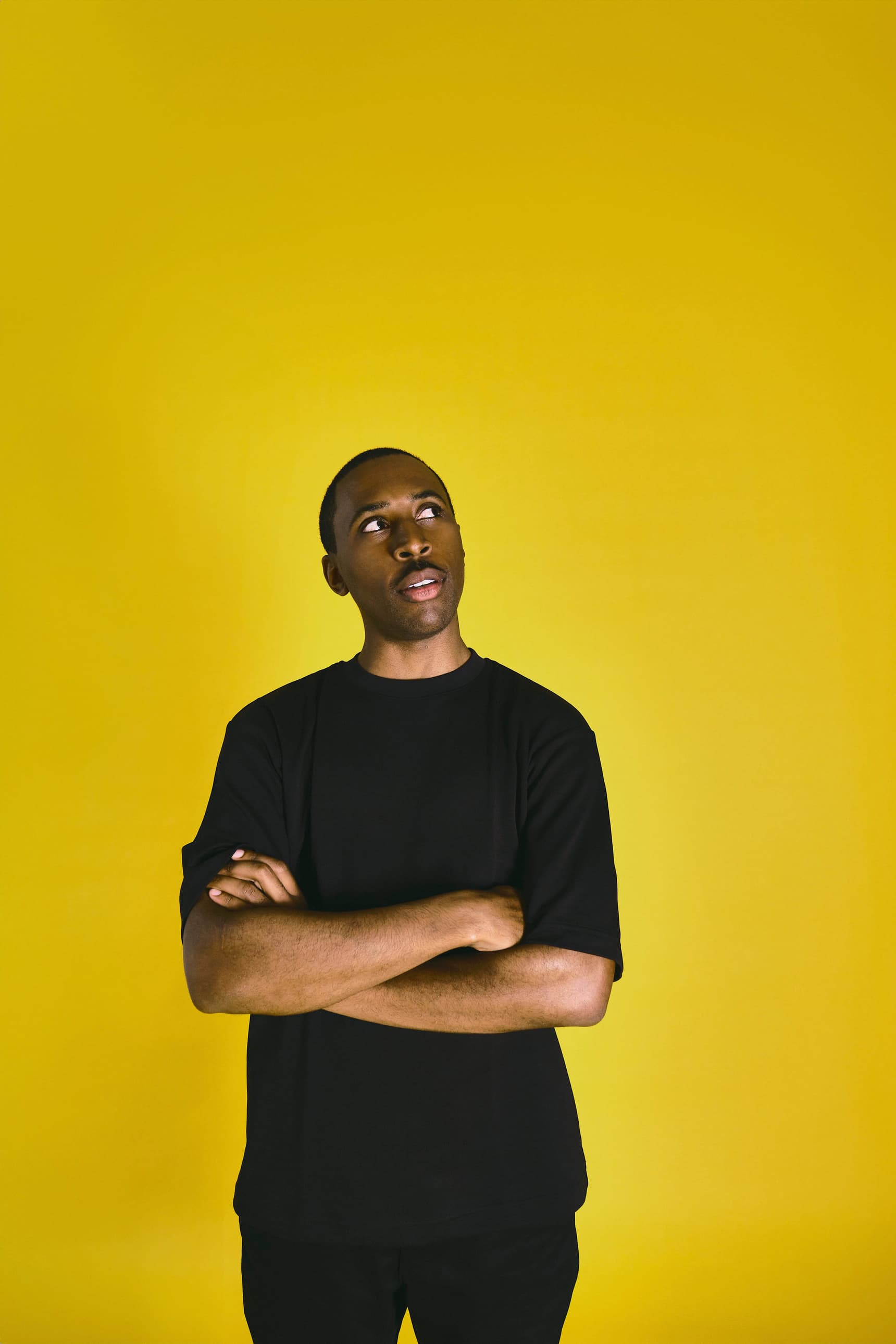 The rapid evolution of consumption and new digital platforms has created huge opportunities for burgeoning artists to connect with new audiences, nurture relationships with fans, and develop new revenue streams. But with all these tools at their disposal, navigating the music industry as an independent artist can seem like a daunting task in 2023. The difficulties facing a new generation of creators is something Elijah's Yellow Squares project sets out to alleviate. No one, including himself, could have predicted the way that this simple idea would take off over the next two years.
"It was never meant to be anything bigger than what it was," he confesses, "I'd been tweeting ideas and things that I thought would be useful for people that are coming into the scene…it was just trying to be helpful because I knew that there isn't a lot of information out there."
But in an era where online attention spans seem to be eroding by the day, his digestible, no-bullshit words of wisdom have managed to cut through the noise to build some serious momentum and notability within the music industry - transporting his eye-catching social media project to billboards, lecture theatres, workshops and even football pitches, around the world.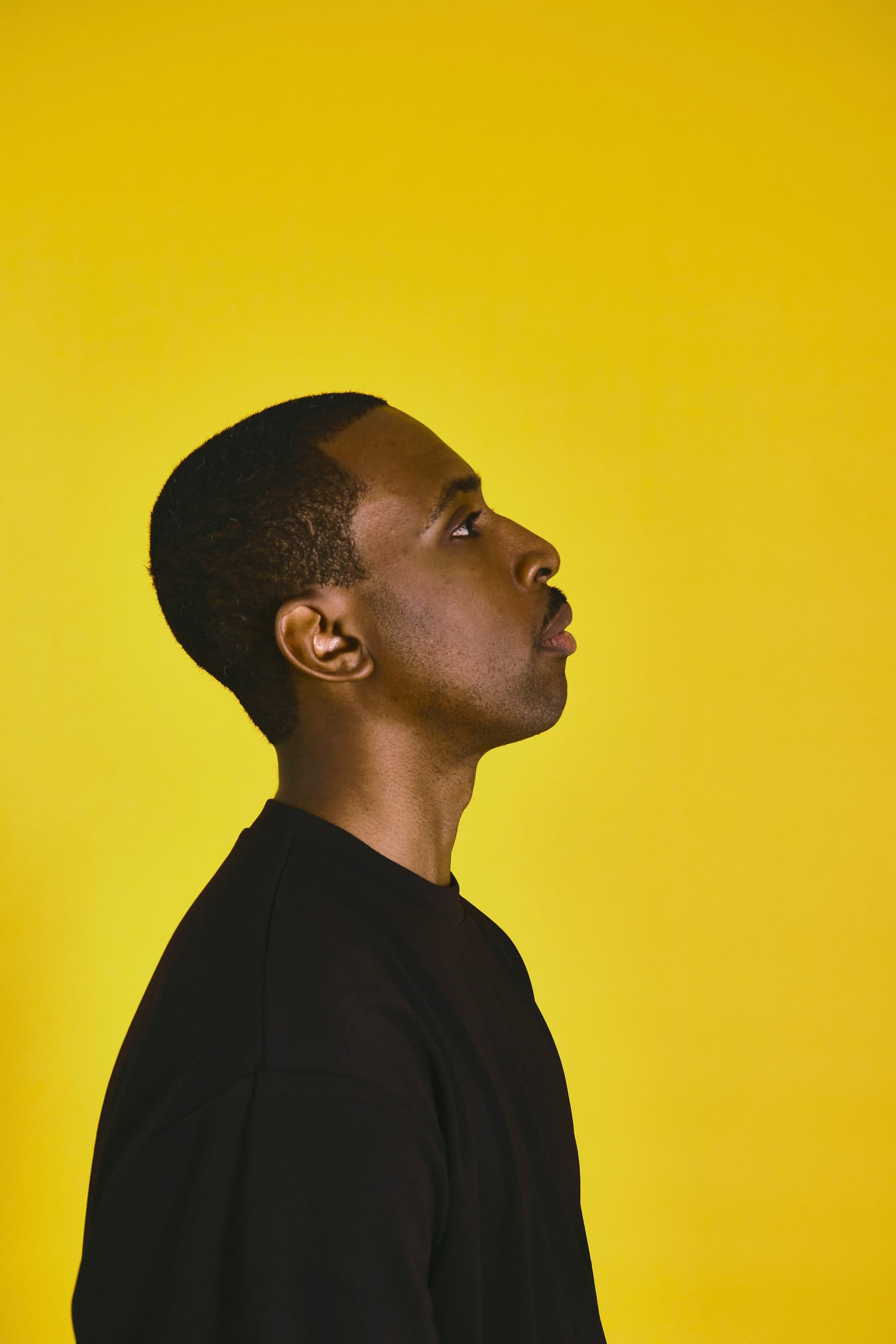 Shortly before the photoshoot is about to get underway, Elijah realises that he recognises the photographer's assistant from somewhere. She had sat through one of his lectures at a local university and was inspired by the message the grime DJ was trying to communicate with his Yellow Squares project. After deciding she wanted to take some pictures of Elijah at his next event - but weary of the repercussions if she didn't get permission, having had some negative experiences with artists in similar situations previously - she messaged the East Londoner on Instagram to ask if it would be fine with him. The reply the assistant received was something along the lines of "just turn up and take pictures''. And while spending longer with Elijah, this straight-to-the-point response makes more and more sense throughout the afternoon. These short statements paraded across the internet via yellow squares aren't some meticulously edited and thought-out method dreamt up to cut through algorithms and achieve maximum exposure - instead they offer an authentic peak inside Elijah's brain and the interesting way it works. And to deny an upcoming creative from taking pictures of him would go against everything that his DIY upbringing taught him.
With no TV in his room, long stretches of Elijah's younger years were spent dialling into his favourite stations. "I grew up listening to pirate radio," he says, describing his introduction to the worlds of dancehall, reggae, jungle, garage and eventually grime. "I used to tape songs off there that I liked. I didn't know what I was listening to half the time, I was like 'ok this is hard, I've heard it bare times'." 
"This was a time when you were only limited to what you could buy," Elijah adds. "I wasn't actively buying music or anything, I had no money to buy CDs. So my genesis of DJing was putting things together, making mixtapes even just for myself."

Growing up in East London during a transformative era for music, between the rise of piracy and the demise of traditional formats like vinyl, Elijah was defined as much by the time he was born as he was the area. Streaming was yet to take off and it was harder to make money in music than it had been for years. Everybody was downloading their music off of LimeWire for free and the landscape was looking bleak if making a living from music was something you wanted to do.
Against the backdrop of all this uncertainty, Elijah's journey into DJing began to pick up momentum after he met Skilliam, the person who he would go on to start his Butterz imprint with. After meeting at university back in 2005, and starting as a DJ duo in 2007, Elijah and Skilliam's kinship has gone on to take them around the world numerous times, and led to them working with pretty much every one of their local musical heroes. Rinse FM enlisted Elijah during this period as one of their in-house grime DJs and a few years later in 2010, the pair launched their label.
"The genesis of Butterz was in a time where people weren't invested in music at the same level because you can't make any money out of it, you can't sell 10,000 vinyl like the garage people had been doing," says Elijah, "I thought the opposite."
Rather than lie down and accept defeat, Elijah and Skilliam were determined to make a dent in the industry playing the music they love. Around the time they launched the label, most of the original grime DJs had moved onto other genres like dubstep or UK funky and there were no shows or bookings for anybody still holding onto the genre's first wave which happened a few years before. But grime music held a special place in Elijah's life and he knew he was going to have to approach it completely differently if he was to succeed.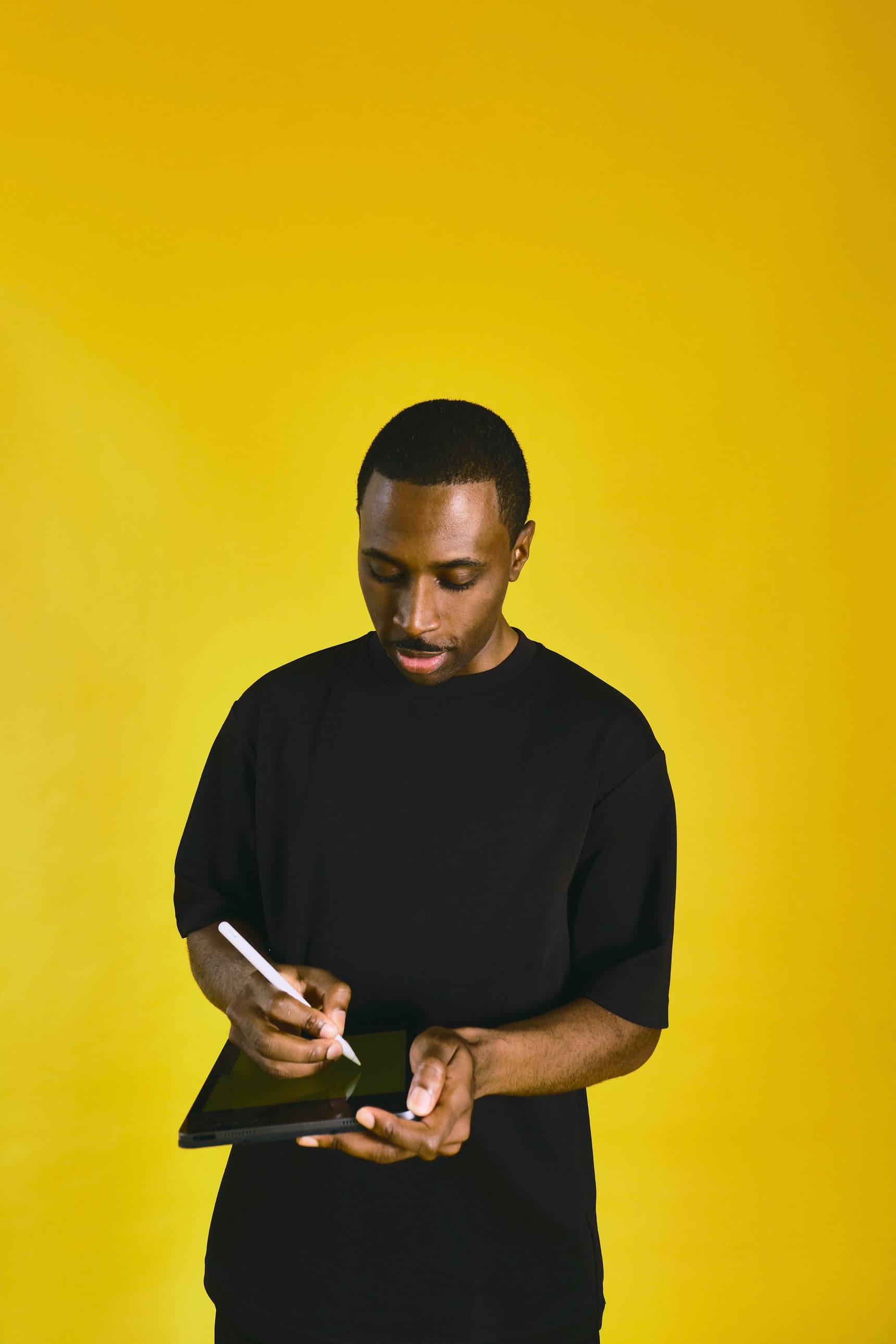 "I didn't feel like I could contribute anything to dancehall, garage, and jungle - those things had already formed whereas grime was so early that new ideas were still being accepted," he says. "It's never that I didn't have a passion for other music or that I don't like other music - it was that this was the thing that I thought was a mash of all of the genres that I like," Elijah adds. "It was new. It was accessible. And it was born in the area that I lived in - the timing of it in my life was perfect."
Grime had a winning sound with an abundance of exciting talent rising up through the ranks but it had none of the infrastructure that was bringing success to similar genres back in 2010. The original aim with Butterz was to present the music on the same level that iconic dubstep labels like Hyperdub, Tempa and Deep Medi had been achieving during the early 2000s. "They're doing 140 bpm music for DJs selling thousands, millions around the world. Why is grime not doing this?" Elijah thought. "Let's just make a grime version of that." 
With barely any infrastructure in place, Butterz had no handouts in the early days and had to create its own building blocks from scratch. Elijah and Skilliam formed a core roster of talent with fellow artists Swindle, Royal T and Flava D shortly after forming the label and began putting out records and throwing raves. "No one was organising grime raves really so it was like ok we'll make the raves to play the tunes," Elijah explains. "The talent around just needed an incubator."
Butterz nights started in 2011 at their first club residency at the now closed Cable which featured guests such as Kode 9, DJ EZ, JME and Skepta. After picking up some momentum on the London raving circuit, they moved onto a three year residency at fabric hosting grime heavyweights like Kano, Wiley, Big Narstie, Novelist and the Newham Generals. The label quickly became monumental in helping to bring grime instrumentals to the forefront of the electronic music scene, and from 2010 to 2019 they had records featuring TQD, D Double E, Footsie, Ghetts, P Money, S-X, Joker, Flowdan, DJ Q and many more.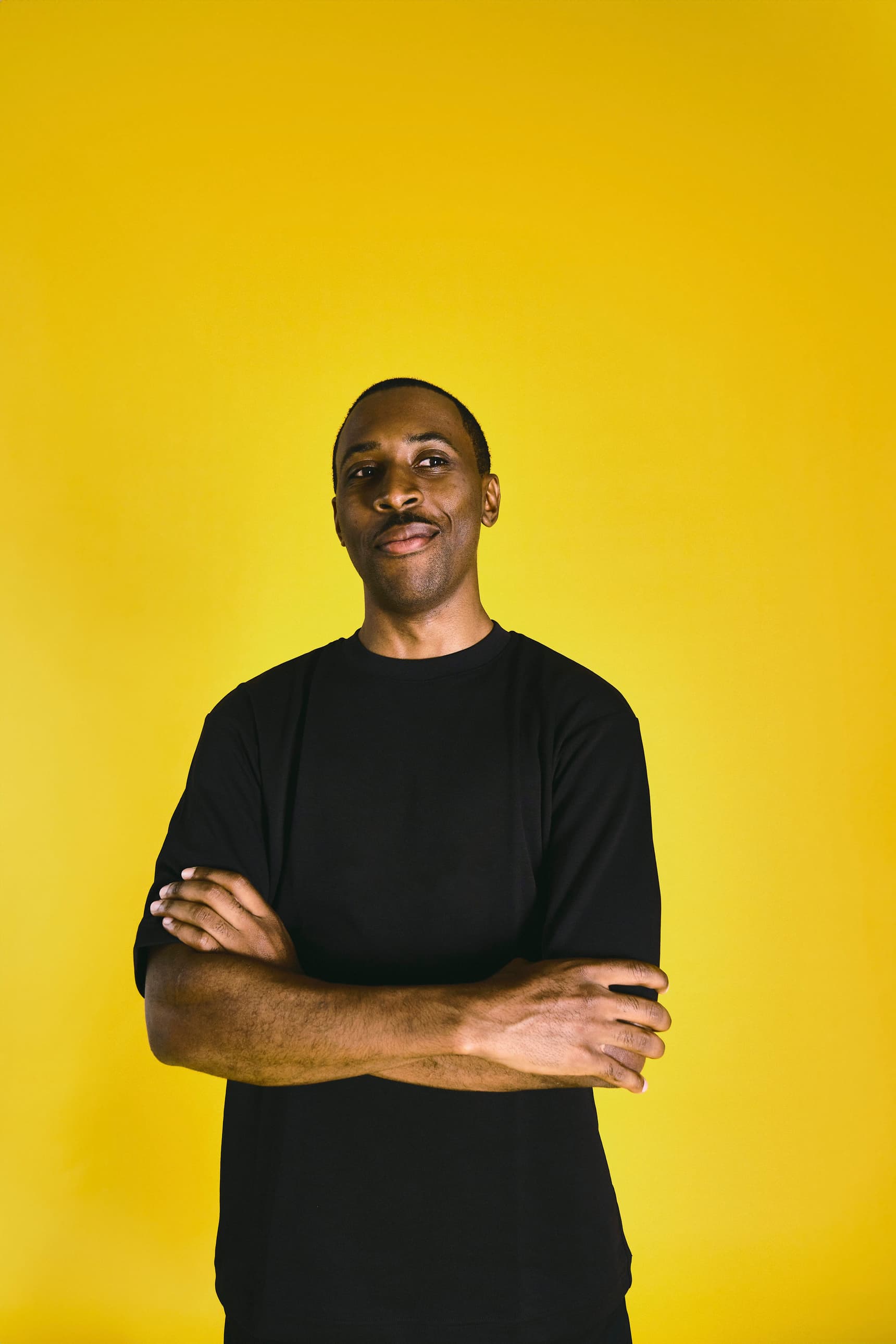 Fourteen years into his career, Elijah's success as both a DJ and label head puts him in a perfect position to spearhead a project such as Yellow Squares - but he believes the idea itself is way more important than the person who brought it to life. "Yellow Squares could have been anyone at my stage in their journey," he claims. "If someone else did it, I would have been reposting them often, having a conversation."
And it's true, the core idea behind Yellow Squares could have been anyone. But the more time we spend with the East Londoner on this rainy day, it's hard to imagine that anybody else could've done this quite like him. What originally started as a string of Tweets aimed at offering some quick advice to newcomers in the scene, Yellow Squares has transformed into a global multimedia project. Earlier this year, Elijah even released a Yellow Squares-themed album reconnecting him to his grime roots. Titled 'Make The Ting', a homage to his most iconic slogan to date, the record sees Hackney rapper Jammz transform the social media project and music industry advice into a fully-fledged body of work. It's no surprise, then, that even the record-making process itself saw Elijah challenge traditional ways of thinking about an album in 2023.
"That became part of the story of the project," Elijah says, finishing up his last few shots of the day. "Not just that we did an album but we did it in a week, recorded in a day, putting it out in an unconventional way. I think people's outlook on the album - they think of these big moments, big campaigns, it's got to change your life - but an album is just a collection of ideas."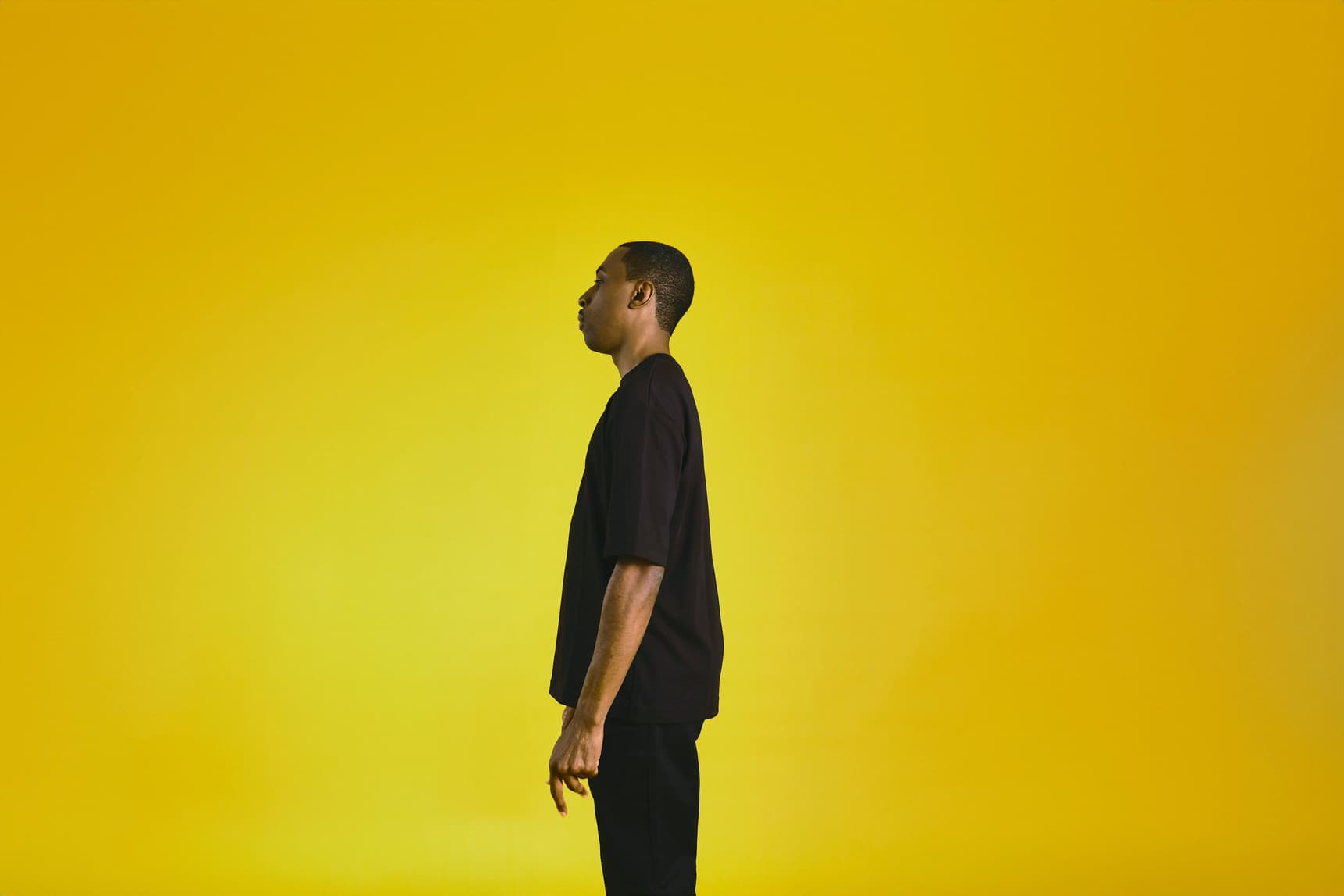 Today, you'd be hard-pressed to find a creative office in London that hasn't used one of his tiles as a tool to motivate employees at some point over the last two years. But at the centre of this whirlwind of publicity and industry attention, Elijah's focus remains with young, upcoming creators who will collectively help to shape the music industry of tomorrow. The world is changing quickly and the music industry will no doubt be shifting dramatically as well over the next 10 years. How to navigate such a reactive landscape is exactly the type of conversation Elijah has been encouraging within his audience since launching the Yellow Squares project.
"Whatever moments you want to pick out in the 20th century like 'ah ok music brought all these people together, Live Aid did this thing, that thing, Bob Marley, whatever - I think the music format has changed the world already," he says. "Now it's like ok, the world is changing, the technology is changing, how does music sit in a world where the cars drive themselves? I don't know. How does music sit in a world where the other 50% of people who don't have internet start getting internet?"
Elijah isn't afraid to admit he doesn't have all of the answers, in fact, the acceptance of that is one of reasons he finds what he does so much fun. He isn't here to tell artists exactly what to do. "This industry bullshit is so matter of fact - 'this is how you market, this is where you post, this is how you release an album, this is how you do a single' - it's like, that only works when it works, and no one says when it doesn't work," he says.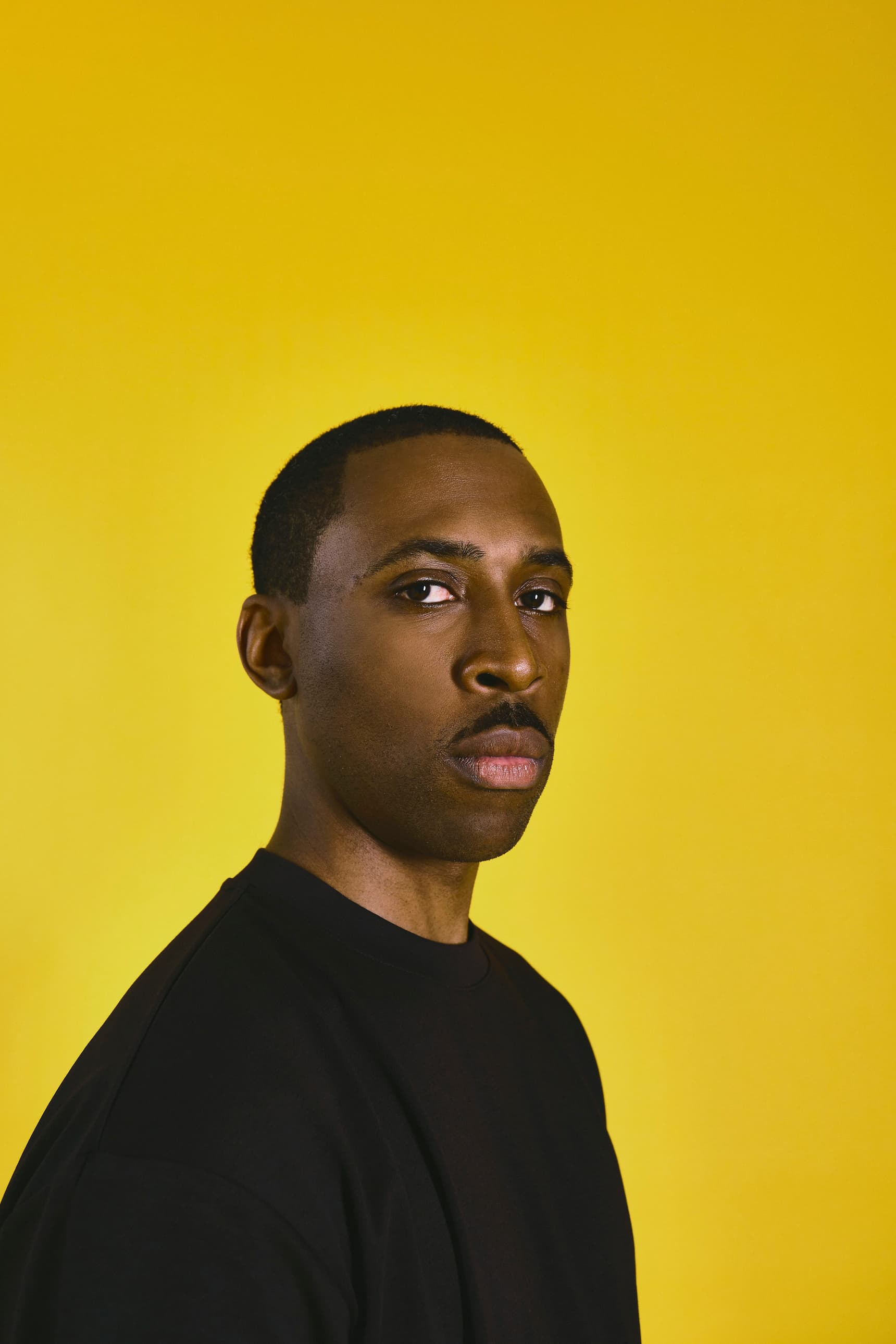 But despite not having all the answers, Elijah knows what he's talking about - and he wraps up our interview by condensing his Yellow Squares project into three key points.
His first: "Assume there's going to be no managers, there's going to be no labels, there'll be no investment, you're not going to get funded by anyone - ok what can you do with what you have?" His second: "Use social media as a canvas. Not seeing it as this thing where you're competing for anything. It's just a place for your work to exist or a place for you to be creative and show what you do." And finally, with his typical point-blank delivery:
"Close the app, make the ting."

Stream Elijah and Jammz' 'Make The Ting' album below: