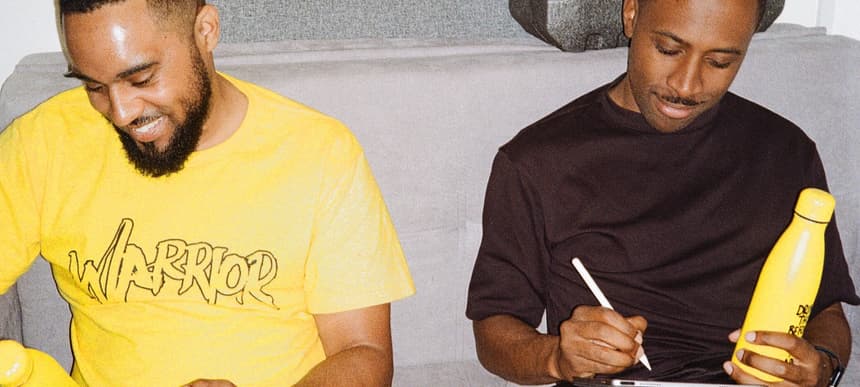 11.07.2023, Words by Billy Ward
Elijah is teaming up with Keep Hush for 'Make The Ting' album launch
The party is taking place at The Carpet Shop in Peckham this Thursday from 7pm
Elijah is linking up with Keep Hush this Thursday in London to launch his new 'Make The Ting' album with Jammz.
The new record sees Hackney rapper Jammz transform Elijah's 'yellow squares' social media project and music industry advice into a fully-fledged body of work.
Both UK grime mainstays in their own right - Butterz label head Elijah being a key figure in the genre's return to the forefront of pop culture and Hackney MC Jammz acting as a poster boy for grime's 2015 radio boom - the pair have teamed up to lay out the blue print for industry success in a unique and memorable way. 
Doubling up as Elijah's birthday party, as well as celebrating two years of the 'yellow squares' movement, the album launch party will feature a live performance of the album alongside sets from three of the most exciting up and coming DJs in the scene: KUNTEAA, SI*BL and REO. There will also be a live Q&A from all the artists. 
Speaking about the upcoming event in an Instagram post, Elijah wrote: "This party gets to tick quite a few boxes creatively. A collaboration with Keep Hush, Platforming New Talent, Documenting The Ting, an opportunity to play some of the amazing Remixes I've been getting of the album and a chance to put on a fun party to wrap up this second year of the project."
'Keep Hush Live: Make The Ting album launch' is taking place at The Carpet Shop on Thursday July 13. The event starts at 7pm and tickets can be purchased HERE.
Buying one of Elijah's new water bottles includes a ticket to the event.