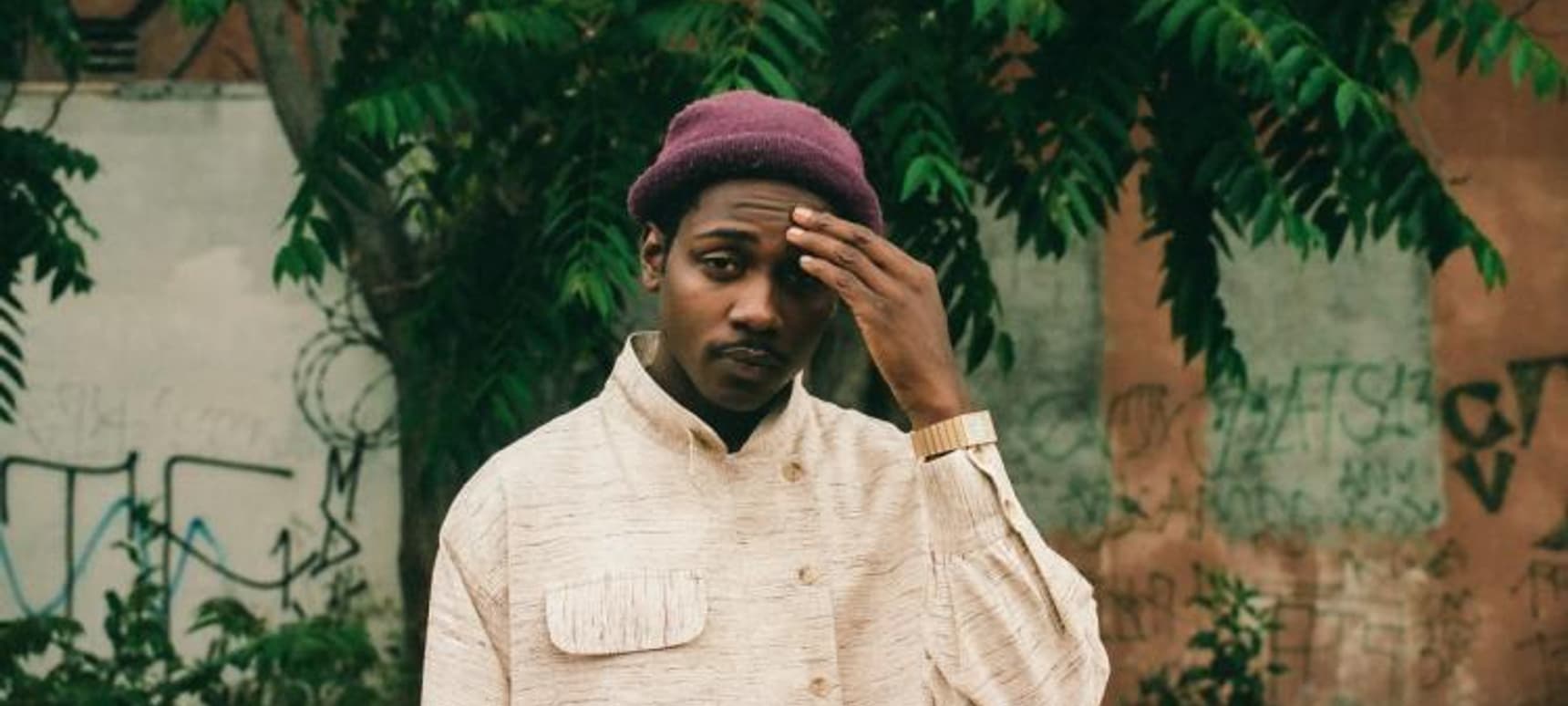 13.11.2018, Words by dummymag
Compton is in the house: Channel Tres makes house music born from his West Coast roots
"I've done music for years that was just on SoundCloud with 50 plays. Seeing a song get a million is crazy for me."
Compton is one of the most storied cities in pop music. With the exception of Berlin and techno, few cities are as closely associated with a genre as Compton is with gangster rap. From NWA to TDE and through to YG, Compton and its surrounding metropolitan areas, Long Beach, Inglewood, Lynwood, have defined the genre since its inception. Say the words 'Compton MC' and an image and sound instantly come to mind. The city's newest star, Channel Tres, couldn't be much further from either.
Specialising in an understated, low-end heavy take on house music, given a subtle West Coat makeover, Channel Tres is part of a new vanguard of Compton musicians, alongside the likes of August 08 and The Internet's Steve Lacy, opening up the types of music we've come to expect from the Californian city. Though littered with nods to Compton's heritage – "Shit got brazy with the more we had," he growls on 'Glide', a nod to YG's 2016 opus 'Still Brazy' and Compton's longstanding association with the bloods – Tres has dedicated himself to moving beyond what people expect of a young black artist in Compton.
He's gone to great lengths to do it as well. Inspired by a Kendrick Lamar interview he heard on the radio, Channel Tres abandoned his hometown for four years to study in Tulsa, Oklahoma. On paper, it was the furthest thing from Compton and Los Angeles he could find, mid-western, cold and empty compared to the almost infinite sprawl of LA County. In Tulsa, which counts the Hanson brothers, OneRepublic's Ryan Tedder and St Vincent's Annie Clark as hometown musical heroes, Tres dedicated himself to music, isolating himself from much of the world around him and experimenting with new sounds and the occasional new substance in search of something new, something different to what he had known in California. Eventually, through flirtations with folk, and inspired by his dad's roots in Chicago, he found house music.
There's a certain irony in Channel Tres' story – it's his roots, rather than his time in Oklahoma, that have come to define his music. Whether it's the wailing, screw-your-face-up synths that come gliding in mid-way through 'Topdown' or his penchant for chunky 808s, the elements of California have remained in Channel Tres' music are what sets it apart from much of the current house music scene. Chief among these elements is Tres' voice, a baritone rumble so low that it often competes for frequency with his basslines. Tres sees himself as the latest champion in a long of men who specialise in 'talking shit over hard ass beats.' Inspired by Bobby Womack, Isaac Hayes and Iggy Pop, Tres' rap style is slow and calculated, revelling in his voice's natural power.
Tres isn't quite ready to claim California as his own just yet. Having signed to Godmode, the indie-house label currently enjoying global success with New York DJ/producer Yaeji, and dropped his debut self-titled EP earlier this year, Channel Tres came to London at the end of October for his first live show ever. Citing the fact that Jimi Hendrix played his first show in London, Tres took to the Shacklewell Arms on Halloween for a show featuring backing dancers and plenty of vibes. We caught up with him the morning after to talk dancefloor spirituality, FaceTiming Elton John and Compton's legacy.
–
How have you found London?
It feels a bit like New York in terms of everyone mixed together. The crowd last night was wild. I kind of blank out when I get up there. The venue was capacity at 200, and we had like 500 people trying to get in. It was my first show ever. I still haven't processed it all, but I'm very happy and proud because we rehearsed a lot. I need to go over the footage; I like to go through it all whenever I do something. I did a bunch of practice shows, but I haven't looked at any of the notes yet.
Your sound is West Coast-inspired, but it's also not. How much of an influence has growing up in Compton been?
It's everything. You are what you come from. I grew up around a lot of great musicians; it was natural for a lot of people to be a musician where I'm from. People would just know how to rap or play a beat; it was always around me. When it turned into an art and a stream of income it was an eye-opener and a breath of fresh air because I never wanted to do anything else.
You've been making music for a while. How did the Channel Tres moniker come about?
I was producing a lot. I asked the universe for a name, and that was the name God gave me. As a producer I worked with a lot of people so 'Channel' is that, I can change sounds, I work with all these people. 'And Tres' is three, which has always meant something to me, I grew up in church, so there was the trinity so yeah, three is something I've always seen. It's a nice thing for other people to say as well.
You grew up with (88rising-signed rapper) August 08, did you make music together as kids?
Me and August used to be in my Grandma's garage writing songs together. I met him in sixth grade – I was the drummer at my school, and one day I came in, and someone else was playing my drums, and I was like, 'Who's this?' He was a really talented motherfucker at a young age. He's on tour somewhere right now, and I'm out here, he texted me this morning. It's crazy that we're both doing this shit. It's fun; I'm happy to have someone to look at. The 88rising guys are cool; Sean [Miyashiro – 88rising's founder] is cool, [Rich] Brian is a good friend.
I produced a track on Brian's project called 'Arizona'. We went on tour together actually. That's where I got 'Controller' from, I was a DJ back then, so it was like a statement of intent: I'm the controller and if I want to do something alone I can do it.
How did you get into house music?
My dad is from Chicago; my family are from Chicago. I love disco. It comes from church as well, Kurt Franklin has this song called 'Looking For You' which had a four-to-the-floor beat. Black church has a really rich musical history – back in America the church is probably one of the only liberated places where we can freely express ourselves, and that's trickled down. So, it's expressive, that's where you get Aretha Franklin and James Brown and so many other people from.
Are you still involved in your church?
No, I'm not religious at all. I'm spiritual. Religion is more rules and guidelines; spirituality is a connection with the universe. I love everybody, no matter what religion you are, you get the same equal love. You don't have to work for it or do everything. I just love you because that's what I'm supposed to do. You have your own problems, and I have mine, and we don't have to get into a religion or rules, it's love across the board. That was the goal of religion in the first place but humans, we're so goal-oriented, and we want to feel on top of somebody when it comes to hierarchy and I don't like religion because of that. It shouldn't be a goal to be higher than anybody; we're all just little dots.
That ethos extends into house music as well. Do you buy into the 'club as a church' attitude?
I don't buy into anything. Maybe I've had some spiritual experiences on the dancefloor, I don't know.
I've heard you moved to Oklahoma because of Kendrick Lamar. Can you elaborate on that?
I heard this Kendrick interview where he was saying when he started travelling because of his music and meeting different people, it opened his brain up to more people and when I heard that I wanted to open my mindset. I tried all the drugs, I did all that shit, and I knew at that point it wasn't about that, I needed to experience different people and study music seriously so Oklahoma was a time of solitude and really challenging myself to be alone. It was hard to do that where I was from because it was so familiar.
What was Oklahoma like?

Midwestern life, very hospitable. It was boring. It was everything. It was college.
Boredom can be a catalyst in those places.
Yeah, I had so much music. I started a folk band. I got really into Animal Collective and Daniel Johnston. I was studying a lot of different music. Everything I do now is because of that time. I did one thing, and it led to something else.
Do you have any musical icons? People mention Moodymann a lot in reference to your music.
Yeah, they mention him because of my baritone I guess. Our music doesn't sound that much alike to me. His attitude is inspiring though, he did a Red Bull lecture or something, and he was drinking Hennessy, and some girls were braiding his hair, and he just didn't give a fuck. Like 'this is my shit, if I sell 25K copies thank you,' just that mentality of 'I don't need the internet, I don't need my phone. If I got my MPC and a studio and I'm good'. That was really inspiring. Bobby Womack inspired me too. Just talking shit over a hard ass melody. Iggy Pop, Isaac Hayes… Barry White sang it. All of those guys have a deep voice, so I got to use this shit. In college my teacher made me join choir because my voice was so deep. It resonates with people in a way I can't explain, it's just hardcore.
Do you have a favourite shit-talking monologue?
This song by Bobby Womack, 'Fact of Life'. The way he talks in the beginning is just, oh my god!
How's this year been?
Man, my manager said it was gonna be my year and I said 'ok'. 'Controller' came out in April, I'm across the table with you, just played my first show. Jimi Hendrix's first show was in the UK so I feel good. Elton John told me some shit, he FaceTimed me. That's my guy. He really encouraged me that I had something special, wished me good luck. It meant a lot to me because I've always felt marginalised and looked over, so it felt good, it helped me get excited for the future.
Is that your favourite moment of the year?
My favourite moment is my little cousins hitting me up and thinking I'm famous. That and being able to, instead of having to explain what I do all the time, just, 'Ay yo, Google my name'. That feels good.
You have shows in Australia coming up, so you'll have played in London and Australia before you've done so at home, isn't that the wrong way around?
I'm from LA. I want to be right out there. I love home.
Is it daunting?
Nope, Elton John hit me up, man, ain't nothing daunting after that. That motherfucker wrote Lion King, that's a great man. When you get people like that hitting you up, you just blank out a lot of other things. It's about trying to make quality and being 100 with everything you do. I'm not scared of anything really; nothing's daunting.
What's next for you?
I did a remix for Joji. I did a remix for Rhye. I did a Grace Carter remix. I've been doing dance classes, getting my footwork right, I grew up as a dancer. It's really fun, I'm 27 now, and I can rehearse for my show, and I feel like a kid again, it feels really good. I've done music for years that was just on SoundCloud with 50 plays. Seeing a song get a million is crazy for me.