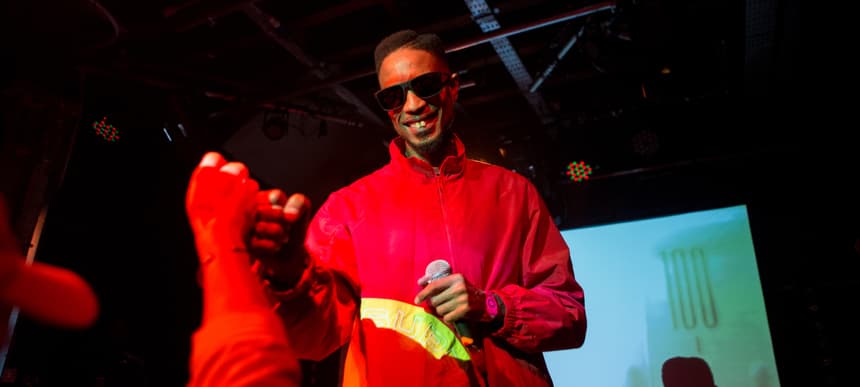 18.01.2019, Words by Felicity Martin, Photos by Mukesh Mistry
D Double E cemented his legacy as your favourite MC's favourite MC at XOYO last night
The lyrical farda delivered a packed-out headline show with a surprise line-up of MCs...
"Are you as gassed as we are?!" The queue outside XOYO last night was bulging with longtime D Double E fans, all hungry to see the lyrical farda deliver his headline show. Promising some 'very special guests', the Newham General's sold-out London show was warmed up by the Bluku Music-signed Halo, who showed off his spirited mic skills while the appetite for the grime OG's appearance built.
Despite being active for over 20 years, the much-loved grime icon only released his debut LP 'Jackuum' last year (which we listed as one of our 25 Best Albums of 2018). Donning a red jacket and dark shades, the MC kicked off his headline set with album opening comedy skit 'Jackuum FM Intro' before performing 'Back Then' (dedicating it to the late MC Stormin), the Wiley-featuring 'Better Than The Rest' and 'Live Tonight'.
Few MCs have as many quotables as Double, and – in sync – the entire venue yelled ad-libs 'bluku bluku', 'it's mwee mwee', 'biddi-bup-bup', 'oerrrr oerrrr', each rendition louder than the next. As well as his album cuts, Double dropped some long-lived classics including, of course, 'Street Fighter Riddim'.
One of the most iconic partnerships in grime has to be between D Double E and Footsie, and the latter was wheeled out for 'Hard', before returning later ("it's Footsie again") with a mammoth crew of MCs, including Littlez of Smoke Boyz (fka Section Boyz), P Money, Jammer and Tempa T, who performed his 'Next Hype' bars. At one point, Jammer made us sing happy birthday to Double, whose 39th birthday falls this Saturday.
Shows in January are typically tricky with a more conservative post-Christmas crowd, but D Double caused a pretty much constant moshpit in XOYOs's basement, proving he's a formidable mic man and exactly why Skepta called him "the greatest of all time". Without D Double E, grime simply wouldn't be the same.
Photographer Mukesh Mistry was at the show yesterday – peep his shots in the gallery below.