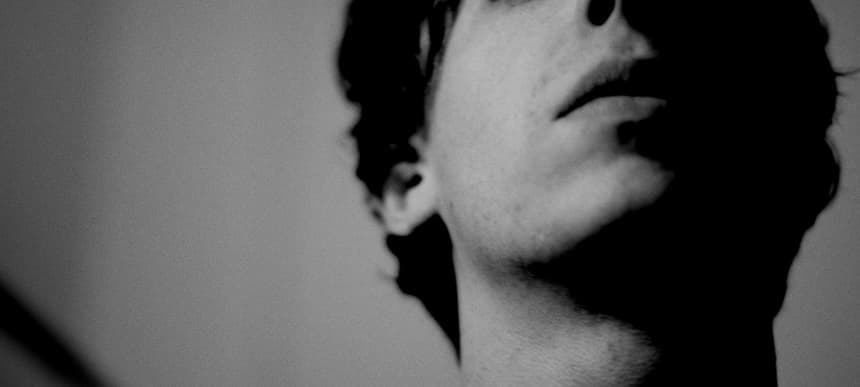 04.10.2013, Words by dummymag
Daniel Avery interview: "It's very much a dancefloor thing."
Daniel Avery has been a part of London's indie and electronic music community for years now. He worked at Farringdon record store Pure Groove before it went under, DJed around the country and took on a lot of remix commissions under his first production alias, Stopmakingme, and his selection skills gained the attention of Fabric, who made him a resident at the club and who released a mix CD from him last year. He also contributed to Dummy in its early days online, holding conversations with contemporaries Rory Phillips and In Flagranti, and inaugurating our Dummy Mix series.
Originally, though, Avery hails from Bournemouth, where he was raised on a diet of live electronic acts like The Chemical Brothers and Underworld, psychedelic indie bands that flirt with dance like Primal Scream, and DJs like Erol Alkan, Optimo and Ewan Pearson, the sort who bring a particularly British sensibility to their selection. His first taste of DJing was at local clubnight Project Mayhem, where he played a mixture of indie rock, electroclash and krautrock, discovered through channels like Mary Anne Hobbes' The Breezeblock radio show, MTV2's 120 Minutes and through the DJ charts in magazines like Jockey Slut.
In some ways, it might seem like Avery's debut album, 'Drone Logic' – released this Monday (October 7th) through Erol Alkan's Phantasy Sound imprint – has been a long time in the making. The album itself, though, came together really quickly – "less than a year", he tells me when I meet him for our interview. Sitting down for a chat over a spicy pepperoni pizza, I spoke to Avery about growing up in a small town, being a warm-up DJ, and the merits of electroclash.
The first thing I wanted to ask you was about the album title. I know that it was the name of an earlier track, but why did you choose 'Drone Logic'?
Avery: "Someone hashtagged #dronelogic on Twitter, and if you click on it, it's all about anti-American military stuff, like drones strikes – but it's nothing to do with that. It actually comes from something that Keith Richards said, where he found a new style of guitar that was more based on Indian music, that used more droney sounds. He described it as 'the drone logic'. It was a pairing of words that I really liked, because I really grew up on things like droney, shoegaze music – bands like Low, Spacemen 3 and My Bloody Valentine – and in some way I wanted to get those ideas across in what I do. I knew that whenever I started to make music, I wanted to make an album, because I really like electronic music in an album format."
You said in an interview with Resident Advisor last year that you wanted your album to be "more than just club tracks" – but in the end, that's exactly what it is. When it comes to making albums, a lot of dance producers tend to move further away from dance music by having vocalists, traditional song structures and non-electronic instruments – why did you want to avoid that?
Avery: "That's a good question, and an interesting point. I made far too many tracks compared to what I needed on the album, and when it came to picking tracks, what came out is just what worked as an album, basically. It's interesting that you mentioned that interview, because since then, I've been DJing a lot – all over the place, and in different countries – and a lot of the tracks came about with different dancefloors in mind. And when it came to it, I wanted to put out an album that really represented the past year of my life, so that's why it's come out a lot more dancefloor [focused]. There were songs that I'd made for the album, with people singing on them, but they just didn't feel right for where I'm coming from. It felt a bit incongruous for me, personally, to be playing out all these club records and then have this really poppy element on the album."
"I wanted to be able to play these tracks in the club. That was important to me." – Daniel Avery
It's also interesting because it's a very similar thing to your Fabric mix in a way, which could've gone down that really eclectic route, showing off your esoteric tastes. I remember getting a Stopmakingme mix CD a few years ago, 'Do You Come Here Often?', which had bands like The Fall on it as well as newer dance tracks, but not here.
Avery: "I thought about this a lot on the album. All of my favourite DJs are people who are able to put all of these different styles out there, but are still able to draw a very distinct line between them. So when I go see Michael Mayer, for instance, you can hear elements of krautrock or post-punk in there – the same with Ivan Smagghe, or [Andrew] Weatherall, or Optimo, or Erol, or Dixon – you hear all theses elements in there, but it's not 'eclectic' for the sake of it. It's still very much a dancefloor thing, and it still has a purpose for the club. With the Fabric CD and with this, there are elements in there but between all that there's still a techno pulse that propels it. That was the big plan for it. I wanted it to be a 'trip' – that was my buzzword for the whole album, same with the Fabric CD – and so in order to do that, it had to have some sort of cohesion that runs through it."
Meant in the best sort of way, I thought the album was very "samey".
Avery: "I wanted to be able to play these tracks in the club. That was important to me."
Yeah, because it was all mixed by Erol in the Phantasy Studio, wasn't it? And it has that walking into a club at peak time sort of feeling, the way the bass cuts through.
Avery: "Yeah, it was. I wanted this to be a good statement, I want you to be able to listen to it beginning to end. Now I've done it and it's nearly out, I feel as if it's freed me up a lot more, in that I feel now like I can do something way more out there the next time, if I wanted to. But I wanted this first one to be 'Daniel Avery, who DJs a lot.' That's how I became known, so I wanted my album to represent that."
"Growing up in Bournemouth, even though I liked things like The Chemical Brothers and Fluke and Underworld, if someone had asked me as a 16 year old if you like dance music, I'd probably have said 'no.' Because to a young, naïve kid, all that was there in front of me was stag and hen parties playing dance music that I fucking hated. Music for idiots, literally." – Daniel Avery
Coming from an indie background, what was your first dancefloor experience?
Avery: "My very first one was when I saw The Prodigy when I was 11 with my dad. I loved the sound of it, I loved the noise of it – I still do – so that's my first. But in a club setting, it was probably seeing Erol at Bugged Out! Growing up in Bournemouth, even though I liked things like The Chemical Brothers and Fluke and Underworld, if someone had asked me as a 16 year old if you like dance music, I'd probably have said 'no.' Because to a young, naïve kid, all that was there in front of me was stag and hen parties playing dance music that I fucking hated. Music for idiots, literally. And so it wasn't until I was able to take a different route to it, when I started to watch people like Erol, or Weatherall, or Ewan Pearson, or Richard Fearless… Richard Fearless and Death In Vegas were a very early one as well, because I love Death In Vegas and went to see them, and he was playing this mind-expanding techno and electronica. And I was like, 'you know what, I guess I do like club music.' So it was really exciting, I had to absorb as much as possible as quickly as possible."
It's interesting that you mention The Prodigy as well, because they present themselves as more of a rock band, and I think that's important for someone into indie music. Like it was bands like The Rapture and LCD Soundsystem that did it for me – they present themselves as a rock band and you get into them and then you get into the dance stuff a lot more.
Avery: "I guess that's an aspect to it for a lot of kids, definitely. With my record, I definitely didn't want it to be that rock-meets-rave thing that people like to throw around so much, because it's not, and that doesn't excite me so much. But that's the cool thing, probably the coolest thing, about music. You go and see a band, and if you fall in love with a band, or a DJ, or a record, and you dig deeper and go to that person's influences, then you discover things. I remember I really fell in love with 'Psychocandy' by The Jesus & Mary Chain when I was 17, and at that time I didn't really know much about 60s motown and pop and stuff. But because they reference it so much, I discovered so much music from that that had been presented to me in a different way. And for me as a DJ and as a fan of DJing I think that's our main role to be honest, that's something that you can do and should do."
So let's talk about your earliest DJing experiences. With the indie DJing you were doing in Bournemouth with Project Mayhem, do you still feed any of that into your style?
Avery: "I think so. I think the most important thing for me from that era, and something I didn't realise was so important until relatively recently, was that I began life as a warm-up DJ, playing in a bar that, at the beginning of the night, wasn't about people dancing but about playing interesting music. I discovered I could play the stuff that was coming out at the time, like the first Interpol record or TV On The Radio, and then I could also play Neu! or Kraftwerk or Harmonia. And also, it was a time of the electroclash stuff, and underneath the gloss there was a lot of interesting electronic music being made. But it wasn't really about mixing records, it was about putting tracks together and making an energy in the room, and I'm really glad that that's how I got my education. That's something I really fell in love with instantly. And I guess, unconsciously, it is there with what I do. Again, it's not 'he's a rock guy who plays techno', I don't want it to be that, but I'm also really glad that that's how it started."
"There have definitely been times where I wished I hadn't seen behind the curtain. Working within music can definitely make you not like music anymore." – Daniel Avery
You've seen a lot of sides to the music industry – working at Pure Groove, doing a lot of remix commissions as Stopmakingme, your album, DJing internationally, even music journalism with Dummy. Have there been times you've grown disenchanted from seeing all those things?
Avery: "Definitely. I've been fortunate, having always been able to work in music to some capacity, but there have definitely been times where I wished I hadn't seen behind the curtain. Working within music can definitely make you not like music anymore. But I've been lucky, I've never had to work for a major label or anything, I've always worked for small, independent things. It's a really interesting point, because it's something I don't really talk about very much. I've been a music booker for events and stuff, and worked in record shops, and all that, and when you see the flurry of hype about something for no particular reason other than that it has a certain radio plugger or whatever, and you just know that that person is gonna be gone in six months. They'll have one single that comes out on a major label, it'll sell about 12 copies, it'll get dropped and they'll have to reinvent themselves about three years later. I've seen it happen tens of times. So in that respect the modern industry pisses me off, it's nothing to do with the music, and it's just…boring. On some days I wish I could go back to being 16 or 17 and not knowing any of this shit, and just being in awe of a band. But then again, it's taught me that I don't want to play that game. I didn't attempt to sign to a major, I knew that's not what I want to do. I'm kind of glad that it happened to me when I was a bit younger."
Did you ever feel caught up in the game with Stopmakingme, and had to take a step back?
Avery: "Well the whole Stopmakingme thing felt like my 'first band'. At that time, a lot of the stuff it was being associated with I just hated. Nu disco, and what quickly became v-neck house, I didn't like any of it. So the reason I stopped is because I didn't feel anything for it anymore. I took a year out of doing any music, and I realised I did know what I wanted from music, and it wasn't that. So the time felt right to start using my real name. So no, in answer to your question, I didn't get sucked in, but I definitely saw how that could've happened, and I didn't want any part of it."
Backtracking a bit to finish, you mentioned electroclash earlier. It's sort of been written out of the critical discourse, but what do you see in it that you think deserves re-evaluation?
Avery: "It's interesting, because I think exactly the same thing has happened with that noisier dance music that happened around '06, where at the time there was nothing else cooler on the planet, and two or three years later, even though you know that kid had a Soulwax t-shirt, they're like…I don't know, it's funny how it gets disregarded. And I think from, both eras, there are a lot of really great, progressive records. Obviously with electroclash there was a lot of rubbish, but there were some really brilliant records. For me the main thing I take from it, still, are spoken female vocals – I love them, they're all over my album. I love the sound of them when you stick a driving beat underneath. Hearing those records in a club, there's something really trippy about it."
Phantasy Sound/Because will release 'Drone Logic' on Monday October 7th 2013. An album launch will take place tonight (October 4th) at Dance Tunnel – more information on that here.