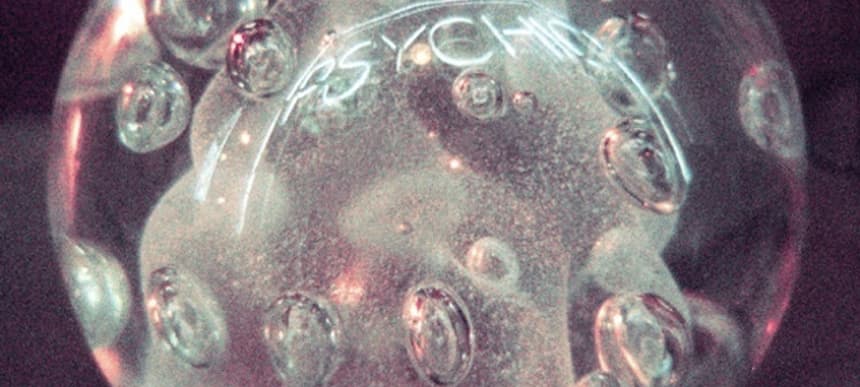 10.10.2013, Words by Steph Kretowicz
Darkside– 'Psychic'
Why did Darkside name their album 'Psychic'? Is it a reference to the magick possibilities of technology or the abstract mysticism of its track titles? Both options are a bit too cheesy given the depth of its sound, but then, that's probably the point. Take it too seriously, particularly something as potentially gauche as uniting electronic and rock music (we all remember dance punk), under an umbrella of technologically generated, universally sourced occultisms, and you risk making it kitsch. Be a little playful and it becomes a challenge, even something unique.
I hate to make a Pink Floyd reference but I will, and just did, because it's too appropriate. There's the echoing, immersive trip into a mysterious reality where distant, mumbled vocals and cosmic guitar echoes remain rooted in its physical source; the powerful human organism expressed through raw, untreated clacks and clicks of the trundling motion of Heart. Here, through producer Nicolas Jaar's looping falsetto vocal, a jarring malfunction in connectivity, and the ebbing muted grooves of Dave Harrington in Paper Trails, 'Psychic' resonates across a history of sounds long abandoned since the guitar solo was forsaken to the mainstream pose of Disney rock.
Imagine a world where the guitar is still relevant, where said phallic instrument is still a vessel into mystic realms of the mind; where getting stoned and listening to a record in parallel with a movie on mute remains a valid pseudo-spiritual pursuit. Except here, Pink Floyd's 'Dark Side of the Moon' becomes Nicolas Jaar and Dave Harrington's 'Psychic'. The Wizard of Oz becomes Twin Peaks. The allusion to David Lynch here is key, especially during Jaar's alto howl on The Only Shrine I've Seen. Generating a similar sense of the uncanny as the surrealist director-cum-songwriter, Darkside evoke a sound and a sense rooted in earthy American folklore, but they dig just beneath its surface. A hollow, synthesised kick drum and funky disco guitar chords reveal the weird energy lingering below.
It takes a great deal of time and patience to convincingly bring all these elements, at first glance mutually exclusive, together. That's not only by drawing gasping vocals and psychedelic echoes into Jaar's typically unhurried minimal house (sticking to 100, rather than the usual 120-130 BPM mark). A beautiful and unsettling but, most importantly, drawn-out 11-minute opener in Golden Arrow plays necessary precursor to what's to come, because for the unfamiliar ear, it could be easy to dismiss 'Psychic' as an incoherent experiment across styles. Time is key to acclimatising a listener to the blues-rock leanings, tenor vocal a-la early Tom Waits and tongue-in-cheek folk lyrics ("paper trail on a mountain/ and fruits on a table/ a wooden house to live in/ a baby to take care") moaned over measured, synthesised handclaps and a deep house drum loop.
When you think about it, it's hard to believe this sort of record hasn't happened sooner. Electronics have well and truly infiltrated contemporary music on every level but it still seems to lie in parallel to the organic nature of something like a guitar, mimicking, rather than optimising its sound. That potential is reached in 'Psychic', by filtering melody, handclaps, cello, a droning, squeaking saxophone, through the glitches, pitches and infinite possibilities of an electronic framework. This is time and space altered, by compressing, cutting and fragmenting its compositions into a sound that is both familiar and out of this world.
8/10
Other People released 'Psychic' on the 8th October 2013.