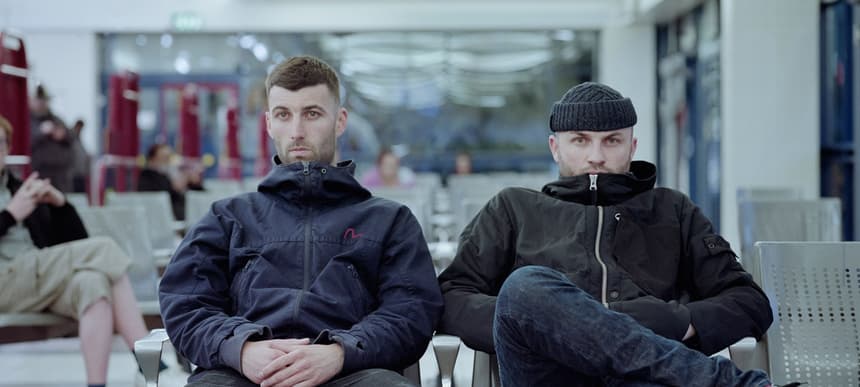 11.08.2015, Words by Natalie /
Darkstar interview: "There seems to be a generation that's completely disenfranchised."
"I think that's where the young people are having a problem, in that there doesn't seem to be anybody current that's able to understand the issues that we have at the moment. It's a different kind of struggle now." These words come at the close of A Different Kind Of Struggle, a short interlude that appears about halfway through Darkstar's third album, 'Foam Island'. The album's full of these moments, snatches of honest conversation cut from hours of interviews conducted by James Young, one half of Darkstar alongside Aiden Whalley, in West Yorkshire around the time of the general election. Young, who hails from the region himself, travelled up there to speak to young people about what it's like to grow up in Yorkshire today, what they want from life, and what the future holds for them. The anonymous voices express their opinions as individuals, but the sentiments speak for what's happening in the country at large right now.
"I wanted to make it explicit that this was at the heart of the record," explains Young, "Lyrically and concept-wise, it's about what's next for people. There seems to be a generation that's completely disenfranchised, and that's a scary concept. All the people I spoke to were just baffled. It was just different shades of grey – no one could differentiate policy. Loads of the lyrics are just about settling for what's in front of people. And after speaking to people who are younger than me, it really hit home that this was a common theme for this age group."
'Foam Island' was recorded at Konk Studios in North London, where I'm meeting the band today. Upstairs they have a small studio to themselves filled with synthesizers and effects units, while downstairs is a more professional room that they used to flesh out their demos with the album's producer, Lexxx. Besides giving the band the necessary outside perspective to push them over the finishing line, Lexxx also provided them with a modular synthesizer to play with on the record. "It's amazing, an amazing bit of kit," Young says, grinning, "The sounds you can get out of it, it's mindboggling."
It's a very different recording environment to that of their last album, 2013's 'News From Nowhere', and you can hear it. The pastoral psychedelics of 'News From Nowhere' – which was conceived in a cottage in rural Yorkshire – is gone, replaced with a more rhythmic, beat-driven sound that's closer in spirit to Darkstar's earliest 12" singles, released during dubstep's most experimental years. "It's a more robust album," says Young, "More dense, more beat-driven, more rhythmical, more upfront." With that said, this is still a Darkstar album: the melodic songwriting sensibilities that Young and Whalley have nurtured over the past eight years remain intact.
Besides a new location, 'Foam Island' also brings with it a new voice: that of Aiden Whalley, who sings across the whole record following the departure of singer James Buttery last year. Although Buttery wasn't a founding member of the group, his voice was a distinctive presence across both 'News From Nowhere' and Darkstar's debut album, 'North'.
"I think we were gravitating towards two routes: James with his own path, and us going back to the original setup of Darkstar," says Young, "It was just kind of happening. We sat down and spoke about it and said it's obvious what's happening here. There was no animosity really." He pauses for a split second. "I mean, it's never nice, but it's just one of those things."
"Sometimes in a creative environment you need to change things up a little bit," Aiden adds, "We definitely had an urge to go back to more upfront, beat-driven production. It was basically a musical difference: what we were into with the styles of the demos we were creating. I were doing a lot of vocals, writing melody lines, and we'd get James to sing a lot of those – he'd write his own, too, but we'd get him to sing quite a few – and then it became a logical process for me to move into performing vocals myself. I started to get more comfortable with my delivery."
Rhythmically, the album is very different to 'News From Nowhere'. Was it going in that direction anyway, or was that something that happened after James Buttery's departure?
James Young: "I think we needed to go this way after 'News From Nowhere'. I really like that album, but I didn't realise at the time how tripped out it was. I remember thinking it was really accessible. And certain tunes on there are, but you have to be in a specific mood to listen to it."
Do you feel like this is a return to your older sound?
James Young: "It's a mixture. The foundation of this stuff is definitely a look back because it's way more beat-driven, but there are new influences. This is the first time that Aiden's sung on an LP."
Aiden Whalley: "Singing was a completely new experience. Being able to deliver on the record, you've got to get a good performance – it's not a demo anymore. That's difficult."
How did you adjust to the realisation that it would be your voice that everyone would be listening to on the finished album?
Aiden Whalley: "It was just a case of growing in confidence with my own voice, listening to other people who get a real emotion across in their delivery, finding a voice that you can carry across the record and a tone that you can recognise from track-to-track, and finding where my range was most comfortable – really getting into the process of engineering it and looking for the different vocal effects and processes to get a tone we were happy with. It'd be a complete back-and-forth thing between me and James with how I sounded, and whether my accent was coming across too much, or not enough. It was just trying to find my identity."
Given you hadn't really used your own voice before, was it ever hard having people tell you if a vocal take wasn't good enough?
Aiden Whalley: "James and Lexxx are both the same: they'll say straight-up, 'I don't think that's good enough.' When you've got people you trust giving you an honest opinion, it gives you more confidence to grow into it."
"When you've got people you trust giving you an honest opinion, it gives you more confidence to grow into it." – Aiden Whalley
What were your reasons for going back to more beat-driven music?
James Young: "Just things we were listening to at the time. Things that are a bit more ragga, a bit more carefree. Micachu, Dexplicit, Ruff Sqwad, people like that. UK-based stuff that's a bit more rough and ready. That's a big part of the album."
After hearing your 'Kirklees Arcadia' mixtape, I didn't know if you were going to go down the route of having guest vocalists on this album. Did that idea ever cross your mind?
Aiden Whalley: "By that point, we always knew we had songs."
James Young: "We'd never do a record with guests."
Aiden Whalley: "We wanted to have a little bit of fun with a few features. We had a really great day with Hayden [Thorpe, Wild Beasts singer] doing that Paul McCartney cover. We had that instrumental kicking about for quite a bit. We love that track from years back and wanted to cover it. I was originally gonna do the vocal, but then we thought 'Why not get a few other people involved?' Then Hayden came along and absolutely smashed it."
It feels like people are coming back round to the idea of expressing their political feelings in their music again at the moment.
James Young: "You need an impetus to do that. You can't do it half-arsed. It's a first for us. Lyrically we've hinted at certain political stances in the past, but this whole record is politically engaged. It's great to get a different perspective from people. Going up to Yorkshire, I found it liberating to speak to people in the wider conversation that I wouldn't necessarily have spoken to before this project."
Warp Records release 'Foam Island' on September 25th 2015 (buy).