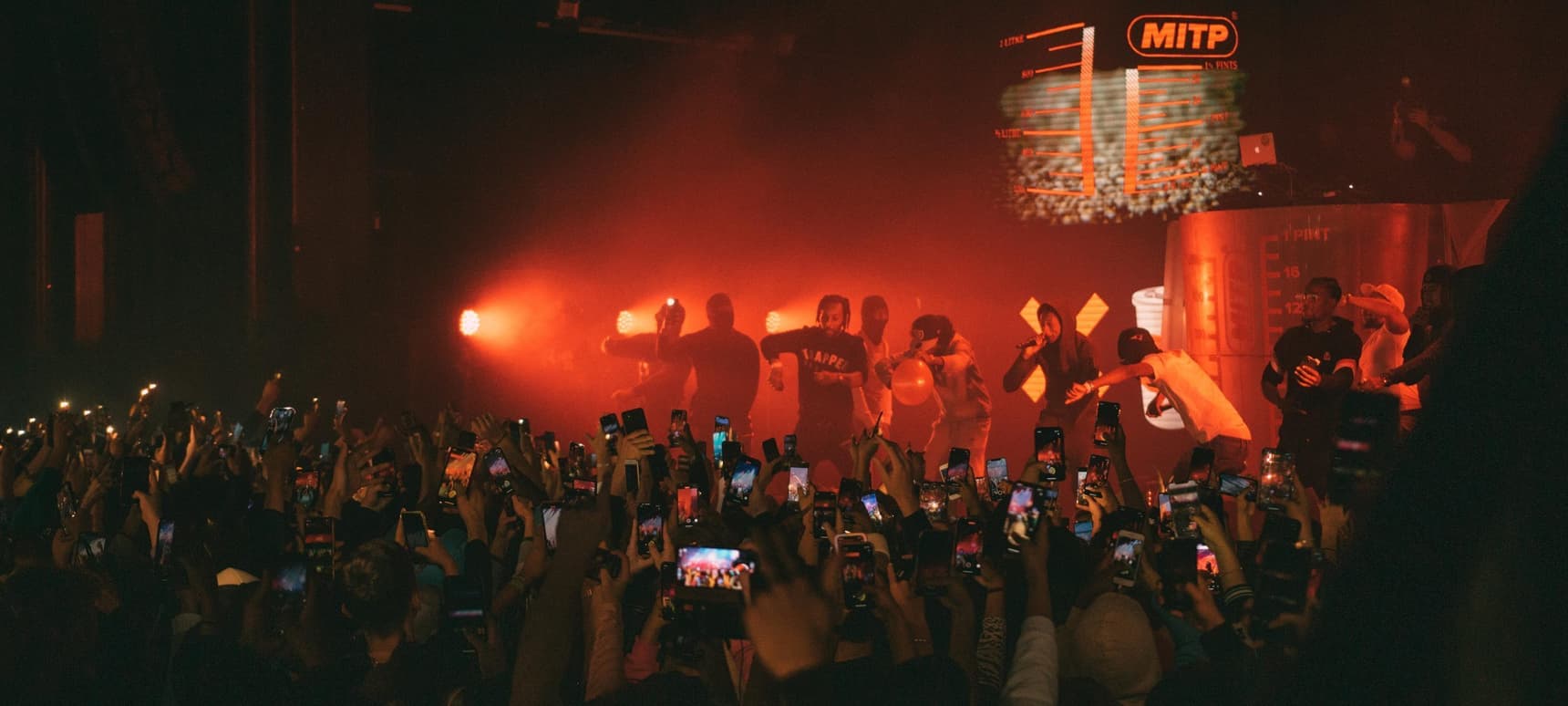 22.10.2021, Words by Billy Ward, Photos by Sorin D Visuals
Digga D's 'Made In The Pyrex' Tour: UK drill's leading voice stirs crowd into a frenzy
On the eve of his first ever headline show, the West London rapper proved he's here to stay
It's not long after 9:30pm when the curtain covering the stage at Kentish Town Forum drops down and Digga D takes the mic. Just about visible through the bouncing sea of mobile phones and flailing limbs, UK drill's golden boy is in the midst of his first ever headline show and is making sure he lives up to the hype and anticipation rightly surrounding his London homecoming.
Born in West London, the 21-year-old – real name Rhys Herbert – has become an internet sensation in recent years, revamping the often dark and ominous drill style to have a fun sound with endless viral potential in an era dominated by social media. His journey started back in 2015 when he began to rap as a member of the crew 1011, however, it wasn't until his infamous Next Up? freestyle landed in 2017 that he connected further afield and a wider audience really started to pay attention. Since then, the Ladbroke Grove local has ascended to the very pinnacle of UK rap music, dropping his famed 'Double Tap Diaries' project and following it up with this year's critically acclaimed 'Made in the Pyrex' mixtape.
Despite now being one of the most recognisable UK drill stars globally, nothing about his pathway to the top has been straight forward. In 2018, just as his career was taking on new heights, the rapper, along with other members of 1011, were convicted of conspiracy to commit violent disorder and Digga was sentenced to a year behind bars. This proved to be the first of a number of runs ins with the system and the rapper has since returned to prison three times, resulting in a Criminal Behaviour Order (CBO) which temporarily banned him from going back to London upon his release, as well as having to notify police 24 hours before dropping any new material.
Without these obstacles, Digga may already be an experienced live performer by now, but on the eve of his first ever headline show the rapper shows no signs of letting this inexperience overcome him. The lights beam down on the stage, illuminating a ten feet tall Pyrex jug in which the night's DJ, Bempah, protrudes out from the top. For the majority of the set, Digga is joined on stage by an entourage between fifteen and twenty bodies deep, hyping up the main man as he speedily transitions from one chart-scaling hit to another.
The rare occasions Digga isn't surrounded by his on-stage backup is when he brings out another UK star, beginning with the introduction of fellow West Londoner AJ Tracey, who sends the crowd into moshing chaos as he trades bars with Digga during their 'Bringing It Back' anthem. AJ ends up sticking around to perform his now trademark 'Ladbroke Grove' single, a gesture which goes down well with the youthful crowd who shout back the lyrics word for word, a habit they enthusiastically keep up the whole night.
Ivorian Doll also makes an appearance to perform the pair's seductive unreleased single 'Grey Tracky' which has been doing the rounds on TikTok recently, blasting a hook around the packed venue which is as catchy as it is explicit.
Bottling the energy and excitement of the opening night and maintaining it for the upcoming number of sold-out UK and Ireland tour dates over the next month might prove hard for an artist who doesn't have the same sheer quantity of hits as Digga D.
This time last year, a London show of this magnitude seemed out of the question but the rapper has showed dedication and determination to get to where he needs to be. Despite not being the most experienced of live performers about at the moment, his years of graft and consistent output of fan favourites has already put him in a strong position to dominate the UK rap scene and touring circuit for years to come.
Stream Digga D's latest single 'Red Light Green Light' below:
Read next: 'Defending Digga D' looks at the young drill artist's struggles with having his music policed