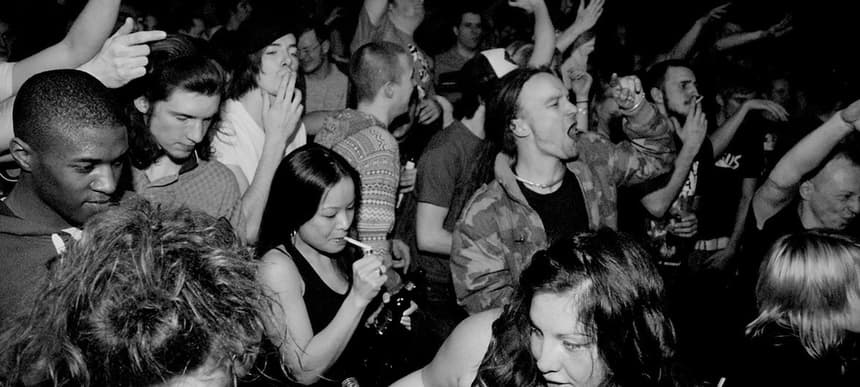 08.07.2015, Words by Paul Benney
DMZ: it changed dubstep forever
In 2006 the dubstep scene exploded to become the most vibrant sound on the planet
With DMZ's 10th birthday party taking place at Electric Brixton in London this Friday (July 10th), we decided to revisit our feature on the seminal dubstep party and label, written by Martin "Blackdown" Clark way back in autumn 2007 for Dummy's print magazine.
It's Saturday, 9th July, 2005. Three days previously, 52 people were killed and over 700 more injured in the 7th July London bombings. As Mala Digital Mystikz's dubstep anthem Anti War Dub booms out of the mighty soundsystem at DMZ in Brixton, its message has never seemed more appropriate – We don't wanna fight tonight/Let's all unite. The words ripple through the crowd like a shockwave triggering a release of all their fears. United by the vocal, they're getting a chance to express shock and reject all violence. It's a war on terror that's actually being won.
"It's strickly good vibes. You're coming into our house, man," explains Mala. It's the kind of thing that's only possible at DMZ, the club the '00s was waiting for. DMZ has changed dubstep forever. It used to be a niche concern, often dismissed as a dark UK garage mutation from the south London margins of Croydon, Streatham and Norwood. Then in 2006 the dubstep scene exploded to become the most vibrant sound on the planet. Suddenly, after six years of struggle, it started appearing in Hollywood films (Children Of Men), was reviewed favourably in broadsheet newspapers including The Observer and The Telegraph and got played in clubs from Baltimore to Brazil.
None of it would have been possible without DMZ, run by long-standing friends Mala, Coki and Loefah (together Mala and Coki are known as Digital Mystikz) and hosted by MC Sgt Pokes. Humble and down-to-earth, they won't hear a word of it, but that doesn't make it any less true. They're inspirational guys, producers who've had both a vision of where their sound is going and the drive to get there. Taking a room full of a thousand ecstatic dubstep heads at DMZ with them was just a bonus.
"I just feel truly grateful for the moments I've been having," says Mala, in what is a rare interview at his south London base. Together with Loefah, he's spending the evening cutting dubplates, the expensive, one-off ten-inch records used by dub and jungle producers. Coki, in his typical elusive fashion, is absent; he's a producer who speaks loudest with his music. If the trio's voices aren't often heard in interviews, their music speaks volumes. Together they've produced a string of records that have captivated fans, who flock to hear them played loud – very loud – over the weighty DMZ soundsystem.
Each of the three has a different style. Loefah specialises in dark, bassy bombs, deadly exercises in minimalism and impact with a touch of raw hip hop. His 2004 anthem Horror Show pioneered the stripped back halfstep style. Coki harnesses raw energy, unleashing it in powerful jungle-eqsue wobblers and dancehall vocals. His cheeky bass mutation of Jamaica's Richie Spice was one of last year's biggest anthems. Mala's music is expansive, moving through dark house-inspired shakers to mournful vocal anthems. His epic 2005 Neverland brought string-led Technicolor to the previously monochrome scene. The sum of their parts is immense. "We form like Voltron, we're like Wu Tang," laughs Loefah. "When we come together and do our thing, it's bad. Captain Planet, man. Our powers combine."
Why DMZ and why now? One answer is contained in the lyrics of Root by Loefah. Over a rolling funk break, the vocalist describes the birth of reggae. Then came the rock'n'roll/But the rock'n'roll didn't go over strongly in Jamaica/So, about that time, we realised we had really make some music of our own/To keep the people happy. If for 'rock'n'roll' you read 'the '00s music scene' and for 'Jamaica' you read 'London' you might have some idea of why DMZ succeeded.
DMZ was and still is different. It started in a small side room of an old church in Brixton, playing a strange new form of an ignored genre. No one knew if the night would be a success or not. But it was. A broad cross section of people from all ages, genders, races and classes came together to "meditate on bass weight" (as the clubs' slogan goes). It was an antidote to the commercialisation of music locked within strict formulaic patterns, served up at rammed super clubs or corporate-sponsored live venues.
"I honestly can't believe things are moving how they've moved," admits Mala. "You don't plan for anything like this. DMZ's a nice atmosphere. It's fun to be doing these parties." The night is so successful, they've started DMZ Leeds in conjunction with Sub Dub, running off the mighty Iration Steppas soundsystem (so powerful the bass once made bits of the roof fall onto the decks). "The thing I love more than anything about DMZ is when you walk up the stairs you walk through into the main arena, that is what it was like at a [early '90s] rave," explains Loefah. "You got hit by this wall of bass and loads of sweaty people who didn't actually give a fuck about the fact that you've walked in the door. They're not looking at you. You find your spot, you get your drink, big bass, crashing beats and that's the dance."
After five years of underground struggle, during which their records struggled to sell over 300 copies and DJ bookings were sparse, suddenly dubstep had become the hottest sound on the planet, thanks in no small part to the Dubstep Warz show hosted by the Radio 1 DJ Mary Anne Hobbs. John Peel was another early supporter; Mala DJed at Annie Nightingale's Radio 1 John Peel tribute. Now DJs from all scenes, from jazz don Gilles Peterson to microhouse hero Ricardo Villalobos play their music. Not for nothing did respected music critic Simon Reynolds call 2006 "the year of dubstep." When respected reggae re-issue label Soul Jazz signed two of Digital Mystikz's singles, including them on compilations alongside some of Jamaican's current reggae heavyweights, it was an acknowledgment that dubstep was no longer a niche concern.
It's clear that Loefah and the Mystikz see their sound as broader than just dubstep. It transcends borders and boundaries to touch all kinds of people. Digital Mystikz and Loefah spread the dubstep word worldwide in 2006, DJing in America, Germany, Holland, Switzerland, Norway, Belgium, Portugal and Spain. For three friends who'd started out just keen to make music they felt strongly about, the momentum had amazing consequences. Hank Shocklee from Public Enemy's Bomb Squad began ringing up for guest list at their New York gigs. "Hank Shocklee knows dubstep. He's in it. The Bomb Squad, man, rah!" enthuses Loefah. When Mala played NYC, King Tubby's son came down. When their tunes were licensed to the film Children Of Men, the trio got to walk down the red carpet at the London premiere. Even LA's infamous area, Crenshaw, has heard the DMZ word. Loefah's studio neighbour was out there recently and was accosted by local boys. "They said to him, If you're from London, do you know about dubstep?" explains Loefah. "He replied, Yeah, Loefah is in the next studio to me in London, and they went nuts! Out there, apparently, dubstep's the new underground hip hop."
Each of the DMZ collective has musical roots in south London. Loefah, like all the Mystikz, grew up with Sgt Pokes, DMZ's host and resident MC, and they spent a lot of time as teenagers raving. Loefah's a talented photographer and studied visual arts. He's fiercely analytical of his own work, a critical feature that allowed him to elevate his sound to new heights, innovating the minimal halfstep style of dubstep. Mala used to MC to UK garage. Before that he played for the Millwall FC youth team. In contrast to Loefah, he writes music very organically, following not intense critical analysis but emotion that comes naturally from within. Little is known about Coki, except that he used to MC to jungle, but that only adds to his sense of mystery.
"We've always done music together, that's been our link," explains Loefah. "We used to make jungle mixtapes and never get nowhere." "We were never trying to get anywhere, we were just doing our thing," adds Mala. "I kinda knew what I was after, because that was just natural. You find your program which works best for you, which at the time for me was [studio software] Reason. I just went deep in it, played it like it was Street Fighter. That's how I saw it, that making music was almost like a computer game." Loefah laughs, memories of the early days coming flooding back. "There's nuff times we'd be playing computer games at home. Then I'd get too lean and just watch. Mala would be like, I'll just have another game. I'd fall asleep, wake up and it would be six in the morning. Mala would still be there, focused."
"I can push through sleep mate," laughs Mala. Is that a key asset to the success of any producer? "It's a key asset to dying young, I swear." In the beginning they simply just hung out together, but they'd "always be talking about beats". Mala began making what he then called "broken dub house", a prophetic description of his sound that still holds some weight today. Loefah had different plans. "In my head I was going to bring back 1994 jungle. I was going to write this cross between '94 jungle and Metalheadz -sides. Then I went to FWD>> with Mala."
FWD>> is dubstep's founding club, held at East London's Plastic People, a smaller more intimate venue than DMZ's, one that incubated the sound since its inception in 2001. "I felt something in FWD>> that night that I hadn't felt in years," says Loefah. "It just felt like the [seminal Metalheadz jungle club] Blue Note again." They went to FWD>> to hear Hatcha, the DJ credited with leading dubstep from a UK garage offshoot into a distinct genre. Notoriously selective, Hatcha had begun playing their beats. This lead to releases on Hatcha's Big Apple records, the label associated to the Croydon record shop of the same name and, like FWD>>, another pivotal point in the roots of dubstep. When the release rate slowed, they did it themselves and started the DMZ label. "Dubstep is what taught me to do think like that," says Loefah. "If you want something in life, you have to go and get it. You can't just wait for it or expect it to happen." From friends to internationally known producers, it's a mindset that's got them a long way.
Last year Loefah and Sgt Pokes achieved a teenage dream: playing a gig in New York. "It was a mad experience," says Loefah. The promoter's North Brooklyn apartment, where they were staying, had a roof garden. "We went up there to smoke a cigarette because we couldn't get any weed and have a beer. All we could see was this Manhattan skyline and the Brooklyn Bridge – a skyline that you've seen in so many movies, depicted in drawings, comic books and T-shirts. And there it was in front of you. We exchanged glances and it was like, 'How are we here? How did this happen?' Our music has got us to this place that we've dreamed of." As teenagers they'd sat in Loefah's house, listening to early hip-hop, smoking weed and dreaming about New York. "We'd dream about it, going, One day we'll go, we'll have it up in New York. We'll paint a train. Then suddenly we were there and it was just incredible."
Mala never dreamt of being a DJ for one quite remarkable reason. "I'm totally deaf in my left ear. So I've always thought that if I've got to DJ in a big place I'm not going to be able to do it," he explains. Consider then how remarkable it is that Mala's debut DJ gig was at London's massive The End club for Aphex Twin's electronica label Rephlex. "I was shitting myself. But it's one of those things where you know you're alive because you've stepped into something that you're fearing."
What began as three friends hanging out and enthusing about music has become a central force in the UK's most vibrant music scene. The future looks radiant for Digital Mystikz and Loefah. With DMZ at the heart of the dubstep scene, which continues to go from strength to strength, the trio's legacy is assured. And their feet are on the ground, their hearts in the right place. It's one step at a time and enjoy every moment, whether it's DJing in New York or meeting King Tubby's son, as it comes. Loefah might drop an album one day, though don't hold your breath. Mala has no plans to do so. "I'm not writing nothing off, but I don't think it's important for me to do," he says. The goal is surely longevity, long after the 'year of dubstep' hype has faded. Perhaps wisely, the trio don't speculate too much about the future. "I just want to finish some beats," insists Mala before adding: "I love music so much I don't want to get sick of writing it." For Loefah, despite all his achievements, the journey has barely begun. "I feel with writing music I'm just scratching the surface."
It's Saturday, 6 January, 2007. At DMZ in Brixton, it's two in the morning and Mala has taken to the decks, going back to back with Loefah for the night's peak slot. It's a DMZ tradition, the climax of the night. The collision of Coki's wobbly beats, Loefah's explosive bombs and the warm euphoria of Mala's riddims a truly unmissable experience. As Mala mixes in one of his new dubplates, the rhythms he conceived in his studio begin to overtake him. Dreads flying in a whirr of energy, he begins to shock out, engulfed within his own creation like the music is being transmitted from the decks up through his arms like electricity. But Mala is not the final destination for this energy: he is merely the conduit. Dubstep radiates outwards from DMZ to the rest of the world.
Neverland b/w Stuck
Digital Mystikz
(DMZ, 2005)
A landmark explosion of light amid a sea of darkness.
Horror Show
Loefah
(DMZ, 2004)
A scene-changing anthem: the birth of halfstep.
Conference
Digital Mystikz
(Soul Jazz, 2006)
The original rolling Hatcha anthem.
Cay's Crays (Digital Mystikz remix)
Fat Freddy's Drop
(Kartel, 2006)
Vocal dubstep? You've never heard better.
Mud
Loefah
(DMZ, 2006)
The pinnacle of Loefah's dark, post-Timbaland sound.
I/Monsoon (Loefah remixes)
Skream
(Tempa, 2006)
Croydon meets China downtown.
Bury The Bwoy
Digital Mystikz
(DMZ, 2007)
A scene-changing anthem: the birth of polyrhythm.
Root
Loefah
(DMZ, 2005)
Massive junglist roller.
Ancient Memories
Digital Mystikz
(DMZ, 2006)
Hypnotic dread dub.
Tortured
Coki
(Tempa 2006)
Witness Coki's club-destroying warping bassline style.