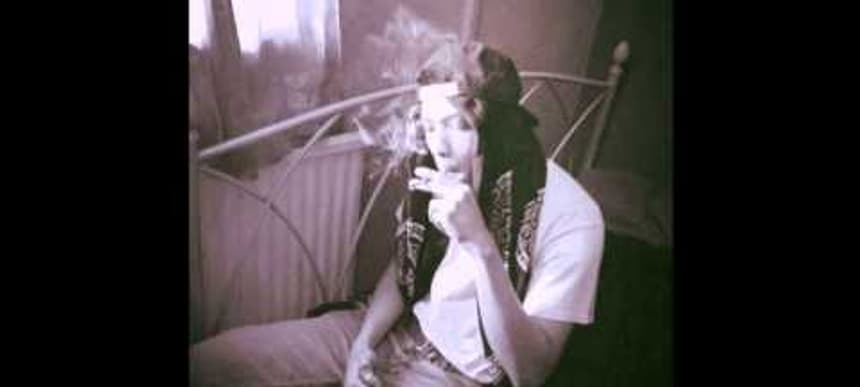 21.01.2016, Words by dummymag
Drae Da Skimask: "Stoned, eerie and full of different styles."
Glasgow based label and close-knit crew Astral Black have been responsible for debut releases from some of the UK's most exciting new talent. Tracing the edges of dancehall-infused club tracks, leaned-out rap beats, R&G edits, post-punk new wave, and the nooks and crannies between; their club night residencies in both London and Glasgow place the likes of scene figureheads such as Danny Brown, Skepta, Knxwledge, Ryan Hemsworth and Slimzee (the list goes on) alongside the next generation of underground contemporaries inside small capacity and often-free entry spaces. Sharing their passion for finger-on-the-pulse music, it's a rewarding mix that leaves both artists and party-goers feeling revitalised.
Kicking off the label's third year is 19 year old producer Drae Da Skimask – a young Londoner at the forefront of a new wave of producers in the capital who dabble in slow motion, boundary-free rap beats. The benzo soaked workings of 'Come Down' is Drae's third cassette release for Astral Black in just six months, picking up on where its predecessor 'Au Loin Vol. 1' left off. It demonstrates the young beatsmiths ability to reach unchartered territories through expertly executed sample chops and skippy 808's. It's a transcending tune-in-and-kick-back affair, that could be lifted straight from a battered Walkman circa 1992.
A super limited cassette-only run, 'Come Down' is available exclusively via Bleep and comes with a heavy-weight, riso-printed insert from London's Ditto Press. To mark the release, we caught up with Drae in advance to see how samples, Memphis Rap and LSD all played a part in its making.
Hey Drae, how's 2016 treating you so far?
Drae Da Skimask: "So far, so good."
Your beats make me feel like I'm chillin' in the Bronx, or maybe even coastin' through Compton. They seem to be in some border-less bubble, translating US-centric style beat-making effortlessly into the UK. It's more Dilla than the trap. How would you describe your sound and what are the main influences on your sound?
Drae Da Skimask: "[Laughs]. Thank you, I can't really describe it. For a long time I've just experimented on Fruity Loops with all kinds of different shit: samples, synths, genres, styles of mixing down. I'm only just starting to see patterns and a style forming. I grew up on Eazy-E, Cypress Hill, 8ball & MJG, UGK, Three 6 Mafia, EPMD, Wu-Tang, Dilla and Madlib…when I was seven I was given the 'Unseen' album which changed the way I looked at music completely.
I'm a big fan of '90s Memphis rap and that's where a lot of my influence comes from, so I think that my love for soulful spacey kinda sounds and certain substances lead me to where I am at the moment."
Is there a process for your beats? Do you use a lot of sampling?
Drae Da Skimask: "There's no processes or routines really – it's all very messy and unprofessional to be honest. Zoots. Other than that I ALWAYS leave the 808s or bass until last. I never spend too long on a beat or I'll have to scrap it. When I'm feeling creative I like to finish one and go on to try make two, three or maybe four beats. Some could be completely different, some are very similar. I love building melodies and tweaking synths but most of the time when I hear something I want to sample it reflects on how I'm feeling at the time …sometimes I can't express that mood through synths. If I could play an instrument maybe it would be different [laughs]."
How do you name your tracks?
Drae Da Skimask: "They're all very random. I don't like to put too much thought into the names of the beats so they're just named after the first thing that comes to mind when I hit that save and export button. It could be anything. I'm always open to suggestions as long as it's not skengman riddim 2k16 or some shit…
Actually maybe I'll name the next beat skengman riddim 2k16."
Tell us more about 'Come Down' on Astral Black – when was it made/where was your head at whilst making it?
Drae Da Skimask: "Secretly or maybe not so secretly 'Come Down' has been ready for coming up to a year now. Originally I put it on YouTube as a little D.I.Y feature length but after working with Astral Black on the '95 Mindfulness' project I really wanted to put out some more stuff that I had kept to myself. My head was cloudy when I was putting it together- it's the result of a long lean, benzo and LSD detox- which might explain the name and weird eerie vibe to the tape."
Can you tell us a bit about the video trailer that accompanies it?
Drae Da Skimask: "The video trailer is a great example of what you're going to get from the tape: stoned, eerie and full of different styles."
If you got invited to a P Diddy white party, what would you wear?
Drae Da Skimask: "Gucci flip flops. Coogi sweater."
Any shout outs?
Drae Da Skimask: "Shout out Belle (there won't be a 'Come Down Pt 2'), Jon Phonics, everyone on Astral Black and Blah Records, Tommy II, Mike Labyrinth and Keely Kaneki, Loud Lord, Tdeezy (xoxainedeezy), Myrror, Mr. Sisco, Ramirez, Doomshop, Schema Posse, Bon Gamin, Smoke-A-Sac, Nick Bam, Sumgii, Bradley, Budgie, Task, Cene, Whispa and Nate, and can't forget A-Bluntz.
I could of sat there all day shouting out people, soz if I forgot anyone."
'Come Down' is available now on Astral Black (buy).