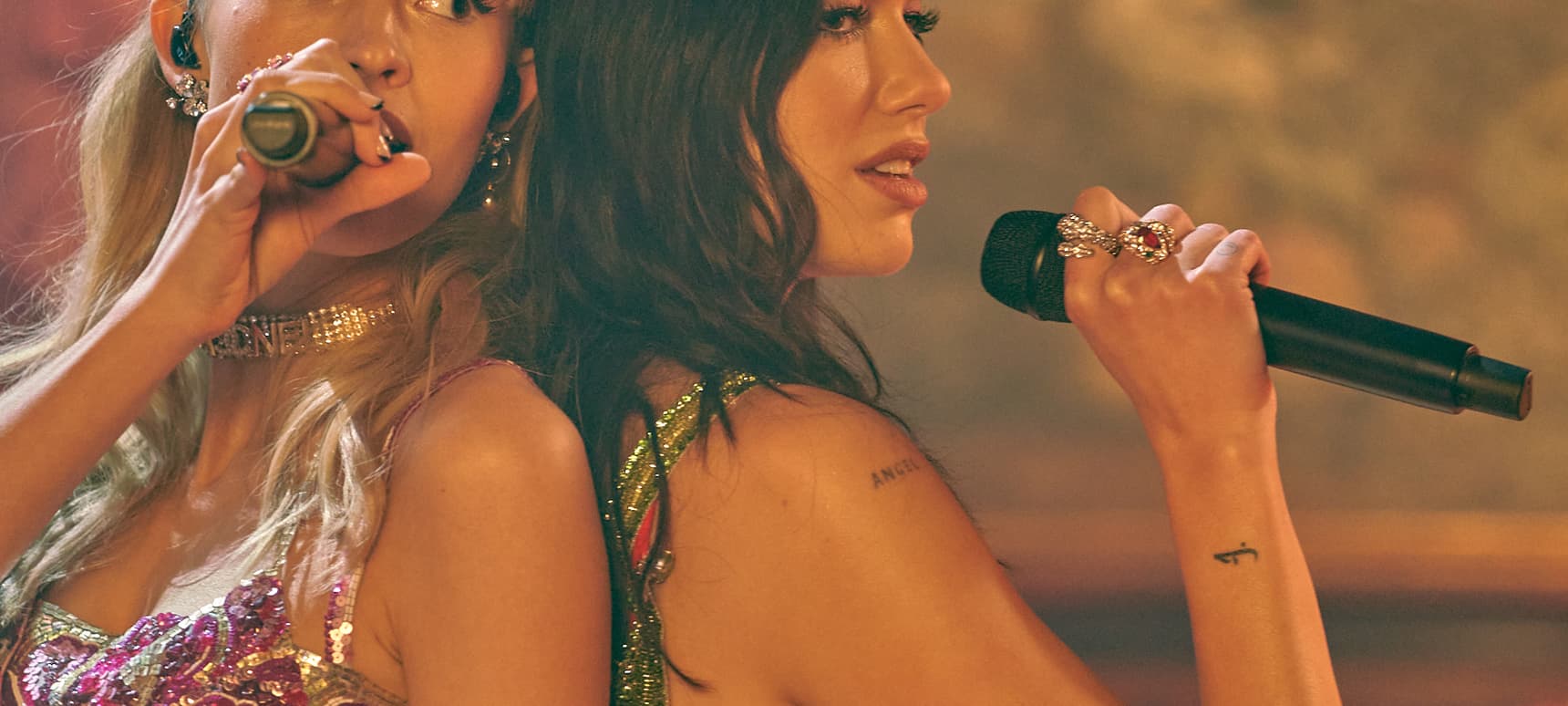 30.11.2020, Words by Ben Jolley, Photos by Pixie Levinson
Dua Lipa's Studio 2054 disco party upped the game for virtual live shows
Filmed at Printworks with an '80s Top of the Pops sheen with guest performances from Kylie Minogue and fka Twigs, the hour-long show was an energetic living room night out
"Blood, sweat, bruises but most importantly all the love in the world has been put into this performance. I hope you all love this as much as we have loved making this for you," tweeted Dua Lipa to the world soon after the first airing of her hugely ambitious virtual show Studio 2054. With big-name special guests unveiled in the week leading up to it, this streamed performance felt like a proper event and was likely the closest thing we'll get to a gig this year.
Billed as a 'kaleidoscopic rocket fuelled journey through time, space, mirrorballs, roller discos, bucket hats, belting beats, throbbing basslines and an absolute slam dunk of the best of times in global club culture throughout the decades,' Studio 2054 largely lived up to the hype. As well as acrobats and roller-skaters, Dua roped in some actual pop legends and newer icons to join her throughout the night, to make it feel like a proper night out.
Filmed at London warehouse club Printworks (brought to life having stood silent throughout the pandemic), ticket-holders were (after a Morrison's advert featuring Dua) transported to a utopian alternative reality full of flashing strobes, neon lights and glittery outfits.
Filmed with a nostalgic '80s-tinged camera filter, it felt like we were watching a movie being made, or vintage Top of the Pops – especially as Lipa took to the centre stage podium cheered on by her crowd of synchronised dancers. With a full live band also on hand to help bring the show to life, it came complete with extended funky guitar solos, slick set swaps and multiple swift outfit changes.
Moving round Printworks' multiple rooms, and even stopping off at the bar for a drink, Lipa found and hugged friend and collaborator The Blessed Madonna (who mixed 'Club Future Nostalgia') in the DJ booth before blasting into a sweaty rendition of 'Physical' with her primary coloured group of dancers. Then, the rollerskates were on for 'Cool', as the mirrorball's spotlight panned around the room, making this viewer miss the club even more than they were already.
But what undoubtedly helped Studio 2054 stand out from virtual streams during the lockdown was the calibre of special guests that joined Lipa IRL throughout the performance. First up, fka Twigs showcased her inimitable pole dancing talents while debuting her as-yet-unreleased trap-leaning track with Lipa.
Then came the undisputed highlight of the show: the union of pop princess Kylie Minogue and Dua, getting sweaty in Printworks' intimate Dark Room with a dozen ecstatic dancers; after a duet of her 'DISCO' album banger 'Real Groove', the pair launched into an energetic, genuinely life-affirming rendition of 'Electricity'.
Sadly, however, there was no physical appearance from US-based Miley Cyrus and Elton John (presumably due to Covid-related travel restrictions). The music video for the former's collaboration with Lipa, 'Physical', was all that materialised, while Elton's streamed-in performance of 'Rocketman' formed a poorly-sequenced break between two of Dua's biggest pop hits, 'Levitating' and 'Hallucinate'.
Coming straight after such a high-energy section, it didn't suit the mood particularly well, and actually added an unnecessarily flat atmosphere to an otherwise utopian evening. More fitting would have been a live debut of his PC Music-style Lady Gaga-collaboration 'Sine From Above', but what was shown seemed like it was shoehorned in at the last minute. Especially when normal programming resumed with would-be club anthem 'Hallucinate', which really allowed Lipa to show off her impressive vocal highs.
The party didn't stop there, though, because VIP ticket-holders had an invite to watch the after-party (after a bit more self-promo showcasing Dua's brand collabs with YSL and Puma), where they were given a fly-on-the-wall look inside the DJ booth as The Blessed Madonna spun old-school disco classics like Mystique's 'Keep On Jumpin' for 20 hedonistic minutes.
Overall, it all looked like it must have been incredibly fun to film Studio 2054 and it's hard to fault the creativity that went into making it. More than anything, though, it was a victory lap for Lipa's second album, 'Future Nostalgia', which – as well as being nominated for six Grammy Awards – has been a shining light of euphoria to offset a pretty awful year, having provided an uplifting soundtrack to lockdown for millions of people around the world.
Full of escapist highs – thanks to its beaming singalong choruses and funky guitar riffs – the record has been a welcome antidote to the shitshow that has been 2020. Studio 2054, then, was the icing on the cake.