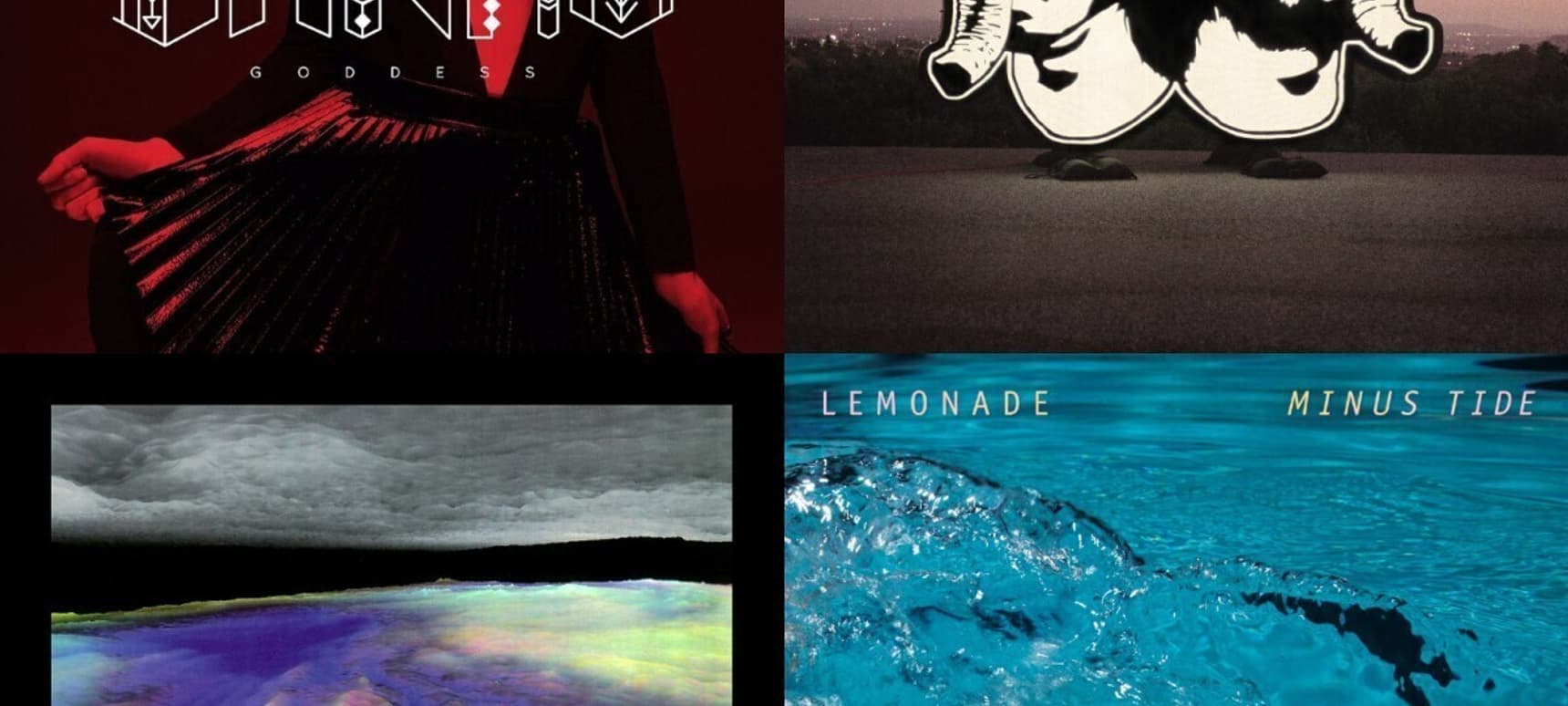 09.09.2014, Words by dummymag
This week's albums: September 8th 2014
We'll be running a new album reviews column alongside our regular Album of the Week reviews, giving you a succinct analysis of some of the records on Dummy's radar every week. This week, we look at records by BANKS, Death From Above 1979, Lee Gamble, and Lemonade.
Album of the Week: Simian Mobile Disco – 'Whorl'
"…back in April this year, James Ford and Jas Shaw journeyed to the Southern Californian desert to record the album over a three day period, using only two modular synthesizers, two sequencers, and a mixer, and the tapes from these brief, unconventional album sessions were spliced together and re-edited to make up the final album. The result is as close to achieving a free-flowing spontaneity as they've come so far…" Read the full review here.
BANKS – 'Goddess'
Although over half of the tracks that make up BANKS' first full-length album 'Goddess' have been released already, this doesn't lessen its impact. The retching, Shlohmo-crafted Brain still packs the biggest punch, with its indicting, unflinching lyrics. Fuck Em Only We Know features BANKS' most straight-down-the-line vocal performance and has the cool grace of a Jessy Lanza song. Lil Silva brings out the best in the vocalists that he works with (see what he did with Rosie Lowe on No Doubt last year for proof) and the tracks that he produces on 'Goddess' – the title track, the flitting, numble, nearly-prancing Stick, and the honed-in This Is What It Feels Like – are no exception.
BANKS' phrasing sounds invigoratingly tough and thick-skinned throughout. She knows when to ride a note or word out for maximum effect. What I learned about her after listening to 'Goddess' is that she doesn't take shit from anyone. Parker Bruce
Good Years released Goddess on September 8th 2014 (buy).
Death From Above 1979 – 'The Physical World'
Following up on a record like 'You're A Woman, I'm A Machine' is no easy proposition. Death From Above 1979's no-bullshit approach on their debut LP, combined with their ability to transmit unbelievably catchy hooks through the raw, crunchy fuzz of a distorted bass riff, has meant that the album has become revered in underground circles. Coming 10 years after this monumental debut, 'The Physical World' presents all the dilemmas of the difficult second album but with the stakes ratcheted up much higher.
Where the new album really succeeds in building on the legacy of 'You're A Woman, I'm A Machine' is when the arresting, raw quality that made it so special is tempered by well-judged tweaks to their sound, to flesh it out and broaden its scope. On Trainwreck 1979, their pop inclinations extend further than before in the cooing vocals and gently ringing piano chords which punctuate the track's mini-breakdown. This brief flash of melodic respite is a perfect counter to Keeler's rough, sultry bassline and the urgent, coarse vocals of Grainger. And again, on Crystal Ball, the chorus is underlaid with some ringing synths that give it a quietly epic quality not seen before. On tracks like Right On, Frankenstein! and Government Trash, however, the structure of the tracks seems a little jarring. Both switch up their style and tempo at the end in a way that seems out of place. Where it works, the scope of the band's singular sound is made subtly wider, but where it falls down is where these readjustments don't feel quite so natural. Jake Hulyer
7/10
Last Gang Entertainment released 'The Physical World' on September 8th 2014 (buy).
Lee Gamble – 'Koch'
The production on the new record from Lee Gamble can't be faulted. The artwork for the release is a fitting accompaniment to the music contained within: the image of the intergalactic, hazy skyway strikes a chord with the distorted and dreamlike atmosphere which pervades the album. It's a long, slow record and the soundscapes that Gamble produces – mirroring the artwork's inverted dreamworld – are at times truly immersive. Where it suffers, though, is in its failure to cut short the passages that are too drawn out. Clocking in at an hour and 15 minutes, it seems foolhardy to demand your listener's attention for so long when some of these tracks, revolving around simple ideas, could have been cut shorter.
Where this album really excels is on tracks like You Concrete. Rumbling sub-bass throbs beneath lo-fi crackle and emotive pads to create a world you can live in. And Gamble's knack for atmospherics is on show again in Voxel City Spirals: it's a strange, ambivalent soundscape in which a fluctuating heartbeat plays off industrial, cold synths, but which is totally immersive in its depth. It's tracks like Jove Layup.. which really seem to disrupt the sequencing of the album, with its extended outro feeling far more appropriate to a track closing out a record. The album has great aspirations to dreamy, subconscious soundscapes on an epic scale, but this is frustratingly tripped up by our attention drifting elsewhere in the moments where ideas have run their course. Jake Hulyer
6/10
PAN release 'Koch' on September 12th 2014 (buy).
Lemonade – 'Minus Tide'
Lemonade is a fitting name for a band specialising in sparkling, carbonated beats. In fact, 'Minus Tide' is an album that fizzes and froths with such heady effervescence that it seems brewed specifically for sunshine enjoyment. This album, the San Franciscans third full-length record, is by far the trio's most accomplished yet – it eases off on the frantic rhythmic density of their debut, and thaws out the somewhat austere frostiness of it's successor.
The resulting sound is infinitely more hospitable. Fans of Birmingham's Troumaca will recognise a similar thread of warm Caribbean escapism, but where 'Minus Tide' surpasses the B-Town pretenders is in its air of beatific danceability. These tracks seethe and swell with a propulsive rhythm that belies the bands sonic palate. Soft synths and reverb-washed percussion don't always make for the most persuasive dance tracks, but there's an air of bounding adventurism here that can't help but quicken pulses. Standout track Clearest, for example, sees Lemonade go close to a band like Solid Gold's irresistible, surging best, whilst Reaches gives off a buoyant lusciousness that will have you wishing it was six minutes longer. Summer might be fading fast, but with 'Minus Tide', Lemonade have brewed up a 10-track tonic of thrumming sunshine. Drink up. Jack Enright
7/10
Cascine release 'Minus Tide' on September 9th 2014 (buy).