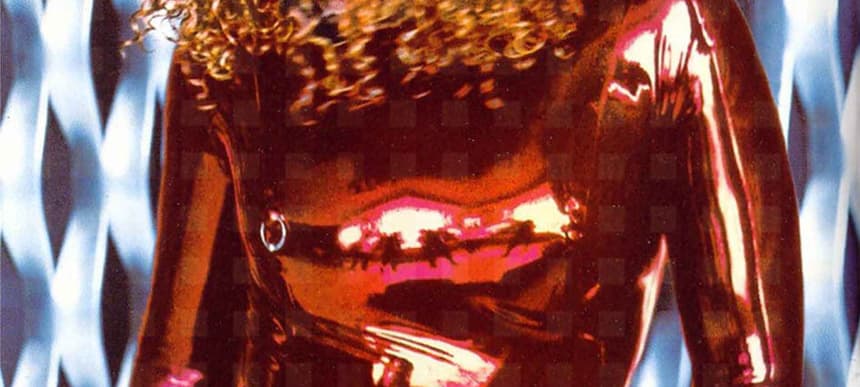 02.10.2015, Words by dummymag
The Dummy guide to Janet Jackson
Now R&B/pop's elder stateswoman, Janet has continued to evolve over time and consistently refused to give too much away...
Purveyors of pop music with a more academic outlook might struggle with the success of Janet Jackson. At a technical level, she can't actually do a lot with her voice. Unlike the Whitneys of the world, Jackson's voice is like a whisper. Her music is built on crisp airy purrs as opposed to vibrato-laden acrobatics. Throughout the course of her career, this hushed style has made it impossible for her to ever oversell. Stylistically, musically and aesthetically, she has maintained a level of enigma and has always held a slightly left-of-centre position in the landscape of commercial pop music.
The list of artists that have been inspired by her career is endless. The bewitching nocturnes of FKA twigs, the monster live shows of Beyonce, the flirtatious club-jams of Tinashe. Even alt-pop staples like Dev Hynes, Toro Y Moi, Solange and Jessie Ware are all indebted to the path Jackson carved out. it is a legacy that is often overlooked but on the release of her 11th studio record 'Unbreakable' – now seems like the right time for a revision session. Across her whole career, Jackson's greatest skill has always been mixing personal, relatable experiences with something seemingly otherworldly and supersonic. However intimate her music gets, there is always a mystic quality to Janet Jackson. Like all the best superstars, it's sometimes hard to believe she's from this planet.
Across her 42 years of performing, she's been through numerous phases and reincarnations. In celebration of her first record in almost seven years, we've compiled this whirlwind guide to her extensive body of work.
Long live JJ. Just don't mention the Superbowl.
The year is 1986, Janet Jackson has fired her father and manager after two lukewarm studio records and – against his wishes – she has fled Los Angeles for the cold purple climes of Minneapolis. With the help of Jimmy Jam and Terry Lewis (the 1980s A-team of R&B hit making), Jackson had a lead single for 'Control', the first LP that truly belonged to her. With its prowling, uptempo production, it is still the definitive Janet Jackson single in many ways.
A hybridised recipe of R&B, disco, funk and pop all executed through her mumbled, pursed-lipped delivery. This track and the timelessly salacious 'Nasty' both blew up off the back of 'Control'. Jackson has since revealed that the lyrical content and performance style of these songs was inspired by an ethos of self defence. Specifically, Jackson experienced incidents of sexual harassment while in Minneapolis and this bulletproof identity was born in part out of her ability to stand up to those threatening her.
In February of 1990, Janet embarked on her debut world tour, which became the most successful debut tour in history. The facts and figures are staggering; she sold out four LA shows in 48 minutes, one of her Tokyo dates was beamed across Japanese television only to be interrupted by JAL Airlines adverts which Janet featured in, the US dates alone made the Janet Jackson empire an estimated $28 million and she played for over two million people in total.
While there is something wholly incongruous about Terry Christian introducing a cutaway featuring Janet Jackson, the interview should provide an idea of the scale of these shows – five-storey stage setup and an almost 100-strong entourage. Currently on her three-leg, 92-date 'Unbreakable' world tour, live shows are still a pivotal part of the Janet Jackson picture. She's been celebrated for melding the sultry intimacy of club shows with the blockbuster scale of stadium-status in a way that has only been achieved before by Prince.
Janet Jackson was at the centre of perhaps one of the most iconic Rolling Stone covers of the 20th century in 1993, in a moment that showed a kind of self-assured coming of age without any of the headline-baiting sensationalism that some ex-child stars rely on. To accompany her decidedly spicy LP 'janet.', Patrick Demarchelier took these photos of Jackson topless with her breasts covered by then-boyfriend René Elizondo Jr.
In the cover story (which you can still read online), Jackson eloquently discussed her sexual liberation in a delicate and eye-opening manner. It is a facet of her artistic identity that still defines her. Her music, her videos and her live shows all exude a sexual confidence but she never delves between the sheets for the sake of shock value. It is summed up best by David Ritz's observation is this timeless cover story, saying Janet's words were, "said sweetly, though underneath her words I feel steel."
If nothing else, this 1995 collaboration between Janet and her brother and the shape-shifting space-age video that accompanied it proved that Janet and Michael weren't in fact the same person. The track arrived in the peak of speculation surrounding Michael's cosmetic quick-changes and there was something defiant and triumphant about him returning with his sister in tow. It was the first time they had worked together since Janet laid down backing vocals on P.Y.T. and that iconic, breathy Jackson style bounced off the souped-up funk-rock production. Both singing – steely-eyed through clenched teeth and fists – it's an iconic collaboration for both artists and the bit where they play-fight over game controllers is pretty cute IMHO.
Janet arrived in 1997 with a new aesthetic tied to her most introspective LP 'The Velvet Rope'. After a serious bout of depression and a long-standing struggle with body image and body dysmorphia, Jackson embarked on putting together this concept record. Domestic abuse, sexual orientation, S&M, self-loathing and emotional restraints all represented by this luxurious but limiting rope.
Initially, 'Together Again' was written as a ballad dedicated to one of Jackson's friends who had died from AIDS but it was transformed into a house/disco cut that reminded Janet of the Studio 54 sound. Aside from being her greatest and most thematically complete long-player, 'The Velvet Rope' quickly became a blueprint for pop stars exploring darker realms of their sound. One could easily argue that this LP was the '808s and Heartbreaks' of the 1990s. Janet Jackson was worth $80 million, she was highest paid musical act in the world yet this sound and these issues were unmistakably authentic.
By the turn of the millennium, Janet Jackson's legacy and impact was impossible to ignore. It was unsurprising then that MTV chose her to be their first ever "Icon" as part of a new series where artists would pay homage to pioneers of previous years. The lineup was a mixed bag. OutKast opened the show with a performance of 'Ms. Jackson', *NSYNC came through with a rendition of 'That's The Way Love Goes' and Janet closed the show with 'All For You'. A highlight came when JJ-descendant Aaliyah introduced a medley performed by Pink, Usher and '00s flash-in-the-pan soloist Mýa. Her brother was even present via video tape to add: "You will keep climbing higher and higher. Your talent knows no boundaries. I love you, and I am honoured and proud to be your brother".
It's hard to put together any handbook on Janet Jackson without mentioning this performance. Not just because of the wardrobe malfunction at the end which went on to become the most re-watched moment in TiVo history, but because a Superbowl Halftime slot is an indication of an artist's unshakable place in the vaults of pop history. Not that Janet Jackson needed that kind of verification but the scale of this show is testament to just how huge she was almost two decades after her first breakout hit. 'All For You' and 'Rhythm Nation' sounded phenomenal and – slip or no slip – her duet on Timberlake's 'Rock Your Body' was another shining example of the generation of artists she inspired.
While 'Discipline', Janet's tenth studio LP, didn't quite hit a full home-run, this lead single from January of 2008 showed a wholly 21st century Janet Jackson. Rather than becoming a heritage act, the propulsive production and kinetic energy of 'Feedback' foreshadowed the club-ready minimalism which is now attached to artists like Tinashe and DJ Mustard. There is even an air of FKA twigs' 'Glass & Patron' in the spoken breakdown where her words are backed by a mutated, warped beat. The same comparison could also be drawn from the snappy krump-inspired dance routines of the video. Even after almost three decades in the industry, Jackson was setting trends and standards effortlessly.
Jackson kept herself characteristically private following the death of her brother. Like her whole career, there was little in the way of public communication. She has always let the art do the talking which is why her glass-shattering entrance on to the stage of the MTV VMA Awards in 2009 was so explosive. To round off a performance of 'Scream', Janet danced in perfect unison with a video of her brother highlighting the superhuman dancing abilities of the pair of them. In many ways, it is fitting that she marked her brother's passing in this way rather than some tell-all interview intercut with family photos and Oprah on Kleenex duty. Their relationship was defined by music and a lot of the music they made together was directly aimed at a celebrity culture that talked way too much.
Fast forward to 2015 and a mysterious video arrives on the internet promising new music and new shows from Janet Jackson. The first music that came was No Sleeep with J. Cole – a feathery pillow-talk paean which was quintessentially Janet. A subtle, unravelling slow jam embodying the rich allusions of 'janet.' and the deep rumination of 'The Velvet Rope'. Sensual, steely, suggestive and secure. Alliteration like that doesn't come around for any artist. The Janet Jackson of 2015 is the same one who dropped into the scene like an atom-bomb the late 1980s.
She has set a precedent for 'pop' stars to explore themselves and she has proved that – for the right artist – fans will wait. She is one of R&B and pop's most important luminaries because she continues to evolve and refuses to give too much away. Now with the arrival of 'Unbreakable', the stars of today should take stock and recognise the climate she continues to help build. It might not have happened lately, but she's done an awful lot for them.
Janet Jackson's album 'Unbreakable' is out now (buy / stream).