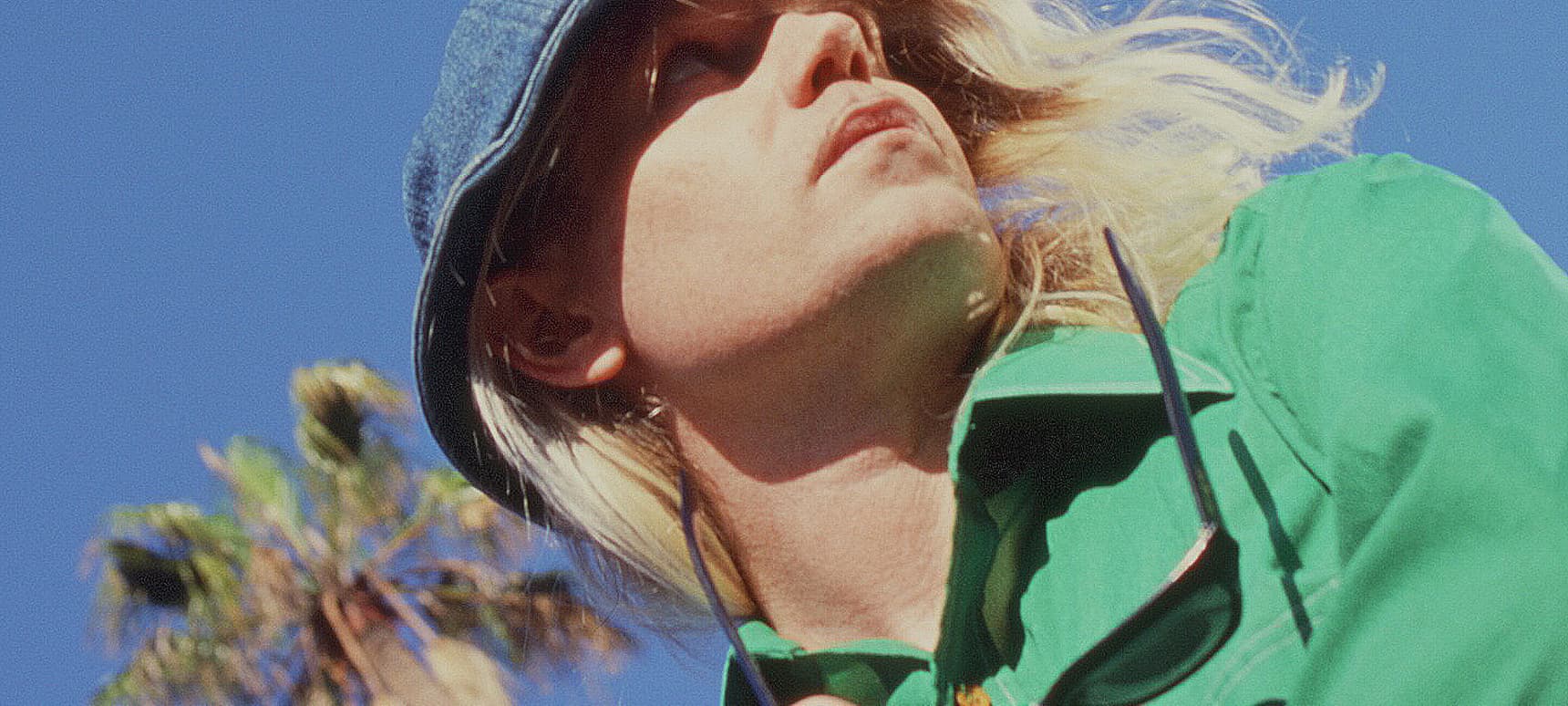 04.02.2019, Words by Felicity Martin
"I'm the smartphone version of a social smoker": Dummy meets Connan Mockasin
We speak to the eccentric New Zealand artist about stepping away from the entertainment industry...
"I think it's really important for me to keep a bit of a distance from it all," says New Zealand-born pop experimentalist Connan Mockasin, musing on his relationships with the music industry and creativity. "I generally create when I'm really excited, and I can't really force the excitement. It's a mysterious thing. When it happens, it happens. I never feel rushed to make another record."
By my count, that means we usually get an album from Mockasin every three to five years. There's his psychedelic, indie-jazz opus 'Forever Dolphin Love' (originally self-released as 'Please Turn Me Into The Snat'), the skewed and syrupy '80s R&B daydreams of 'Caramel,' and as of late last year, the AM radio rock homages of 'Jassbusters.' "Things are really concentrated for me," he continues. "I'll do a lot in a month, then after that just enjoy my time with our friends and family."
Punctuated by joint releases with UK visionaries Sam Eastgate (of Late of The Pier and LA Priest) and Dev Hynes, and a collaboration list that includes writing, production and guest vocal work with Charlotte Gainsbourg, James Blake, Kirin J Callinan, and MGMT, Mockasin's eclectic discography is the sort that inspires cult fandom. His reluctance to – despite having lived for extended stints in London and Los Angeles – fully step into the heart of the entertainment industry only amplifies this.
Right now, in a further act of distancing himself from Tinseltown, he's living in Tokyo with his partner, model, dancer and fashion industry insider Hiromi Oshima (Japan's first Playboy Playmate) and their newborn daughter. "She already comes out with us at night time," Mockasin says. "I'm getting her in training so she can come on tour with us."
Mockasin didn't get his first smartphone until he moved to Los Angeles to be with Oshima in the mid-2010s, and when it died, he didn't replace it. "I'm the smartphone version of a social smoker," he laughs. "Sometimes I need someone else's if I'm lost. If I need to go anywhere and my partner isn't with me, I'll have to draw a very detailed map and travel with that, or ask people for directions." It sounds stressful to me, but for Mockasin, living in Tokyo has opened up something equally relaxing, a love and appreciation for autonomous sensory meridian response (ASMR), a relaxing feeling triggered by exposure to specific sounds – often whispering – and a rapidly growing YouTube channel industry which, despite its subcultural roots, feels like an open secret at this point.
"Have you heard of it? I get it a few times a week here," he says. "Generally, it happens when I overhear someone describing something or explaining some instructions. It's usually an electrician or someone like that, and I'll just be paralysed from it. I've had some ultra soothing moments here. The people are so peaceful and polite, and I love the attention to detail. For a city this big, it's pretty relaxing, which shouldn't be the case. Not being from here, I don't have the same pressures. I get told off from time to time for something wrong, like if I've used the fish grill to cook something that isn't fish, or walking with bare feet inside, which can be a bit embarrassing, but if you try to make an effort they appreciate it."
All of these experiences and stories come in the wake of the creation of the released 'Jassbusters', and 'Bostyn 'n Dobsyn', the yet-to-be-released five-part melodrama he wrote and filmed in the Hollywood Hills with his childhood neighbour Blake Pryor in 2016. "I wanted to make a short series, but in the same way that I made my first album 'Forever Dolphin Love', which was without knowing anything about how to make an album," Mockasin explains. "All I knew was that it would be extremely low budget and have an album to go with it. I thought storyboards were a waste of time until we started shooting. I'd never edited before, and I didn't know how to use cameras. The sound was terrible, so we had to film between nine at night and five in the morning when the traffic was gone."
When Mockasin was growing up in Te Awanga, a small beachside town located on the east coast of New Zealand's North Island, his parents gave him and his siblings an extraordinary amount of free rein. They let them turn the backyard into a DIY amusement park full of homemade carnival rides and encouraged them to play guitar, sing, paint, and draw, all to a soundtrack of classic blues, soul, and soft rock music. "Me, Blake [Pryor] and my brothers used to draw these 'Bostyn 'n Dobysn' comic books where we were young," he says. "We literally drew hundreds of them. Within 'Bostyn 'n Dobysn', there was a high school music teacher called Mr Bostyn, who had a fictional band called Jassbusters."
After filming, Mockasin asked his touring band to become Jassbusters with him for the recording of the accompanying album. They travelled with him to Paris and tracked 'Jassbusters' in under a week in the legendary Studio Ferber, where he'd previously recorded with Charlotte Gainsbourg. "I've made albums by myself before because I enjoy the solitude of doing my own thing, but I get sick of it as well," he explains. "We've played together for so long, so it was really easy. I had loose ideas, but I let them do their thing as well. If you're going to control the band, you should just do it all yourself."
The resulting eight songs take the slow-motion grooves and feverish dreamscapes of 'Caramel' and 'Forever Dolphin Love' and retool them through a '70s super hi-fi audio mix into a languid, listless take on yacht rock, with a surprise James Blake cameo hidden in the tracklist. Imagine M.O.R turned from middle of the road to middle of the twilight zone, party music for an after party where nobody is partying, and everybody is chilling harder than they've ever chilled before.
Since its release last year, Mockasin has been touring 'Jassbusters' through the US, UK, and Europe, presenting live music and 'Bostyn 'n Dobsyn' previews. The shows have been very well-attended, but at the same time, they could have easily flown under your radar. 'Cult' really is the word. "I feel like I've learned a lot of life lessons about the music industry, so I keep as far away from it as possible and do my own thing," he says. "It probably means I don't reach a larger audience, but that doesn't bother me. It's about the enjoyment of making something rather than having numbers." Oh yeah, and later this year he's probably going to release an album he wrote with his father, but that's a story for another time.
'Jassbusters' is out now – listen:
Related: Read our 2013 interview with Connan Mockasin: 'Life Lessons'