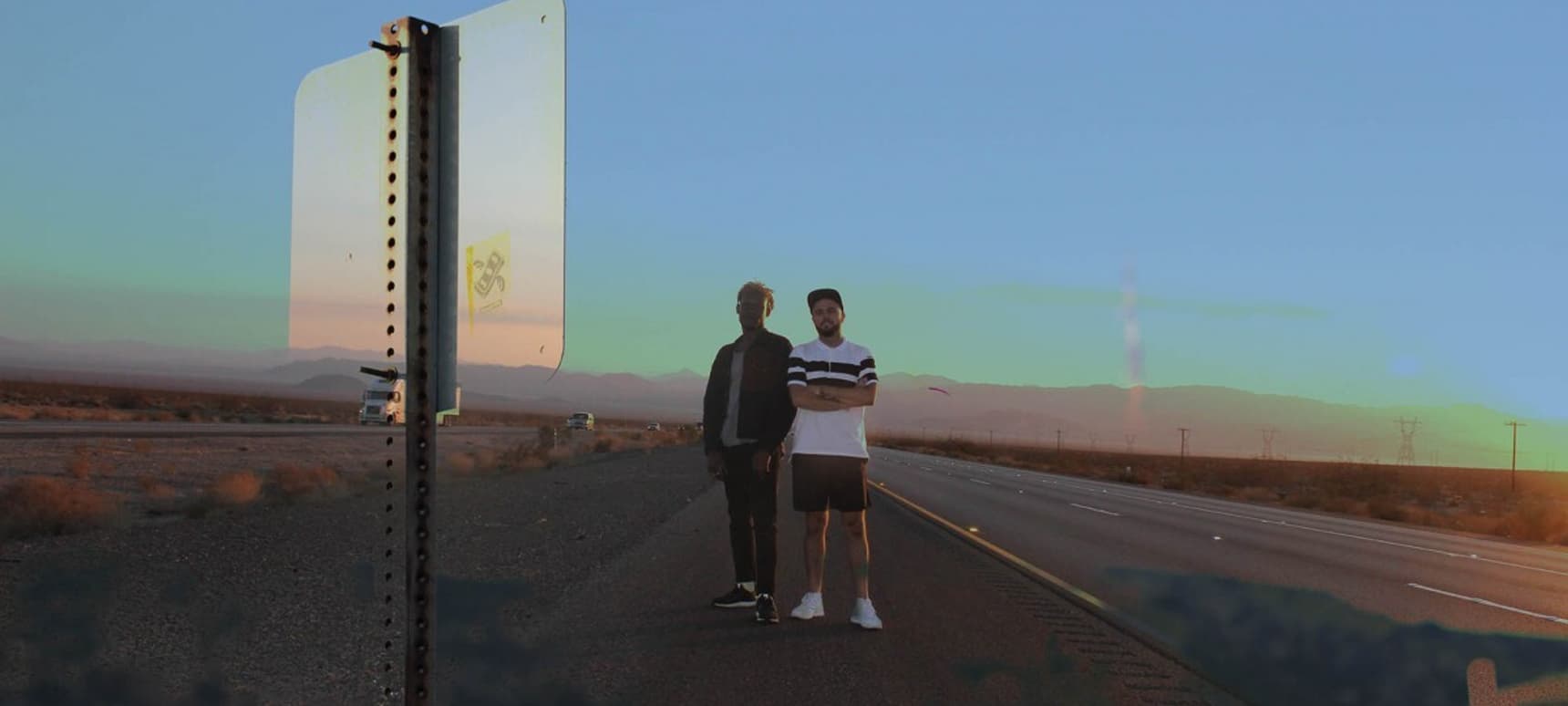 15.01.2016, Words by dummymag
Dummy Mix 302 // deadHYPE radio
Clone, Rush Hour, ADE…Amsterdam and club music goes to together like patty and bun. Following in the footsteps of this legacy are young company deadHYPE radio. Founded by friends Bernard Koomson and Christopher McIntosh who are originally from the UK but now based in Amsterdam, their deadHYPE mission is simple: to create the things they love without limitation. Filling their days working as a cultural agency – the fruits of their labour are piped into their passion project deadHYPE – which last year brought Tim & Barry's visual cornucopia Just Jam to the city for a one-off party with fellow Amsterdam based brand Patta. After year that included a Gang Fatale party in their home city, playing the Warp Records and LuckyMe after-party at ADE, and a set on Teki Latex's Overdrive Infinity – the Just Jam party was a milk and honey ending to an eventful year for the boys.
DJ SagePay – the Word Art lurker and design diva responsible for artworks on Radar Radio and the Don't Watch That mix series – went out to play the Just Jam party in December, so we put two and two together and slipped in a quick interview between Sagey P and team deadHYPE alongside a killer mix. So if you're wondering what it's like to bring the cream of the UK club music crop to the city that marries clogs and weed so effortlessly then read on, readers.
For anyone that doesn't know, tell us a little bit about deadHYPE radio?
Bernard Koomson: "We are a cultural agency creating musical content and branded experiences to live online and on mobile. Our clients range from night clubs and brands to the Dutch government. We use the money from these projects to fuel our passion project deadHYPE radio, which focuses on curating free events and collaborating with the musicians we love, as well as DJing and producing. You can tell I have said this more than once…"
Christopher McIntosh: "When we started out, we really just wanted to create things we loved without any limits. Mixes, films, parties, art work, merchandise – nothing had or needed any guidelines. Then at every event we played at or hosted, we made sure that we gave the people good enough reasons to want to discover more about deadHYPE. I guess we really liked to play on the element of surprise and going above expectations. From our boss-level MC'ing to Chinese New Year paper money, we always went in for the crowd."
What was your biggest highlight in 2015?
Bernard: "It was such a crazy year. I think going to LA and working with Patta to create a first person point of view documentary had to be my highlight of the year. When we were playing at a Ham Over Everything in some Downtown LA warehouse, I started the set with Antwon's Sittin' in Hell and turned around to see that he was standing next to me losing his shit – that was an unforgettable night."
Christopher: "In all honesty, a huge highlight for 2015 for me is doing this interview right now. Having the chance to have a look into the deadHYPE archive and witness all the hard work we've put in really means something to me. Whether it was LA, Appelsap, bringing over the Gang Fatale lads, the Warp Records' ADE night, playing Overdrive Infinity and then a TPML party (hold tight the Paris army), our radio shows, or our first ADE party with all the talented friends we've made this year – each occasion carries the same sentiment as the last."
"Underground gems is what the deadHYPE sound is about." – Christopher McIntosh, deadHYPE
How did the event with Just Jam last December come about?
Christopher: "Both myself and Berns derive our musical roots from the UK, so it's safe to say we always have our eyes on what is going on back home. Just Jam really grabbed our attention as an innovative and original audio-visual experience that brings through talent we really admire. Over the summer, we were chatting and it clocked in our heads we had to bring it through to Amsterdam and give the people here a true taste of home."
What was it about acts you chose for Just Jam that links them all together, making it a 'deadHYPE event'?
Bernard: "The Just Jam lineup for me was really a sign of the times, all the DJ's that played are really innovating in their productions or DJ style. I like to call our part of the set Worldly Bass, playing on Berlin Community Radio every month is perfect for me, as it helps me spend hours listening for tunes I can buy, and working with a lot of producers we are never short of new music."
Christopher: "Each and every one of the guys who came through for Just Jam represents what I love about music. Underground gems is what the deadHYPE sound is about. The strong rhythmic percussions, melodies and vocals – they all tie together with sophisticated electronic elements and really make for an unparalleled set. This combined with the synergy that Bernard and I share on the decks is why we put in the 10,000 hours."
How did you feel the night panned out?
Bernard: "I thought It was a great success! Just Jam really showed what was possible for them on bigger scales and did an absolutely brilliant job. I think the hardest part was trying to balance how gassed you were doing your Just Jam set and being in a club playing to hundreds of people at the same time. A very, very cool experience. So much love to Tim & Barry for the hard work."
Christopher: "The whole experience was unforgettable. Knowing the high calibre of the Just Jam artist repertoire and their visual look and feel is one thing, but then having contributed to that is next level. The fellas really went above and beyond of this one, and the crowd turned up and turned it out!"
What's the music scene in Amsterdam like?
Bernard: "Amsterdam has a lot of variety and there are always some nice club nights and great artists coming through. I really take my hat off to the Redlight Radio guys as they have created something very timeless for The Netherlands."
Christopher: "The city and the country as a whole has always been a on point for new music. Record labels like Rush Hour and Clone always stand tall, and no doubt the DJ's and producers who lay it down week in week out bring so much."
What's next for deadHYPE?
Bernard: "I'm really looking forward to the summer for festivals, hopefully we get to host a stage somewhere very exotic."
Christopher: "Our channel is the biggest priority right now and curating content is our passion. On top of that we also have studio time booked over the next couple of months for an EP, with our eyes toward 2016 and foreign endeavours."
Worst haircut you've ever had?
Bernard: "Probably this one."
Christopher: "Having hair was the worst haircut I ever had and my passport does not lie about this. Going bald has kept me on a level for many years now."
Worst thing you've found whilst getting too deep on the internet?
Bernard:
Christoper: "I've seen so much crazy crap on the internet that is definitely not safe for an interview! But for sure this has to be one of the freakiest things I have witnessed in a long time."
Worst thing you've ever seen happen to someone in a rave?
Christopher: "That had to be me looking at myself in the club toilet mirror at 11 in the morning without any sleep for the last 32 hours."