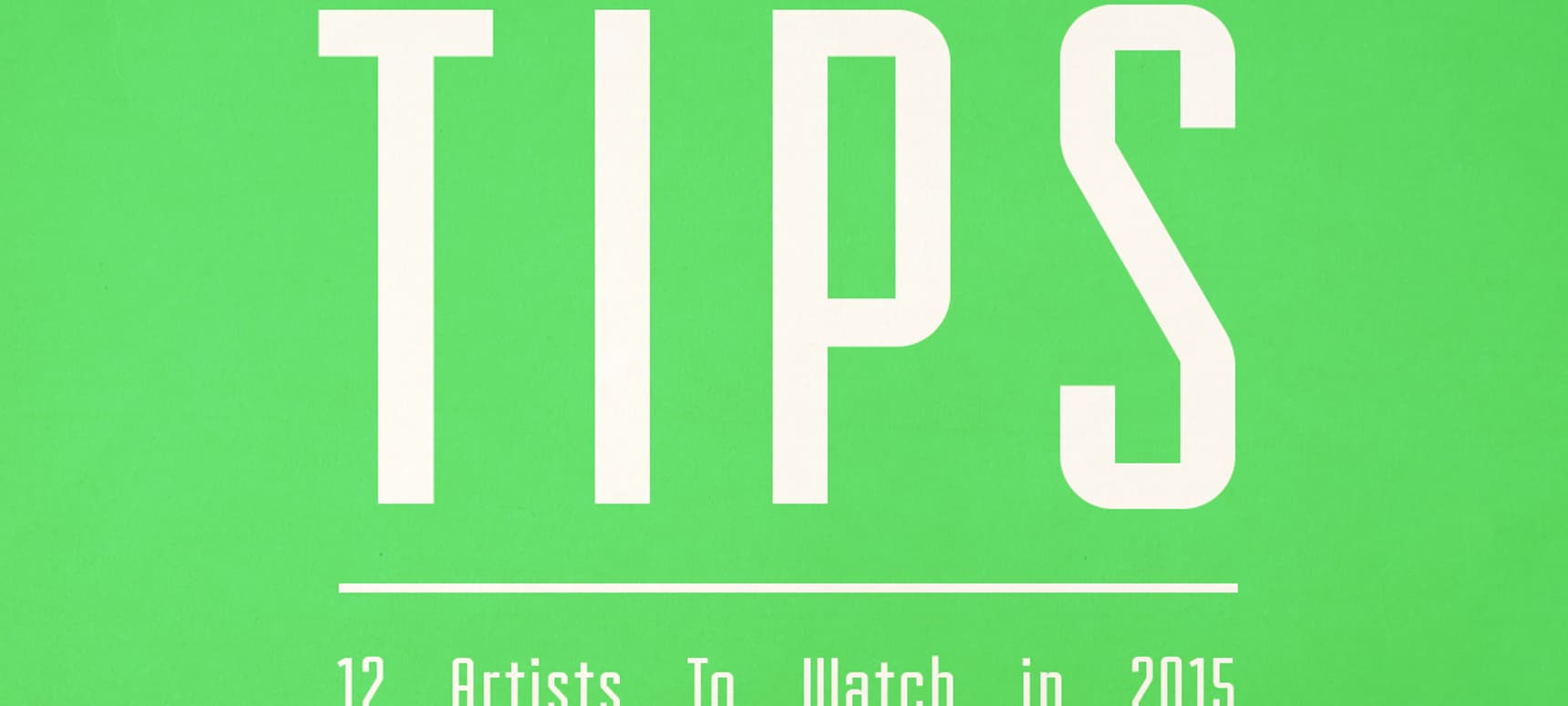 13.01.2015, Words by dummymag
Tips for 2015
Look, we have absolutely no idea what's going to happen over the next 12 months. The music industry is a strange and unpredictable thing, where for some artists success is essentially preordained, while for others a hyped debut album can end up lingering in release date hell for years. Likewise, there are always going to be some incredible artists you've never heard of who choose 2015 to be the year they announce themselves to the world.
For our Tips for 2015 feature, we're not really focusing on artists who are going to 'make it' this year, because we can't really define what 'it' would be. Some of these artists will go on to find commercial success, but others might not release even a single new song in 2015 (case in point: Kelela and Sampha both appeared on the BBC Sound of 2014 longlist, yet neither released any substantial body of work that year).
Instead, this is a short guide to a handful of musicians that we've been admiring for a while now – musicians who we have felt have hit upon a certain creative energy recently, and who are worth keeping an eye on just because we genuinely believe that they could end up putting out some of their best work to date in 2015. We've chosen 12 artists to keep it trim, but there are dozens more that we could have included.
Danny L Harle
In 2014, PC Music were pretty much the most unavoidable force in music, shoveling aural popping candy into unsuspecting ears at a rapid rate and causing a few raised eyebrows. While he didn't release much throughout the year, Danny L Harle was one of the leading figures in the collective, following up his bona fide anthem Broken Flowers with In My Dreams. In My Dreams felt like an important moment for the label, stomping trance presets and waves of warm synth over wide-eyed, heart tugging lyrics, creating one of the most emotional releases on the label. It's inevitable that Mr. L Harle is going to come up with more pop bangers in 2015, with Mamiko Motto suggesting to The FADER recently that he might even have an album on the way.
JUCE
One of the best straight-up pop propositions that the UK is offering today, JUCE combine the sound and swagger of all-female groups across ages, oceans, and genres, from the Sugababes to Le Tigre, from ESG to TLC. Their music reinforces a message of positivity, colour, and fun, all set to the some extremely funky rhythms. It's basically the complete opposite of mopey-moany "oh I am just so terrible at love aren't I?" singer-songwriter warbly dude types, and it's for this reason that we can't recommend JUCE enough. Following a UK tour supporting Basement Jaxx late last year, an album should be due at some point soon on Island Records.
Kero Kero Bonito
Londoners Kero Kero Bonito burst seemingly out of nowhere with their playful Sick Beat. KKB's first mixtape was full of equally buoyant half-English, half-Japanese sung (well, rapped) songs, with beats made with inexpensive synthesizers and old Yamaha drum pads. They've built up a reputation for energetic live shows, with Sarah Bonito bounding about the stage and donning various props during their sets. Their latest single Build It Up already shows a progression in their sound and sets them up for a fruitful 2015.
Lontalius
Lontalius is basically the human embodiment of today's blog-based music scenes. Although the 17-year-old New Zealander has only released one 'official' track so far, his unofficial Soundcloud is absolutely littered with tracks. There are actually way too many to keep track of. Mostly made up of sadfaced, heavily Auto-Tuned covers, both from the top 40 (Drake pops up a lot, naturally) as well as your typical blog pop acts (Jacques Greene, FKA twigs), it's the life of a kid who listens to music online and records in his bedroom and doesn't really do a whole lot else. No wonder he found a buddy in Ryan Hemsworth. Expect an interesting album in 2015.
Lotic
Self-proclaimed club terrorist and Janus affiliate Lotic recently made his debut UK appearance at basement club night Tropical Waste, weaving in Drake samples and dropping O.T. Genasis's CoCo-loving banger. He has an impeccable ear for working around rap and pop hooks, wrapping his dystopian, visceral production style around pristine tracks like Drunk In Love to make them sound like pop music for the end of the world. Last year's tape 'Damsel In Distress' excelled in crunching, mechanic sonics that feel like they've been sampled from another universe. This year sees him release an EP through Tri Angle Records – a perfect fit.
Nao
We're biased here, obviously – we put out a limited vinyl release of Nao's debut EP, 'So Good', late last year – but we're still including Nao because tbf and tbh we wouldn't have released her music if we didn't strongly believe in it. Nao is an incredible talent whose music hits the golden spot between classicist soul songwriting and bang-up-to-date digital production from the likes of A.K. Paul and William Arcane. She's got some more seriously good collaborations on the way – again, we're privy to this sort of inside knowledge – and if her next EP doesn't blow everyone's minds then we'll eat our shoes.
Novelist
Novelist is not the only new grime MC out there, and he is not necessarily the best. But he's certainly become a figurehead for a renewed interest in vocal grime among the wider music community – and a figurehead for any potential crossover success that it could have in the future. A 17-year-old MC from Lewisham and member of The Square crew, Novelist's new EP with Mumdance is out through XL Recordings later this month. XL have the resources to help push Novelist's music into the wider consciousness, and new song 1 Sec is surely gonna be a massive club track, and we'd wager that there'll be more to emerge from him throughout the year.
TĀLĀ
TĀLĀ is a singer, producer, and songwriter from South London with an international heritage, who makes music that has a personal touch to it. Basically everyone's bigged her up over the past six months, including us (we published an interview with her just last week). Following two EPs for Aesop, she's set to make some major label moves in the future and will inevitably come out with good things throughout 2015 and, most likely, going into 2016 too.
Tei Shi
We've known about Tei Shi and her self-described 'mermaid music' since her 'Saudade' EP in 2013, but after finding a home on Double Denim last year with Bassically and See Me it seemed that she was hitting a winning streak. Tei Shi is currently based in Brooklyn but she's lived all around the world, and her music is rhythmically driven and dancey, while also conveying a melancholic nostalgia for something missing or lost.
Tobias Jesso Jr.
Tobias Jesso Jr. wrote a lot of his songs when he was at his lowest – a relationship had just fallen apart, his hand had been injured in a hit-and-run, he'd learnt that his mother had cancer, and the bands he'd been playing in were all starting to break down. As usual, inspiration strikes those in bad places. Tobias is from Vancouver, but he's all about the American dream, and has songs like Hollywood. His debut album 'Goon', due in March on True Panther Sound, features production from Chet White (formerly of Girls), Patrick Carney (The Black Keys), and pop producer of the moment Ariel Rechtshaid.
Throwing Shade
We've been aware of Throwing Shade for ages now, but last year's double whammy of the '19 Jewels' EP and follow-up single Chancer/Blanx sealed the deal for us. Throwing Shade's mystical and mysterious take on club music, rap beats, ambient textures, and, occasionally, vocal pop, is instantly recognisable, and as a DJ she makes some seriously distinctive selections. We expect that 2015 will see some more excellent outer limits dance music by Throwing Shade to emerge.
Yung Gud
Part of Yung Lean's Sadboys collective, Yung Gud has been the producer behind two of the bucket hat-toting rapper's hits, Kyoto and Yoshi City. While Lean's idiosyncratic rapping is a draw, it's Gud's production that elevates the tracks. He's been producing and mixing for a couple of years now alongside Yung Sherman, but it's his first official EP, 'Beautiful, Wonderful', released late last year that hints much bigger things are afoot in the near future. The icy yet colossal lead track My Guns is bound to be rapped over at some point and there's no doubt that his production credits will get more prolific over the next year.
You can listen to Dummy's Tips for 2015 as a Youtube playlist.