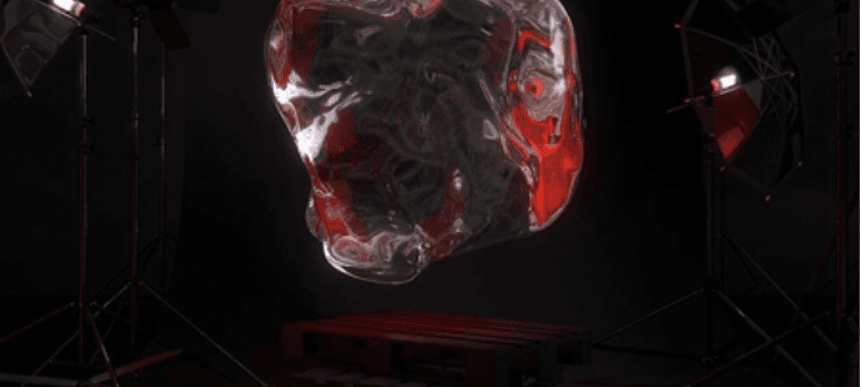 27.11.2013, Words by dummymag
Album of the Week: Egyptrixx - 'A/B til Infinity'
As he explained to us in a recent interview, 'A/B til Infinity', David Psutka's second album as Egyptrixx, comes with a bit of a conceptual hook. For each of the nine tracks that make up the record's running time, an accompanying visual was created by artist and regular collaborator Andreas Fischer (aka A.N.F.), with both Psutka's music and Fischer's images devised via a set of processes that emphasised aspects shared between the two media – so things like atmosphere, repetition, and texture were given preference over song structure and melody, which are exclusively musical ideas. Once the processes were conceived, Psutka made music according to them, and Fischer responded with a corresponding visual that interpreted it.
Given that the visuals were made for Egyptrixx's live A/V shows, most listeners won't "see" 'A/B til Infinity' (only one of the full videos, the hellish clip for Axis, has been shared online – although that clip does a fine job of capturing the album's mood), so the enjoyment of the record doesn't hinge on how well the album "works" from its own conceptual origins. But an awareness of its creation process definitely explains a lot, like why certain sounds – the industrial clangs, the metal scraping, the rainfall and sirens, the relentless thudding kicks – recur so frequently. It also explains why the sound palette is so minimalistic – just three pieces of gear were used on the album, generally streamlining the whole thing. Most importantly, it explains the whole album's mood. It's an oppressive record, conjuring a hellish, uninhabitable landscape. Unlike debut album 'Bible Eyes', which had its moments of darkness as well as almost synth pop-ish vocal tracks, there are no tonal shifts beyond the dirge on 'A/B til Infinity'.
This single-mindedness lends a consistency to 'A/B til Infinity' that 'Bible Eyes' lacked. Although only a handful of tracks on the album are overtly club-minded (Water, previously released on Night Slugs' White Label series, and Alta Civilisation), there's a distinct techno pulse that underpins the whole thing and keeps it in check, meaning that even beatless tracks like the 'R Plus Seven'-like Disorbital, which begins the album's b-side, and the devil trap of title track A/B til Infinity have a momentum to them. The ambient Bad Boy is probably the album's best track, a perfect distillation of the album's temperature and atmosphere.
But while Psutka's self-imposed boundaries lend the album coherence, at times you feel it suffers from them. The familiarity can tip over into overfamiliarity; the atmosphere can become alienating; the repetition can become grating. Still, if you look at it like that, you can't win either way – what's evident is that 'A/B til Infinity' is creatively a massive step up from 'Bible Eyes', and a thoroughly solid effort throughout.
7/10
Night Slugs/Last Gang Entertainment released 'A/B til Infinity' on November 26th 2013.