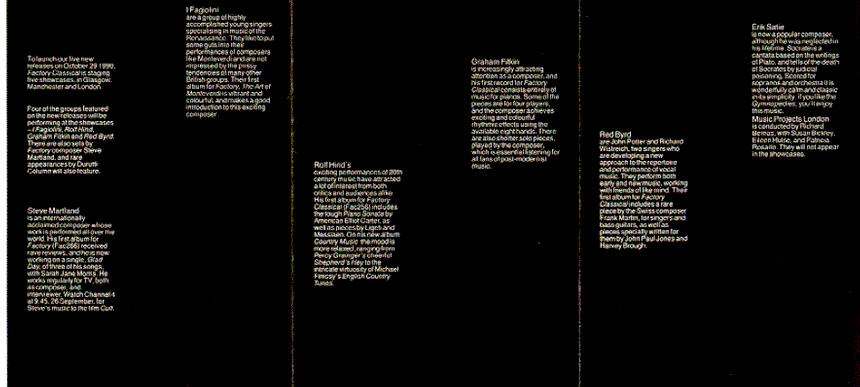 15.06.2015, Words by dummymag
When Factory Records went classical
In the popular consciousness, Factory Records are the legendary independent label who signed Joy Division, New Order, and the Happy Mondays, who opened up the famously shambolic Haçienda nightclub, and who afforded their acts an unprecedented (and often outrageous) degree of creative freedom and financial autonomy. Yet despite the larger-than-life reputation that, for better or worse, surrounds Factory, the reason the label has remained so enduring in underground and alternative music circles over the years is because they released some truly, truly wild music in their lifetime. Sure, there are duds in their discography – many, many duds – but there are also forays into reggae and electro that are still surprising to hear today.
One chapter in Factory's history that remains largely untold is their small contribution to the world of classical music. Factory Classical was a sublabel launched in 1989 by label co-founder Tony Wilson and John Metcalfe, an early member of Factory group the Durutti Column and today a recognised string arranger who's worked with the likes of Bat For Lashes and Blur. Factory had wanted to put together a classical label since the mid-1980s, although early visions for the label were never realised (Alan Erasmus had the idea of releasing music by young composers from the Soviet and Eastern Bloc, and he even spent some time in Russia on reccy). With Metcalfe's assistance, the label made signings such as the Duke Quartet (Metcalfe's own group, whose contemporary classical repertoire brought them commissions from dance companies, pop musicians, and film and TV production houses), pianist Rolf Hind, and provocative composer Steve Martland.
The label took an egalitarian view of classical music that could be seen as a precursor to imprints like Erased Tapes today. With a lower budget assigned to the label, Peter Saville Associates designed the sleeves with a practical house style inspired by labels like Deutsche-Grammophon. "Our pop records were designed in an abstract way and now we're going to do classical records in a pop way," Saville remarked in 1989, "All the musicians are young, living, working, and playing, and traditionally, classical music doesn't have that personal identity. It's ironic really because when I was doing pop sleeves in my mid-twenties, I wanted to do them like classical sleeves."
With Metcalfe's fourth album 'The Appearance of Colour' out now via Real World Records, he's revisited some of the label's releases – most of which are online for the first time.
Kreisler String Orchestra Funeral March, from Benjamin Britten 'Variations On A Theme Of Frank Bridge'
John Metcalfe: "Back in 1989, the Kreislers were young musicians just out of college who had a reputation for fast and fiery performances. It was a co-operative group, run by its members, which led to amazing concerts but also some pretty chaotic rehearsals and tours. This is my favourite movement from one of the best string orchestra pieces ever composed."
Duke Quartet Second Movement, from Dimitri Shostakovich 'String Quartet No. 8, Opus 110'
John Metcalfe: "This was as close to the punk ethic of DIY as Factory Classical ever got. We put some gear in a van and drove to a friend's house in the country. We put a mic up, recorded in the living room and edited it ourselves. It's easy to do now, but back then I didn't know any other classical groups recording like that. We had a laugh at Tony Wilson arriving with his posh Jag completely covered in cow shit from the mud track leading up to the house."
Steve Martland Part Three, from 'Babi Yar'
John Metcalfe: "Steve died tragically young, but left a collection of incredible compositions. We shared many views about the archaic state of how a lot of classical music at that time was presented and perceived. 'Babi Yar' is based on the slaughter of thousands of human beings by the Nazis and is at times a harrowing listen, but also intended as a message of hope."
Robin Williams Pan, from Benjamin Britten 'Metamorphoses'
John Metcalfe: "Even as a student Robin was one of the best oboists in the country. He has such an exquisite sound, and this Britten movement shows that beautifully."
Rolf Hind Cordes Vides, from Gyorgy Ligeti 'Etudes Livre'
John Metcalfe: "Rolf is one of the world's outstanding contemporary pianists. Repertoire-wise, this was one of the more challenging recordings for people new to classical music. But the label never set out to encourage a new audience by dumbing down and (with the exception that they should include a British composer) the musicians had absolute freedom to choose what they wanted to play."
Walter Hus La Théorie, from 1st String Quartet
John Metcalfe: "We played Walter Hus' quartet in Belgium many years ago and he came along and instead of doing the usual thing of standing up and taking some applause he came to the stage and sang a beautiful song."
Graham Fitkin 'Flak'
John Metcalfe: "Like Steve Martland, Graham is one of Britain's best modern composers. He has his own band performing his music, but I've also played his work quite a bit with the Duke Quartet. His music is full of powerful energy and rhythm – it's great to play as well as listen to."
Red Byrd Amores Passados – No Dormio, by John Paul Jones
John Metcalfe: "One of the second batch of recordings, this beautiful song was written by Led Zep bassist John Paul Jones."
Kreisler String Orchestra Cartoon, by Zoran Eric
John Metcalfe: "This was recorded at Elephant Studios in Wapping at about four in the morning as we were running out of time. We recorded the instrument sections separately to click – a very unclassical thing to do, but it works great for this energetic music."
Duke Quartet Second Movement, Michael Tippett, from 'String Quartet No.3'
John Metcalfe: "I chose this because it has a big viola solo at the beginning."
Real World Records released 'The Appearance of Colour' on June 8th 2015 (buy).