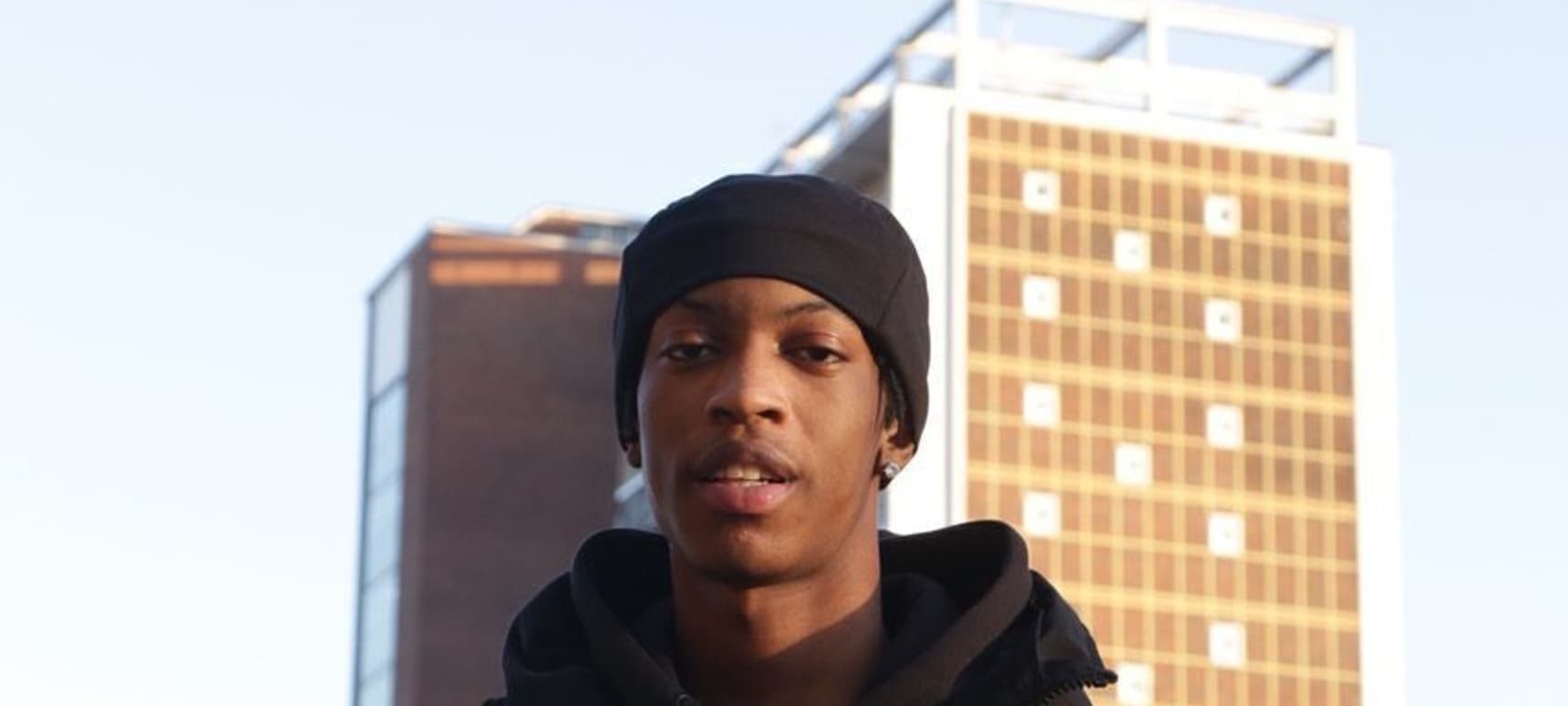 27.12.2021, Words by Maisie Goulsbra
Fast rising rapper Kayem2x on his guest appearance at Unknown T's show with RSL
"I'd rather everyone keeps it transparent and 100% with people when it comes to honesty and morals and stuff like that."
Beginning their journey into rapping in 2017, RSL and Kayem2x found internet stardom with 'Steady (Birkin Bop)' when a snippet of the track went viral on TikTok, resulting in them performing live for the first time at Unknown T's sold-out headline show at the 02 Forum Kentish Town in December 2021. With its brand new music video, 'Steady (Birkin Bop)' was premiered by Mixtape Madness and named Capital's Homegrown track of the day, as well as garnering support from DJ Target on BBC 1xtra. Dummy caught up with 19-year-old rapper Kayem for a chat.
Hey Kayem, when did you start rapping?
I started my first ever actual song when I went to a party in year 8 or year 9, so when I was fourteen or fifteen. Me and my cousin were just messing around with a remix to a Fetty Wap song or Young Thug song and basically, we just made an autotune song. It was the worst thing I've ever made. No one's ever hearing it because I have too much pride and I can't do that!
Had you performed much before the Unknown T show?
My first performance was with Unknown T so that was a good thing for the CV, I'd say.
For sure! How did it feel for you?
Unknown T was my favourite rapper before all of this, even before TikTok so when he dropped me a DM I was like wow! The thing is with me, that's what I'd been waiting for as an end goal, so for it to happen so early – at the beginning of my career – I mean what else am I to do now? That's what I was working towards and now I've got it. When he messages me it still feels unreal.
Other than Unknown T, who are you influenced by musically?
Unknown T in the UK but in America, Lil Durk, 'cause I like the stuff he talks about. With me I try to relate to that, but with an English/UK version of what he's doing.
Where did you grow up?
Upper Edmonton, North – the slums, as we say!
What was it like growing up there?
It was a journey but thank God I made it out. I didn't make it out, but I made it out to tell the story and show other people that we didn't have to be doing the things we were doing.
Growing up was a journey because you see things and that's the only thing you see. You don't see the other side to it. You automatically think that's the right thing so it literally just takes growing up, but some people don't get to grow up, so I'm just happy to say that I learnt what I learnt and I'm here to say it.
I saw one the youngers around me today and he said, 'When are you getting my Canada Goose jacket – I see you with your new teeth – When are you getting mine?' And I was like, 'I got you.' If you lead by example then they're going to follow. It didn't come over night but it's clearly possible.
Do you think you'd like to be a role model to people younger than you?
Yeah I would like to be a role model but I don't want people and fans watching me saying you're a bad role model. I'm not telling anyone to make me a role model but I would love to be that to my little siblings – I'm not perfect but…
… but nobody is. What inspires your writing?
It's very random. I could be sitting here right now, and randomly write a lyric, then I'll come back to it later on and complete it. Or I could be at home on the sofa and I'll put a beat on and we'll start rapping and we'll freestyle for like an hour. If we get something good, we write that and we keep it going.
So, you don't need to be alone or anything?
Certain songs I write alone. With deeper songs I need to be alone so I can actually think about my life, but when I'm with my friends that's when the songs are a vibe and we just bouncing off each other. When I'm with myself it can get really deep.
Is the stuff that we've heard from you so far where you'd like to take it in the future?
What you're gonna hear next is not going to the same as what you've heard so far, but it's 100% what you're gonna like, 'cause it's not far off. It's a bit different but I know people will like it!
Can you give any clues as to what to expect next?
There's lots to look forward to!
How were the first lockdowns for you and if we have to go into another lockdown, how will you spend it?
The first lockdown was boring for me because I wasn't anybody, I was just doing freestyles. No one had heard of me. No one wanted to see or hear me, this was before TikTok. But now if we go into a lockdown my phone is my office. It won't affect me but I don't want another lockdown 'cause I can't see my friends, I can't do things like go places, go shopping, even with an interview like this it restricts the chemistry! If we have another lockdown for safety reasons, I hear it but I definitely would prefer to be outside to be able to do shows and stuff.
If you could change one thing about the world, what would you change?
Oh my days! What would I change? I was gonna say hate but I don't even care about that, if I could change one thing it would be transparency. I don't like fake people – if you don't like me, tell me. If you like me, tell me. If you don't like my music tell me. I don't like sugar-coating 'cause say I make a bad song and no one tells me, I'm not gonna know it's a bad song. I'd rather everyone keeps it transparent and 100% with people when it comes to honesty and morals and stuff like that.
How did you decide on your artist name?
No one's really asked me so I don't tell anyone I just let everyone's mind wander… But my name is Kayem and my initials are actually KM. So I started saying Kayem KM, which is obviously 2x.
Do your mates call you that?
My mates call me Mizz. That's why it's on my hat but I can't tell you why they call me that, they don't even know why they call me that!
Have you got a dream collab?
It was Unknown T! But now they way god works I can see that anything it possible so I'm gonna go for a big name and say Lil Durk.
Do you have a dream place to perform?
I don't even know how these performance things work but I think we have a fanbase in Birmingham and Manchester 'cause everytime I talk about it, everyone says come to Manchester and Birmingham!
Have you been to Manchester or Birmingham before?
I've been to Manchester when I was young 'cause I went to see Man United play – that's who I support. And then I went to Birmingham when I was young. In year 7 we had a football tournament in Birmingham. I was there the other day too cause my friend's uni is there, but I've never been for anything music related.
Anything to add?
I have my two brothers, RSL is on 'Steady' with me and then there's Booga. He's the third and you're gonna hear him soon. Don't sleep on us. I don't like how people say certain things, I need to clear that up. I didn't carry certain things; it was RSL's idea was to sing 'Steady' – I only said it 'cause RSL said it. We're 100% going to continue working together, we're brothers.
Watch the music video for 'Steady (Birkin Bop)' below.
Read next: Unknown T definitively reflects on his inner self, past and future on debut mixtape 'Rise Above Hate'.