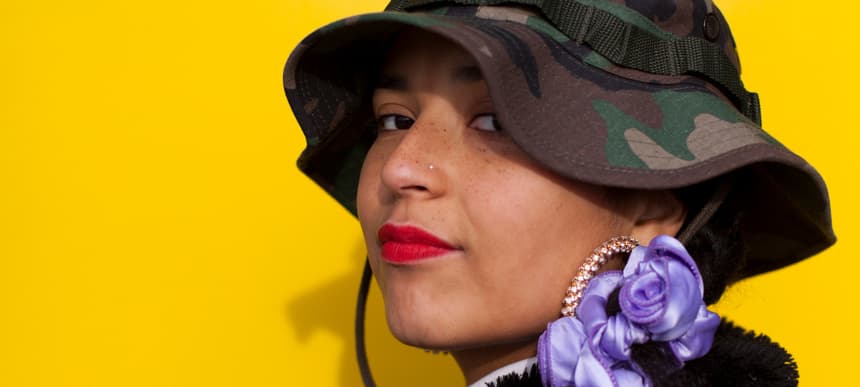 29.04.2014, Words by dummymag
Fatima interview: "So many colours and crazy sounds."
When I speak to Fatima, she's still on the receiving end of what's been a brutal winter, even by New York standards. "The wind literally blew through me," she says over Skype, "It was like putting your head inside a fridge." But the sun's started to show its face, and with spring comes the promise of new beginnings, which for Fatima means the thrill of releasing 'Yellow Memories', her debut album for unmistakable London label Eglo Records.
Growing up in Stockholm, Fatima moved to London in late 2006, and after breaking ground at various clubnights she made the connections that led to the 'Mindtravelin' EP for the (then burgeoning) imprint in 2010. Fatima quickly became part of the family, and she's been Eglo's first lady ever since.
When first in London, she was delivering live PA sets at nights like Deviation, and what's set out many of her releases to date is the colour and complexity she's brought to her work with an impressive rollcall of producers, including Dam-Funk, Funkineven and DVA. A DJ seeking a slick vocal to bring their rare groove collection to life in production is common, but the character of Fatima's voice (trek across cosmic trip Innervisions for evidence) means she's had a tendency to steal the show. So it seemed only a matter of time before Fatima would get her own band, and she nows boasts the combined talents of brothers Andre and Hercules January, Jonathan Geyevu, and Junior on percussion. If you've caught a set, you'll be savvy to how their rolling bass licks and red-hot rhythms enliven Fatima's timeless soul, which appears so instinctive it must be coursing through her veins.
Fatima – who sounds as smooth and assured as she does on record, but never oozing quite enough cool to not crack jokes or let herself over to laughter – is understandably psyched about 'Yellow Memories' coming out. This is in part due to the unique range of producers the album showcases, as already evidenced by Circle (Computer Jay), La Neta (fLako) and Ridin' Round (Sky High) (Scoop DeVille), with Oh No, KNX and Floating Points set to make up the numbers.  She's also "happy and proud" that her debut is set to be the first album release Eglo have taken on – and it's a fitting one at that.
Plenty of personal history can be found in the album, too, with the title lifted from a line in Family – "Lucky village, Yellow Memories makes me happy thinking about it" – referencing childhood visits to her Grandma's house. "The house is big and yellow, it was a sort of symbol for my family," she says, "Yellow is also reminiscent of golden memories, of something beautiful. That was to reference how much my family means to me, and symbolically 'Yellow Memories' taking me back to that time." For Fatima, her debut may in part deal with looking back and taking stock, but 'Yellow Memories' is set up to soundtrack many a sultry summer night and Sunday soul session yet to come.
So you've been in New York for a little while?
Fatima: "I've been here for about two months in total, my boyfriend lives here. I just like to get out of town, get a new perspective, some new inspiration and, you know, a change of scenery."
How are you finding the energy in New York different to London?
"In a way it's similar, it's got people from all over the world, and it's mixed up like that. But the way people talk is different, you hear different sounds. There's a lot of Puerto Rican in this neighbourhood I'm in, in Brooklyn. People from places that you might not see as much of as in London, but here it's a whole neighbourhood. I find that really inspiring. I love going to their restaurants and hearing their different music: Latin, hip hop, all kinds of things. The food is crazy everywhere here! There's just a bit more of everything. In general I like the vibe, I just like to explore something new."
Have you ever found you've had a different approach to your writing depending on where in the world you are?
"I mean, your scenery can affect you in different ways, but it's all still me, it all still comes from my mind. Hopefully it'll be a little bit different if you travel to different places and see different things and meet new people. The more you learn about the world, and the different things you see, can change and affect you in different ways. But it's not like it completely changes if I write something here compared to if I write something in London. It's still got my view to it, but it can definitely inspire you differently. You might not come across something here that you might come across in Sweden, for instance."
"[New York has] got people from all over the world. It's mixed up like that. There's a lot of Puerto Rican in this neighbourhood I'm in. People from places that you might not see as much of as in London, but here it's a whole neighbourhood. I find that really inspiring. I love going to their restaurants and hearing their different music: Latin, hip hop, all kinds of things." – Fatima
I was wondering where the idea for an Eglo "House Band" came from. Did you play a big part in that?
Fatima: "It was actually Alex [Nut's] idea. I was not really that proactive in it at the beginning [laughs]. It's not like I was against having a band, absolutely not, but I guess I was quite comfortable in my ways of doing stuff with DJs. I've done stuff with bands before, but not as much in the last few years. So I was saying, 'Yeah! I'm gonna do it, eventually.' Then Alex pushed me a bit, which was good because that's what I needed. We had a little audition actually, so we hired a rehearsal studio in London. A few different musicians came down, and my friend Olivier Day Soul, he's a singer."
He's connected to Eglo anyway, right?
Fatima: "Exactly, and a few of the guys in my band usually play with him, and he recommended them to me. So these guys came down and I thought they were really dope, so they ended up playing with me. I'm really happy with the people I'm playing with because they're all talented musicians and really dope like that, but they're also really funny as people. So it's just a funny gang, they're real jokers."
After seeing the band and hearing tracks like La Neta and Family, I was wondering if the album was born out of a more live band/studio vibe?
Fatima: "None of those tracks are made with a band in a studio or nothing, but I made them with fLako, who's a sick producer."
Dirg Gerner, right?
"Exactly. He goes by many names. That's his name as a solo artist, but he produces all that shit himself as well. But for those two tracks that you mentioned, because he plays a few instruments, it wasn't like a full band in the studio, it was the two of us, but he played a bit of bass, percussion, and then added some electronic sounds and stuff like that. That's what gives it the live feel, I guess."
Do you have a preference? Having worked with fLako in the studio and done the stuff where you were just sent a beat?
"I mean for me, it's just all about the music, I don't have a preference, because a beat can be so inspirational and have so much in it. So many colours and crazy sounds, even though it's not all live instruments. I do think it comes to life in a different way when it's live instrumentation, especially if you're performing it live. But it depends as well, because you might have somebody that's sitting with samples or sitting with sounds that they put together on the drum machine or some type of sampler and they make the warmest sound ever. So it really depends on who makes it and what they make."
Are there other producers around at the moment that you'd like to work with? 
"Throughout our history, there's been so many crazy genius producers, so there's lots of people I haven't worked with that I'd like to work with. I mean, it would be sick to work with Timbaland… I still I think he's one of the sickest, and The Neptunes as well. I wanna work more with Shafiq Husayn."
You worked with him on Circle, right?
"Yeah, that was Computer Jay who produced it, but Shafiq Husayn sang the choruses with me. I'm singing on his forthcoming album for Eglo too. He's got all kinds of crazy music, you've gotta look it up. It would be good to work with Prince…" [laughs]
When you started that list I thought you were going to go further back in history for a second.
"I can go back as far as you want… but I'll be sitting here an hour! I mean I might be sitting here for an hour, or for ten hours."
That could be the whole interview, I'll just type up every name…
"Just me name-dropping! But there's so many cool people I'd like to work with, hopefully I'll be able to work with some of them."
Going back to La Neta, and the confidence in those lyrics, "I can do whatever I want to", I was wondering if that subject matter came from anywhere in particular?
"In general – and I'm sure it's not just me – people feel like they're stuck in their day-to-day. They don't feel inspired. And you look up in the sky sometimes and think about the universe and your place in it, and how you're just a little nothing, in the midst of this whole big universe. I was thinking all those things and then I thought, 'Wait a minute.' Reminding myself that I can do what I want to do. So it's one of those 'pep' type of songs: I can do what I want to do – I'm the master of the universe! I was envisaging that kind of thing. Master of the universe, in your own mind [laughs]. Inspire yourself, try things, and don't be scared to try, because it's better to try and fail than to live with regrets."
Does La Neta translate as "The Net"?
"It's got different meanings, but the one I'm referring to is slang in Mexico: they use 'La Neta' as slang for 'The Truth'. I keep saying 'I am the truth' in the track, then I heard that 'La Neta' means the truth, and I thought it sounded kind of beautiful."
Your first EP with Eglo came out in 2010, was some of the luxury of putting out a record on Eglo having the time to work on it?
"To be honest, I missed a few deadlines [laughs]. We've been in the situation of clearing samples, things like that, which can take time. Time that you can't plan for because you're waiting on someone else – you can't plan for answers. Eglo have been patient with me, and there's been a lot of understanding, so I'm lucky in that sense.
Your music carries that mix of coming from an old soul, but with a really fresh energy to it. Is that mix a bit what you're like as a person?
"I think so, I listen to old music – whatever you want to call old – I'll be listening to something from the '70s or whatever, but I like to see what's out there now. I try and soak up as much as I can, from whenever it's been made in history. I feel like I've got a lot of inspiration for whoever came before me, all the legendary singers: Aretha Franklin, Lauryn Hill, Betty Davis, George Clinton, Prince, Michael Jackson – and the people who haven't got as big of a name, all that funk, soul and hip hop, and some jazz. But then there's all the new stuff that's coming out so I try and keep my ears open. I guess that's what it is."
Are they your vinyl records in the Family video? There're sneaky shots of some BeeGees in there.
"Hey, you can't deny they're funky! Imagine if I sang like that?"
You should totally do that: find some wild, futuristic, producer and go for some BeeGees falsetto.
"Oh my god! That's my next album. I'll credit you for that now."
Eglo Records release 'Yellow Memories' on May 12th 2014 (pre-order).