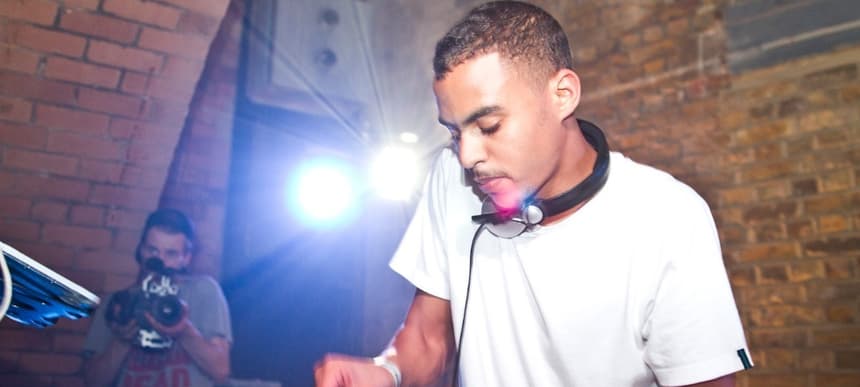 21.05.2014, Words by dummymag
Fatima, Mo Kolours, Lil Silva, and Swindle at Kachette, 17/05/2014
In case you were wondering, Kachette is a brand new "multi-functional, art, retail & event space" situated in what used to be the ticket office of the old Shoreditch Station, which has sat unloved and unused for a quarter of a century. As a friend pointed out after he'd looked the place up, it feels a bit like "a posh air raid bunker", and is clearly well up for brand-sponsored events. Granted, they may be watching their costs as they get off the ground, but it seems in line with Shoreditch's general state, in which the ominous cloud of the City of London looms so large it could soon subsume the place entirely.
Last week I was here for the free launch of e-cig company blu (not just to line my pockets with every flavour of electronic fag going – NTS DJs Moxie and Dark Sky were on the bill), and this week clothing and footwear company Boxfresh were in to round off another day of events and talks to mark their ongoing 25th birthday celebrations. As well as newcomer Coby Sey, there were memorable live sets from Fatima and Mo Kolours, followed by high energy and on-point selections from both Lil Silva and Swindle.
The low arches of Kachette's first room may not have the most well suited acoustics Fatima and the Eglo Live Band will ever perform in, but it did send drummer Andre Janvier's punchy backbeats pinballing around the room to great effect in La Neta's elevated choruses. Underwater is taken to a whole new level live, not least due to some impressive whistling on Fatima's part, while Black Dough went crazy on the cowbell and got the crowd going near the end. Not a bad way to round up the week in which her glorious debut 'Yellow Memories' was finally released from what she sweetly described as "computer prison".
The smoky dubs of Mo Kolours were the discovery of the night for me. Crafting the backbone of his grooves through a pair of looped bongos, his live set is reverb-rich and bursting with ideas. There's a mystique to what he does: I can picture him sat at a mountainside campfire taking tokes from a ceremonial pipe with Gonjasufi.
Lil Silva was running late, but Mo Kolours was more than happy to bang out a few more tunes. When he did arrive, he proved what makes him such an effortless crowd pleaser: while some might tut at populist hits like MK's Look Right Through remix and Benga and Coki's Night, there's no denying the way he meshes them with harder sounds from Ruff Sqwad and more. Swindle came bounding on next and kept up the party atmosphere (we got another jewel in the dubstep crown, teasing Digital Mystikz's Haunted), but having not seen him live before, keeping up with Do The Jazz's restless rhythms was a highlight hard to top. He's full of beans as a performer, and looked ready to go for another hour as he rounded things up for the night. Unfortunately, I failed to spot any complimentary pairs of hi tops being handed out at 'Fresh Out The Box', but there were more than enough musical gifts to make this night slicker than your average afterparty.