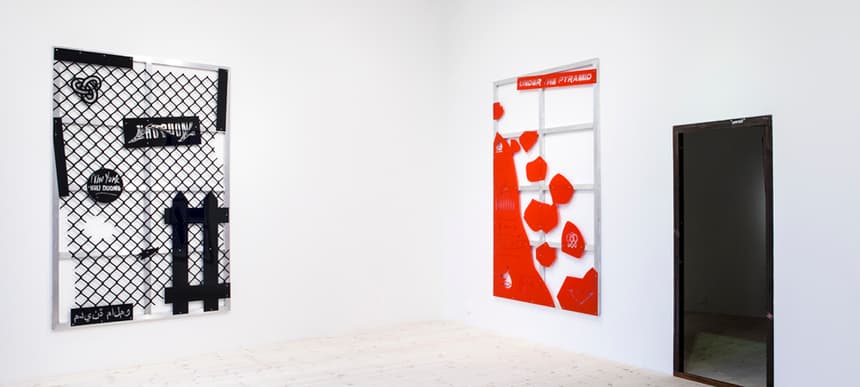 29.01.2015, Words by dummymag
What connects Faze Miyake to a conceptual art exhibition in Stockholm?
Click on any of the images above to launch the gallery.
Faze Miyake is a British-Pakistani producer and DJ from East London, head of Woofer Music, and part of the Family Tree collective alongside MCs like Merky Ace. Breakthrough instrumentals, such as 2011's Take Off, mixed the swagger of rap music from the American South with more homegrown grime styles, while today his fortnightly Rinse FM show is a showcase for some of the best emerging grime and club tracks coming out of the UK.
Faze's world might seem a far cry from that of Ilja Karilampi, a Swedish conceptual artist who currently resides in Berlin, yet he gives his name to Karilampi's newest exhibition. Running at Stockholm's Belenius/Nordenhake gallery until February 13th, Faze Miyake is a three-room exhibition that utilises UV lights, laser-cut plexiglass, and aluminium to tell a fragmented narrative through various symbols, scenes, and styles devised by Karilampi.
"In Faze Miyake, symbols and references taken from society and popular culture are interweaved with transient expressions of identity and selfhood," writes arts journalist and Radar Magazine editor Sonja Nettelbladt in a preface to the exhibition, "Brand logos and stylized icons are combined with personal quotes and images on large boards of plexiglas or aluminium, not unlike the collages of suspects and clues seen in detective TV series. And not unlike the series' designated star, Ilja Karilampi takes the spectator through a maelstrom of traces and signs, where every element suggests a deeper underlying story and a new dimension of truth."
It was Faze Miyake's shows on Rinse FM, and his commitment to showcasing the newest and most radical tracks from London's underground, that acted as one of Karilampi's main reference points for the exhibition. "With music being one of Karilampi's main sources of inspiration, Faze Miyake becomes a symbol for the new and unconventional, what the artist himself would describe as next level." writes Nettelbladt, "Disguised behind a fictitious moniker, Faze Miyake also serves to illustrate the mystifying of pop culture and their public personas, a recurrent theme in Karilampi's practice."
The actual Faze Miyake, currently working on a debut album for Rinse, was surprised but inspired after he heard about Karilampi's exhibition, and spoke to the artist over email to learn more about it.
Faze Miyake: Most of your pieces seem to be influenced by music, particularly grime and hip hop. Are there any messages you want to portray in your work that stem from music?
Ilja Karilampi: "Re-ee-wind, When the crowd say, 'Bo selecta!'"
Faze Miyake: What do you listen to on a day-to-day basis? Does it have an impact on your work?
Ilja Karilampi: "A lot of daytime stuff on Rinse FM and their recorded shows obviously, as well as Swedish public service radio, P3. Recently, a lot of medieval music too, when in a more chilled mode. I do a weekly one-hour show on Berlin Community Radio Friday afternoons called Downtown Ilja, where I usually play all the new stuff I stumbled upon during the week. I mean it's a constant thing, listening to new tunes while getting new ideas – I think it's like speaking to someone in a sense, or at least the impulses talk to each other in a way.
"I've never tried to be down with what is cool to infuse my art, either – it's something that just grow naturally out of a 10-15 year process, you know? Rhythm is rhythm, and that takes different forms in life."
Faze Miyake: You're based in Berlin – has your time in the city played a role in what you do today?
Ilja Karilampi: "Actually, in the two weeks since I got a pair of specs, I can see 10% sharper and I'm kinda enjoying walking around Berlin more. I'm in a normal, quiet area in the middle of the city and the high-rise I sometimes work in is like a good look-out spot. I appreciate German culture and literary qualities since learning how to speak and read it, but if you ask me how my upbringing in Gothenburg was, and how it played a role in what I do today, I guess it's everything. Without a certain pride, support and sense of belonging in what you do, it's trickier to manoeuvre along different paths – especially with the pressure from society to conform."
Faze Miyake: I was good at art when I was really young, and feel that music is now my main way of being creative and expressing myself. Have you ever thought about making music?
Ilja Karilampi: "That's cool you say that. A secret is that I've played quite a lot in my teens and on and off through the years. I was playing the trumpet at age 10 for a long time, then we formed a skate punk band and I played drums and bass guitar. At some point in high school, I got Fruity Loops and made a big bunch of tracks, but my little brother's PC burned out, so all was lost – it was like Swedish rap and electronica.
"I also loved playing Mitch Mitchell on drums, and later the guitarist in our band moved to London to become a famous guitarist – but I only really played for fun, not to make a career out of it. At the same time, I felt contemporary art had such a potential for me to express myself and I guess now, especially over the last five to six years, I feel I can really put what I love into it, so there's no loss – rather the contrary.
"Then some of the video works I did, like Dj Säkerhetskontroll and especially h00dumentary, grew into their own kind of monikers, and I'd make some tunes behind the names or DJ out on the town sometimes."
Faze Miyake: How do you think your music would sound?
Ilja Karilampi: "I reckon something like a mix of the things I play on my radio show – a few years ago I'd say 'ghetto house', but it's too limited now. A solo show I did in 2012 at New Jersey, a now closed artist space in Basel, had a title I quite liked: 'If the world was to end tomorrow and in the film about it, a mystic tribe with black fishnet vests and nuked New Era-caps lived in a forest with only one CD player with the collected back catalogue of the whole UK Garage genre and all of Justin Timberlakes records, this is how it would sound like when they prayed to their god in the shape of a huge instrumental rap group.'
"I am totally into the sound of the Rinse shows you've been doing too Faze, and I remember when I was out jogging in the French countryside in the middle of nowhere and the latest podcast was on. I was kinda blown away by hearing this mix of a new UK sound, like some of it I can place into a tradition, but the rest just sounds like the next logical step in instrumental production."
Faze Miyake: When I found out that your exhibition was named after me I was a bit confused at first, but it has actually really inspired me – how did I inspire you?
Ilja Karilampi: "Essentially by the symbolism of what you blended together and produced, I kinda interpreted that as the absolute most progressive – and that's a quality I am looking for in my artwork as well. Even if I never reach that level, at least a failure on the way to it is always something! So I essentially just cranked up your music and got going with it, but when I heard your artist name – and also J. Kenzo's – I was like, 'Wtf? Is it what they are called these days?'
"It was like never meant to be a reach out, but I'm glad you're not offended and somehow looking back, I think it made a lot of sense. I'm all for the role of the producer, of the creator, and there are some interesting meta-narratives around that as well."
Faze Miyake: I really like the UV pieces in the Faze Miyake exhibition – what's your favourite/most appreciated piece?
Ilja Karilampi: "Thanks! You should have seen some pieces like that in an earlier exhibition at Sandy Brown in Berlin last autumn, new RELEASES, where they really shone. The real favourites in the Stockholm show is the engraved aluminium boards – they're 5mm thick and are 1×2 metres. My motifs were engraved and came out so shiny that we joked we were gonna go blind because they looked too good. The surface is darker aluminium, but the engraved parts looks like raw, pure metal, and the lines the CNC machine took makes them glimmer like a diamond prism.
"The UV thing has been ongoing for a while and taken more permanent form, from the early wall paintings, to now with two-colour fluorescent adhesive vinyl on mirror or aluminium. It's great because its on another visual level you know? Like a different, super trill dimension of light. My own favourite must be one of the large laser-cut images on a frame because they're so precise. I was so worried they would break or be too thin, but I could look at them forever."
Faze Miyake: Would you ever want to present exhibit work in the UK?
Ilja Karilampi: "I have been a few times, primarily at Wilkinson Gallery in East London and at Woodmill GP's former spot in Bermondsey. I'm planning something on Mare Street in Bethnal Green in April, with the exhibition taking place across a few spots along the road, e.g a taxi window front, a bodega, and a tandoori joint – but all under the auspices of Wilkinson Gallery. I'm imagining the people in the show are not only visual artists, but also work on the border on other creative spheres, like my younger mate Oscar Khan, who played the main role in the drama The Hunter in the Armchair – an artist theatre piece that was played at Berlin's New Theater in December 2013. It's also cool to walk around and explore all the wicked FM frequencies that I can't tune into here."
Faze Miyake: What have you got planned for the future?
Ilja Karilampi: "I just sent a few new aluminium works to be made in Sweden, so I can't wait to see how they come out. I'm working on a solo show here in Berlin that'll be open this spring in Galerie Wedding – a 'new' space in a town hall in that side of the city, which also has a new curatorial team. There's a couple of other things too, but I'm trying to travel less this half year and actually right now I'm considering going cross-country skiing for a few days in the south of Zürich as a vacation. All with Yo Gotti in the headphones of course, out in the snowy forest in full sunshine…"
Ilja Karilampi's exhibition Faze Miyake runs from January 15th to February 13th 2015 (more information).