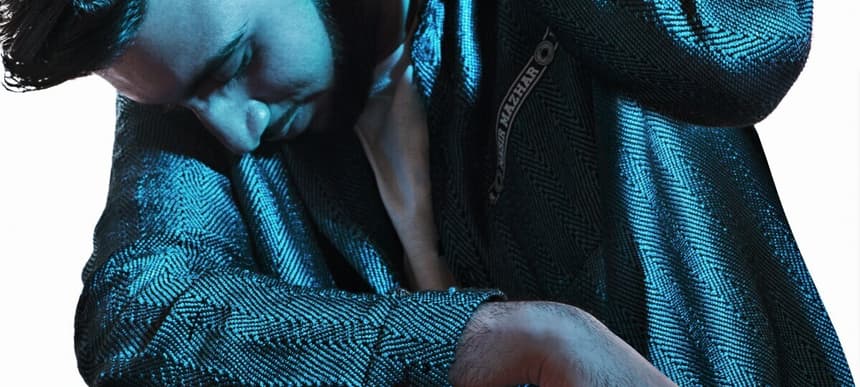 09.10.2015, Words by Natalie /
Faze Miyake: "In a way, I've built a Faze Miyake brand."
Meeting up with Faze Miyake at a Nando's in Liverpool Street to discuss his debut self-titled album, it dawned on me how far he'd come – both as an artist and as a person – since I first met him back at Rough Trade East in early 2011. Back then, he was quiet and mostly on-edge, particularly in an interview capacity, perhaps unaware at how much of an impact his music was having in the wider context of the scene at the time. Fast forward to our conversation now and he's a confident, upbeat and genuinely funny character.
For those unfamiliar with his early output, Faze first caught his break with underground anthem Take Off – a record seized by MCs as a go-to anthem in 2011 after Jammer opted to use it as part of the official Lord Of The Mics soundtrack. At the time, Preditah too was on the rise and for a while, both were held up as shining lights, the benchmark for a new wave of up-and-coming grime producers.
It was clear from the off that both would follow different trajectories though, with Preditah's sound more firmly rooted in garage and bassline, while Faze drew most of his inspiration from hip hop and artists like Rick Ross. Over time, he began to refine the harder, gritty 808 bass sounds that first set him apart, now incorporating them in a far more vibrant sound palette, as evidenced by a host of tracks on his debut album for Rinse.
Although quiet on a release front for nearly two years – aside from a one-off USB release on his own 'Woofer Music' imprint – Faze has really come out of his shell over that time. Through channeling the everyday frustrations that come with writing an album into witty social comment, tongue-in-cheek self loathing and general hilarity online, he has won fans in their droves. As he outlines to me as we chat, it's now reached the stage where people feel like they can relate to him as much for his tweets as they can his music.
That said, for all Faze's light-hearted wit online, he has remained vigilant to the music world around him and spaces he now inherits. He is still close to Hyperdub boss Kode9 and has also aligned himself with producers like Scratcha DVA, Deamonds and Lit City protege Drippin, surrounding himself with constantly evolving strands of future-facing club music. Through his new club night project 'Zig Zag' – run in association with Brighton promoter outfit Mute – he has been able to explore new avenues in a live setting too, enlisting producers like Wen, Visionist, Sudanim and Miss Modular to play alongside him at nights in both London and Brighton. In short, Faze has never been content with being just another grime producer.
As we start to delve deeper into the context of his album, it becomes more and more apparent that for Faze, this is just the start.
Four years on and here we are at the point of your debut album, 'Faze Miyake'. How does it feel?
Faze: "Finally…that's how it feels! To be honest, I've always wanted to do either a CD or a compilation of everything I've been working on so I'm happy it's out. It's always something I felt would take me to the next stage of my career."
Has your approach to your music changed over that time? If so, how?
Faze: "The way I work and DJing has played a big role in where my career has taken me. I think people have got to know me as a person outside of music too – my character and personality. Getting that out there has been quite nice. Before, I didn't have that because it was just music. People have got respect for me now so I feel like they want to hear new stuff and that's good for me to know. I feel like that'll keep me going. I've built a solid foundation from that and I just want to keep building on it."
You touched on people 'getting to know you'. How do you think you have managed to open up?
Faze: "I avoided being myself and putting myself out there. The only reason why was because I thought the music would do the talking and it did at the time, but gradually I realised that while I wasn't releasing music officially, people needed to know me – and they've taken a liking to that. In a way, I've built a Faze Miyake brand. There's so much more to my artist persona than music and that's the difference. I'm never gonna be anyone but myself either. I'll go to raves and sit in the smoking area and chat to people as normal, I'm not a superstar. I think it's important nowadays with the Internet and social media being such a big thing – you've gotta be in charge of your own image all the time."
And what about all the topical tweets? Rhythm & Gash, David Zowie, Nando's and such?
Faze: [Laughs] "It's a lot of normal everyday life really, a lot of cultural stuff. I'm just opening people's eyes up to the way I see the world. "
Do you think that has fed into the way you approached making your album?
Faze: "It's fed into it in the sense that people seem surprised by it. For example, the Inga Copeland track, to some people that's a really random collaboration. I don't want to be just another grime producer, and I think my character reflects that as people seem to know me. When I put music out, I don't feel like I have to worry anymore you know? I have people come up to me in raves and make jokes about the stuff I say on Twitter like House Every Weekend and Rhythm & Gash. It's nice for me man."
In terms of production, what were the creative processes behind putting it together?
Faze: "It wasn't only making the music to be honest, it was more shaping the album as a whole. I make loads of music and a lot of it sounds different because I try my best to not make the same tune twice. I wanted it to sound right and be for my core followers in a sense, but also offer a bit bit of variety. I wanted to show people my music can stretch and push boundaries. The features took a while too, getting the right ones from the right places – Little Simz, Family Tree, and Inga Copeland – they're all different but I wanted to cover all bases. I wouldn't have been happy if it came out last year either. 2014 was the year of the shuffler [laughs]."
Do you think it's an album that will take you into new territory as an artist?
Faze: "There's lots of ways of looking at it. People can tell I'm not just about grime but then again, people that haven't heard new music from me will assume my album will be purely that. It's just about what's out there already but I think this will show people that I'm still grime and hip-hop orientated, but want to be seen as an electronic artist in my own right. Progress as an artist is key, I've been working on music recently that isn't like anything people have ever heard from me. I can't do the same thing forever, so it's about growing up. I hope people follow me on my journey."
Looking at the track list, you've still got some pretty deep set grime references though, None Of That Stuff with Family Tree in particular. Was it important to feature them, considering how much music you've worked on together over the years?
Faze: "They were the first people I came up with so I was always going to put them on the album. The rest is just looking elsewhere and making sure my music gets seen in different places and from different angles. The feedback has been great too and that's all I hoped for. If I wanted to make a grime album, I'd probably have had it out in a week, but the way I've done it is right and I'm happy with it, even if it's taken a while."
Do you think it has surprised people?
Faze: "Yeah a little bit maybe. I just want to be seen as Faze Miyake – I like freedom and doing things how I like them to be done. Why can't I make a grime track and then a house track and stick them on an album? That's the beautiful thing about electronic music more generally – you can be free to do whatever. I don't want to be typecasted."
What's the end goal then? Where do you see your music taking you?
Faze: "I just want to move on and keep building towards everything I want to do. I don't ever want to be stagnant. I'm a progressive person and I want to keep going no matter what. I'm the tortoise, not the hare. It's not a race."
What are you going to be focusing on to get there?
Faze: "I really want to be able to start doing events. Parties feel really scene-driven and streamlined, but I want to bring people and different music together. With my ZigZag event and Woofer stuff, I would like to make that whole vision real. Musically, I want to challenge myself and the world to see how far I can go being me. Most people will want to be signed to a label or work with Timbaland or some shit but I'm comfortable seeing how far I can get being Faze Miyake. More generally, my proper vision is ridding the world of everything we don't like."
To finish off, do you reckon you could pick out three highlights behind making the album?
01. Ocean Drive
Faze: "I made that with a pal of mine who I went to Ocean Drive in Miami with. It means a lot to me that one, big up Simon."
02. Inga Copeland
Faze: "I really liked working with Inga in the studio generally and the processes behind it made me really love the tune. That alone was a highlight."
03. A five hour photo shoot with Nasir Mazhar
Faze: "These guys came all the way from Holland just to shoot me and it made me feel like a superstar for the day. At the time, I'd never done a photo-shoot before so it was quite intense, but now it's obviously kicked off my super-model career so I want to keep that going."
Faze Miyake's debut album 'Faze Miyake' is out now (buy / stream).