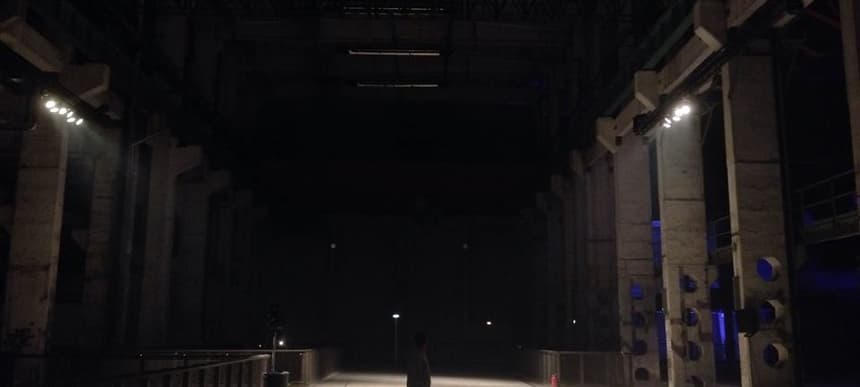 23.07.2015, Words by dummymag
Beneath the blue quicksand: Fis discusses his debut album
Since first captivating imaginations within the forward-leaning electronic music community at the start of the decade, Berlin-based New Zealand producer and DJ Olly Peryman, aka Fis, has released a steady stream of cult EPs and remixes. Throughout his ever-shifting musical catalogue, unstable rhythmic structures, atomised melodies, and punishing sub-bass intertwine into an immersive soundworld all his own. It isn't always comfortable listening, but it's afforded him the opportunity to play shows throughout his home country, Australia, Europe, and the UK, bewildering and inspiring audiences in equal measure. "I think my music has yet to find its appropriate setting to be performed live," he admits. "I played at the Berlin Atonal Festival in May. That's probably the closest it's come. Maybe it doesn't need to?"
In 2012 Peryman released his 'Duckdive' and 'The Commons' EPs via open-eared drum and bass labels Samurai Horo and Exit Records. They deployed him on the absolute fringes of the genre, but not for long. Over 2013 and 2014, his 'Homologus' EP with Void Coms, and his 'Preparations' and 'Iterations' EPs with Robin Carolan's influential Tri Angle Records repositioned him within a space of club music deconstructions and beautiful desolation. Changing tact again, Peryman's final record for 2014 was 'Speech Spirits', a slice of violently techno-ecological electronica inaugurating new London label Loopy.
Skyping with me from the apartment he shares with his girlfriend, Perryman is ready to make a few admissions about his music, and address some misconceptions. "It's been framed as deconstructed club music that gets played in a club, but it's actually not," he says, speaking in a soft and reflective tone. "I realised yesterday that I've never been interested in deconstructing club music. It's been years since there has been any relationship between my music and drum'n'bass. I have, however, been complicit in that idea being associated with my music, almost to the extent where it's become definitive in some circles. If I pause and reflect, I've never been interested in that. It's always been a far more personal thing for me."
"[My music has] been framed as deconstructed club music that gets played in a club, but it's actually not. I've never been interested in deconstructing club music." – Fis
How personal Perryman's music gets becomes crystal clear while listening to his Loopy released debut album 'The Blue Quicksand Is Going Now'. Staggering in detail, scope and emotional depth, he brings polychromatic life to a techno-naturalistic soundworld all his own. Song-by-song, the cycles and dynamics of nature re-emerge as ecstatic electronic noise. While writing it, Perryman began the process of sonically cleansing himself of ego and negativity – "the blue quicksand", as he refers to it (we'll come back to that later on, though).
When Perryman first spoke to Dummy in late 2013, he was on the verge of releasing the first of his two EPs with Tri Angle Records, and his one-sided etched 12" with Void Coms. Outside of music, Perryman was working part-time in a junior faculty role at Victoria University of Wellington's Te Kura Māori school (a centre for teaching and research related to Māori and Pacific Island education, policy, and practice) and working evenings and weekends at a bottle store. He spoke keenly about identity and geography politics, processing trauma through music, creative time as meditation, and the importance of physical response as a guideline within his music-making.
Written from a language-less place that positioned feeling ahead of thought, his 'Preparations', 'Iterations', and 'Homologus' EPs worked to extend the vanguard of exploratory music. Where Perryman's early releases on Samurai Horo and Exit Records used the residue of an interest in drum'n'bass to fashion rhythmic-grid defying textural abstractions, this trilogy of EPs articulated a ravaged digital psychedelica singular in nature, confirming his status as a crucial new talent in the process. Claustrophobic, cavernous, windswept, and somehow still teaming with life, Perryman's emotionally hulking music was compelling yet mysteriously guarded. Between his statements and sound, you could tell he was working through things. He just wasn't quite ready to take us deeper into his interior world. That would come soon enough.
With touring opportunities coming in off the back of those newer EPs, Perryman temporarily decamped from New Zealand to Belgium. Basing himself out of his uncle's converted stable, he spent three months performing across Europe and the UK and helping out with renovations around the property. As the weeks passed, Perryman began to feel increasingly conflicted. "I take sound, frequency and vibration pretty seriously as forces," he explains. "I feel like if someone is making music, that music is making them back in return. As a producer, you're feeding frequencies into your body for hours a day. That's going to do something to you. I was having these realisations about the kinds of frequency and vibrational contributions I wanted to make. The music I was playing wasn't very consistent with that. It was pretty dark and aggressive. I didn't feel like broadcasting the frequencies of a person in that kind of state anymore."
In juxtaposition to his growing discomfort, show after show Perryman found himself connecting with amazing individuals. "Something weird was going on in a great way," he recalls. "Some of the people I met are now really close friends of mine." As they talked, he often found they were a similar age to him, and going through a process of change within themselves, not unlike his own personal shifts. "It was quite reassuring and reaffirming for me," he continues. The conversations were natural, like those of old close friends catching up. Inevitably, they would admit they felt like they already knew him through his music. "It was warming because I've always thought that pouring your heart into it was just how you made music," Perryman enthuses. "Maybe there was something portable in the music that was bigger than sound. I feel a bit uncomfortable making that kind of claim about the music, but if it's true, then that's nice."
Inextricably interwoven, his feelings of unease, reassurance and affirmation led the way with 'The Blue Quicksand Is Going Now'. Inspired by his experiences on tour, and his sense that things needed to change within him, he returned to New Zealand to complete the album. Back in his hometown of Christchurch, Perryman supported himself by spending a summer working in construction and helping his brother establish an urban permaculture mentorship program. "We've always grown food at our family home," he reflects. "My dad always used to get us to help in the vegetable garden as children. It's hard to pick the exact point where my interest in permaculture kicked off because it's always been around me. I love gardening and have a lot of faith in it."
As of lately, it's come to his attention that both sides of his family have been involved in gardening and farming for generations. Given his interest in permaculture and a lineage of ancestors who lived in connection to – and with an understanding of – our natural ecology, it's no surprise it factors into his musical output. "I'm someone who spends a lot of time thinking and feeling ecology and being in living systems," he says. "They really matter to me, so they are in my system when I create. There is a huge relationship between these interests and my music. It hasn't been fully conscious this whole time, but I'm realising how much of it is a part of what I do." In Berlin, he's continuing to cultivate these interests through establishing permaculture systems inside and around some of the city's industrial power plants and warehouses turned nightclubs. "I've just been speaking with the people who run Tresor," he says. "I've got the go-ahead to establish a garden farm system around their precinct."
"I'm someone who spends a lot of time thinking and feeling ecology and being in living systems. There is a huge relationship between these interests and my music. I've been speaking with the people who run Tresor; I've got the go-ahead to establish a garden farm system around their precinct." – Fis
The extent to which Perryman's thoughts and feelings about ecology intertwine with his musical approach is pivotal to the sound and structure of 'The Blue Quicksand Is Going Now'. From the opening title track to the last audible moments of album closer Kal, Perryman revels in the beauty of the natural world, using it as a catalyst for personal change. "The title of the album is everything," he explains. "It's basically about the negative energies you can have in your system starting to go. I was over social anxiety, ego, and narcissism. Like any phase you go through [in life] where things aren't right, maybe it all has a larger purpose. Sometimes you have to go through something to understand your relationship to it. I think when I made those EPs I wasn't mature enough to be dealing with the things that were frustrating me in my life. If you make dark, brooding, and aggressive music, you'll probably end up being all three. As you know, I believe in sound as a creative force. Eventually, I chose to be happy, and I wanted to be healthy. I wanted to make something that makes me feel better and does the same for other people as well. Thankfully it's really worked."
Looking back on the ravaged desolation, claustrophobia and aggression of some of his releases, Perryman philosophically frames them as having clear the way for 'The Blue Quicksand Is Going Now'. "In order to put better energy into your music, you have to start to generate better energy within yourself," he says. "It's one of those things that rests on simple acts like forgiveness. Forgiving yourself and other people, and forgiving your previous works as well. I choose to turn around, look at every release I've had and be at peace with them. They all matter in some way, they're all allowed to be there, and they're all allowed to be part of my story. They mark out different points of tone and different stages of my writing."
In his 'The Blue Quicksand Is Going Now' stage, Perryman's primary writing concern is staying clear and present in the now. "You can be there with the moment a track is being created," he says. "A track has its own present, and its own frontier of becoming. You can be right there at the edge of that with it. It's like watching from beachside as waves roll on in."
Loopy released 'The Blue Quicksand Is Going Now' on June 31st 2015 (buy).