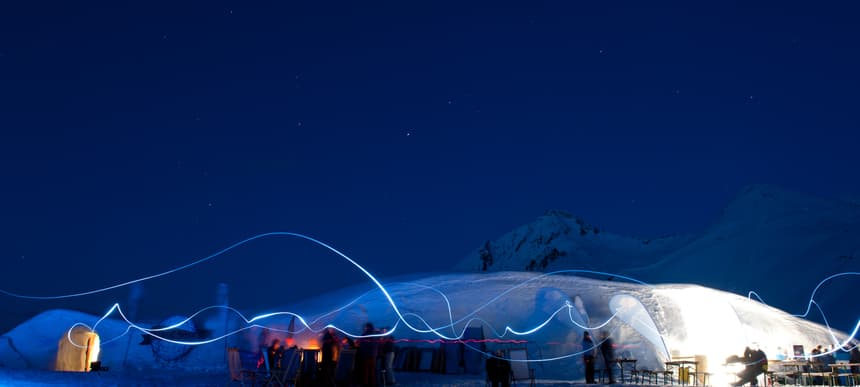 09.04.2019, Words by Daniel Laxness
Five acts not to miss at Snowbombing 2019
From MoStack to Palms Trax, the alpine music festival celebrates their 20th anniversary...
Celebrating 20 years in the business of music and snow, Snowbombing returns to the streets of Mayrhofen, Austria, for another wonky European festival experience. Headlining this year's extravaganza is Stormzy (who'll be bringing a #MerkyTakeover to the slopes as well as being his first live show of 2019), DJ icon Fatboy Slim, a handful of household names in electronic music such as Bicep, Denis Sulta, Moxie, Saoirse, as well as UK hip-hop staples such as D Block Europe, MoStack and Jaykae.
Of course, the line-up doesn't end there, the list goes on and the events stretch from the top of the mountains right down to the forest including impromptu sets in spas and cable cars. We encourage you to do all of it, however if there are some acts you can't afford to miss, it's the following.
Moxie
Tuesday night in Mayrhofen is set to be a memorable one, as North London's very own Moxie will be treating us to a wonderfully infectious set at Brück'n Stadl. If you're not familiar with the name, get to know, as Moxie might probably be one of the hardest working people in the music industry. From her busy DJing schedule across the globe to being an active radio host, promoter and running her own label On Loop, there's no secret as to why the prolific multidisciplinary holds one of the longest standing residencies on NTS. Expect a panoramic palette of sounds from Chicago house to disco-fuelled cuts which will have you blissfully dancing away into the mountainous night.
Tiffany Calver
Currently touring with Drake (yes, that's correct), 24-year-old DJ and radio host Tiffany Calver is on a fast-track to success. As the first woman to present the BBC Radio 1 Rap Show and a constantly great selector generally speaking, Calver not only brings you the highest grade of hip-hop, she also supplies underground gems you'll probably hear before the world decides to co-sign them. In a nutshell, Tiffany Calver lives in the future, and is always one step ahead of the game – so make sure to catch her set at The Racket Club on Wednesday as part of the #Merky Takeover alongside Fredo, Jaykae and Kurupt FM.
Mall Grab
Mall Grab is one of those household names who needs no introduction. Hailing from New South Wales, Australia, the extremely in-demand DJ and producer has been putting out dangerously addictive house gems since 2015. With every release being an instant club hit and a fresh new record out via LTF, as well as his first under his birth name Jordan Alexander – it's absolutely mandatory you catch his closing-set at Brück'n Stadl on Tuesday.
MoStack
MoStack's music is ridiculously enticing, from catchy toplines to the slick afrobeats-infused production that he seemingly glides over, the elusive North London rapper has proved himself to be one of the UK's most exciting artists. From touring with Wretch 32, collaborations with Dave, J Hus and Mist (to name a few) we think MoStack's performance at Snowbombing 2019 will embody the meaning of 'lit'… so to speak.
Palms Trax
Like many Boiler Room comment sections would point out, Palms Trax is 'keeping the true spirit and vibes of the origins of dance music alive,' and rightly so. Berlin-based producer and DJ, Jay Donaldson aka Palms Trax, has quickly garnered a world of dedicated fans since his breakout release 'Equation' back in 2013 via London-based label Lobster Theremin. Intelligently handling classic house, the UK artist's sets are packed with lush vocal cuts, sensual chord progressions and house strings that are guaranteed to leave you awestruck. Unless you're against all of the above, you owe it to yourself to catch him on Thursday in Mayrhofen.
To find out more about Snowbombing, head here.