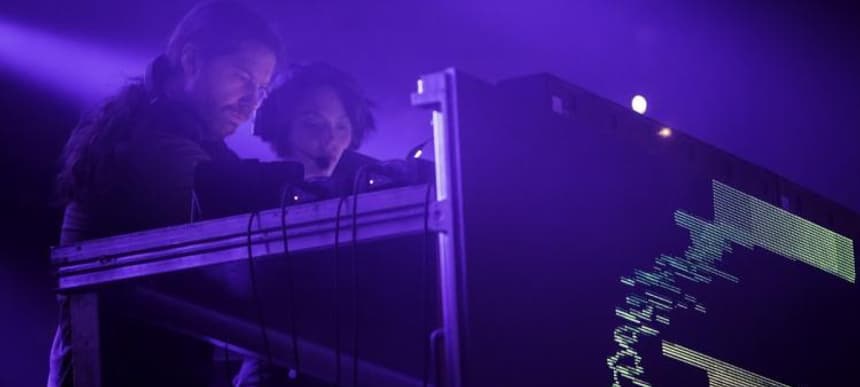 31.10.2018, Words by dummymag
Five Things We Learned at BIME Festival 2018
A tightly-programmed autumn festival that shouldn't be overlooked…
The city of Bilbao used to be, as one Spanish person explained to me, "full of shit". The formerly derelict dockland area only regenerated after the construction of the Guggenheim in 1977, quickly becoming a magnet for art and culture, and hasn't slowed down ever since. When we visit, for Spain's annual BIME festival, the Jeff Koons puppy sculpture that guards the entrance to the gallery is having a makeover for the upcoming MTV Music Awards. It makes sense for the city to court some of the world's biggest musicians for the indoor two-day festival.
It's surprising the festival is relatively unknown outside of its home country, as the artists billed for this year's edition (Jon Hopkins, Slowdive) are world class. There's an emphasis on cutting-edge electronic acts (Florentino, Nina Kraviz) which makes the 6am finishes necessary yet difficult when you've been loading up on carbs all day: Bilbao is famous for its pintxos – little pieces of bread with meat, fish and even spring rolls, on them.
Taking place in the Barakaldo area's Exhibition Centre – a dystopian concrete structure that looks like something built to withstand a zombie or disease epidemic – the vast interior has a similar setup to that of Pitchfork Paris, with two stages at either end, which the crowd shuffles between the two.
Below are five things we learned during our time in the Basque region soaking up the music (and incredible €2 wine).
–
Aphex Twin is perpetually a joker
Though he's been doing an economic run of festival appearances recently, a Richard D. James set is a rare gift from the gods. The IDM renegade took to the decks on the appropriately-named 'Thunderbitch' stage beside a woman whose identity remains a mystery (but whose shadowy figure had Reddit theorising it was his son). Opening with Jigga's weirdo desi cut-up 'Nitya', his set contained two Skee Mask tracks, his own 'Elephant Song', DJ Seinfeld's 'Sakura', a couple of Lanark Artefax tracks, and TSVI's 'Whirl'. While the cult figure's wry sense of humour was very much present in the visuals – photographs of Kate Middleton and Prince William, Julio Iglesias and an array of Spanish D-list celebrities were given the Aphex treatment and warped into grotesque orange mutants.
Spain loves Editors, for reasons we're not quite sure of
From the band being played in bars around the city, to a huge man roaring at us out of nowhere: "EDITORS!", the country seems to possess a deep love for the British rock band. Perhaps an odd booking for a festival which was otherwise very forward-thinking in its music policy, as were MGMT (whose set swung between heady nostalgia when they played the more recognisable cuts, and lacklustre).
John Maus – thankfully – is back performing
After his brother and bandmate Joseph sadly passed away in July, John Maus's BIME appearance looked to be a no-go. But he took to the stage solo, performing his nihilistic synth-pop in the style of his pre-live band days, which is kind of like John Maus karaoke. Those who've witnessed him live before will know that the breakdown he appeared to be having is part of the JM experience rather than a direct correlation of his life's recent events. Running around, playing air guitar and headbanging relentlessly, Maus cut a solitary figure on stage, hitting his head with the side of his fist at one point. He played 'Pets', with the ever-cheerful lyrics: "Your pets are gonna die," while on 'Touchdown' he wailed, holding his fist, before bouncing up and down on the spot and roaring into his microphone for 'The Combine'.
Mumdance can really bang it out
Jack Adams aka Mumdance has recently been working with James Kelly of WIFE to produce as metal-meets-electronic outfit Bliss Signal, so it wouldn't have been a stretch of the imagination to see him mining some of these darker sounds. The producer tore up the electronic stage, constructed of red-lit scaffolding, to play a taut set packed with breakbeats, techno belters and Josh Wink's 'Higher State of Consciousness', plus a heavy helping of Blawan, proving that techno – when banged out correctly – can be one of the most blissful things in the world.
Performing on top of a cage has its logistical difficulties
When in Rome; and when in Bilbao we had to catch some Spanish trap – by way of Granada-born rapper Yung Beef. The artist, who ascended the rungs of the 2017 Dazed 100 list for his blend of reggaeton, trap and salsa, is very much part of the country's DIY trap movement. He performed on top of a cage, flanked by two hype men – and at one point one of them climbed down with seeming difficulty sliding down the bars. Beef, on the other hand, began doing press-ups atop the cage, opting to bark ad-libs into his microphone rather than expressing any complex lyricism.