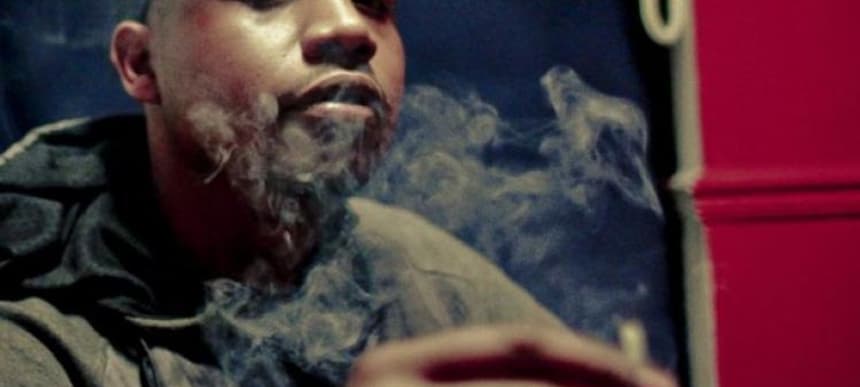 19.10.2018, Words by dummymag
Five years on: The enduring brilliance of DJ Rashad's 'Double Cup'
Diving deep into the legacy of a seminal, multi-sensory, magnanimous album
The aim had always been to forge a welcoming space: somewhere of familial belonging, no matter your creed, colour, or who you love. The late Rashad Harden lived passionately, and unwaveringly, by this motto. Better known by his producer moniker, DJ Rashad, he spearheaded a movement – Teklife – and brought an avant-garde hyperlocal sound to the world.
After the release of his seminal 'Double Cup' album on London's Hyperdub, in 2013, his first fully-formed studio work, a tension in Rashad's hometown of Chicago arose amid the glowing worldwide praise it was seeing; this is not us, this is not Chicago, said the detractors, firmly in the underground. Despite being seen as one of the pioneers of a genre barely out of its teens, some scene absolutists baulked at the sight of the album. It felt, to them, untethered to footwork's cut-throat breakbeat foundations. A foreign entity, unworthy of dance-battling your nemesis to.
RP Boo, another towering figure of the scene, spoke candidly of the negative reception he had witnessed the LP's reception firsthand on the streets and in the clubs of Chicago. Asked why Rashad was seen by some as a sell-out, he retorted brusquely in a Passion of the Weiss interview, saying the animosity was, "Because his sound excelled. His style excelled. He thought when you grow, you excel, that's what they don't know in Chicago. Rashad was on a whole 'nother level."
The beauty of Rashad's brand of footwork, as Boo would agree, was that it was at once parochial and global, sequestered yet social, artistic yet utilitarian. He sought to enrapture the world, not just his neighbours. In the same way that he opened up the local scene to the world, touring Europe, cobbling together fans through MySpace, YouTube and Bandcamp, he crashed down the austere barriers of sound. Not to make it more palatable, but to prioritise musicality and family over everything else. "My goal is now, that you don't have to footwork or dance. As long as you get into it and enjoy it, that's cool…It's for everybody, not just footworkers," Rashad told The Quietus in 2013.
There's no confusion as to why footwork first evolved in Chicago: House music, ubiquitous in the city in the late '80s and 90s, birthed the libidinous, uptempo ghetto house, which in turn led to the even barer sound of footwork. It is composed, theoretically speaking anyway, to encourage a specific kind of dancing, where arms and legs are less limbs and more extensions of the computer-programmed rhythms. But the hanging melancholic incongruity of the tracks, all syncopated and wiry, suggests the producers have motives beyond dance.
Listening to footwork is a weird, fantastical paradox: you try to wrap your brain around computing the samples – they hypnotise; you hear the drums zap around without seemingly without reason – your head jolts. But it's also strangely magnetic and simple. The transition into footwork saw the tempos speed up stratospherically. House music usually sat at 120 BPM; with its ghetto house and booty house form, this rose to something hovering close to 145 BPM. Footwork, on the other hand, rammed the beats-per-minute to between 145 and 160: Chicago dance groups, in other words, always wanted more. Footwork's best mode, it would seem, a hyperventilating maelstrom of melody, skittering hi-hats, pummelling 160 BPM drums and hypnotic vocal loops.
To understand footwork's reach, you have to understand Planet Mu. "Does a musician have to know why it is that he likes something? Sometimes it's better not to," Planet Mu founder Mike Paradinas once said of the mystique of the sound's snag. Paradinas was positively flummoxed by – and relentlessly pulled towards – footwork for what he saw as a raw, unvarnished artform without all of the pretentiousness. The label, which had become seen, in the eyes of many, to be as forward-thinking and artistically organic as any imprint around, brought footwork to the masses in the form of 2010 compilation album, 'Bangs & Works Vol. 1'. Anthologised by Planet Mu for the world outside Chicago's dance battles, Rashad featured twice on the 25-track project, a mesh of footwork circuit veterans and bedroom producers trying to make a splash.
The frenzied specificity of the genre – drum and bass gymnastics, double-time clave triplets, syncopated drums, the abandon of jungle – created an air of exoticism around its producers, and Planet Mu helped turn this enchantment into a genuine appetite for more outside of Chicago. DJ Tre, DJ Manny, Gant-Man, Spinn and Rashad were all original members of Ghettoteknitianz – the footwork crew that would subsequently dissolve into Teklife in 2010.
A producer is taught that the nucleus of a pervasive track must elicit something inherently tangible that crews can 2-step, 5-step, crossover or valdez to. It's a bona fide freedom of movement and expression. Rashad, the ever-willing technician, toiled away with the sound for years. His early works, however, were skeletal, inelastic, and lacking a pulse, which, more often than not, contributed to still, cold, mechanical and militant interplay. It wasn't intrinsically bad, it just felt unripened. If projects such as 'Something 2 Dance 2' (2008), 'Just A Taste Vol. One' (2011) and 'Teklife Volume 1: Welcome to the Chi' were structured clay pieces with detailed but unemotional latticework, 'Double Cup' is the riveting claymation epic that floors Cannes audiences. It's larger than life, and hybridises a glut of very vibrant subgenres: acid house, ghetto house, hip-hop, jungle, drum and bass, R&B and soul. Where dance music is generally about letting go, 'Double Cup' is about letting in.
Whether they were intended as teasers or not, the EPs he released in quick succession upon signing a deal with Hyperdub – 'I Don't Give a Fuck' followed by 'Rollin'' – serve as the righteous precursors to what was to come; soul-drenched footwork that is far too expressive to be consumed simply as a complement to dance. Much like ballet, the music progressed, fundamentally, from being a buttress for the main act; from acting as a symbiotic constructional backdrop for the fleet-footed. Rashad helped the sound transcend into a concrete compositional form that, in its own beautifully austere way, could soundtrack anything.
Rashad was the first producer of his ilk to contort samples into song, not unrelenting noise, or roiling chant: for this reason, the name of J Dilla is often spouted when discussing Rashad. Without ever truly having to lay a verse, or sing a hook, his songs emanated a cult of relatability. He mined samples for their aesthetic worth but massaged them into meaning. Ecstasy, kaleidoscopic colour, hedonism, blackness and unerring love all flow out of how he deftly assembled together drums, vocal loops and bass.
There's an implied yearning in the samples he selected, a wish to sing without singing. Like on the the wild vocal loop of First Choice's 'Let No Man Put Asunder' on 'Everyday of My Life' which cuts through the haze like a scythe over wild grass: "Everyday of my life," are the words sampled, suggesting regular day anguish. There had always been a bright-eyed playfulness to Rashad's music, but there's also a despair clamouring beneath the joyous samples, a certain air of resignation and dejection. "I guess some of my sample choices are kind of emotional," a self-effacing Rashad once conceded. "They say 'Rollin' is kind of – maybe not emotional – but you can kind of feel the sample talking to you, or you can relate to it… It's touching."
Rashad might, like most in this increasingly connected but simultaneously disconnecting world, have had some personal demons that he kept guarded. The tracks themselves don't merely hint at emotional depth – something Rashad himself, clearly, was coy about – instead, their seams risk unravelling as lust, love, pain, inebriated stupor and joy flow in fast. Above all else, though, the songs are bound to movement, physically and conceptually, which is something undeniably and biologically thrilling. Face muscles contract to project smiles or frowns, blood gushes through arteries, serotonin in turn courses through the bloodstream; the carnality of the act of sex itself is welded to motion. Considering its dance-oriented beginnings, these subtle emotional cues now make sense.

The thread that runs through is one of connection and family. The three or four-minute-long beats on 'Double Cup', from top to bottom, and side to side, are adorned with the same kind of thoughtfulness, warmth and rigorous precision as the care of a local GP that you've been visiting when unwell since a child – professional obligation is patiently cast aside for a genuine love. Bonds naturally exist, but as with everything family-related, they become strengthened and frayed as they run their course; there's celebrations ('Drank, Kush and Barz'); the meting out of punishment as comeuppance ('Leavin'); personal reckoning and self-expression ('I Don't Give a Fuck', 'Reggie'); guardianship and teaching ('Show U How'), outright chaos ('Acid Bit') and the tenets of unconditional love ('Only One', 'Let U No'). Unsurprisingly, Rashad continues the collaborative streak as a means of asserting the family ideal, too. DJ Earl, DJ Taye, DJ Manny, DJ Phil, and Taso all feature heavily, dotted throughout. Spinn has fingerprints on eight of the record's 14 tracks. A Rashad album, but a Teklife album.
Fidgety synths, aqueous and immediately Rashad, are the first thing you hear on 'Double Cup'. A trumpet is then introduced, followed by stagger-rhythm snares that are spliced into a seamless design of hard-hitting drums that invite you into Rashad at his most melodic. One of Double Cup's high points comes two songs in; an interpolation of Cheryl Lynn's funky '80s R&B cut 'Show You How' is warped until everything feels hypnagogic and disorientating.
At times, the blistering double-time drums and wildly micro-edited samples split atoms, a multi-sensory attack, where chaos washes over your brain. Soul and hip-hop samples – familiar voices, sparse lyrics, breezy hip-hop melody – humanise everything that seems untethered to reality. 'Let U No' defies gravity: an irrepressible vocal is vaporised atop stacked jabs of colourful, syrupy instrumentation.
'Double Cup's nadir is its sheer magnitude. Packed into over 50 minutes, a caveat might be the length and brutish knottiness: a slog for some, footwork projects are comparable to the headiness of heavy-duty techno – hyperspeed drum assaults, incessantly warped vocal-samples, with little room to breathe – so listening in spurts is well-advised. But that's a frivolous complaint, one which presumes that art should be consumed in ginormous, gluttonous gulps and not carefully considered micro-dosages.
In 2014, in an interview just months prior to his passing, Rashad gushed about the broader impact that the genre was having, the shape-shifting it was undergoing overseas into newer forms thrilled him. "My proudest moment has been the intake on everybody else outside of Teklife that's been doing footwork…," he said."To see that happen and to see it grow is a feeling that I can't even explain."
His death came as a surprise. A post-mortem ruled that his death, having previously being speculated about, was tragically the result of an accidental drugs overdose. His family, Teklife, and the wider musical community mourned, yet his untimely death never seemed like the end. The official Teklife Twitter bio still reads, all capitalised, "RIP DJ RASHAD". DJ Taye, his wide-eyed and prophetic torch-bearer, regularly tweets and eulogises Rashad in idolatry terms. "The void is there, but it just feels timeless," RP Boo has said of his passing, ensuring to refer to Rashad in the present tense. "I just feel like he will just be here forever, his soul will be here forever."
DJ Earl, another member of Teklife, still hears his south Chicago drawl when playing live: "Sometimes at shows, I just hear his voice in my head, like, Ay dog, you better kill!". Teklife seemed to have the unenviable position of trying to reinvent itself without its great inventor; a bird trying to take-off with its flock after having its wings clipped. The collective huddled together, resolutely, with admirable poise, and sought to recalibrate. Posthumous projects, drawn from the troves of Rashad's unreleased music that Spinn and others hoard, were partly unveiled; namely the 'Afterlife' LP and the '6613' EP.
As the second decade of the 20th Century nears its end, footwork has ascended, powerfully, from its nascent days of earnestly soundtracking a localised confrontational dance. It's has crept into the boom-bap raps of Chicagoan upstart Joey Purp ('AW SHIT!' from his latest project 'QUARTERTHING' was, coincidentally, co-produced by DJ Taye); it can be heard amongst all of the maximalist and referential layerings of Hyperdub's Proc Fiskal debut from this year; in Iglooghost's hyper-realistic, frantically textured, digital netherworlds as drums and hi-hats spray like automatic gunfire and sped-up voices skitter; even Chance The Rapper's explicit and coded homages to juking and still give the sound relative popular credence.
Without Rashad, footwork might have remained a footnote on the Chicago club music Wikipedia page; an obscure, mostly unused Bandcamp genre tag. Jlin, then, the Gary, Indiana auteur, has taken everything footwork-adjacent into liminality; its post-footwork, sample-less music whose oxygen is the absence of structure. In her career's early stages, she messaged back-and-forth with Rashad and his team on MySpace; Teklife's impact is irrefutable. What Rashad's short-lived but indelible career succeeded above all was capturing the spirit of familial connection and harnessing the experimentation flair which became integral to Teklife. The group has always been a family affair, and they continue to do so: Not a single release from the collective has existed without collaboration. Teamwork, for Rashad, was shorthand for creation.
Everything on 'Double Cup' suggests that DJ Rashad had the pop intelligence and sweeping ambition to take footwork – and the artist himself – further into the cultural conversation. A Danny Brown collaboration album here, an ethereal DJ-Kicks mix album there, intermittently pushing out radical solo projects: Rashad had limitless potential that was yet unlocked. What we saw was, in truth, just a slither of light poking its way through the keyhole.
Earlier this year, DJ Taye – who was 16 at the time he joined the Teklife crew – released his Hyperdub debut in 'Still Trippin'. It felt like a reawakening, a rebirth, but it was purely a continuation. The traditional song structures were there on the rap-imbued tracks – verse, bridge, chorus, repeat – yet the hyper-technical drums strived to say the most. Without buckling to imitation, or without deviating too far away from what made Rashad so special, DJ Taye shattered all precepts. It felt truly revelatory on the fifth year of 'Double Cup's anniversary.
It would be naive, though, to herald 'Double Cup' as the definitive document of a genre whose entrails are still spreading, leaking and morphing. Rashad, truthfully, wouldn't want people to consecrate any one album, even if it is proudly his own, as the Magna Carta of the sound he helped birth; he wanted it to grow, for feedback loops to disintegrate and for the very sounds, ideas and producers themselves to move forward towards everlasting fertility, not backward towards ghetto house. Rashad's impact was less a question of musical dexterity but of an apolitical vision of unity.
What informed footwork's evolution, as its name suggests, was a three-way system of feedback between DJ, producer and dancer, but it goes deeper, much deeper. The album cover – an aeroplane-view of Chicago – explains a lot about Rashad. The gridded lights gleam as intricately one of his beats. From this vantage point, he observes not only his city from on high, but everywhere else the eye and mind can see, too: Never too far from home, but always looking out into the ether for more.
Buy 'Double Cup' on Bandcamp here
Stream 'Double Cup':