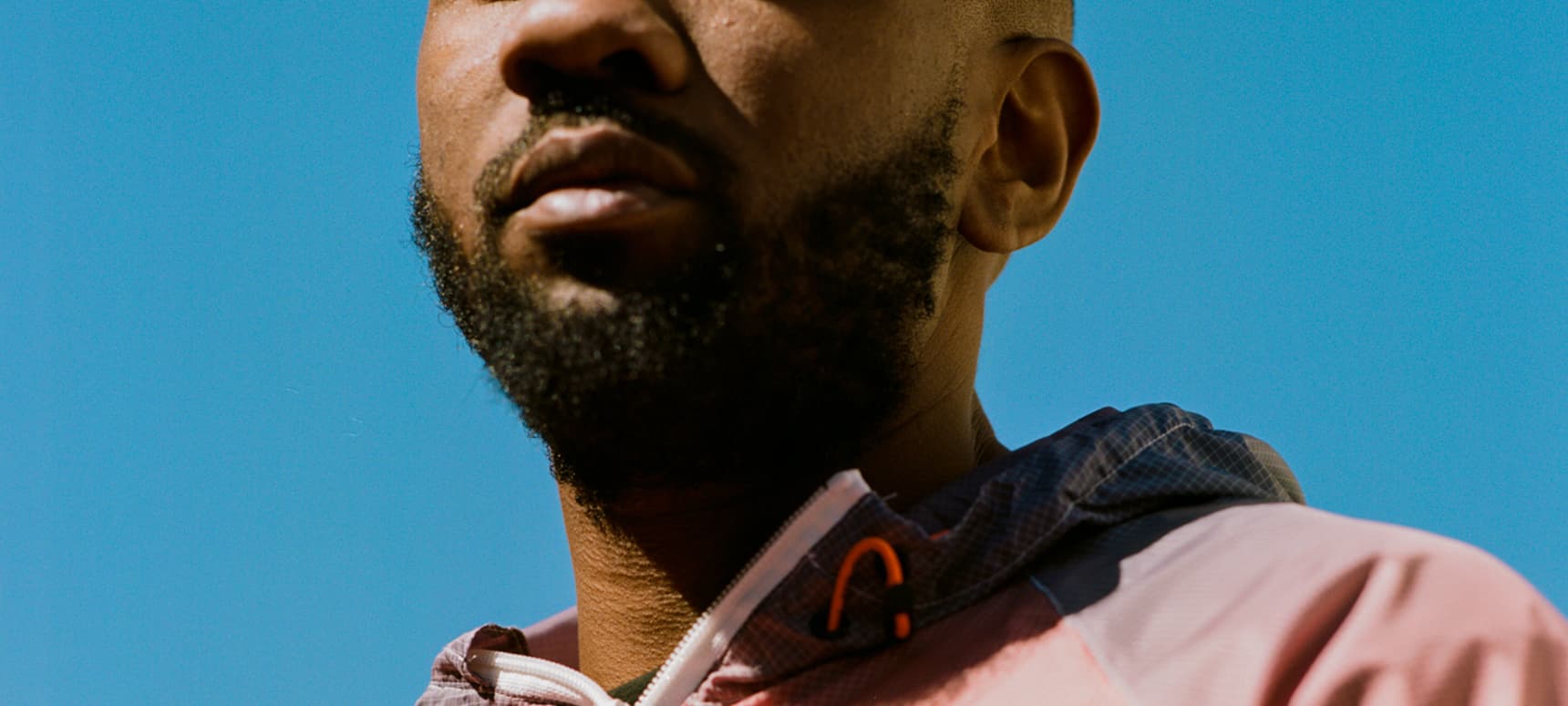 21.05.2020, Words by Michael Keating, Photos by Vicky Grout
"It's my first real slice of me": Footsie on bringing FWD>> energy to his versatile debut album
The Newham General talks going solo, UK drill and the ever-changing landscape of music...
If you know grime, you know Footsie. The MC and producer is one of the most recognisable figures in the scene, supplying anthems both as part of N.A.S.T.Y Crew and alongside D Double E in Newham Generals. Although he's spent two decades in music, a solo Footsie album hasn't seen the light of day before now. There's been numerous collaborations, as well as a peppering of singles and EPs, but never something that fully represents him as an individual.
"I've always done music just as Footsie myself," he says, "but I just felt like I had stuff to say and a vibe to get out. I wanted to set myself the challenge of doing an album, a solo standing." Ahead of the release of his debut solo album 'No Favours', we wanted to get his perspective on the UK music ecosystem and what it means to be an artist in the hyper-digital age.
It's taken two and a half years of work on 'No Favours' to get to the finished product. The cover art was shot near the end of 2017, and the project has been stewing since then. It's been a different process to what Footsie's been used to; working independently without having to adapt to others. 'I never had the thoughts really to release a solo album while in the crew. I was busy thinking about the crew I suppose, getting that big and keeping that big. I'm used to doing that, thinking collectively, so to pour all those ideas and thoughts just to me 100% was interesting.'
With this freedom came the ability to work exactly how he wanted, letting the tracks form organically without the need to stick to a script. 'I was selecting for emotions and vibes rather than for detailed experiences,' he explains. 'I find there's two different ways of going about an album: vibes, or life experiences and stuff, as in more of window into you as a person. I wanted this to be a window into vibes – whatever vibe you're on, you select a track and get into it.'
The statement holds true: whether you're up or down, and whether you're a dedicated head who's followed grime since its inception or you've never heard a 140 beat before, something will catch your ear. The real strength of 'No Favours' is the experience and versatility that Footsie brings. Those familiar with his previous work might not have predicted the more relaxed listening offered by the J Appiah collabs 'Under Water' and 'Easy For You', but at the same time, Footsie is clear that he didn't want to compromise just to beg for mainstream attention. "I weren't shooting for a radio track, but I made it big and inviting to anyone, not just the grime people. Accessibility was a big thing I had in mind," he says. "I had to make sure everybody had their own space on the album." Making authentic grime that has a wider appeal has always been a challenge cracked by few artists, but this project has the potential to place Footsie firmly among them.
"It was vibe selection – I wanted to feel like I'm in Plastic People again."
That's not to say there's a lack of raw heaters, though. 'Restless Jack' sees the return of CASisDEAD to a grime beat for the first time in years. Originally, Footsie arranged the track with a break between his and CAS's vocals, but later decided it was better to drop the second verse straight in, capturing the relentless essence of two MCs spitting right then and there. "CAS phoned me and was like, 'You know what, I prefer it when we was just going toe to toe.' That's the hook, the fact that there ain't a gap and it's just a death match happening live on the track."
Another huge moment is the long-awaited release of an elusive Skream dub. 'Orchestra' has previously only really existed in the form of low-quality rips off old school sets from Rinse FM's DJ Tubby. Footsie makes sure to pay homage to that unforgettable era with 'FWD Skit' as he and D Double spray their 'Prang Man' bars over the dubplate back in '06. He secured the same riddim for 'Pattern & Program', bringing the now-mythical energy of FWD>> raves through into 2020. 'Tubby was one of the only DJs with it,' Footsie remembers, 'and we [Newham Generals] nearly vocaled it at the time. I've always loved that beat. Again, it was vibe selection – I wanted to feel like I'm in Plastic People again.'
More UK A-list pedigree comes in the form of Chase & Status, who contributed the beat for the album's title single 'No Favours' as well as the deeper atmospheric production of 'Finesse'. Following the pair's return to drum 'n' bass, it's again a sharp contrast from what might have been expected. Like the CASISDEAD and Skream contributions, it all adds to the epic feeling of the project for Footsie, supplying something special and avoiding any hint of generic flavours. "I listen to things like that and it's like a rare Pokémon card. Bruv, I've got beats from Skream and fucking Chase & Status on my ting, are you mad! This is actually what I'd want my debut album to sound like. If I'd have done this ten years ago, even 20 years ago, it wouldn't have sounded like how I would have actually wanted. I would have done one for the times, and not for myself."
"Jme said to me, 'I didn't want my album to be a tweet,'"
We ask how he's seen the artistic process and the industry shift as those years have passed. As music is being increasingly promoted, distributed and consumed over social media, the landscape has changed dramatically, and the mentality of artists trying to make their mark has adapted. Still, Footsie maintains, "That viral moment is not a career. I think people are on a quest for a viral moment more than a big tune right now. It's the equivalent of a big tune right now, or maybe even bigger," he admits. "But then there's no backing it up, and then they don't understand why it's not lasting, or why it's on to the next one. And there's no responsibility of the fans to like you past this one song. People are getting the song, they're getting the moment, and then they think that leads to an album."
Footsie reveals he has a similar perspective to Jme when it comes to creating and releasing art, admiring the fact he's spent over a year taking the time to showcase his 'Grime MC' project to let it be fully absorbed and appreciated. "That's respecting your shit. That's him respecting his own time and work," says Footsie, arguing it's all too easy to fall into that fast-paced promo machine and feel like you've sacrificed part of yourself in the process. "Jme said to me, 'I didn't want my album to be a tweet,' and I thought, 'Rah, that's how things go.' I've done it before: you tweet, you release your music, you push it about a bit, people read, and then that's it. My whole two and a half years building this thing, just there in two taps of a finger and thumb and that. You do a lot just to go put it in a tweet and go, 'Here's my album.''
Another trap is feeling the needing to appeal to an ever-widening audience straight away. When the whole world is potentially at your fingertips, it becomes a lot harder to stick to grafting and building a fully-fledged movement and a solid identity. The pull and push relationship between the UK and US music trends is a strong example to Footsie: "I think what's happened is it's clear now that they're watching from over there. And we were doing alright for a minute, we said fuck them for a sec! I think we seek validation from them, or we validate ourselves off of what they're doing, unnecessarily as well sometimes. Like growing up, I was force-fed American shit," he remembers. "We shook it off. We weren't watching American shit, and then we got big again and they started watching us – and because they're watching us again, we've gone back. It's weird, it doesn't make sense. We need to stick to our pattern and hold our pattern, which is not having one, I think."
Is that why UK drill is having such an impact nationally and internationally? He agrees that it growing organically without trying to appeal to outsiders has resulted in the scene blowing up. "It was kids being onto it, being crazy. They know they're alright and that's what's important. That's what drives a genre into being cared about – when you don't care. Because then you make the noise and that impact which is undeniable, the presence is there."
An unflinching belief in what you create is essential if you want to realise a vision, and for Footsie, 'No Favours' has been an opportunity to embrace and explore a new direction: 'This whole process is something I've needed to do. I feel like I'm just starting as Footsie, I can't lie. Footsie in Newham Generals is a different person, because that was a team sport, and it's a different energy, output, aim, everything. You go from a team sport to playing a solo ting. I never really give two shits about what people think, but this album… I'm very interested, because it's my first real slice of me to the masses.'
Footsie's 'No Favours' album is out tomorrow, May 22nd.