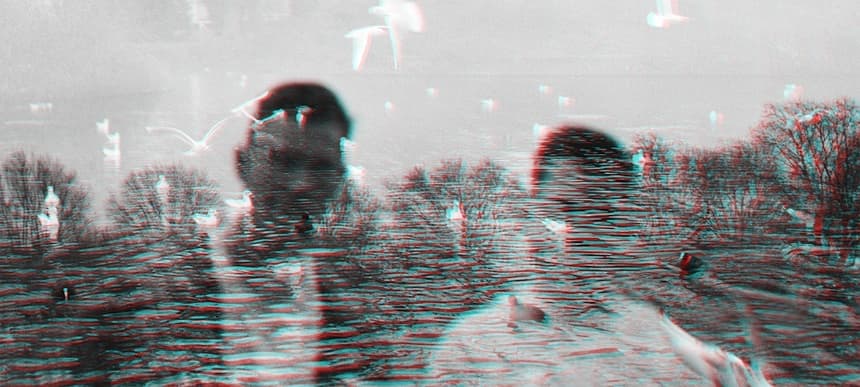 05.06.2015, Words by dummymag
Found Sound: Bicep
Bicep are some of the most in-demand DJs on the festival circuit right now, but they had relatively humble beginnings: Andy Ferguson and Matthew McBriar, two friends from Belfast, started the Feel My Bicep blog back on 2008 as a way to keep in touch and share tunes while they were away at uni and beyond (Ferguson in London, McBriar in Dubai). Eventually they made a transition into being a DJ and production outfit, debuting tunes and remixes at the turn of the decade and pretty much just taking off from there. They haven't really looked back since.
With that said, 2015 does seem like Ferguson and McBriar's biggest year so far. Bicep are pretty bloody busy right now: they're set to touch down in Manchester for Parklife Festival this weekend, followed by an Off Sonar party planned with Live At Robert Johnson, not to mention a gigantic residency at London's XOYO, where they'll be bringing in guests like Jacques Greene, Andrew Weatherall, and The Black Madonna over 13 weekends starting in July.
With all this happening, Bicep had a chat about their summer plans with Dummy, while also speaking to us about one lesser-known aspect of their production: found sound.
Found sound, or field recordings, are audio recordings taken outside of a typical studio – say, the sound of a car going past recorded on an iPhone. Dummy's occasional Found Sound series invites artists to share one of their recordings and tell us about it and how they use it in their work.
Can you talk us through the Found Sound that you've sent us?
Bicep: "We've sent over a recording from a gym – 'Muscle Works' in Stoke Newington, London. We wanted to do something fun for the feature, but it's actually a really amazing recording and has given us some ideas for the future.
"It consists of different iron weights being dropped and slamming against each other, and different cables working. The room is fairly large with lots of natural reverb, and the metallic crunch of the iron sounds like big harsh snares.
"It's quite a dirty recording as it was quite hard to get the gym while it was empty, but often the best field recordings are quite raw. We often put the sounds in the MPC and bitcrush them anyway, so rough with natural reverb works for us.
"We love the little rattle towards the end, created by the pin changing between different weights, almost like a shaker."
Do you use found sounds in your productions at all?
Bicep: "We've been using found sounds since we started producing, really. I remember back to one of the first times we started making tracks and we were recording Coke cans being crushed for snares. I think we heard of someone else doing it, but it actually gave quite a good sound. We are constantly recording weird sounds and buskers on our iPhones.
"From an engineering and mixing point of view, we've found even the most subtle bit of background ambient noise added to the mix can really cement tracks together. We sometimes create little subtle looped grooves from recordings like fires crackling, or birds singing. It's amazing how imperfect, off-kilter sounds can really actually bring some loops."
Your summer festival schedule is filling up. Any you're looking forward to returning to in particular? Any new ones you're super stoked to play for the first time?
Bicep: "We are definitely looking forward to getting back to the Croatian festivals, all of them are quite unique from each other and definitely had some of our best times out there over the last few years. We're also playing Amnesia for the first time ever in Ibiza, which will be ace. Parklife is always a real yearly highlight for us, the crowd is amazing every year. Also, this year's Glastonbury is also shaping up really nicely, with quite a few slots. We're also super excited for Festival Number 6, which is one we have been wanting to play for a long time."
What do you have planned for your XOYO gigs?
Bicep: "Super varied music. We really wanted to showcase the full range of our tastes across both rooms. We've really put emphasis on Room 2 as well as Room 1, trying to create a great balance each week. We're planning to really curate our sets toward the style of our guests, with each week mixing it up completely from the week before. Luckily we've got lots of great eclectic DJs to play alongside, so that should keep things interesting. I know the SMD guys went through their whole series without playing the same track twice – we will aim to do this as well!"
What is your favourite sound in the world?
Bicep: One thing outside of music I always love hearing is rain against a roof while I'm inside. Growing up in Belfast, it was very rainy – my back garden was quite tropical, with lots of plants and trees… I always loved being inside looking out with the rain hitting the glass roof. There is still something I love about the sound of rain, even when I hear it in other peoples tracks I love it. Burial in particular uses it as a texture to great effect, without it sounding out of place. Also, ironically, even in Tina Turner's jam I Can't Stand The Rain."
Bicep play Parklife Festival in Manchester on June 7th 2015 (tickets).
Bicep's residency at XOYO, London begins on July 4th 2015 (tickets).