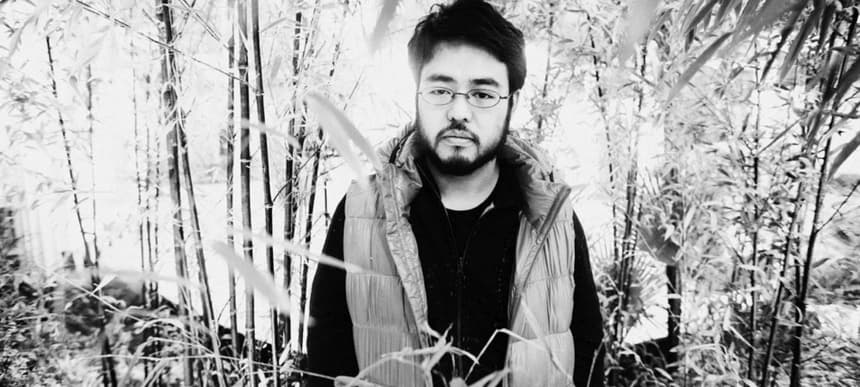 26.07.2013, Words by Aimee Cliff
Found Sound: Yosi Horikawa
Chiba-based producer Yosi Horikawa is a frequent user of found sound in his rippling, earthy compositions, giving his music a vitality that feels totally uniue with the creaking, bubbling, squelching and springing of nature seeping into its bars. His recent album 'Vapor' – which caught our ears back in June and has been on regular rotation since – is brimming with unpredictable natural noise, so he was an obvious choice to take part in our occasional found sound series, in which artists send us their self-sourced field recordings and samples. Horikawa obliged by sharing this peculiarly evocative and unnerving recording made inside a huge limestone cave in Tokyo. Read our chat with him about his dangerous pursuit of found sound (run-ins with bears included) below, and stream the recording in the player on the left.
Hi, Yosi Horikawa! Could you tell us a bit about the origin of this found sound?
First of all I made the binaural microphones and windscreen and mic preamp for this recording. I went to "Nippara limestone cave" at the westernmost tip in Tokyo. I put the microphones in my ears, and walked around while recording in the cave. It was such a strange mood, dark and so humid, but more strange thing was that few couples were there, though it's no good for a date.
You have a large collection of field recordings – what's special about this one to you?
I have many special sounds. The sounds that I have recorded remind me of special memories. But I chose this 'cause it's not easy for everyone to experience such a huge limestone cave and the strange mood.
You include many earthy, natural sounds in your music. Where is your favourite place to record?
As I said, so many sounds and so many places are special to me. Every sound reminds me of every different memories. That's why I use the real sounds. Everyone has very different experiences, so every moment people listen to my recorded sounds, people recall their own stories.
We hear you've been known to melt microphones while trying to record the sound of fire; have there been any other times when your pursuit of found sound has led you into trouble?
Once I lost my way in the woods when I followed the birds, then it began to rain and became dark but finally I got really great sounds. When I was recording the sound of the wave on the beach, an unexpected big wave came suddenly, and my lower half of the body was soaked. I've encountered bears a few times, monkeys, deers, giant slugs, strange frogs, but fortunately there were no dangerous cases.
What's your favourite sound on your recent LP, 'Vapor'?
It's so hard to choose one. I use only sounds that I recorded in Japan. So I think there are many humid sounds in my LP, because of temperate humid climate. All of the sounds in the LP are special to me.
First Word Records released 'Vapor' on the 24th June 2013.