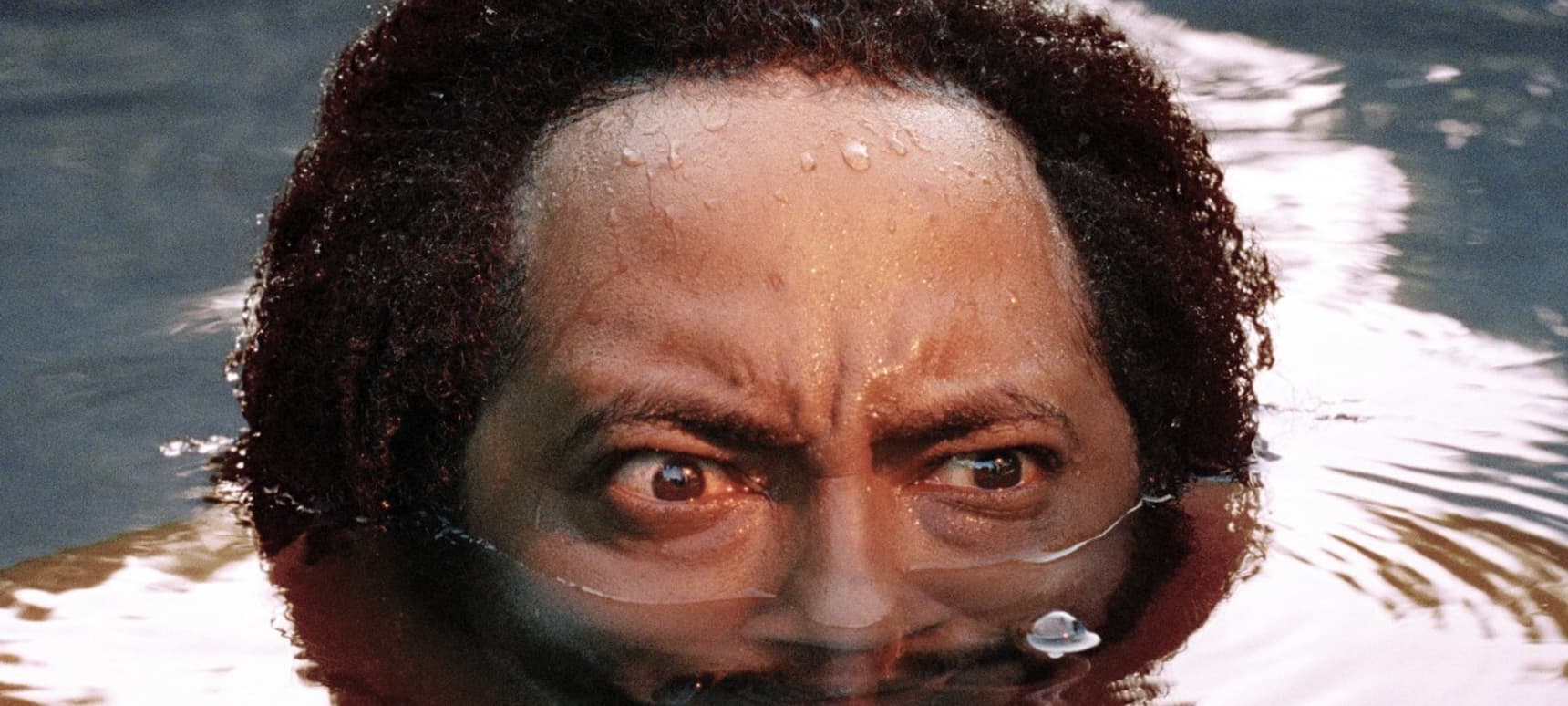 07.09.2018, Words by dummymag
From experimentalism to pop appeal: How Brainfeeder became a hallmark of excellence
This week, Disney starlet turned pop chanteuse Ariana Grande followed in the footsteps of countless major artists by stepping into BBC Radio 1's Live Lounge. As part of a busy promotional schedule for her 'Sweetener' album, she chose to deliver a sumptuous and poignant rendition of Thundercat's 'Them Changes.'
Heralded by Grande as her "favourite song of the past year and a half," her decision to perform the virtuosic bassist's trademark set-closer not only points to her impeccable taste but also shows how much the formerly niche artist has been ingratiated to the mainstream consciousness in recent times. On top of the fact that Ariana opted to rework one of the highlights from 2017's 'Drunk' on such a widely broadcasted platform, it's interesting that this track from a man that operates far away from the remit of the average Radio 1 listener was greenlit when the very same producers stonewalled Loyle Carner's plans to cover either a Kanye, Kendrick or Fugees track on the grounds that they weren't 'big enough hits.'
Brainfeeder founder Flying Lotus – a man who enjoyed a residency on that very station – has always shown a desire to broaden horizons and open doors for artists. Often described as a forebear of 'beat music' due to a non-exclusionary approach that saw him incorporating textures of jazz, techno, soul and old-school hip-hop into his productions, it is his own penchant for the experimental that's taken his Brainfeeder label to these pop-touching heights.
Founded in 2008 after FlyLo (real name Stephen Ellison) had garnered a working knowledge of the music industry from an internship at prestigious independent hip-hop outlet Stones Throw, the final piece of the puzzle that led to Brainfeeder's inception came when he moved into an LA artist commune dubbed 'Das Bauhaus' and met Adam Stover, its soon-to-be business manager.
Although FlyLo had already established a fruitful avenue to release his own works to the masses via a deal with Warp, what separates him from most artists that would be single-mindedly concerned with their own prosperity during the tentative stage of their journey is that he instantly built an adjoining platform for his contemporaries.
Brought into the world with one goal of pushing material "that other labels wouldn't be sure about", Brainfeeder has never deviated from the mission statement that governed it back when it propagated an LA beat scene that was ready to fly the nest of Low End Theory and make itself known to the wider world.
You need only to examine the release schedule of the tail end of July to mid-August of this year to find proof of the label's talent. In a span of less than 30 days, Brainfeeder released three critically-acclaimed albums from a trio of diverse artists, allowing each of them to exact their own vision. A candid and stirring project which paid homage to dance music in its most euphoric form while prodding at its permeable boundaries, Ross From Friends' debut album 'Family Portrait' would be the first album to arrive on the 30th July, just before Dorian Concept's ethereal and transformative odyssey 'The Nature Of Imitation' dropped. They rounded the slate of releases off with the exuberant gem of an intergalactic R&B record that is Louis Cole's 'Time', with its array of dizzyingly brilliant, funk-indebted tracks.
Here we dive deep into Brainfeeder's archives to highlight some of the works that helped the label ascend to new plateaus of acclaim…
–
Samiyam – 'Rap Beats, Vol 1' (2008)
The tape that started it all, Samiyam's 'Rap Beats, Vol 1' doesn't merely have the distinction of being the first Brainfeeder release but it also set the tone for the rampant eclecticism that was to come. Cited by Flylo as one of the catalysts behind his desire to set up a label, Sam Baker's daring leap into the terrain of Dilla, Oh No and Madlib is a rewarding one, and its tendency to meander into navel-gazing territory that wasn't so readily broached by hip-hop producers of the last decade doesn't get the pioneering status it deserves. Criminally overlooked at the time, its adventurous approach to crafting hip-hop that wasn't meant to be a mere foundation for bars but could stand of its own volition is a testament to the ingenuity which was at the heart of the beat scene the imprint was founded for.
Daedelus – 'Righteous Fists Of Harmony' (2010)
Daedelus' 2010 EP 'Righteous Fists Of Harmony' was conceived as a "sonic tribute to the thousands of Chinese martial artists who died during the Boxer Rebellion, as well as a musing about our society's reliance on contemporary technologies," and its immersive 25-minute journey takes you through everything from hopelessness to triumph and acceptance of fate through a series of soundscapes. Made up of eight tracks that are closer in scope to orchestral movements, the sheer ambitiousness of this work is striking in not only the fact that Daedelus managed to take what could've easily been an absurdly pretentious premise and used it as a canvas to touch on the toil of life from both a historical and modern-day vantage point.
Thundercat – 'Apocalypse' (2013)
Whether it's from his frequent appearances on The Eric Andre Show or lending that trademark bass tone to Kendrick Lamar's magnum opus 'To Pimp A Butterfly', Thundercat is the breakout star to emerge from the Brainfeeder camp. Aside from these infrequent dabblings with the zeitgeist, the man known as Stephen Bruner has been crafting his own enthralling music for years. Following his debut LP, 'The Golden Age Of Apocalypse', the former Suicidal Tendencies member would redact its title for his sophomore effort to merely 'Apocalypse' along with taking massive strides forward as a songwriter, producer and arranger. Breakout hits 'Heartbreaks + Setbacks' and the Flylo FM favourite 'Oh Sheit It's X' maintain their lustre to this day. With standouts including 'Tenfold', 'Seven', 'Tron Song' and 'Lotus and The Jondy' to name a few, 'Apocalypse' gave Bruner free reign to ruminate on everything from the transience of life to its most troubling questions and unrequited love over a set of spacious, free-form neo-soul jams. This records now stands as the genesis of Thundercat's world-renowned reputation that would skyrocket to even headier stratospheres on follow-up 'Drunk'.
Kamasi Washington – 'The Epic' (2015) 
It took Kamasi Washington three attempts to add his modern-day classic to the pantheon of jazz but that's precisely what he did on the immersive and aptly named 'The Epic'. Comprised of three volumes and a run time of 173 minutes, it is jazz in the mould of the genre's most innovative stalwarts, and it rejuvenated the artform in the eye of many a casual observer. Formed of both original compositions and emboldened takes on classic works like Debussy's 'Clare De Lune', this masterpiece is the product of an uninhibited Washington who was liberated by the knowledge that such a sprawling undertaking as this is at odds with the world's dwindling attention spans and, as a result, its rewards are only for those studious enough to seek them out. What he couldn't have bargained for, however, was just how emphatically it was received and the droves that wilfully embarked on this journey through the history of jazz all the way to its vibrant future right alongside him. Ever since its release, Washington and his virtuosic ensemble have become an attraction within the market the likes of which the 21st Century hasn't seen before and its inclusion on Brainfeeder's back catalogue adheres to not only the philosophy of spotlighting that which other labels wouldn't have the tenacity to but also as a homage to the rich jazz lineage which FlyLo himself comes from.
Iglooghost – 'Neō Wax Bloom' (2017) 
Occasionally a debut album will surpass all expectations and open a new realm of possibility for an artist now that they've firmly sunk their teeth into a captive audience. In the case of Belfast-based producer Iglooghost, it's safe to say that his introductory opus Neō Wax Bloom fulfilled this criterion and then some. The proponent of a dizzying, celestial form of electronica that is more akin to the world building of a video game developer in terms of its precision and attention to detail, there is no more ringing endorsement as to how strong the material is that it has been met with near-universal acclaim despite being so purposefully off-kilter. Brazen and multi-layered, it harks back to '70s prog rock, with an originality such that Iglooghost could spend his entire career within this saccharine realm without ever re-treading the same ground.
Words: Robert Blair