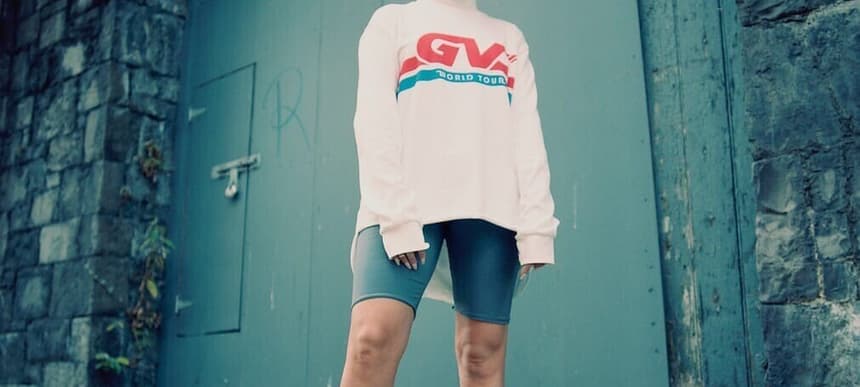 15.10.2020, Words by Gary Grimes
Dublin's Gemma Dunleavy on the community injustice that spurs her on
"I feel like I have a duty when I'm in spaces that don't understand or respect working class communities, to let them know about 'common' people with 'common' accents"
The trauma Gemma Dunleavy sings about on her debut EP 'Up De Flats' is not necessarily her trauma, she explains. It's her community's trauma. Hailing from Sherriff Street in Dublin's inner city, an area that has long been neglected by both the city's council and population due to high crimes rates and negative connotations from the '90s heroin epidemic, 'Up De Flats' is a concept EP that aims to shine a light on the area's culture and characters. It arrives at a crucial time in their story – the space is being invaded by gentrifying developers and its inhabitants are "breathing frustration," Dunleavy explains.
The music on 'Up De Flats' began its life as a documentary on her area. "Music didn't have the sense of purpose that it's always had for me because there were more pressing issues like trying to fight off this planning permission and preserving me area." While working on this documentary, which was to serve as a time capsule of sorts, opportunity came knocking from Dr. Martens looking for artists to work with on a campaign series. Although hesitant at first, she ultimately decided to embrace the opportunity as it provided a bigger platform to speak about the injustices her community faces. And so, with the brand's support, her project shape-shifted a number of times, from documentary to exhibition, eventually landing back at her primary passion for music. Each song on the EP sees the singer step into a different character from her community. "I thought, I'm going to tell their stories and I'm going to dress them in music," she says.
When asked if it felt ironic to be working with such a global, corporate brand given the subject matter of the music, Dunleavy admits: "When you put it in black and white like that – yeah! That's why at the beginning I was like 'Ugh, I'm not even going to respond to that' … but when I thought about it, Dr. Martens has always been a working class boot." After some careful consideration she remembered that, actually, those boots had always had a presence on the streets she was singing about and she concluded that the brand aligned with a lot of her core values. In fact, she recalls that the one thing her mother – a tailor who still makes a lot of the clothes the singer wears on stage – would splash out on when she was growing up was a pair of the sturdy footwear. She retained full creative control at all times, with the brand helping through partly-funding studio sessions and supporting PR around the EP's launch.
After ensuring her moral compass was in check, the music itself came surprisingly easy for the project. "I didn't even realise I was making this EP, I guess I just had such a strong sense of injustice and it just spilled out of me… We didn't have time to sit and think about the music because, really, the sonic element of it wasn't as important to me, it was getting the authenticity across." Dunleavy's ambivalent approach to making music might surprise the listener as each track on the EP feels subtle but meticulous. It's a striking listen, as she guides you around the corners of north inner-city Dublin. Dunleavy's soulful singing voice narrates your walking tour over a rich, supple music soundscape, occasionally offset by luscious harp arrangements or the noise of local kids playing over the hum of traffic.
"Everyone in our area feels the same about how we're left to rot by the system."
It's not just the children who make an appearance, occasionally the community's elders are also given a soapbox to share a memory or a point of view. Finding others in the neighbourhood who share her frustrations wasn't difficult, she says. "Everyone in our area feels the same about how we're left to rot by the system. It just so happens that I have a different platform than the norm to express that. Someone else's platform might be their own kitchen or it's the gate at the school or creche – it's heavy on everyone's tongues." For this reason, she explains, she doesn't feel like her role in the area has evolved as her profile rises – her comrades are shouting just as loud through other mediums. Still it's clear that representing her upbringing and these people is somewhat of a vocation for Dunleavy.
"I feel like I have a duty when I'm in spaces that don't understand or respect working class communities, to let them know about 'common' people with 'common' accents," she tells me. "We are multifaceted. I can sit around and talk about 'me Ma' and 'me Da', and I can say 'orandge' and all the words that I've grown up saying the wrong way, and then I can also go and talk about social justice. I can also write an essay on the topic, like I did for Rogue recently. And then I can sit at a street party and play bingo with all my neighbours who probably haven't even heard my music. D'ya know what I mean?"
Since 'Up De Flats' dropped in July there has been a buzz around Gemma Dunleavy that is becoming difficult for even the most dedicated bingo player in her community to miss. The music has captured the attention of both the media and people of the singer's native Ireland, and beyond. Last month she played a series of sold out – and socially distanced – shows which afforded her the opportunity to tell these characters' stories in a little more detail. As their tales of working-class struggle and rebellion gather steam, they inevitably start to travel further and further away from Sherriff Street. How does she feel about the idea of people who grew up in mansions in Dublin's more affluent southside suburbs, or even further afield, chanting 'Up de flats!', complete with her distinctive northside twang? That result, for Dunleavy, is mostly mission accomplished.
"I don't want those songs to only exist in an echo chamber of people who already understand me. I want those songs to exist on the tongues and in the heads of people who [don't understand me] and haven't witnessed that kind of upbringing," she explains. Dunleavy is adamant that communication and education is the key to breaking down the socio-economic barriers in her city which are 'really not that deep-rooted', in her opinion. "If they sing along to those songs, they've probably listened to the lyrics and it's probably made them think a little bit. And if it hasn't, and they come to my shows where I tell the backstories of the songs it will make them think a bit…. That's like, job done for me. D'ya know?"
In an era when stars like Adele run the risk of cancellation (albeit momentary) for sharing a misguided photo of her celebrating Caribbean culture following Notting Hill Carnival's pandemic-enforced hiatus, you can understand how concert-goers might feel trepidatious to dive too far into a world that isn't necessarily theirs. "I was selling face masks at my gig the other day with 'Up De Flats' on them and someone came up and was like 'I really want one but is this cultural appropriation?' I was like, 'No way!'" she laughs. It's refreshing to hear Dunleavy speak about the importance of allowing yourself the chance to make mistakes when exploring and understanding different cultures. "I think it's very dangerous for us to worry about that, to not take a step forward in a direction just because you're worried it might offend someone or cross a line – take that step forward and, you know what, take the criticism and the comments like a champ. That's how we grow, from seeing our mistakes."
The singer brings this same life approach to her music which she describes as her "everyday chat dressed in sonics," although she admits it's not an aspect she worries about particularly. "At the minute I feel that the music I'm making is very much of its place and time so it's not something I ever need to think about."
Subject matter aside, another aspect of the EP which is garnering plenty of attention is the music's varied influences, particularly the title track which heroes a familiar double-time beat that some seem to hope might be signalling a UK garage revival. Although unintentional, she says she likes the comparison, pointing out that garage comes from a subculture that's not dissimilar to that of the characters on 'Up De Flats'. Elsewhere the sound slides effortlessly between genres, covering R&B, pop, with even notes of alternative rock. All the while Dunleavy sounds cool, unbothered, and often unimpressed, with vocals feeling reminiscent of early Sugababes' moodiest output, in all of the best ways.
After releasing a smattering of one-off singles and years of collaborating with other acts like White Collar Boy, Orlando, Swing Ting, Murlo and Lost Horizons (fronted by former Cocteau Twins member Simon Raymonde), 'Up De Flats' marks the singer's first full body of work. In 2019, when asked by District why she had yet to share a fully-realised solo project with the world, she told the magazine: "I'm waiting for honesty. I'm trying to pull what's inside of me out rather than working from the outside in." And so, over a year and one hugely well-received EP later, it seems only fair to ask – did she find what she was looking for?
"I actually just got chills all through my body there because I was thinking about [that interview] recently," she giggles before explaining. "I always feel like I'm slower than I want to be. I don't mean in terms of achievements but in terms of personal growth. I never feel like I'm far enough. The week before my EP release, I was having one of those moments where you feel like nothing's going fast enough for you. I always try to go back and look at one thing to make me go, 'Come on Gemma, get real – this is not the case,' so I looked back at that District interview and I saw that comment. It was almost like the other side of me had pushed that person out of me – I had stepped out of my body and was saying 'Are you for real? This is what you were harping on about in this interview and now you're here!"
After suffering a short push back at the singer's request in June, due to the prevalence of the Black Lives Matter movement ('There were many more important things to encourage people to listen to other than my music – that was the last thing I want to be pushing people to"), 'Up De Flats' finally landed in July 2020. Even upon first listen it was clear – the wait for honesty, for both Dunleavy and her listeners, was over.
Listen to 'Up De Flats' in full here.