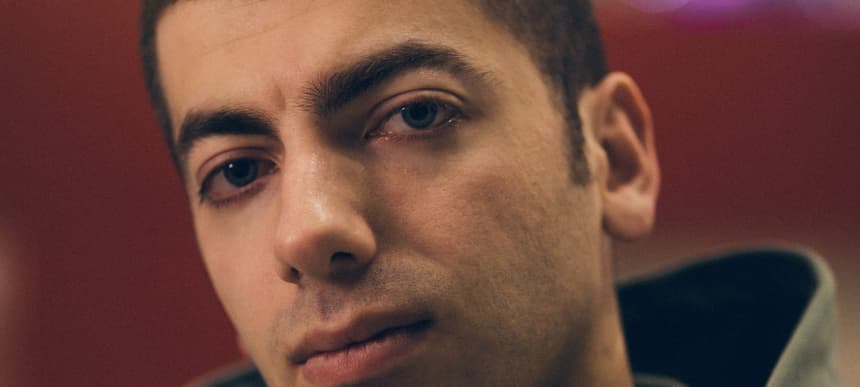 25.01.2019, Words by Felicity Martin
Get to know Ammiak, one of a growing crop of Russian grime MCs
"I think it is something more than just music and in Russia, people love it"
Grime was initially a hyper-local genre, first seeping out via the tower blocks of London's East End. But since its inception in the early 2000s, the sound has spidered out worldwide, finding roots most notably in northern UK cities, as well as branching out further afield into places like Australia, China and Japan.
It's gained increasing traction in Eastern Bloc countries, too, including Russia. One of its most notable MCs is Ammiak, who was born in Batumi, a Georgian port city, and has lived in Moscow ever since moving to Russia as a kid. On the mic, his flow is as corrosive at his name (which translates to 'ammonia' in English), and there's something about the sonics of the Russian language that suits grime well. Having recently dropped the deeply impressive 'Mutagen' EP, which sees him spitting furious lyrics (although we can't vouch for what he's saying!), we fired some questions over to Ammiak to find out more about the scene he's part of and where it's going.
When did you first get involved in grime?
I first listened to grime in 2008. The first MCs I learnt about were Ghetts, Devlin, Skepta and Chip. They did incredible things. It was something strange for me but I loved the energy of that genre. Searching for more information, I read about the roots of grime, found out about Roll Deep, and still follow Wiley and Dizzee Rascal's music. I watched many clashes, grime shows, Eskimo Dances and I'm very fond of it. I think it is something more than just music and in Russia, people love it. I'm waiting for [P Money's] 'Money Over Everyone 3' at the moment. P's video 'No One' is heavy.
When did the genre start gaining traction in your country?
Crossfire Project were the first people that did Russian grime in 2008. There were several MCs and producers, but it wasn't popular for people in that time. Then there were I1 and No Limit – two Russian MCs who lived in London and they tried to show that genre here and they are still in the game. The person who made it more popular in Russia was Oxxxymiron, he posted many videos with UK grime on his social media and people learnt about some MCs from him. On our equivalent of Facebook, vkontakte, we have a public page 'GMG' (Grime Music Group) and it's one of the biggest libraries of grime in the world where you can find any MC or producer with their releases in alphabetical order. Also they organised online battles for both MCs and producers.
Is there much of a grime scene or community in Russia at the moment?
The thing is that before, all that time grime in Russia was just on the Internet. It doesn't work like that. So, people started organising raves. One of them was 'LVL UP' that me and I1 did in 2015. The first Russian grime clash took place there between Redo and Obladaet. It made a lot of noise in Russia, and Grime Report TV wrote about it. You can watch my clash 'Versus BPM: AMMIAK vs Tills' that сame out recently. The most-viewed clash, Redo vs Mufasah, was watched by about three million people. Grime MCs in Russia decided to unite and to move as a massive. We made a longmix on Lewi B's riddim and it was a remix of my song called 'Gryaz' which is a translation of the word 'grime' in Russian.
What's the biggest grime event you have out there?
The biggest grime rave we have is Gunfinger hosted by J Masta Badman in Saint Petersburg. MCs and producers come there from different cities in Russia. One MC, Jewels Part II, even comes there from Kazakhstan. Gunfinger is a classic rave where the selector plays UK sounds and MCs spit bars on top of them. J Masta Badman often brings UK MCs here to show people our connection. Last time there was Nolay and Bomma B and it was a great show.
We also started making jams, grime shows. Here's one of them.
Grime in Russia is becoming more and more popular and we are making sure it develops here. No one can say if the genre will become mainstream or not. We can just maximize the chance of it becoming popular. Everything depends on MCs and their music. Grime can become mainstream if MCs make more bangers, shoot really good videos, collaborate and move together, if they show their respect and love to genre so other people can feel it and join the movement. People say grime is dead in the UK, but how can it be dead while there are so many skilful and brilliant MCs there? Just look how Izzie Gibbs has been banging, I've been following him since his 'Jutsu' EP. Look at Tommy B, I think he will be the next guy. I believe that another wave is coming and it will be more powerful. Gunfinger is a well-known grime rave in Russia. Everyone knows that you can find the real grime energy there, finding the same atmosphere as in the UK.
What do you make of the recent news about the Kremlin getting involved in Russian rap music?
News in Russia is something like McGregor's trash talking on pre-match conferences. The government can't play the leading role in Russian rap music. They canceled concerts of several Russian musicians but then people united and made a concert in support of these artists using the catchphrase #ябудупетьсвоюмузыку (I will keep singing my music). It's a phrase from Husky's song (a guy whose concert was cancelled too). Unfortunately, the government keep showing by their behaviour how far removed they are from the people. But, the Kremlin doesn't play the leading role in any music. Music is either independent or dead.
Listen to Ammiak's 'Mutagen' EP: